SkyGolf makes SkyCaddie range finders and now has an entry in the swing analyzer market with the recently introduced SkyPro featuring swing tips from Hank Haney and Michael Breed, both well known to the public from their shows on the Golf Channel.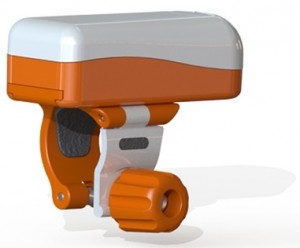 Endorsing the SkyPro Breed said, "It's hard to fix a golfer's swing if they can't see their faults. SkyPro instantly identifies swing faults so golfers can begin grooving a better swing with perfect practice rather than repeating and grooving their faults. Golfers who try SkyPro will never want to practice without it again."
The less than one ounce SkyPro (SRP $199.95) clips to the club shaft below the grip and collects data on swing path, club head speed, swing plane, club face rotation and shaft angles. The information is sent through a Bluetooth wireless connection to the user's smartphone for viewing on the SkyPro app which may be downloaded at no charge.
According to Haney, PGA Teacher of the Year in 2012, "SkyPro is really going to change the way teachers help golfers improve because repeating bad swings only grooves a bad swing. Now, golfers can see flaws instantly so they don't continue to groove their faults when their instructor is not around. SkyPro is like having their personal swing coach everywhere they go, so their time on the range is spent building good habits and a repeatable golf swing just the way the instructor wants them swinging."
Inertial motion sensors in the SkyPro record up to a hundred thousand data points from address to impact and swing playback is in high-definition. In addition to swing playback in the traditional face-on, down-the-line and top views the app provides 3D views from any angle with controls to zoom in and rotate the view. According to SkyGolf by utilizing cloud storage and smartphone memory it is possible to save several thousand swings for later analysis and comparison.