In between the interesting and informative sessions at a recent conference attendees were provided the chance to meet and greet some industry suppliers. Same old stuff, you say?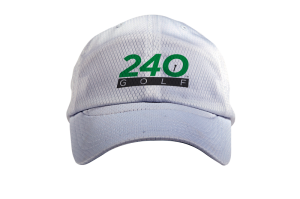 In some cases, undoubtedly. But I talked with the people who make Sweat Bandit hats (and this is a blatant plug for their quality golf caps that are both moisture wicking and machine washable), who are on a campaign to speed up the time it takes to play golf. According to numerous surveys time is one of the three reasons for golf's participation problems. (The others are expense and difficulty.)
Each Sweat Bandit cap sold has a hang tag promoting Play 240 Golf, the company's program to educate golfers, regardless of skill levels, about how to play in four hours (240 minutes) or less. Key to the the effort are 10 pace of play etiquette rules on the hang tag:
-Be ready when it's your turn–and your turn begins when the other player hits his/her shot, not after his ball has landed and rolled out.
-Put your glove on before your turn, not when your turn comes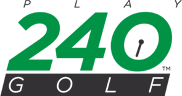 -Figure out the distance before your turn
-Same with club selection
-Read putts before your turn comes
-No more than two practice swings–any more are wasted
-Don't wait in your cart for your turn to come, walk or drive to your ball while others are playing but don't get in their line of play
-Looking for balls needs good judgment since five minutes of searching by four players is really 20 minutes of time
-Play from the tees you can handle. Surveys show most men think they hit the ball further than they really do. So playing from 7,000-yards when you only drive the ball 180-yards is a prescription for frustration and long, long rounds.
-Play ready golf, which simply means if you are ready to hit and not in the way of others, hit it.
To these I would add:
-Drive the cart to the same side of the ball as the player is on the cart. In other words if stopping at your cart passenger's ball go to the left side leaving enough room for him to hit the shot. Do the same when driving to your ball only to the right of the line of play. This makes for a lot fewer steps each shot and more efficient movement to the bag to get a club since neither you or he have to walk around the cart each time.
-Baring a physical reason (laziness not included) it wouldn't hurt you to get out of the cart and retrieve your cartmate's turf divot or use the sand to fill the gouge. This doesn't sound like much but really helps and for four players can save up to 10 to 15 minutes per round all by itself.
Go to www.Play240Golf.com for more information.