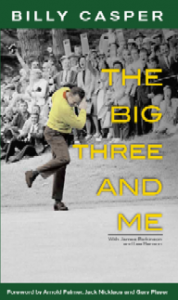 Billy Casper will be 81 on June 24 and during a recent conversation with the World Golf Hall of Fame member he recounted some of his experiences over his almost 40 years as a tournament professional. Interesting and informative to say the least…and with maybe just a trace of regret he was not part of the hype concerning the "The Big Three," Palmer, Player and Nicklaus during what were Casper's most productive years on Tour. 
It wasn't the "Big Four," though Casper's record of three majors and 51 PGA Tour wins from 1956 through 1975 certainly qualified him for inclusion. Casper of course goes into the 'why' he wasn't considered part of the triumvirate and it was very simple.  
The idea of the Big Three was concocted by super-agent Mark McCormack after Jack Nicklaus turned professional in 1962 and became a McCormack client, joining Arnold Palmer and Gary Player. The marketing slogan "Big Three" gained a lot of traction with fans and the media until even at the time one could be forgiven for thinking those three were the only ones posting any tournament victories. Casper was not a client so McCormack's "Big Three" didn't include him.  
The truth is during the stretch from 1962 through 1970, when the Golden Bear left McCormack, Billy Casper won 33 tournaments, the same as Nicklaus. Palmer won 30 and Player eight.  
So much for the Big Three. 
Don't get the idea Casper's biography, written with the help of James Parkinson and Lee Benson, is sour grapes. Neither the book nor the man is like that. Billy, as he insisted I address him after my opening to our conversation was, "It's a pleasure to meet you Mr. Casper," is warm and personable and very proud of his eleven children and his wife Shirley to whom he has been married since 1952. 
"The Big Three and Me" begins at what is arguably the most famous of Casper's three major wins, the 1966 US Open at Olympic Club in San Francisco. At times the history of professional golf during this period seems to have been written solely by fans of the King. Thus this Open is usually known for Palmer's last round 'collapse allowing Casper to catch him' and going on to win the following day's playoff. The truth is Casper shot a final round of 68 to Palmer's 71 and as Billy says, "Not too many players leading the Open on the final day fail to win by shooting 71." 
Casper's triumph was thought of and to an extent still is thought of as Palmer's loss. It seems it wasn't one of golf's greatest players forging a hard fought win but to the King failing. 
That pretty well captures the sentiment of the times and those golf historians who often have been uncertain of Billy's legacy. 
A notable exception are the Big Three themselves, they have no such uncertainty. In the book's foreword written jointly by Palmer, Nicklaus and Player they say, "Simply put, Billy Casper was threat to win every golf tournament he entered. He beat us as many times as we beat him. You don't have to take our word for it. Look it up."