Books describing the rites of passage to adulthood are not unusual and Oliver Horovitz fits neatly in the category with his An American Caddie in St. Andrews: Growing Up, Girls and Looping on the Old Course.
The basic storyline is young Horovitz, after being accepted for deferred admission to Harvard University, faces a year hiatus before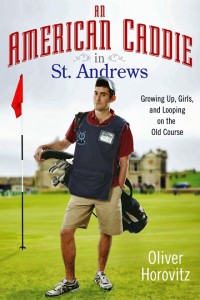 actually being able to begin classes. Like any other all-American boy he decides it would be a grand idea to spend the year at the University of St. Andrews in St. Andrews, Scotland. This fine institution is of course less than a mile from St. Andrews Links and the famous Old Course, many times called the home of golf. 
After the St. Andrews University academic year ended he was accepted as a sort of a 'trainee' caddie for the summer before flying back to the States to his first Harvard year. Horovitz is a good golfer, almost a scratch handicap, so being an Old Course caddie was not a stretch for him at least in a golf sense. The core of the story is the author's feelings of being in a strange country, in an even stranger situation and the trials he overcame working to gain acceptance from the St. Andrews caddies, those long time almost legendary "loopers" of the Old Course.
Horovitz continued to return summers to St. Andrews until he recognized his strong feelings, one might even describe them as a passion; St. Andrews, the Old Course and fellow loopers, was the place he belonged above all others. As time passed he gained stature in the eyes of the older caddies and became part of their group, respected and trusted. 
The transformation from American high schooler to young adult building friendships with mostly older caddies (and the curmudgeon caddie master) is the essence of the book and not without pathos and humor.  
A central character, and someone to whom Horovitz devotes a lot words, is his elderly Uncle Ken. A widower and St. Andrews resident, kindly Uncle Ken's life revolves around his nephew and beloved flowers, not necessarily in that order…or more properly, a life which weaves his love of his nephew with his love of flowers. 
Readers looking for celebrity anecdotes will find them: caddying for singer Huey Lewis in the Dunhill Links Championship, matching tequila shots with LPGA Tour star Paula Creamer celebrating her birthday, carrying Seinfeld creator Larry David's bag. 
Overall An American Caddie in St. Andrews is a pleasant read and may even teach you a little about golf in general, playing the Old Course in particular and what one young man faced growing up to become an adult.
An American Caddie in St. Andrews: Growing up, Girls and Looping on the Old Course
By Oliver Horovitz
Gotham Books-Hardcover 322 pages $26.00-eBook
March 14, 2013