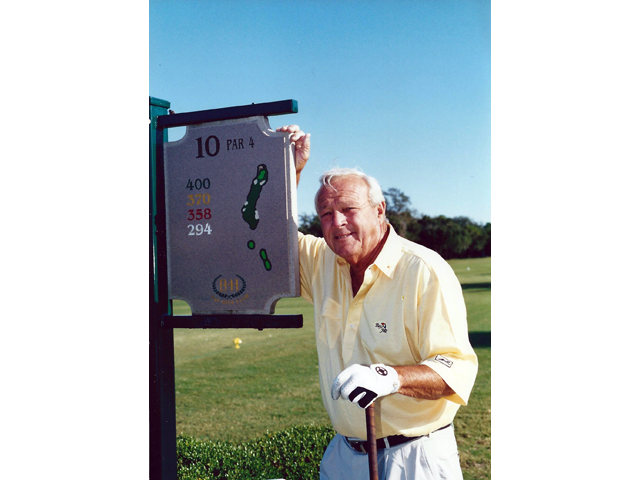 The King
The death of Arnold Palmer saddened the golf world and the millions outside golf he touched through his charities. The King wasn't just a record setting golfer nor just another person, father, businessman and philanthropist. He was Arnold Palmer being Arnold Palmer with integrity, humor, intelligence and humility.
Tiger's comeback
As U.S. Ryder Cup team vice-captain Tiger Woods didn't have to put his game on display. That came in the Hero World Challenge with a limited field of 18 after being off the Tour for 16 months. Woods finished in 15th place and said he was hoping to play a full schedule (as yet to be determined) in 2017.
Ryder Cup
The win by Team USA over Team Europe by the decisive score of 17 to 11 probably saved the Ryder Cup from a serious loss of interest by American fans and a marked decrease in player enthusiasm. Prior to this year the US had lost eight of the last ten contests and this win it was a not only a team effort (every U.S. player contributed at least one point) but a vindication for captain Davis Love III.
Olympic Golf
Justin Rose took the gold medal beating Henrik Stenson (silver) and Matt Kuchar (bronze) while In Bee Park easily won the ladies gold in golf's much heralded return to the Olympics. Before the Games what was thought to be a bigger story was the list of top men players who declined to go to Rio: Jason Day, Dustin Johnson, Jordan Spieth and Rory McIlroy. Reasons cited included health concerns (zika virus) and potential security problems.
Anchored Stroke Ban
The impact of the USGA banning anchored putting strokes which took effect on Jan. 1 had absolutely no effect on recreational players. They either said, to heck with the USGA I'll putt however I want to, or bought a shorter length putter. The anguished predictions by some (who should have known better) that the slamming of trunk lids and squealing of tires from club parking lots as players left the game in droves were emphatically wrong.
Finchem Retires
Tim Finchem's 22 years as commissioner of the PGA Tour built on the foundation previous commissioner Deane Beman had laid. The Tour now can boast a 47 week event split season with $339 million prize money, the largest charitable giving of any sport, three events in Asia, assets of $2.2 billion and a $10 million season-ending prize. Add to that getting golf back in the Olympics, creation of the First Tee and World Golf Championship series he compiled a stellar record. Not bad for a button-down lawyer who at one time worked for President Jimmy Carter. Finchem leaves a prosperous and dynamic legacy for successor Jay Monahan.
USGA Double Bogey
The USGA had a wretched summer. First was the fiasco of Dustin Johnson's U.S. Open final round when officials said he might have caused his ball to move on the green but wouldn't make a decision until the round was completed leaving him, fans and fellow competitors in the dark. They of course gave him a one-stroke penalty but fortunately the phlegmatic South Carolinian had such a large margin he still won by three. That was followed at the U.S. Women's Open when second-place finisher Ann Norqvist was shown on HDTV moving three grains of sand in a bunker with her club but officials neglected to inform her of the penalty until a hole later. In response to the did-he-or-didn't-he cause the ball to move the USGA created the "Johnson Rule" so there will be no penalty should a player accidentally move his ball. This year won't go down as the best summer the organization has ever had.
Spieth Didn't–Willet Did
Jordan Spieth had a record setting 2015 season and seemed to have this year's Masters in his pocket until he came to the par-3 12th hole of the final round. He managed to take a seven after two balls the water which handed the title to Danny Willet. However, this collapse wasn't "the most shocking in golf history" as an ESPN writer sadly lacking in perspective wrote. Spieth still had two victories for the year plus the Australian Open and he's only 23 years old.
Turmoil in Equipment Business
This past year marked several significant changes with Nike Golf leaving the club and ball business, Acushnet (Titleist, FootJoy and Pinnacle) became publically traded and adidas attempting to sell TaylorMade Golf which continued to suffer with early year sales declines. Retailers Sports Authority and Golfsmith went bankrupt with Dicks Sports Goods buying up inventory and locations while Callaway Golf, Srixon, Wilson Staff, Ping and upstart Parsons Xtreme Golf pushed for added market share. The new year may see some additional upheaval especially if TMaG's new owner decides to adopt a different product strategy…that is, if there is any deal at all.
One for the Ages
The British Open played at Troon saw Phil Mickelson finishing with a 65 and was 11 strokes in front of the next lowest score for 72 holes. Lefty's problem was Henrik Stenson shot 63 in the final round beating Mickelson to win his first major by two. Both played some of the best golf ever, evoking memories of the Tom Watson/Jack Nicklaus final round 1977 match up aptly named the "Duel in the Sun."