I'm not a big fan of golf training aids. Most are just gimmicks that just don't work. But I will make an exception for Tour Pro Tech's "PowerPlane,'' a new training device that uses high precision ultrasonics and to help golfers correct the majority of common swing flaws.
The PowerPlane worked the first time I took it out of the box and still is working to keep my swing on the right plane. And the best part is, despite the fact it was designed by an MIT engineer, you don't have to be a rocket scientist to use it correctly. Basically all you have to do is listen for the "beep.''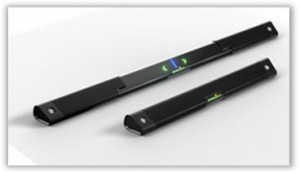 The PowerPlane automatically positions a PowerPlane Zone, two invisible vertical planes, around your head. The sensor that clips to your hat is lightweight and unobtrusive. If your head moves out of the zone anytime during your swing until impact, PowerPlane beeps. It's real-time feedback that helps from the first swing.
Tour Pro Tech has been in business slightly more than one year and has recently started shipping its first PowerPlane units that carry a suggested retail price of $189 each. www.powerplanegolf.net
"A lot of instructors have received them and now golfers are starting to get them,'' said Tour Pro Tech's CEO/Founder Rich Kosowsky. "There has been a great response so far because they love the look of it the sleekness, but most important they're looking for the results that it provides.''
PowerPlane can be used on the practice range by yourself of with an instructor. It doesn't require a lot of set up and is a good way to practice in between lessons.
"You're actually practicing the right things,'' Kosowsky said.
And it's just not limited to the full swing. PowerPlane  covers all aspects of the game: drives, long irons, short game, and putting. All you have to do is choose the preferred mode: Full Swing; Pro Swing; Pitch; and Putt.
The PowerPlane was developed by Kosowsky and Tim Tierney, a top teaching professional from Weston (Mass.) Country Club. The basics of the PowerPlane, Kosowsky said, come from Ken Venturi's "shadow drill'' he used to keep his head quiet over the ball.
"Golf always has been taught from the ground up,'' Kosowsky said. "This sort of flips it on its head. Of course, you need the basics, but if you get your head in the right place – physically and mentally – it's amazing how the body sort of knows how to do the rest.
"So instead of on the specific angle and specific approach, when you get your head in that zone, it's amazing how easily people start to make center contact.''