When it's mid-July, a golf writer's thoughts carry across the pond to land, with backspin, on the greens of Britain and Ireland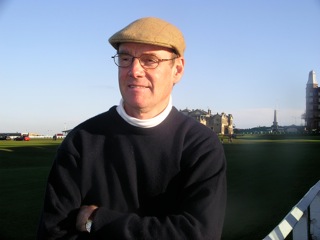 Those who write about golf may not be amply rewarded financially, but we're lucky enough to play some marvelous venues, often including the finest courses in Great Britain and Ireland, where the game took root. In honor (make that honour!) of next week's Open Championship at the majestic Royal St. George's near the tip of southeastern England, the writers of The A Position are gazing fondly across the Atlantic and naming their favorite pieces of the Old Sod.
Joining us is George Peper (left), former editor-in-chief of Golf Magazine, who has played extensively in the British Isles (and the rest of the world), and owns a home beside the Old Course in St. Andrews, Scotland. (Guess which course is his favorite!) Peper, who was recently named editor of LINKS Magazine, is also author of more than a dozen books, including Golf Courses of the PGA Tour, Grand Slam Golf, and instruction books with Greg Norman. His most recent effort is True Links: An Illustrated Guide to the Glories of the World's 246 Links Courses, written with Malcolm Campbell.
Peper and the writers at The A Position know and love courses throughout England, Scotland, Ireland, and Wales. This month's "A List" comes to you on a freshening salt breeze. You can practically taste the smooth, peaty whisky and the haggis.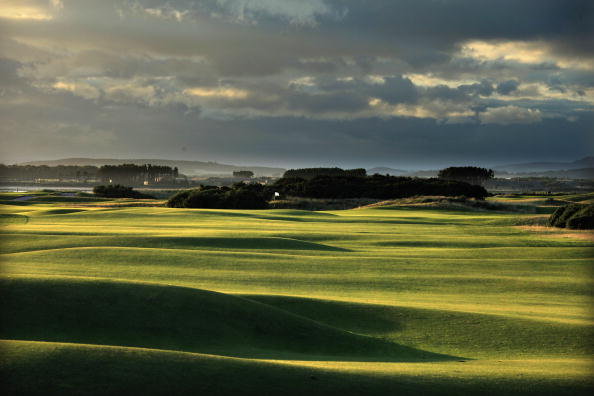 There's only one course I could possibly name as my favorite in GB&I—or anywhere, for that matter—the Old Course at St Andrews (above). Not that it's the hardest (Carnoustie and several others are well ahead of it) or the prettiest (Turnberry and several other others are well ahead of it), or even the best (in St Andrews alone most of the locals rate the New Course more highly than the Old). It is simply the most compelling. No one designed The Old to be the world's ultimate thinking man's course, it just worked out that way. However unintentional it all may have been, the placement of bunkers, the cordoning gorse and OB, the enormous double greens, and perhaps most of all the topographical oddities that guard those greens—a collection of swales, humps, banks, and bumps that form the goal-line defense of almost every hole—it all conspires with the North Sea breezes to produce an unrelenting challenge and an unmitigated joy.
—George Peper
On the northwest coast of Wales, Nefyn & District Golf Club is my absolute favorite. It's a 26-hole track with 10 outward fairways and two separate inward eights called the Old and the New. Who knows, maybe one of the holes fell into the sea! For sheer cliff-hanging drama play the Old, which clings to the top of a narrow peninsula. One golf writer remarked that it was "like playing on the deck of an aircraft carrier." Perhaps no other hole in the world confronts the golfer with the distractions to be met on number 12: a blind drive, blind second shot, public thoroughfare populated by hikers, and a crater-sized pit. After draining your putt on number 15 follow a footpath down to the Ty Coch Inn, located on the beach at Porthdinllaen, for a quick pint. It's a Nefyn tradition.
—Anita Draycott, anitadraycott.com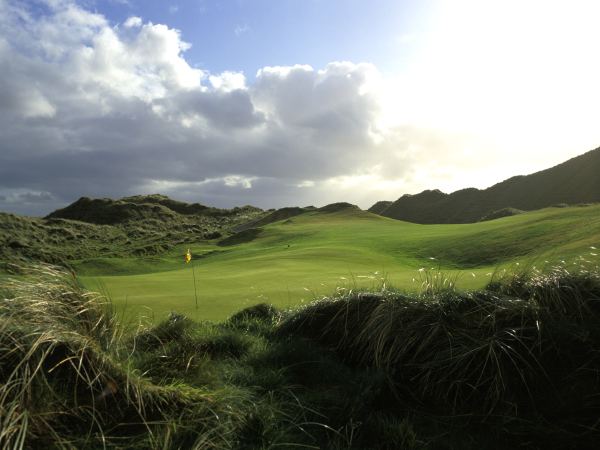 Enniscrone (above), in northwestern Ireland, will always be a favorite, not just because of the course itself but because my first and only experience there stands as a shining memory of links golf in the old days. The year was 1986, but at Enniscrone I felt as though I fallen through some crack in time. I was on a trip with my wife, and she'd given me leave to play a round, and I arrived at Enniscrone to find a completely deserted clubhouse. There was an honor box, and the cost of a round was three pounds. I stuffed a couple of notes in the box and was on the first tee when a member drove up. He apologized for not being able to take me around, but said he'd try to find a partner for me. Meantime, he told me to follow the dog, a black collie who'd been sizing me up. It turned out that the collie knew the way through the maze of high dunes; he'd watch from the edge of the green as I putted out then trot ahead to the next tee. Without that dog, I'd never have found my way from one hole to the next. I can't remember many holes at Enniscrone, but I remember how they kept revealing themselves as I penetrated farther into the dunes until I felt that golf holes were hidden all around me and I could have kept playing forever. That was my second round of links golf, and my first in the high dunes, and the enchantment hasn't faded. I was a changed golfer. Twenty-five years later I am still a lover of links golf and my dog is part border collie.
—Stephen Goodwin, stephenhardygoodwin.com
I have so many favorites—The Old Course, Carne, Dornoch, Royal County Down, Enniscrone, Lahinch, and Ballybunion Old for starters—but I'll take Tralee in southwestern Ireland. The Palmer-Seay architectural team never quite gets its due and Tralee is one of its best efforts (perhaps because it looks unlike their other works). Nothing prepared me for the variety of attractive, soft-edged coastal golf holes on the outgoing nine that feature the ocean coming into play on both the right- and left-hand sides of play. In contrast, the back nine morphs into a rugged and wooly up-and-down dunes affair that features one "Oh Wow!" hole after another—fantastic! Many Americans visit Old Head, Doonbeg, Ballybunion, and Waterville when in the area, but if they don't play and visit with the friendly folks at Tralee they have missed an absolute gem, easily one of the world's more underrated courses.
—Robert Fagan, robertfagan.com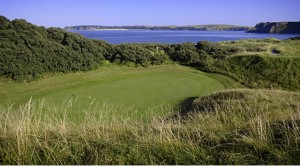 From the limestone outcrop atop which sits the 18th tee of the Tenby Golf Club (left), golfers enjoy a panoramic view of much of the course that's just been played, and of a daunting finishing hole with an out-of-bounds rock wall to the left and a nasty patch of brush called "Charlie's Whiskers" beside the green. To the right lies Carmarthen Bay, a finger of the Irish Sea. Ahead sits the historic town of Tenby, in the heart of the Welsh Riviera. Tenby is arguably the oldest course in Wales, officially founded in 1888. And yet golf was played on its undulating fairways for more than a decade prior. While the view from Black Rock is enchanting, the experience imparted by the course is even more so, a venture up, down, and through a true links, with blind shots to hidden greens that are faster than the Jamaican track team. It's said that the course was "over 120 years in the making." But while putting out on a green nestled in surrounding dunes, I got the sense that Tenby's first golfers—who wore thick Norfolk jackets and slapped gutties around the route with hickory cleeks and mashies—traversed grounds that look little different today.
—Jay Stuller, jaystuller.com
I've played almost every great links of Ireland and Scotland, but the Ailsa at Turnberry has always been my favorite. While some links, like the Old Course, hardly glimpse the sea, Turnberry's stretch of waterfront holes is simply unparalleled, starting at the fourth after a perfect three-hole warm-up stretch, and running all the way to 12, complete with waves crashing on jagged black rocks. There's nothing else like it, one stunner after another, and just when you think it can't possibly get any better, they throw in some ancient castle ruins near the tee. In addition, while it has the high dunes characteristic of the great links, the fairways are ample and laid out in valleys between the dunes, so the deep rough does not destroy the round like it can at Portrush or Dornoch—it is user friendly links golf with amazing scenery. That's enough for me.
—Larry Olmsted, larrygolfstheworld.com
There are dozens of British links courses we all quite rightly hold in high esteem. So, in the spirit of refusing to play favorites (Royal Aberdeen) or indulging in declarations of the obvious (Old Course), I offer you Church Stretton Golf Club in western England. If you really want to get away (from civilization and any semblance of the modern golf experience), check out this virtually unknown James Braid/Harry Vardon collaboration, designed in 1898 atop a string of foothills in Shropshire known as the Long Mynd. Boasting not a single par five, with fairways maintained largely by sheep, this par-67, 5,000-yard track is bizarre but thrilling, truly one of a kind, as golfers go from 400 to 1,150 feet above sea level then back down again. The walk is demanding. The views are fantastic. The golf is, for the most part, superb—and where it isn't, it remains unlike anything you've ever seen.
—Hal Phillips, halphillips.net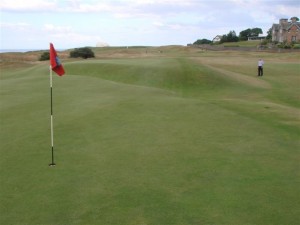 Because it's quirky, classic, unforgettable, and fun, my sights are always set on the West Links in North Berwick. (The East Links in town are over at the Glen Golf Club.) Not unlike St. Andrews Old Course in that it starts right in town and ends with a splendid view of it coming home, North Berwick (right) seems even more of a seaside relic in the way it plays along, and sometimes from, the rocky beach—with another visual postcard of the distant Bass Rocks. There are any number of blind shots and walls to traverse, mostly notably at the 13th, where the green lurks behind a low stone barrier. (The local tip: "Don't argue with the wall: It's older than you.") Two holes later is the original Redan hole, and the 16th green seems like two putting surfaces because of the deep gully running through its center. You know, quirky.
—Tom Bedell, tombedell.com
Royal St. George's, this year's Open Championship site, is an undeniable aristocrat, its members drawn from the cream of London society. Ian Fleming (a former captain) believed the skylarks sang loudest and most jubilantly above the links at Sandwich. Down the coast at Deal, where Julius Caesar landed in 55 B.C. (he was repelled by a savage race of Britons), Royal Cinque Ports differs markedly in aspect. Royal St. George's is upper crust, its golf course exudes grandeur. RCP is humbler, its crumpled out-and-back links flanked by a giant pebble wall near the sea and a row of huddled homes at the finish. But there's something about this quirky links with its blind shots and perched greens that is undeniably charming. The hillocks and swales in the fairways yield nary a flat lie. The greens are firm and fast. The wind off the sea is always shifting. The final four holes are intended to undo any good that may have gone before. I know. I shot 40-50 in a long-ago round. Vanquished, I sought solace on the clubhouse verandah. As a member kindly listened to my tale of woe, I peered through a telescope mounted on the railing. Beyond the Strait of Dover loomed the distant coast of France. With Gaul (Caesar's next stop) on the horizon, how upset could I be?
—Brian McCallen, brianmccallen.com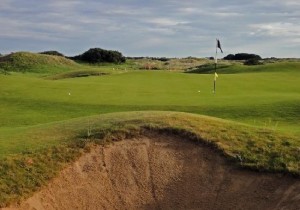 My favorite course "across the pond" is Royal Dublin (left). I played the 2001 Irish Amateur Open there and fell in love with its quirkiness. The out-and-back again routing along an outer banks-type spit of land was built with the prevailing wind in mind. Long par fours and fives going out with the wind, and short par fours and fives fighting their way back into the wind. Only the ninth and 18th holes have any part of the hole running crosswind, and the 18th hole is the only dogleg, with out of bounds running the entire right side of the hole for no other reason than that's what they wanted to do. The legendary Christy O'Connor became the Club Professional there in 1959, and he is still there today.
—Casey Alexander, caseyalexandergolf.com
The farther I can get from the obvious trophy courses when visiting Scotland, the more authentic my visits always prove to be (and the less likely it will take more than 3.5 hours to play). I hesitate to mention 120-year-old Brora Golf Club in northern Scotland, and only do so because you are unlikely to venture 52 miles north of Inverness, past Dornoch, to play a 6,156-yard course that isn't particularly famous. But Brora is the sublimest of Scottish links, shaped by the genius hand of James Braid and cut by the Clynelish burn, which runs past the fine whisky distillery of the same name. Brora's greens are mined with deep, revetted bunkers and surrounded by electric fences to keep out grazing sheep and cattle, and golfers must step carefully over these fences to reach the putting surfaces, thus adding a dimension of potential danger that golf usually lacks. Around the corner lies the rock-solid Royal Marine Hotel, where the manager once presented me with a blue-striped Brora Golf Club tie that I still cherish and wear with pride on special occasions.
—Jeff Wallach, jeffwallach.com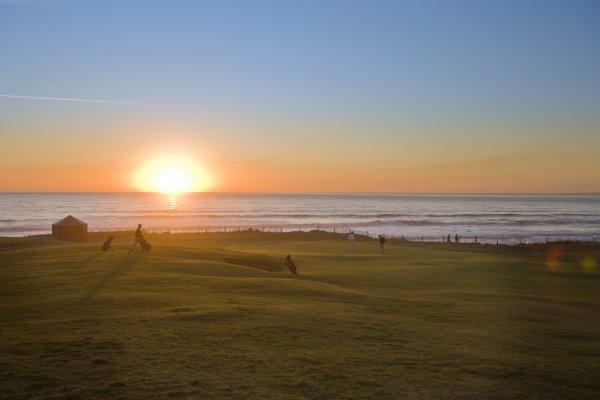 The sea is visible from every hole of Royal Porthcawl (above) in Wales. Both kings and commoners play here, each with respect for the other. One day, three players struggled in the gnarly left rough on the notorious par-four second hole. My host Duncan whispered, "Well now, one of those chaps is on the European Walker Cup team." They immediately waved us through as if detaining our group even one moment would constitute serious breach. There is no better place to be than leeward of the historic and memorabilia-filled clubhouse at sunset, watching greens turn deep emerald and observing the Somerset coast across the Bristol Channel. With cucumber-orange garnished Pimm's in hand, naturally. Certainly, "golf as it should be."
—Janina Jacobs, janinajacobs.com
Walton Heath Golf Club stands out for its sheer, surpassing golfness: Two great courses designed by Herbert Fowler, a clubhouse that melds warm pub cheer with a museum's share of memorabilia, an operatic history that could be mistaken for fiction. And while the preponderance of colleagues' favorites will no doubt be links courses, the heathland terrain is actually a rarer landform, exotic in its own right. It shares the firm fastness, as well as heather and gorse, of linksland, but is of course inland and some 625 feet above sea level. A member, his dog, and I walked the New Course first, followed by an annotated tour of clubhouse archives dominated by James Braid, the club's first professional, a position he held for 46 years. Fish and chips and an ale fortified me for an afternoon round on the Old Course, guided by the club president, who kindly supplemented his own observations with a copy of Heather and Heaven, a book commemorating Walton Heath's centennial, in 2003. Written by Phil Pilley, it transcends the usual problem inherent in such treatments, namely that the reader knows few of the members cited. Here the members are Winston Churchill, Lloyd George, and Ernest Shackleton.
—Tom Harack, tomharack.com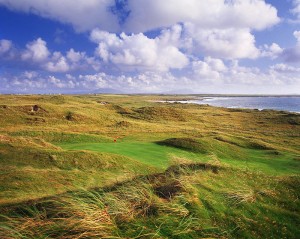 Due to the unheralded genius of its designer Eddie Hackett, Carne Golf Links (left) remains my favorite golf course in the British Isles. Off the beaten path in northwest Ireland, Carne embodies the quintessential charm and challenge of a majestic links course. Its magic begins and ends with how the holes complement and blend with the variety of its ruggedly beautiful terrain. Shaped with a minimalist sensibility respecting the natural landscape, Hackett deftly composed this symphony, his last links course. With quiet notes and melodies on the front nine, Carne builds to a crescendo of soul-stirring sights and sounds on the back with its breathtaking views of the Atlantic Ocean. After holing out on the final green and feeling both humbled and restored, you'll whisper: "Bravo, Maestro!"
—Terry Moore, teemoore.com
No course I know captures the mystery and the history of British golf better than the Machrie, on the island of Islay, off the western coast of Scotland. Mystery because roughly half the full shots are blind. On some tees, the player sees a pole atop a dune and aims over it, trusting that there's a fairway on the other side. Greens lie in glens hidden by massive sandhills; it's imperative to have a local partner the first time or two around. History because that's the way golf courses had to be constructed back in 1891, when Willie Park designed the Machrie. He put the greens and fairways where the land permitted; playing it now is analogous to a taking a spin in a Stanley Steamer. And there's a bonus to playing the Machrie: Islay boasts seven of the world's greatest whisky distilleries. A dram of Laphroaig works very well to ease the pain of a lost ball or two.
—Bob Cullen, bobcullengolf.com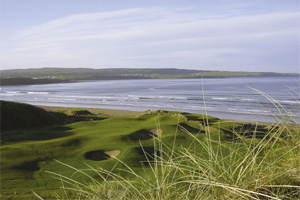 I've only played golf in the British Isles on one whirlwind, 10-day, 12-round tour of southwest Ireland. Every one of the courses is indelibly etched in my mind. Old Head, Tralee, Ballybunion, Waterville, the chowder at the Dingle Club; they were all marvelous. I would never argue that Lahinch (right) is the best course. But it might be the most enchanting. It's certainly the most whimsical. It has a blind par three over a mound to an hourglass green, a par five where big hitters need to lay up before they clear a giant mound, crisscrossing fairways that require special golf etiquette. And it's all set on a magical collection of seaside hills that provide a splendid view of the quaint town of Lahinch and the inviting beaches around it.
—Herb Gould, herbgould.com