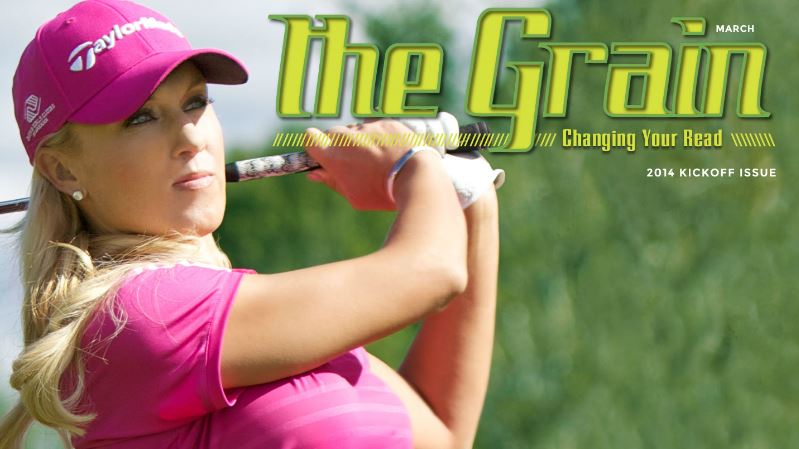 We couldn't be happier about having the talented and attractive Natalie Gulbis grace the cover of our first electronic magazine of 2014. Newly renamed The Grain, the magazine will appear seven times this year, and we're off to a good start with Gulbis. She not only offers "Five Tips for Early Season Practice" in her fetching signature pink, but serves as the grand prize in the first of many contests readers will be able to enter throughout the year.
Entering to win a golf weekend with Natalie in Myrtle Beach is the first of three contests in this issue alone.
According to Golf Media Network and The A Position executive editor Jeff Wallach, "In the same way that the grain in a putting surface effects the way a golfer reads a putt, our new magazine aims to change the way golfers read about our sport.  We'll deliver an interactive publication full of in-motion graphics, slide shows, video, podcasts, and other treats as we tell stories that readers just won't find in other golf magazines."
After the March 1 debut of The Grain, subsequent editions will be dedicated to each of the Majors and the Ryder Cup, and wrap up the year in November with a travel issue.  The magazine will be delivered to as many as 1.9 million readers per issue via partnerships with more than 30 state and provincial (Canadian) golf associations, as well as through partners like Shotzoom (makers of leading golf GPS apps including GolfShot and TOURCaddie) and the Golf Course Superintendents Association of America.
Or simply click here to start reading The Grain.