Think the golf season starts at The Masters? Or Pebble Beach? Maybe Hawaii? Not if you're in the business. For the industry's manufacturers, club pros, and media the game tees off every January at the PGA Merchandise Show in Orlando, Florida, where the trade meets to show off the latest gear—clubs to clothes, gadgets to geegaws.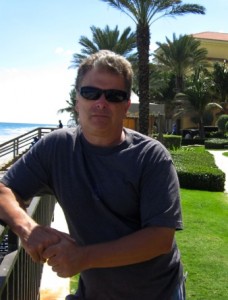 Of course, the writers from golf's leading website, The A Position were there, front and center, waggling and testing, playing with the latest toys and picking their favorites.
Joining TAP at the big show for the first time was sister site GearEffectGolf.com, which is all about golf equipment all the time. The site includes news on the latest and greatest, interactive forums, reviews, rumors, and much more.
Leading GEG is Executive Editor Steve Pike (left), who has been following the industry for more than 20 years, writing for such notable publications as Golf Digest, GolfWorld, and Golfweek. Pike joins The A Position writers this month in pulling back the curtain on hot new products unveiled at the PGA Show.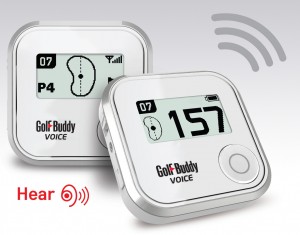 I've never been very interested in golf rangefinders, finding them both a bit cumbersome and more than a little time-consuming. I trust my eyes and a yardage book, the result of long teenage days caddying. The Golf Buddy Voice, however, has me reconsidering. Touted as the world's first talk­ing GPS rangefinder, the Voice comes pre­loaded with 35,000 golf courses from around the world and has room for many more (downloadable from the website once the unit is available in a few months). About the size of an iPod shuffle, it's unob­tru­sive, designed to clip to the brim of a cap, visor, or belt; press the but­ton and it talks in a soft, female voice and in one of eight different languages, pro­viding yardages to the front, cen­ter, and back of the green. Which is really all most of us need to know. The Voice will be available in April at a list price of $199.
—Steve Pike, geareffectgolf.com
At the PGA Merchandise Show every aspect of the golf experience is analyzed, probed, and subject to innovation. (I am legally obliged to note for the record that the Merchandise Show is not open to the public. Really. It says so in the application for media credentials and everything.) At the outdoor demo day, I was startled to learn that even the beer cart can be improved, thanks to the efforts of Retail Application Deployment Systems (RAD Systems, LLC), which developed a simple application called SCAN4BEER, being marketed to course operators. Simply use your smartphone to scan a QR code available on each golf cart. The code identifies your cart, a menu appears on your phone, you make your selection, and the beer cart locates you through your GPS and brings you a chilly beverage. No more waiting for the cart to make its circuit, no more tedious slog through nine holes to reach the halfway house. Swing oil is just a click away. As the website demonstrates, they haven't improved on the cart girl yet. Some things are out of reach of even the most extensive new-product showcase.
—Jeff Neuman, neumanprose.com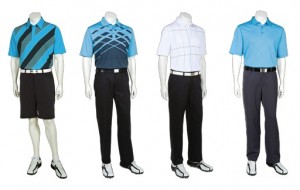 At a time when virtually everyone in golf swears to be single-handedly saving the planet, how can you not love sincerely environmentally responsible golf shirts from AUR? Their S. Cafe shirts employ a patented process that transforms coffee grounds into yarn, which is then used to produce cool golfwear (and may provide a nice buzz). Their Ecosmart shirts consist of fabric made from recycled polyester yarn that is itself made from recycled plastic bottles. Carbocool shirts blend polyester and bamboo in a fast-drying, moisture-wicking fabric with added UV protection. And their Cocona fabric uses man-made fibers that include carbonized recycled coconut shells: When you're done wearing the shirt, you can mix a drink in it! AUR golfwear comes in five different lines that are sleek and modern and as cool as actually protecting our dwindling resources.
—Jeff Wallach, jeffwallach.com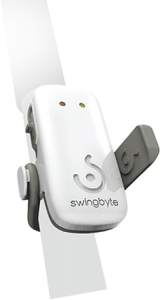 If you've got an iPad and you've got a golf swing and you've got $150 in your pocket, take a long look at the Swingbyte, invented by a Ukrainian techmeister who doesn't even play golf—although he's quickly becoming hooked. The Swingbyte is a brilliant little device the size and weight of your car's keyfob. Attach it to any club shaft right below the grip and strike a shot. Bingo, up on your screen is the God's truth about your move, sent via Bluetooth. The readout includes swing plane and path, viewable from whatever angle you select, including overhead. "Video cameras can hardly do that," notes CEO and former Canadian Tour winner Brian Payne. There's also an array of data like angles, speeds, even tempo. This screenful of science about your swing gets saved and time-stamped so you can easily see whether the cue you just dialed up had a desired effect. For very cheap you can also buy apps that overlay the swing technique concepts of household-name instructors.
—David Gould, davidgouldgolf.com
My favorite new product is Grip Guides, a heat-activated device with color-changing technology (like the blue mountains on Coors Beer bottles) that instantly shows if you've taken the right grip. While I like the device, there was another reason it stood out for me: The creators are Chip Beck and his wife, Karen, and to get the complete flavor of the product you had to see Chip in action at the show. Always full of energy and optimism, Beck bounced from person to person, eagerly showing off Grip Guides. When I came by, he placed my hands on the club with the device and said, "Oh, Ed, you're going to love this." You won't find many veteran pros work the room like he did. I did like Grip Guides. I like the people behind them then even more.
—Ed Sherman, edshermangolf.com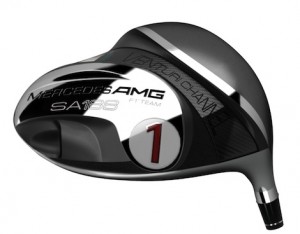 My favorite Formula One driver is Ferrari's Felipe Massa, but that may soon change if the club I saw at this year's PGA Show lives up to its hype. WSH Inc., led by CEO Michael Lee, has licensed the Mercedes AMG name for a new line of golf equipment and apparel that will include irons, wedges, putters, fairway woods, and an interesting looking driver. A Formula One car's performance is all about aerodynamics and the Mercedes AMG Formula One Driver's is, too. It features what the company calls a "Venturi Channel" in the sole (think physics' Venturi Effect, not Ken), designed to produce a "jet effect" and, presumably, higher clubhead speed. Is this just more empty hype stemming from yet another marketing-driven licensing deal? Well, the club has a great look, as well as nice balance and feel. But I haven't hit one yet. I'll let you know when I've had a chance to test-drive it on my favorite "track."
—David DeSmith, daviddesmith.com
Besides boasting the most bodacious booth babes of the entire PGA Show, something else about Swing Advantage caught my eye. Yes, the strength-training tool looked a bit odd strapped to a player's thigh and the grip of the club. But to me, it made sense. As a guy rapidly approaching middle age, I focus on core strength and flexibility. Testing the Swing Advantage I immediately noticed a core contraction that seemed to stabilize my posture. They market the Swing Advantage to deliver "greater muscle strength and endurance" and provide "dynamic flexibility of the core muscle groups engaged in the optimal golf swing" … and I believe it. Doesn't hurt that PGA Tour pro Omar Uresti offers a similar endorsement: "I've been using [Swing Advantage] maybe once or twice a week at home, just practice-swinging with it," said Uresti. "It's helping build up strength in my left side, as well as the flexibility going back. I think I'm hitting the ball better. Right away the ball was going like five yards longer."
—Brad King, bradkingwrites.com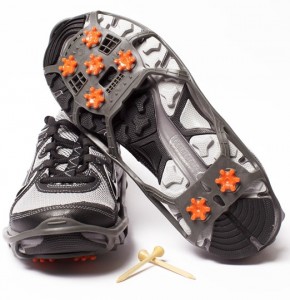 Quick Spikes is an innovative way to transform your regular kicks into golf shoes. Shoes are the hardest items to pack efficiently, especially if you don't check bags. Quick Spikes gives you a simple alternative, designed to function sort of like streamlined summer galoshes with most of the rubber cut away and then slipping on over any pair of shoes. There's a strong perimeter band of neoprene that stretches around the shoe, and a matrix across the band that puts two soft spikes at the heel and five at the sole. They weigh almost nothing, so it would be very easy to toss a pair in your briefcase. Quick Spikes were developed by Californian Brendan Walsh and his two brothers, who together did the R & D, product testing, and now manufacturing and marketing. The retail cost is $24.95, and the spikes are replaceable.
—John Strawn, johnstrawn.com
As the speed-golf world-record holder (a score of 65 in 44 minutes carrying only six clubs), I know a thing or two about moving fast and going low. Nike Golf's newest line of clubs certainly fits the bill for my needs. So fasten your seatbelts. The tour-inspired Nike VR_S driver, fairway woods, and hybrids incorporate NexCOR face technology, designed to increase distance for a wide variety of players through a new speed-expanding multi-face-thickness design. The driver sports a bigger clubhead and a deeper face, and is available in lofts from 8.5 degrees to 13; the shallow-faced fairway wood was created to minimize draft and maximize distance; the compact, aerodynamically designed hybrid offers the launch performance of a fairway wood and the accuracy of an iron. Then there are the VR_S forged irons: Yowza! Featuring Japanese SAE 8655 steel (think thin and fast), PowerBow technology, and X3X grooves, these babies launch high, carry long, and spin consistently.
—Christopher Smith, christophercsmithgolf.com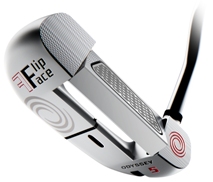 The trend towards adjustability in drivers is undeniable. What about the rest of the bag? I saw a neat idea at the PGA Merchandise Show called the Odyssey Flip-Face putter. Every tournament player struggles with a putter face or insert that is too soft for slow greens or too firm for fast greens. It makes choosing a putter a nightmare. What if you could get two putters in one? The Odyssey Flip-Face putter gives you just that, allowing you to flip the face to adjust to the speed of the greens that day. Callaway uses the new Odyssey Metal-X insert for the firm side, and the soft, buttery, Odyssey White Ice insert for the soft side. Now players can control their speed no matter what greens they are playing. Finally, an Odyssey putter that gives you the best of both worlds. What a great idea!
—Casey Alexander, caseyalexandergolf.com
My choice for best new product isn't directly related to golf but certainly will enhance any golf experience. It's the Hydro Flask. Imagine packing your favorite ice-cold beverage complete with ice cubes or a steaming hot beverage into a container. With the typical thermal vacuum units, the ice cubes melt or the hot beverage eventually goes cold. Hydro Flask keeps ice cubes in their original state for at least 24 hours and hot beverages piping hot—even in the Arctic—for at least 12 hours. Likewise, beer or soda can be stored without losing its fizz. Built with food-grade stainless steel, it comes with a lifetime guarantee. Available also for food, it comes in a variety of sizes and can be personalized with a logo.
—Bob Fagan, robertfagan.com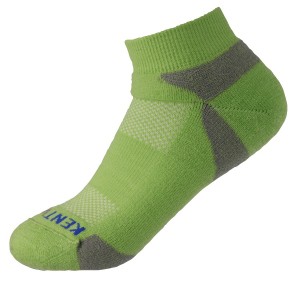 Like the space-age technology used in golf clubs, Kentwool golf socks have a back story, something about being developed for Special Forces. Unlike most of their golf-equipment cousins, though, the promotional material is blessedly devoid of any supposed correlation between wearing really comfortable socks and lowering your handicap. Another distinguishing feature is that Kentwool—first introduced at last year's show—has experienced phenomenal growth, 398 percent according to founder and president Mark B. Kent, a golfer who now talks of expanding into other sports markets. To me, a pair of Kentwools stands out as the only piece of golf paraphernalia to make travel easier, not harder. This is especially true in trying circumstances, like the six-hour weather delay I suffered at Atlanta's Hartsfield Airport during the commute to the show. Suitable for a public kip, the odor-absorbing Kentwools are appreciated by fellow passengers and TSA operatives alike.
–Tom Harack, tomharack.com
SwingShot is a brand-new way to record all your shots during a round without slowing play. The design consists of a unipod camera mounted onto a turf spike. When you want to record a shot, take a few steps behind your ball, hit a single button, and you're ready to capture audio and video footage from your pre-shot routine all the way through your finish. The technology is relatively simple: Before the round, rent a SwingShot camera and purchase a single-use memory card from the pro shop, load the memory stick into the camera, and head out onto the course. Afterward, return the camera and take the memory card home to download the data to a computer. It's even GPS-enabled to track your shots through Google Earth. The company is currently beta-testing the product by offering rentals at select locations, but with any success they'll be on the market in no time.
Gabe Garcia, gabegarciagolf.com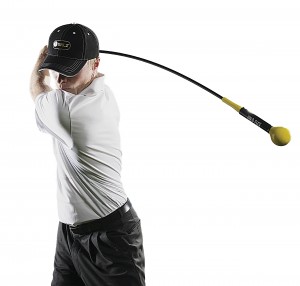 Golf training aids can be funny-looking things and one that proves the rule is Gold Flex from SKLZ.com. Its exaggerated weight and flex seemed conceptually sound to aid tempo, sequencing, and swing plane, but in the deep recesses of my mind I couldn't help thinking, "Not another yellow training club!" This mild skepticism accompanied all the way from Orlando to the Longboat Key Club & Resort, where I coach during Florida's "high season." Not having played much golf in the last year, I arrived in time to play in the weekly skins game. After about 50 swings with Gold Flex, I set out on the Blue Course, which includes two par 5s with water in play on every shot. Well, my new yellow friend soon became my best friend as I hit both par 5s in with two high, arching 3-irons to both greens. Back at the clubhouse, two players who'd also tried my Gold Flex before their rounds were similarly excited about their stellar play. The club instills a smooth rhythm and proper sequencing, good habits for any player, and successfully translated from warm-up to on-course play. Bravo!
—Roberto Borgatti, robertoborgatti.com
"Gary Woodland is an athlete, Phil [Mickelson] is not an athlete. But the best athlete I ever trained was Greg Norman." This was a bit of an eye-opener from Butch Harmon, former coach of a certain Mr. Woods. But then there were plenty of tales, many unprintable, as Butch held forth at a dinner for writers during the PGA Show. There was plenty of shop talk about the golf swing, too, since the purpose was to introduce the new two-DVD "Butch Harmon About Golf" set that will ship out March 1. Available through a website or at select golf retailers, the four-hour video offers Butch's top-notch instruction and seven-time Emmy-winner Terry Jastrow's high production values. Icing on the cake are appearances from some of Butch's most skilled clients over the years—Couples, Els, Gulbis, Scott, Watney, Dustin Johnson, the athletes (and non-) above, and Tiger, too—all leading to more teaching moments.
–Tom Bedell, tombedell.com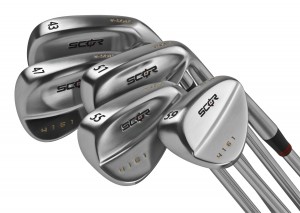 Just as hybrids did a few years back, a new scoring-game concept could change the way golfers put their sets together. They could opt for driver, fairway wood, three hybrids, 5-8 irons, putter, and four clubs from SCOR Golf. The Texas-based division of Eidolon offers clubs that look like wedges in 21 different lofts ranging from 41 (about today's 9-iron) to 61 degrees, giving golfers the accuracy and distance most likely to get them in birdie range. The clubheads have thicker top lines so the ball won't climb too far up the face, and the v-shaped sole provides two bounce angles—high on the leading edge and lower on the primary sole—to keep clubs from digging too much. Special Genius shafts, softer in the middle and stiffer in the tips, are also featured.
—James McAfee, jamesamcafee.com
The Swami 3000 Golf GPS rangefinder, introduced last fall by Izzo Golf, enchanted me with its "simple, fast and accurate" yardage measurements. Reasonably priced at $99.99, it comes pre-loaded with more than 19,000 North American courses and is ready to use out of the box, no activation or subscription fee required. That last item was a clincher. I'm all for inventors making money but I'm intolerant of ongoing fees, a.k.a. "revenue streams." Did the inventor of the telescope require users to drop a coin into a cup every time they viewed the heavens? But I digress. The Swami is affordable, compact, and delivers yardage distance to the front, middle, and back of the green. What more do you need while staying focused on one of a dozen swing cues?
—Terry Moore, teemoore.com