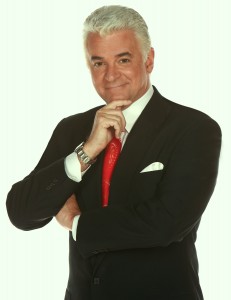 When talking golf equipment with single-digit-handicapper and renowned actor John O'Hurley, we couldn't help asking what we thought was a clever question: What piece of golf equipment might we find in the J. Peterman catalogue, which O'Hurley made famous on "Seinfeld" while playing Elaine's boss, catalogue impresario J. Peterman. What we didn't know was that O'Hurley's spots on the show were so popular that he actually helped revive the then-defunct catalogue itself—yes, there really was a J. Peterman catalogue. And in a Seinfeldian twist, O'Hurley is now one of the owners of the company. His answer leads our latest A List of our writers' favorite gear, asked upon the heels of the 2011 PGA Merchandise Show in Orlando, where 20 A Position writers checked out the latest, greatest, and dumbest in new golf equipment. And hot upon the launch of our new equipment website, www.GearEffectGolf.com.
I collect golf antiquities and have one of the last remaining stand-up golf bags from the period 1860-1890. It actually employs the same technology used in standing bags today. It has a small leather pocket that holds three or four clubs and a board with a luggage strap to give it structure. The new J. Peterman catalogue will replicate and sell this bag because we believe there isn't a good par-three bag anywhere.
—John O'Hurley
I've found the perfect putter for senior golfers like myself, especially now since I just had knee replacement surgery, or for those with bad backs. It's the Nickel 1, manufactured in Germany. It's definitely a premium putter that outperformed the Odyssey 2-Ball in some tests, but it has some added features like none other on the market. There's a stainless steel insert that can be put into the underside of the head that actually allows you to mark your ball on the green without bending down. Then when ready to putt, you put the ball back down behind the marker and a magnet picks up the marker. When you make the putt—and I seem to make more now—another accessory attached to the grip end allows you to pick the ball out of the hole without bending over.
—James McAfee, jamesamcafee.com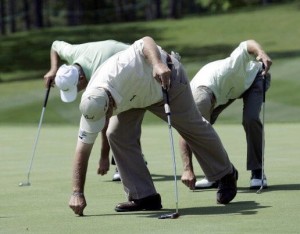 I will never, ever understand why some people do not repair ballmarks. The only explanation is that they were born bad, with a flawed character beyond hope of redemption. I love fixing my ball marks, not because I like bending down and playing with grass, but because the only time you ever have to repair a ball mark is when you hit a good shot. Skulled approaches that run through the green, misses left and right that land in sand traps, and the chunked wedge that comes up short all have one thing in common: no ballmark. To make a ballmark you have to hit a high shot that goes the right distance and direction to land on the green, with the authority to stick. That happens rarely enough for me to make the repair process a pleasure, but even if it I had to repair 18 ballmarks a round I would not complain. I use a tool that clips to my pants pocket and has a removable magnetic ballmarker. This solves two problems with one handy device and it is the first thing I take out of my bag before a round. Clipping it to my pocket announces that I came to play and mean business. Lock up the women and children.
—Larry Olmsted, larrygolfstheworld.com
Battery-operated carts used to have an "old geezer" stigma attached to them. Most resembled glorified lawn mowers. However, my Stewart Golf Dream Machine is downright sexy. Golf Magazine called it "your own fairway Ferrari." My chiropractor fully endorses the concept. Who knows? What I save on medical bills might pay for my new "energizer" buggy. The chassis is made from a combination of precision injection moldings and bonded composites resulting in durability and a flashy racecar look. It folds down, taking up less real estate in your trunk than your golf bag. When you arrive at your club, simply grab the handle and lift to snap the arms into place. The remote allows you to propel it from up to 50 metres away. This baby turns on a dime. The latest model, the X5 Remote, sells for about $2,500.
—Anita Draycott, anitadraycott.com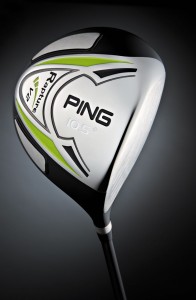 For the past couple years, my favorite piece of golf equipment—aside from hitting the course with my wife—has been a driver that I stumbled across during a demo session in Scottsdale. It's now the most trusted club in the bag and I wasn't even fitted for it. In fact, I usually avoid hitting a bunch of different sticks, trying to make sense of the differences. However, when I picked up his particular driver and immediately started hitting shots high and dead-on straight, I wrote down the numbers and made arrangements to buy one. In my new role at geareffectgolf.com, I'll probably learn that the specs are all wrong. Until another manufacturer proves differently, I'm a true believer in my Ping Rapture V-2, TFC 939 D Reg, Flex 4.26, Weight 52G, Stiffness Ratio 52 %, EL (avg.) 18.566,GJ (avg.) 7.74.
—Jay Stuller, jaystuller.com
"Just another worthless freebie" was my thought when it arrived one day in the mail, but these many years I can't seem to put it down. "It" is the Gary Player Heavy Hitter Swing Accelerator, a pint-sized club with a molded training grip designed to increase clubhead speed, strengthen golf muscles, and improve tempo. A couple of times a week, I'll make a slow, unhurried takeaway with the 30-inch white-headed club, swing back to a full coil, and then just as slowly bring the clubhead through the impact position and allow centrifugal force to carry me to a full, balanced finish. No worries about quality of contact, ball flight, or other inconvenient particulars normally associated with the game. Just a nice, meditative swinging back and through. Used on a regular basis, I can vouch for the fact that the Heavy Hitter promotes a full shoulder turn, creates greater flexibility, and ingrains a smooth rhythmic motion. Now if only I can replicate that action on the golf course.
—Brian McCallen, brianmccallen.com
I like my putter and have owned it for years,
But if I lost it tomorrow I wouldn't shed tears.
My driver's more than OK but I still have to face it—
Sometime this year I'll probably replace it.
I'm just not a golfer who bonds with his stuff.
Guess I'm not sentimental or superstitious enough.
Yet there is a possession I'd sure hate to lose,
Something I own that enlarges my views.
That enhances my pleasure and keeps me connected.
I'm speaking of course of the books I've collected.
They're filled with pictures and tips and wonderful stories,
They're chock-a-block with golf's many glories.
Though books aren't "equipment" they're quite necessary.
I'd be less of a golfer without my library
—Stephen Goodwin, stephenhardygoodwin.com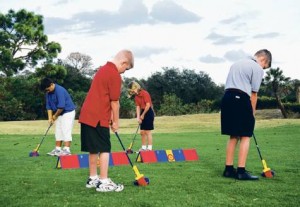 It's not too often that you get a look into the future. Yet I saw the future of golf instruction for children, and I watched golf professionals at the PGA Merchandise Show Demo Day playing like little kids. It's called SNAG, which stands for (S)tarting (N)ew (A)t (G)olf. SNAG introduces golf with innovative plastic clubs, multi-colored tennis balls, Velcro targets, and training clocks to teach a true golf swing. But best of all, it introduces golf with immediate fun, instant feedback, and rapid success that engages children into golf for the long term. It just figures that the USGA turned SNAG down for funding because their clubs are non-conforming. Why would they want any children to have fun?
—Casey Alexander, caseyalexandergolf.com
Nothing matters more than my trusty old Bull's Eye putter. The secrets of my Bull's Eye are many. It requires me to hit the ball a little harder than most putters, so dreaded decelerations are diminished. Its small blade is like an extension of my hand, so it has a wonderfully cozy feel. My Old Standard is a two-way putter, so I can hit it from either side in a pinch and practice cross-handed when I want to regain my rhythm. It also demoralizes opponents when the miniature-golf putter is making the ball disappear into the hole. I have a whole garage full of drivers, irons, and fairway woods, but that putter is irreplaceable.
—Herb Gould, herbgould.com
A new product called "Advisor" caught my eye as the "best in show." It is a Voice-Activated, Voice-Response GPS yardage range finder that automatically recognizes the hole of the course you are on and then provides you with yardages to any strategic feature. You simply ask for yardage to a bunker or water hazard or to carry such, or to the front, back, or middle of a green and a voice provides you with the answer.  It is so simple!  With its one-button control, you can adjust the response to a whisper or make it loud. Simply download the course from the Internet and you are ready. The unit is small enough to fit on the bill of your hat, clip onto your belt, or go in your pocket. It costs only $199 and requires no fees, and holds up to 2,000 courses.  This is a game changing "home-run" in my opinion.
—Bob Fagan, robertfagan.com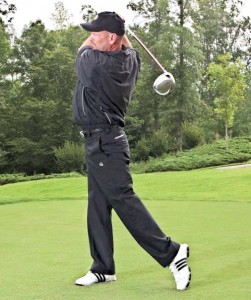 While walking the aisles of the PGA Show, I discovered a really cool product, which makes sense because they're for wearing when it's cool—and wet, as well. Galway Bay All-Weather Pants look and wear like real trousers but are made from a water-resistant material that doesn't look like plastic and have both a wind-stopping membrane and breathable fleece on the inside. They're for playing in temperatures of 20 to 60 degrees, mist to downpour. I wish I'd had them on recent trips to Wales, Scotland, and Ireland, as they would have taken the place of those baggy rainsuit pants that drag on the wet ground, get muddy, get caught on my cleats, and make my lower body feel as if it's taking a sauna.
—James A. Frank, jimgolfrank.com
We know that golf equipment comes and goes, working properly only at Demo Days and exactly one round after that. But eyes are forever…we hope. That's why Tifosi sunglasses are my fave find from the PGA Show. For years, Tifosi Optics has been tops in function and popularity within the running and cycling worlds, outselling 19 familiar brands, combined, and is now taking aim at golfers. I'd always balked at wearing shades, despite UV warnings. They're annoying. They slipped, sweat, and fogged. They distorted light, the ground, and line of vision.  They'd get scratched and out of whack and I hate looking like a cock-eyed reject from "Revenge of the Nerds." Tifosi has erased every one of these problems with cutting-edge technology and super-light-weight design. They're more than affordable at $39.95-$89.95, and come with a lifetime guarantee. Best of all—they're hot!
—Janina Jacobs, janinajacobs.com
So under appreciated is my golf equipment that for me to even consider traveling with my clubs, I have to be playing at least three rounds while staying more than four days away from home. But, the exception to that rule is my Miura KM-350 blade putter. The KM-350 is the Penélope Cruz of putters: Perfectly proportioned, not too long, not too skinny. It isn't one of those monstrous Kim Kardashian-esque mallet putters with the giant rear end, either. Those might be fun to roll around the grass with for a day, but they can't offer any lasting appreciation. And my KM-350 isn't one of those super-model-thin, Kate Moss blades either. I need more substance than that. In fact, just holding it reminds me of the aforementioned Ms. Cruz in the movie "Vicki Christina Barcelona." Both can be irritable and prone to fits of incoherence, but that doesn't mean I'd ever leave either of them behind.
—Jason Kerkmans, jasonkerkmans.com
The Sun Mountain MPB—for multi-purpose bag—has served me well for several years. A stand bag light enough to carry, it works equally well on the back of a motorized cart. Absent from its multiplicity of functions, unfortunately, has been the capacity to fit comfortably on a pushcart—"trolley" for non-American speakers—the preferred method of transport for golfers, often of a certain vintage, who insist on walking but resist hefting. A new line of the company's bags, unveiled at the recent PGA Show, solves the problem with a cart-friendly bottom plate that locks into place, eliminating "side-saddle" twisting and ensuring easy access to pockets, as do slits for "cart-strap pass through." True, the new bags work best on pushcarts also made by Sun Mountain, but these are designed with the same thoughtfulness the company has shown since introducing the first bag with legs in the 1980s.
—Tom Harack, tomharack.com
While once they were the pride of my upscale golf wardrobe and reserved for pro-ams and rounds played with various kinds of dignitaries (or saved for very special courses), my Ecco Classic Hydromax golf shoes have essentially been worn back into the earth.  And yet I can't give them up.  If golf shoes are the vehicle that transports you around 18 holes, my Eccos are an Aston Martin V8 Vantage Roadster convertible combining the highest comfort engineering (the only golf shoe I'd dare to walk 18 holes in right out of the box) with sleek styling that makes me feel just a little like I'm showing off.  I know it's time for a new pair (I've got my eye on the $450 World Class GTX) but it's so hard to let go of a great long-term relationship.
—Jeff Wallach, jeffwallach.com