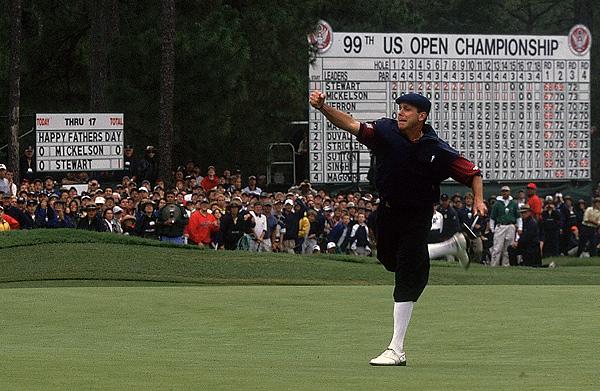 When the world's best golfers begin playing the 113th U.S. Open this week at Merion Golf Club near Philadelphia, they will be returning to the site of the 4th best Open of all time. Or so say the writers at The A Position.
The 1950 Open, which produced two legendary shots–one with a golf club, one with a camera–was picked by The A Position as number four of the "10 Best U.S. Opens Of All Time." The A Position's roster of writers was polled for their favorites, the votes tabulated, and the Top 10 chosen.
Each of the 10, beginning with the 1913 Open—in which an unknown American youth broke the British stranglehold on golf—is remembered for its triumph or tragedy, as well as its significance to the game's history and traditions. The 10 Best Opens go back to the game's earliest days in this country, and fall as recently as 2008, when Tiger Woods, playing on a broken leg, had to withstand a fifth-round playoff to win.
Now the golf world waits to see if this year's staging at Merion will be an Open for the ages. Based on the 10 Best list as chosen by The A Position, it's going to have to be something very special to make the list.
The 10 Best U.S. Opens Of All Time are…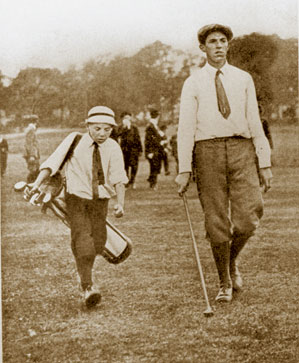 1) 1913. The outcome, predicted by no one, remains improbable even in retrospect. Yet almost 100 years ago a 20-year-old amateur outpaced the field, a triumph that galvanized the growth and democratization of the U.S. game. The expected storyline for the 1913 U.S. Open was continued British dominance, particularly with greats Harry Vardon and Ted Ray playing. From seemingly nowhere—although he was the reigning Massachusetts Amateur Champ—came Francis Ouimet, who lived across the street and had caddied at the private Country Club in Brookline, Massachusetts, site of the Open. After two rounds Ouimet was tied with Walter Hagen, trailing Ray by two, Vardon by four. After the third, Vardon, Ray, and Ouimet were deadlocked. And so it remained after the fourth, leading to a nail-biting 18-hole playoff. After his victory—by five strokes over Vardon, six over Ray—Ouimet was carried away on the crowd's shoulders and into the ages.
—Tom Bedell, tombedell.com
2) 2000. There are people who think that Rory McIlroy's victory in the 2011 U.S. Open at Congressional Country Club was the most dominant in U.S. Open history. These people are ignorant. They are ignorant of recent history. True, McIlroy led after every round and won by 8 shots with a 16-under total. That is strong. It's just not even in the same league as Tiger Woods in 2000 at Pebble Beach. Tiger led every round and shot 12-under par in brutal conditions. Rory was one of 20 players under par. Tiger won by 15 shots and was the only player under par! Tiger shot the low round of the day three of the four rounds at Pebble Beach. His second round 69 was one of only two rounds in the 60s. Tiger buried them all in a way that Rory never will.
—Casey Alexander, caseyalexandergolf.com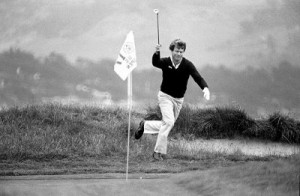 3) 1982. As television golf commentator Jack Whitaker was practically handing Jack Nicklaus his fifth U.S. Open during post-round interviews at Pebble Beach, back on 17 Tom Watson wasn't quite finished. Prior to the tournament, Watson pegged his chances of winning at about one in a million. Admittedly "swinging awful," he'd fought back with stellar chipping and putting. Tied with Nicklaus after bogeying 16, Watson hooked his 2-iron on the 209-yard par-3 into notoriously thick fescue. Nicklaus watched the monitor and thought, "certain bogey, I win." Watson's legendary caddie, the late Bruce Edwards, eyed the impossibly delicate 16-foot chip and said, "Get it close." Watson countered, "I'm not going to get it close. I'm going to make it!" Watson slam-dunked, danced, and then earned the title he most coveted. "That shot meant more to me than any golf shot I ever made," Watson said in 1982. Three decades later, nothing has changed and Watson still regards that victory as his most precious of eight majors, including five British Opens.
—Janina Jacobs, janinajacobs.com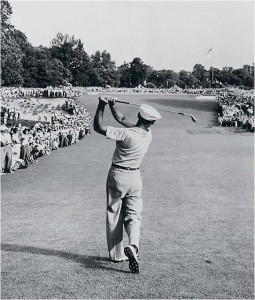 4) 1950. The saga of the most dramatic U.S. Open ever played, the 50th in 1950 at Merion Golf Club, began in the fog outside Van Horn, Texas, on February 2, 1949 when a bus struck Ben Hogan's car head-on. Miraculously Hogan wasn't killed but he did suffer what were called career-ending injuries. Hogan didn't believe his career was over and after months recuperating he was able to play on legs so weak he had to soak them daily in long hot baths and tape from ankle to hip to get around 18 holes. Pundits opined he could totter around perhaps for one round but never the two required on the final day of an Open. Hogan proved them wrong. His determination and guts carried him for not only four rounds but a playoff fifth against George Fazio and Lloyd Mangrum. The playoff wasn't even close: Hogan 69, Mangrum 73, and Fazio 75.
—Ed Travis, edtravisgolf.com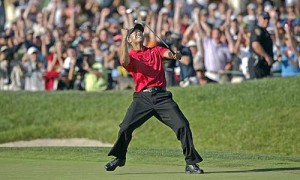 5) 2008. I literally wrote the book on Ben Hogan winning the 1950 U.S. Open at Merion (Miracle at Merion), but to me that championship was topped by Tiger Woods' triumph in 2008 at Torrey Pines. The reason: more golf heroics and drama at Torrey, where Woods holed a 15-foot birdie putt on the 72nd hole, then birdied the 18th playoff hole to force sudden death, which he won. Not to mention his two eagles and holed bunker shot on the back nine of the third round and runner-up Rocco Mediate's three straight birdies to take the lead on the back nine of the playoff. In 1950, the field went backward on the final day, most of the contenders faltering on the front nine and Hogan on the back. Hogan and Woods both overcame leg problems as they limped to victory; the Hawk gets bonus points for making it through a 36-hole final day of regulation, but Woods's physical situation was more acute at the time as he needed major surgery on his knee immediately after the championship.
—David Barrett, davidhbarrett.com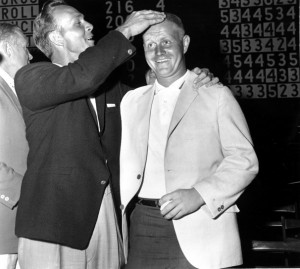 6) 1960. Did three days in Denver really give birth to The King and the Grand Slam, while providing Hogan's Last Chance and Jack's Coming-Out Party as well? Yes, indeed they did. Cherry Hills made Arnold Palmer into ARNOLD PALMER. Starting the final round seven back, he drove the 346-yard first hole—the signature shot of his career; made six birdies on the first seven holes; and charged to a 65, cementing his reputation for last-round heroics. Whom did he beat? It came down to two guys playing just ahead of Arnie: Ben Hogan, tied for the lead on 17 when he went for a front pin and dumped his approach in the water; and U.S. Amateur champ Jack Nicklaus, who bogeyed 18 when a birdie would have forced a playoff. Palmer. Hogan. Nicklaus. Who could ask for anything more? (A month later, Masters and U.S. Open in hand and traveling to his first British Open, Palmer mused that a win at St. Andrews and then at the PGA would be a modern equivalent of Bobby Jones's Grand Slam. The idea took hold immediately and has held sway ever since.)
—Jeff Neuman, neumanprose.com
7) 1999. How can anyone forget the 1999 Open Championship at Pinehurst, if only because of Payne Stewart's winning celebratory pose after sinking an 18-foot putt on the final hole, that indelible image of his right fist thrust into the air and leg kicked out behind, wearing Plus Fours and the old-style golf cap? That "One Moment in Time" is frozen in a life-size bronze sculpture behind the 18th green at Pinehurst No. 2. But just as important is the context. This was Stewart's second Open title and it came as the once hyper and arrogant 42-year-old had clearly reformed. He started the final round with a one-stroke lead over Phil Mickelson, whose wife Amy was due to give birth to their first child any moment. As memorable as the pose was Stewart consoling a disappointed Mickelson, saying, "You're going to be a father." When Stewart died just four months later in a plane crash, 1999 became the Open for the ages.
—Jay Stuller, jaystuller.com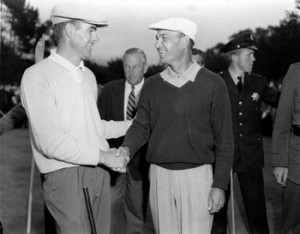 8) 1955. Rooting for the underdog is a reflexive sentiment among many sports fans. But the "democratic" appeal of U.S. Open championships—where amateurs and club pros qualify and compete alongside the world's greatest professionals—fosters the hope, almost always illusory, that a complete no-name can win it all. That's what makes the 1955 edition, coincidentally also played at last year's U.S. Open venue, The Olympic Club in San Francisco, among the greatest ever. Jack Fleck, an unheralded young pro from Iowa, made up a nine-shot deficit over three rounds—still a tournament record—including a pressure birdie putt on the final hole of regulation play. The following day, he defeated four-time champion Ben Hogan in an 18-hole playoff, 69 to 72. The stats, though, while amazing, can't possibly capture all the intrigue of the tournament's multiple back stories. It was Cinderella on steroids. Fortunately, a recently-released book—The Longest Shot: Jack Fleck, Ben Hogan and Pro Golf's Greatest Upset at the 1955 U.S. Open, by Neil Sagebeil—does.
—Tom Harack, tomharack.com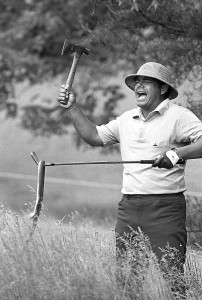 9) 1971. The 1971 U.S. Open at Merion Golf Club, which is hosting the event again this year, stands out as one of my favorites because that is when I decided to become a golf writer and started following the story of how Lee Trevino finally got a chance to show off his self-taught game on the big stage. While some of my fellow scribes wrote that it was an act of gamesmanship when Trevino pulled a rubber snake out of his bag—something he might have tried earlier in money matches—on the first tee of an 18-hole playoff with Jack Nicklaus, it turned out Nicklaus asked him to do it and enjoyed a laugh with the rest of the fans. Nicklaus was not laughing later when Trevino prevailed, 68-71, for his second Open, leaving Nicklaus a runner-up again. Later in 1971, Trevino claimed both the British Open and the Canadian Open, the first time it had been done, and ended up with six titles and player of the year honors plus athlete of the year by the Associated Press.
—James McAfee, jamesamcafee.com
10) 1974. I was a callow youth when I, and a couple of fellow caddies at Westchester CC, hopped the fence at nearby Winged Foot to see if the rumors about the 1974 U.S. Open were true. Even as hardened golf skeptics, we were taken aback. There was the impressive wood-and-stone clubhouse. The charged air of a Major. And the strained faces of the players. Except for Tom Watson, a Tom Sawyer in spikes who didn't win but clearly had the game and heart for big things. As for the West Course, it was overtly cruel and torturous. Single-file fairways. Rock-hard greens. And of course the rough, the thickest, most punishing gunch the world has ever seen. Aptly chronicled as "The Massacre at Winged Foot," the '74 Open was the USGA's kick to the shins of the world's best players. Hale Irwin won with a 72-hole total of 287, seven over par.
—Brian McCallen, brianmccallen.com