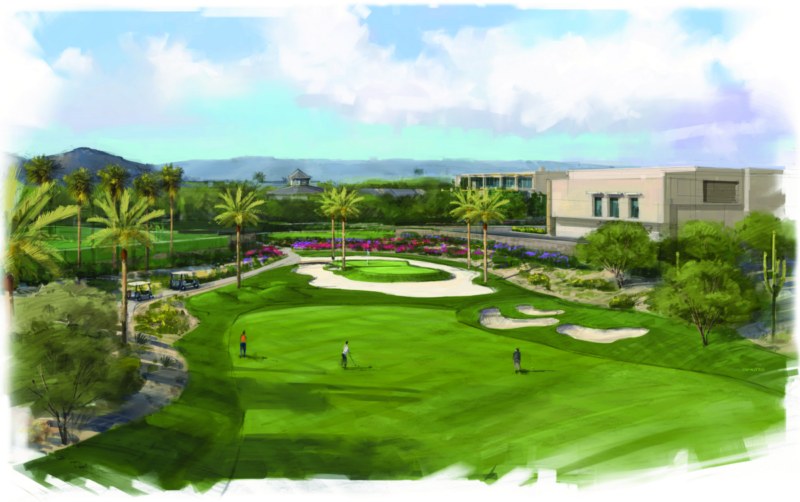 As part of a major redesign in conjunction with its new Camelback Ballroom, Starwood's flagship Phoenician Resort in Scottsdale, Ariz., will be breaking ground on a major enhancement to the Oasis Nine, part of its 27-hole regulation-length golf course. 
Known for tranquil water features and tree-lined fairways — the Oasis will soon be home to Arizona's only "Sand Island" green. Golf Course Architect Forrest Richardson is overseeing development of the work in conjunction with Troon Golf, long-time operating manager of the resort's award winning golf facility.
"This is a homecoming for me," notes Richardson. "Growing up in Arizona, I played golf here when the property was home to the old Jokake Inn, and the course was known as The Valley Club."
Richardson's mentor, the late Arthur Jack Snyder, created the first edition of the Phoenician Golf Club in the 1980s, eventually paving the way for the 27-hole modern classic that now wraps around the southern base of Camelback Mountain. The design of the new 9th Hole of the Oasis Nine will be a risk-reward par-4 of just over 300 yards.
"The tee shot will be a matter of options," according to Richardson. "The golfer will be able to play conservatively, or go for it — and the final hurdle will be the exciting approach to a narrow green rising up from a 'sea' of sand."
Construction of the new golf hole will be handled by golf builder Landscapes Unlimited. Landscapes is among the world's largest and most celebrated golf course construction firms with projects throughout the U.S. and internationally. The company's resume includes numerous U.S. Open and PGA tournament courses. During the past year, upgrades to the Phoenician Golf Club have included turf and irrigation renovations, as well as the refurbishment of the water features that define the golf experience throughout the three distinct nines — Oasis, Desert and Canyon.
The new Camelback Ballroom will join The Phoenician's existing 22,000 square-foot Grand Ballroom, offering 15,000 square feet of interior meeting and event space, as well as beautiful exterior settings. The new ballroom is destined to become the resort's architectural showpiece, featuring spectacular views of Camelback Mountain, the new golf hole and sweeping views of Scottsdale.