Metro Sees Encouraging Market for New Dominican Republic Project
 Juan Dolio, Dominican Republic – While many real estate developers from around the world are postponing or cancelling projects due to lackluster sales and inadequate funding, Group Metro, one of the leading real estate and transportation companies in the Dominican Republic has bucked this trend.
Group Metro announced Nov. 4 that it closed a US$35 million growth capital investment with Portland Private Equity.  The funds, earmarked for Las Olas, an oceanfront condominium complex in Juan Dolio, will enable the company to continue its expansion plans for the up-and-coming region of the Dominican Republic.
 "Las Olas construction is scheduled to reach the halfway mark before the holidays, so the timing of this capital injection coincides perfectly with our need to purchase important components such as fixtures and finishing elements," said Group Metro Chief Executive Luis Jose Asilis. "This will allow us to capitalize on cost saving opportunities through bulk advance purchasing of materials, which will be passed on to our clients in the form of a higher quality end product."
 Located in the resort area of Juan Dolio, an estimated 21 miles from the Dominican Republic's capital city of Santo Domingo, and just 9 miles from the Las Americas International Airport, Las Olas is a 16-level Art Deco style beachfront condominium that features 227 apartments showcasing open spaces and panoramic views of the Caribbean Sea. Residents will also have exclusive memberships to the nearby Metro Country Club, which features an expansive clubhouse, the Las Marlins 18-hole golf course, mini golf, tennis courts, swimming pools, restaurants, preferential access to the in-resort Embassy Suites Hotel, and much more.
 Portland Private Equity, the private equity manager of the AIC Caribbean Fund, is optimistic about its latest equity placement.
"We are pleased to partner with a fast growing and successful company like Group Metro, the market share leader for beach front condominium apartments in the southern coast of the Dominican Republic," said Managing Partner Kip Thompson. "We are bullish on this development as it offers many advantages compared to the other tourism dependent real estate projects in the region that we look at.  The Juan Dolio area is fast becoming a suburb to Santo Domingo and the affordable luxury emphasis of Las Olas opens up the opportunity to local and ex-pat Dominicans to buy a condo as a second home."
 Portland Private Equity will also participate on Metro Country Club's board of directors and will provide the board with global industry insight and international investment banking experience.
 "In addition to being a strong financial supporter," continues Asilis, "Portland Private Equity's participation on Metro Country Club's board will play a key role in guiding our expansion strategy."
Group Metro has established a formidable international reputation throughout its four decades of experience in transportation, tourism and real estate.  From its landmark property, Metro Country Club, to the oceanfront condominium developments of Costa del Sol, Marbella, Costa Blanca and Las Olas, Group Metro is a well-known developer of resort-style real estate in the Dominican Republic. 
Based in Barbados, Portland Private Equity is a private equity fund management company currently focused on opportunities in the Caribbean region through its management of the $230 million AIC Caribbean Fund (ACF)  focused on medium-sized businesses. 
Jumeirah Golf Estates Opens New Greg Norman Club
Dubai, United Arab Emirates –  As the world's leading golfers descended on Dubai for the start of the prestigious Dubai World Championship, golf great Greg Norman was in town celebrating the opening of his latest golf course design project.
Jumeirah Golf Estates, host venue for this past week's $7.5 million Race for Dubai, is one of 65 Greg Norman Golf Course Design properties now open around the world. The 'Great White Shark' took the final putt on the 18th hole of his parkland-inspired new Earth course marking it officially open Nov. 18, before handing the course over to the world's top players for the thrilling finale of the PGA European Tour season.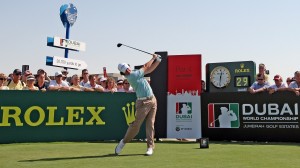 The Earth Club, actually one of four courses at Jumeirah Golf Estates, will open to members on December 1.  The Earth layout joins Norman's 18-hole Fire course, Vijay Singh's Water facility and the Wind Course designed by Sergio Garcia, Pete Dye and Norman
 Norman was welcomed by fellow golfer Jeev Milkha Singh, European Tour CEO George O'Grady,  Marwan Al Qamzi, Group Managing Director of Nakheel Development Projects, and Saeed Harib, Managing Director for Nakheel Leisure.