Spring Island, S.C. – Spring Island, a 3,000 acre private community in the South Carolina Lowcountry, is investing in its future as demonstrated by the completion of a new 12,000 square foot state-of-the-art sports complex. The new complex includes a resort-style pool area, fitness center, tennis courts, croquet pitch, and outfitter center with equipment for the numerous outdoor pursuits that abound on Spring Island.
Among the many amenities and programs integrated into the new complex: zero-entry family pool, lap pool, tennis pro shop and six Har-Tru tennis courts, Pilates and yoga studio, cardio and weight training equipment, croquet pitch, treatment rooms for massage and physical therapy, and the Outfitter Center equipped for numerous sports and activities such as  kayaking, biking, fishing, boating, baseball, tennis, croquet, basketball and volleyball.
"While some communities are fighting with banks and others are hiding their heads in the sand, the property owners at Spring Island are investing in the future of their community with this new $5 million sports complex," said Craig Lehman, manager of Spring Island Realty.
Spring Island's new sports complex is located in the Walker Landing area, the social hub at Spring Island, housing the community dock, and the River House with restaurant, gathering room, and community post office.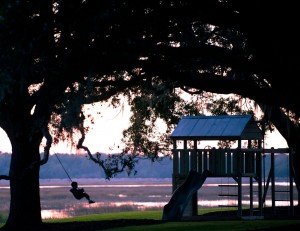 Even before this new sports complex, Links magazine named Spring Island one of the "Best of the Best" private golf communities in its Premier Properties Guide. Spring Island was also named one of Golf Connoisseur magazine's Top 40 Golf Communities in America and was ranked in the top 25 in the country by Travel + Leisure Golf and Golfweek magazine.
Additionally, Spring Island earned the Urban Land Institute's Sensitive Development Award with an Official Statement of Special Award reading: "Spring Island is a purist's recreational community that focuses on protecting its environmental heritage. Its no- and low-impact land and habitat management philosophy emphasizes economic viability, community livability, and environmental sensitivity in preserving an authentic piece of South Carolina's Lowcountry for future generations."
Spring Island is a 3,000-acre island community in the South Carolina Lowcountry 25 minutes from Hilton Head and Beaufort, and 30 minutes by boat from Port Royal Sound and the open Atlantic Ocean. Spring Island is limited to no more than 410 families on the 3,000 acres with 1,200 acres protected as nature preserve. Spring Island offers the finest amenities man and nature can offer to including Old Tabby Links, an 18-hole course designed by Arnold Palmer and Ed Seay, world class fresh- and salt-water fishing, equestrian, tennis, quail hunting, nature center, fine and casual dining options, and a wide variety of educational pursuits. To learn more about living options at Spring Island call Spring Island Realty at 843-987-2200 or visit www.SpringIsland.com.