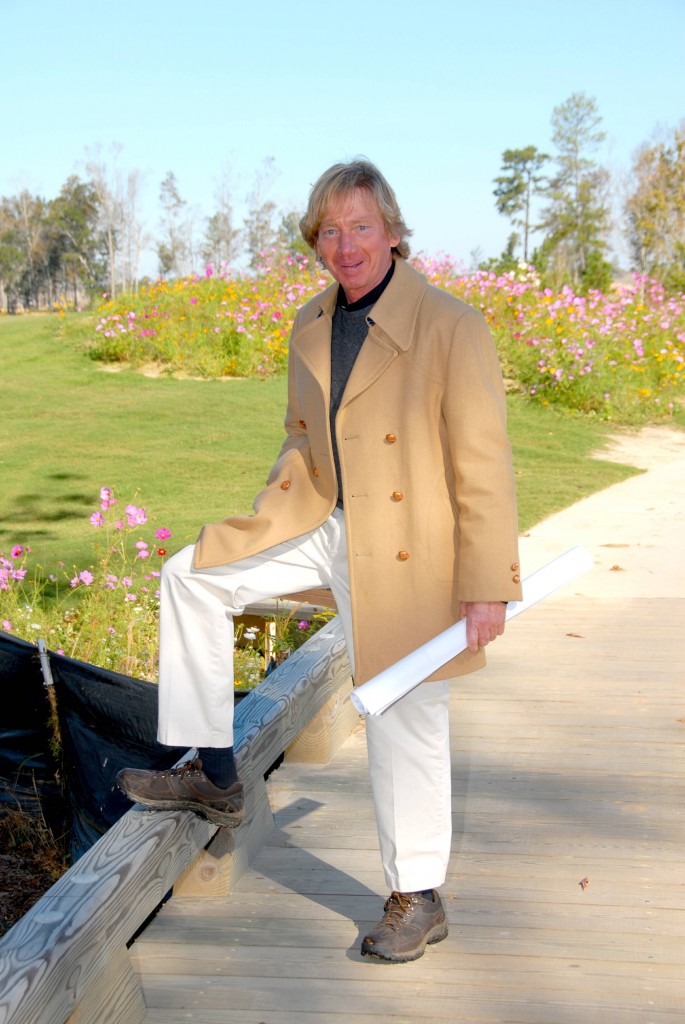 Nationally speaking, the name Tim Cate doesn't necessarily jump out in the world of golf course architecture. In fact, many people in the country probably never heard of him. In the Coastal Carolinas, though, Cate needs little introduction, especially along the Grand Strand or golf mecca of Myrtle Beach.
            Basically, along this 60-mile coastal stretch that runs from Georgetown, S.C., to Calabash, N.C., Cate is one of the most successful and popular architects around – having designed numerous top-ranked courses such as Panther's Run and Tiger's Eye at Ocean Ridge Plantation, the Players Club at St. James Plantation and The Thistle Golf Club, to name a few.
            Nowhere is Cate's name more prevalent and appreciated than Ocean Ridge, a 1,300-acre  resort-style development where Cate got his start in1990 working under architect Willard Byrd on the community's initial "Big Cats" layout called Lion's Paw. Two years later, Cate, now working on his own, was picked by then-Ocean Ridge owner Ed Gore to design the second course, Panther's Run, and the Cate cat was out of the bag.
            In fact, Panther's Run proved to be so successful, Cate was asked to come back and design two more Big Cats courses: Tiger's Eye, ranked by Golf Digest as one of the "Best New Courses in America" when it opened in 2000, and Leopard's Chase, listed by Golf Digest as one of the top ten new public courses when it opened in Spring '07.
            How good is Cate's course work at Ocean Ridge? It's so well received that Cate is now working on an astonishing fourth new course at the Sunset Beach, N.C., community. Known as Jaguar's Lair, this final course to the Big Cats collection will likely open sometime in 2010.
            Having designed four courses at one development, and collaborated on a fifth, is a feat likely surpassed only by Jack Nicklaus, who has six private courses to his credit at Desert Mountain in Scottsdale, Ariz.  Based on the quality of Cate's work, Ocean Ridge Plantation executive Becky Noble doesn't understand why the Sunset Beach-based architect isn't as widely recognized as some of the other top-tier designers.
 "He's a well-kept secret," says Noble, president of the Ocean Ridge golf operations. "The quality of his golf courses is just immense. I think people should seek him out more. A lot of the feedback from the visitors that come here, and we get a lot of repeat business, is the quality of his design."
 Noble can't wait for Cate's latest Myrtle Beach-area masterpiece to open. According to Noble, the back nine holes have been completed and grassed in except for the greens, but the front nine is still in its preliminary stages.
"He gets better with every golf course," Noble says. "And it's hard to say that because each golf course is unique in its own right that he's created. We've certainly been ecstatic about the work he's done at Ocean Ridge, especially relative to Tiger's Eye and Leopard's Chase.
"Based on the back nine he's built (at Jaguar's Lair), it's going to be another great course created by Tim Cate and we're excited about it. Our visitors have already asked about it. They're anticipating it. It seems like Tim just keeps getting better with time. It's got some unique topography and certainly a beautiful property. It's a unique project."
When it was time to build the fifth course at Ocean Ridge, Noble says there was never any question that the new owner, Mark Saunders and The Coastal Companies, would seek out another designer.
"I don't think there was any question that we would not go with Tim Cate simply because of the quality of his work, which has a track record especially with some of the top publications," Noble adds. "He has a long history with Ocean Ridge and we consider him part of the Ocean Ridge family."
Another new project that is sure to garner a lot of attention is Cape Fear National Country Club, an exclusive 27-hole facility scheduled to open 18 of its holes next fall in Wilmington, N.C. Located just minutes from historic Wilmington, Cape Fear National will be one of the signature amenities at Brunswick Forest, an upscale private 4,500-acre retreat backed by Lord Baltimore Capital Corporation, a private investment group with more than $2 billion in assets.
To say this Baltimore, Md.-based firm could have hired anybody for their high-profile  golf course is an understatement. When asked why Tim Cate Designs Inc., was selected, Brunswick Forest spokesman Tobin Spirer says it has to do with Cate's string of "local successes."
 "He created all the Cats at Ocean Ridge, Thistle Golf Club, and just did a wonderful job with them all," says Spirer, whose golf club will be operated by KemperSports, one of the leading golf management companies in the industry.  "When the developers looked for a candidate, and they looked at some national names, we kept coming back to a local guy who understood the local area, understood the region and built courses that worked."
            Plus, some of the Brunswick Forest partners had experience with Cate at Ocean Ridge, according to Spirer, and they remembered he was dependable, talented and had great attention to detail. A proud and modest man, the media-shy Cate, 54, is clearly excited about his latest creation.
"It'll blow everything out of the water up there," says Cate, who graduated from the University of Georgia in 1984 with a degree in Landscape Architecture. "You could bring that down here (to Myrtle Beach) and it would be one of those top-five, best new courses and all that stuff. Up there in Wilmington they've never had competition like they have down here.
"I think the people that play it are going to be pretty surprised at what they see.
They're going to see a sophisticated, detail level of golf that they probably don't even know about. It's a very good project with very good developers. And KemperSports is top of the line.  Everybody's just totally committed to make Cape Fear really good."
If there's one trademark to Cate's world-class work, it's his sophisticated touches both on the course and amongst the course's immediate surroundings. As KemperSports regional sales and marketing director Chris Schwartz puts it, Cate's detailed overall landscape design elements are what set his courses apart.
            For example, at Cape Fear, many of the hazard areas are accented by colorful plants and native grasses. The course also features more than 1,500 linear feet of bridges, three separate waterfalls, several ponds, strategically placed rock walls, drive-through sand waste areas, and beach bunkers that run into the ponds. In the end, all of this makes for a challenging and aesthetically pleasing golf experience.
            "My golf courses are totally molded and marry up to whatever site they're going to be on," says Cate, who has three grown daughters. "They're all so dramatically different and really take on the character of each site. (The golf course) complements the site heavily and the site complements it. They work together.
"It improves that whole site wherever that may be by the way the two work together. (The golf course) really just molds into the site, enhances and uses whatever opportunity out there and builds on that to try and create the most stunning and challenging course. I like to have interest and challenge on every shot."
Another signature of Cate's work is his tireless hands-on dedication to the job. According to Schwartz, whose company will probably make Cape Fear available to the public for a limited time once it opens, Cate is out on the Cape Fear site probably twice a week and "consistently making changes."
"It's not just a hole to me," says Cate, who is also working on a high-profile restoration of the Bald Head Island Club course designed by George Cobb off the coast of Southport, N.C. "I'm there from tee to dogleg and then dogleg to green and dogleg to dogleg on a par 5. I spend a lot of time on each hole in other words. I've got a lot of time in my courses. … For me, it isn't over on a golf hole until grass goes on it."
As one critic aptly described Tiger's Eye, the course has character on every hole and doesn't take a hole off. In essence, that sums up Cate's overall golf course design work, which he certainly doesn't view as a job.
"To me it wasn't a business," Cate says. "There's a lot of architects out there where it is a business. It's easy to see that in these golf courses I've got all around. You know it's like my client at St. James said, and I won't say what other architect he was talking about up there, but he says I put more thought on one hole than the other guy did in the whole golf course.
"It's like a (Mike) Strantz course or something else. I think people will see my course and they'll know that I did it or only one or two other people did do it because there's very few people who go out and actually care about it that much to do that good of a job."
As for a 26-year solo career that seems to have been confined along a high-profile stretch of the Carolina Coast, Cate is perfectly content about the regional nature of his profile. In fact, Cate says the long-distance travelling was one reason he left Byrd to set up his own shop.
"I was sitting in airports till 12 o'clock every night, flying around here and there, and it got to where I wasn't enjoying that at all," Cate adds. "When I was offered (the Ocean Ridge assignment), I jumped on it in a New York minute.
"I've thought about it real hard and realized Willard has something like 30 courses in Myrtle Beach so I thought maybe there was enough for me to do. I was lucky to have what I have. And now the industry's sort of disappeared. I've been fortunate to build a career there to where I think I'll get enough little odds and ends stuff to keep me alive."
Indeed, if history is any indication, there is little doubt that Cate will always be considered for work along the Carolina Coast.