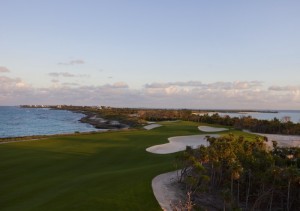 Great Guana Cay, Bahamas – In the past year, Discovery Land Company has seen a dramatic rise in the buying habits and confidence of their wealthy West Coast real estate investors.  Now, those confident winds of change are making their way to the Caribbean at Discovery Land's latest community called Baker's Bay.
Located on Great Guana Cay about eight miles from the Bahamian island of Great Abaco, Baker's Bay Golf and Ocean Club is Discovery Land's newest private golf and resort-style community.
Discovery Land executives recently celebrated the grand opening of their new Tom Fazio-designed championship golf course with good reason. After the global financial crisis sank dozens of luxury communities throughout the Caribbean from 2007-09, Baker's Bay not only survived, but it thrived. And heading into the 2011 selling season, Discovery Land partner Steve Adelson is bullish about Baker's Bay.
His optimism is fueled by an estimated $50 million in sales already written in the first part of 2011, not to mention another "$15 million on the books," according to Adelson.
Adds Adelson:  "Just based on holiday activity with the recovery in the New York and Northeast (U.S.) markets, and some European markets we're starting to market. … We see 2011 as being a robust year."
That says a lot for a community where custom homes start at $6 million, 4-bedroom developer townhomes start at $2.5 million and single-family marina and oceanfront residences range from $4.5 million to $6 million. The 585-acre development, highlighted by six miles of breathtaking beaches, calls for 375 total residences and there are approximately 10 custom homes and 20 developer homes in construction.
Adelson says his Discovery Land partners have invested almost $30 million in golf course and other infrastructure over the last 12 months, including the opening of a 200-slip state-of-the-art marina and marina village that can handle yachts up to 250 feet.
 "Obviously our last 2-3 years, the market contracted substantially because of the economy," says Adelson, whose company generated more than $600 million in 2010 real estate sales at six of its private golf club communities throughout America. "There's not too many alternatives left.
Baker's Bay is a leader in high-end development in the Bahamas. … We've survived, prospered and continue to invest. After the shock of 2007, '08 and '09, we're going back to our roots so to speak. High-net worth individuals are no longer looking at real estate just as an investment. Now they're looking at it as an investment in family."
 Baker's Bay is one place in the Caribbean where people are starting to increasingly call home.