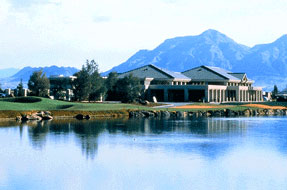 Las Vegas, Nev. – Stallion Mountain Golf Club in Las Vegas, Nevada was acquired by a Colorado-based ownership group and is set to re-open for invitational play this summer. Located just six miles from the Las Vegas Strip, Stallion Mountain Golf Club boasts 18 holes designed by former PGA Tour professional Jim Colbert and golf course architect Jeff Brauer. Scottsdale-based OB Sports Golf Management was selected to prepare the course for re-opening and will manage all aspects of the facility including golf operations, agronomy, food and beverage, instruction, membership sales and marketing.
"We are thrilled to bring Stallion Mountain back to its prominence. We will re-open with a fresh new look, exceptional course conditions and a service profile that supports this once great club," said Steve Kerr, managing partner of the acquiring entity, 5500 E. Flamingo Rd, LLC. "We look forward to the job creation we will create as a result… not to mention, we are excited for the revitalization the club's opening will have for the community and area residents."
Kerr and his partners also recently acquired The Fox Hill Club in Longmont, Colorado, and have a controlling ownership of Colorado National Golf Club in Erie, Colorado – both now affiliated with OB Sports.
Stallion Mountain Country Club will re-open as a semi-private facility with flexible membership offerings available for both residents and non-residents alike. In addition, the club will be available for resort guest play, group/tournaments and available for weddings, banquets and events.
The 38,000 square-foot clubhouse at Stallion Mountain overlooks the golf courses and surrounding mountain ranges provided a stunning backdrop for weddings, banquets and special occasions.
"The golf course conditions at Stallion Mountain were better than we thought when we first took it over," said  Phil Green, president of OB Sports Golf Management. "We are now ramping up to provide exceptional playing conditions for our opening. Our primary task is to execute some of the detail work on the course, employ our team and get the expansive clubhouse facility prepared for the summer opening. We'll first open it for invitational play this summer then we'll get the club ready for a grand re-opening after overseeding is completed in September."
OB Sports also operates three other popular Las Vegas-area courses including The Legacy Golf Club in Henderson, Angel Park Golf Club in Las Vegas and Aliante Golf Club in North Las Vegas.
"OB Sports was the perfect group to lead our efforts at Stallion Mountain," added Kerr. "They have been operating clubs and facilities in Las Vegas since 1989 and have a wealth of knowledge and relationships in the market as well as the key feeder markets to Las Vegas. We are excited to have them at the helm of our operations at Stallion Mountain."