By Scott Kauffman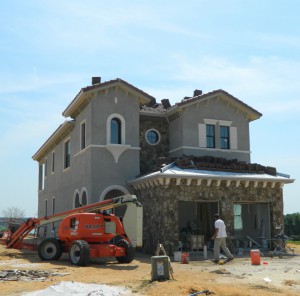 Legacy Custom Built Homes is the latest custom-home builder planning to build new homes in Central Florida's newly re-launched Bella Collina private lakefront and golf club community.
Legacy plans to start with a unique series of luxury homes along the Nick Faldo-designed championship golf course, situated just 20 minutes west of downtown Orlando. Designed for "ready-to-move-in" families, Legacy's exclusive homes will be priced in the $700,000s.
Legacy is located in nearby Winter Park, Fla, and has more than 15 years of experience in building custom homes in numerous lifestyle-driven communities such as Lake Nona Golf & Country Club, Reunion Resort, and high-profile Orlando cities such as  Windermere and Winter Park. Legacy's luxury golf villas offer multiple floor plans in a variety of styles, all maintaining the architectural integrity of Bella Collina's Tuscan-Inspired community.
"In building luxury communities in Central Florida, Legacy's expert home-building team generates a focused vision for custom creativity culminating in award-winning masterpieces," says Michael Rowen, President of Legacy Custom Built Homes "Our unwavering commitment to focus on not only the finished product but also the client's journey to the finished product is of the utmost importance. Our unique home-building approach infuses a sense of tradition combined with new technology and energy-saving applications."
Legacy Custom Built Homes joins a premier lineup of custom homebuilders at Bella Collina, all of whom were strategically selected to represent a diverse range of styles and budgets. Bella Collina's other top builders: Phoenix Companies; R.L. Vogel Homes and Dave Brewer, Inc. Bella Collina offers three distinctive residential villages with lots ranging from $149,000 for golf-frontage homes to more than $500,000 for lakefront lots on private Lake Siena.
"Maintaining the architectural integrity while offering discerning luxury home buyers diversity of style and budget is an integral part of our community-building strategy at Bella Collina," says Randall F. Greene of DCS Investment Holdings, owner and operator of Bella Collina. "Legacy Custom Built Homes brings with them over 15 years of custom-home building experience in helping to create lifestyle-driven communities in Central Florida. We are enthusiastic to begin this next phase of development at the new Bella Collina."
Bella Collina is a 1,900-acre low-density development in the rare rolling hills west of Orlando.  Widely known for its iconic 75,000-square-foot Tuscan-inspired clubhouse, Bella Collina is one of the top private golf clubs and waterfront communities in the country.
Bella Collina is owned and operated by DCS Investment Holdings, a private equity group based in West Palm Beach, Fla. Prices at Bella Collina start in the $700s for Montevita Village Golf Course Homes.  Siena Villagio Custom Homes start at just under $1 million and Taormina Village Estate Homes start at $1.5 million.
The company is owned by Dwight C. Schar, a co-owner of the Washington Redskins and founding chairman of NVR Inc., one of America's largest homebuilders.