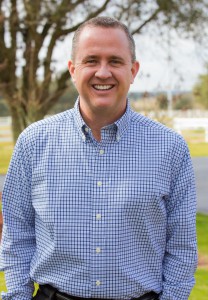 Central Florida native Ed Whalley is the new Chief Financial Officer at Integrity Golf Company.
Prior to the promotion, Whalley was Executive Vice President of Corporate Development & Compliance for the Orlando-based golf course management company, and was responsible for helping oversee much of the company's recent expansion efforts as well as lease compliance and financial services matters. In his new role, Whalley will continue to drive new business development and manage Integrity Golf's numerous third-party lease and management relationships.
Under Whalley's leadership, Integrity Golf has become one of the largest operators in the country and now oversees 23 golf facilities in Florida. Overall, the company numbers 34 golf facilities in six states (Florida, Kentucky, Tennessee, New York, North and South Carolina).
Earlier this week, Integrity Golf took over operations at Tiger Point Golf Club in Gulf Breeze, Fla., strengthening the company's niche as one of the leading managers of municipal courses. Other prized municipally owned facilities under management in Central Florida are Casselberry (Fla.) Golf Club, Orange County National Golf Center and Lodge in Orlando, Sanford's historic Mayfair Country Club and Kissimmee (Fla.) Golf Club.
"It's a dynamic time to be part of Integrity Golf," says Whalley, who grew up in nearby Merritt Island, Fla., along Florida's Space Coast. "While many courses are struggling, we've been fortunate to grow throughout Central Florida and beyond. The only missing link to our company's Central Florida network of courses is Brevard County. I can't wait to add some of my former hometown courses to our collection."
In fact, with the recent announcement that Brevard County is interested in seeking a new manager for the county's three courses, Whalley sees another opportunity for a successful public-private partnership.
"My only hole in one was at The Savannahs," says Whalley, referring to one of Brevard County's three municipal courses. "We have a number of other successful partnerships with various municipalities and public agencies and fully understand what it takes to thrive in this important aspect of golf."
After attending the University of Central Florida, Whalley started his hospitality career in 1990 with Sheraton Hotels & Resorts – working in a variety of management positions during his seven-year tenure. Whalley got his start in the golf industry in 1997 with American Golf, the largest golf management company at the time. During his American Golf career, he provided financial analysis as well as logistical and operations support for 150 courses in the Eastern U.S. and United Kingdom. Prior to joining Integrity Golf, Whalley was director of operations for Kitson & Partners Club Services, whose golf portfolio stretched from Central Florida to the Hawaiian Islands.