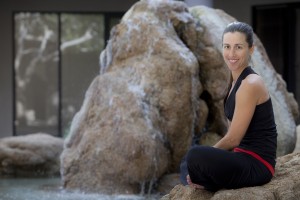 Dodie Mazzuca is the Director of Instruction at Troon Country Club in Scottsdale, AZ.  She also teaches golf in Santa Cruz, CA.  Dodie is a former LPGA Tour Player and the founder of Golf PROformance. She is an NCAA Academic and Athletic All-American at the University of Washington in Seattle, WA. Her background in competitive golf,  golf fitness, yoga, technical training, and mental strategy assists her students in accelerating their learning process.
Dodie turned professional in 1997 and competed on the LPGA Tour (2001, 2002).  She finished 3rd on the Future's Tour Money list in 2000 to earn her card.  Dodie played in two U.S. Women's Opens (1995, 1998), won the California State Open, the Washington State Open and achieved 12 other professional victories.  She has also competed in Japan, Australia, South East Asia and Switzerland.  She currently holds the women's course record of 65 at Sahalee CC in Redmond, WA (Site of the 1998 PGA Tour Championship and NEC World Golf Championship)
Dodie has appeared in articles for Golf Digest Magazine, Sunset Magazine, Phoenix Magazine, Vegas Golfer and US Airways In-flight Magazine.  She is the author of the Golf PROformance Stretching Manual.
Dodie has taught for Golf Digest Schools, is a Titleist Performance Institute Certified Golf Fitness Instructor, Certified Yoga Instructor, Personal Trainer and Sports Nutritionist.  She has been coached by internationally elite instructors such as Joe Thiel and Ian Triggs.  Dodie passes  this knowledge on to her students through the Golf PROformance Experience and Academy.
She resides in Scottsdale, AZ and Santa Cruz, CA.  For more information about private coaching, lessons, clinics and Dodie's Golf PROformance programs, contact Dodie at dodiemazzuca@live.com or visit www.dodiemazzuca.com.