Opening day. Everyone knows it's been a horrible winter. March rounds, which have been common in Chicago in recent years for hearty players, were a rarity this spring.   But the weather eased up a bit in early April. What better way to start than the season with a first round on the first day of the Masters?
And so, I arrange to meet my friend Jeff at what has become our home course, Maple Meadows, a vastly under-rated DuPage County muni.
The day before, I told Joe Sheren, the young pro who has taken on the dubious assignment of remaking my flawed swing, of the plan. I sensed that we had the same feelings—my "new'' swing was hardly ready for a golf course. But the calendar waits for no golfer.
This was of particular concern because little went right during that practice session, and we both were irritated by that. My clubhead speed was off, my new mechanics were a mess.
The harder we tried—me with renewed effort, Joe with more inventive practice drills—the worse things seemed to get.
"Just go out and forget all of this,'' he advised with a shrug. "Go out and hit the ball.''
He was resisting the urge to lecture me more. I was resisting the urge to explain more why I was struggling. There's a point where none of that striving-and-trying stuff matters.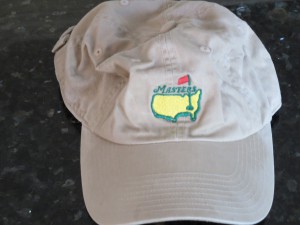 One way or another, you move forward.
When we got to the course, it was good to see Maple Meadows pro Chris Malek, who said the extensive snow cover had been good for the course. All things considered, he said, the course was in good shape—and we soon found that was true.
As we walked to the first tee, the ground felt spongy, but the course was starting to look green and the temperature—50s heading to 60s—was fine.
There was, however, a howling west-southwest wind, and the first hole, a par-five, was going to play long because of it.
Although Joe had said not to think about our swing-makeover stuff, I grabbed a piece here and there for a swing thought.  Doing that, I hoped to at least hit the ball hard, and see what changes, if any, had taken effect.
It wasn't as if I'd miss my old swing, which was ineffective and disliked despite all my difficulties with putting it in the rear-view mirror.
The first few holes, the swings were messy, but that was hardly a surprise. It was cool and breezy. We hadn't warmed up. And my swing was in limbo.
But the drive on No. 4 was encouraging. Gathering myself, I set up properly, made a decent takeaway, swung hard. Despite hitting into a strong wind, the ball went solidly down the middle.
A solid player and student of the game, Jeff noticed that my shorter takeaway and improved arm position had produced a decent result.
Trying too hard, I immediately took a step back on the next shot. Rapping the club around my neck, I yanked a 5-wood short and left, and chunked up the rest of the hole.
But I got back on the horse on No. 5, a short par-three that played dead into the wind, hitting a low 6-iron that bore through the breeze and settled in 10 feet below the hole.
The rest of the round followed that predictable pattern of unpredictable results. A decent shot or two would be followed by some sloppy stuff. When I could keep my backswing short and follow-through strong—two of my new swing keys—the results were positive.
I also discovered that I needed to pay attention to my changed setup. I want to keep my feet closer together, stand closer to the ball and not bend over at the waist. Thanks to decades of honing, all of these feel comfortable—but all are undesirable.
There were a few times when I made decent swings, but hit the ball on the toe, producing a weak result. Other times, I was so pre-occupied with all the setup and swing components that I didn't swing hard.
Some of that, I realized, was failing to heed Joe's warning to not fill my head with too many swing thoughts. As the round progressed, fatigue also became a factor, particularly on the last few holes.
Even though I'm in relatively good shape, carrying the bag around for the first time this season was a draining workout—especially on a breezy day when the ground was still spongy.
As a result, the score was brutal, barely in double digits on a course where I have come to expect being in the 80s.
On the other hand, the 10 or 12 strong shots executed with the new swing techniques were encouraging. The ball didn't go dramatically farther, but the shots were crisper—and I'm still using a compact swing that I expect to expand a bit once I have grooved my new move to the ball better.
__________________
In case you missed it, here's an account of my round at Augusta National. . . . http://theaposition.com/herbgould/uncategorized/241/my-masters-moment
__________________
NOTE: This is the ninth in a series on trying to improve a golf swing that's become problematic—and developing more flexibility, balance and general fitness along the way. The whole series can be found at  http://theaposition.com/herbgould/golf/instruction
To start at the chronological beginning, start near the bottom, on "The Quest for a Better Swing" post.