There are not as many new products to see at the ING Spring Conference in comparison with the PGA Merchandise Show, but it seems I always find something to add to my golf bag. This year it was the Barber Pole Lahinch putter, from a Dublin, Ireland-based company that manufacturers the putters in the United States.
When I discovered that my putter had been left back at the condo as we prepared for the final event at the conference, I ventured over to registration to see if there was an extra demo putter I could borrow. By chance, I ran into Holly Geoghegan, who handles public relations for Barber Pole, and she provided me with the Lahinch model.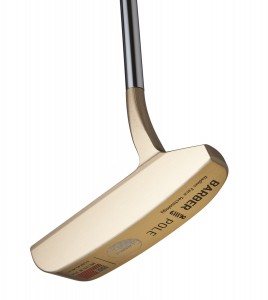 As my partners—Dave Bisbee of Swing Jacket, A.J. Ali of Golf to End Cancer and Tom Harack of The A Position—can verify, I had one of those once-in-a-lifetime days on the greens, making more than 100 feet of putts in recording five birdies for the team in 10 holes. That's all we played as the rain came as it seems to do every afternoon in Florida.
The flow neck design gave me a clean view of the ball at address and the combination of white dot and white line made alignment easy, allowing me to start the ball on the correct line.
The Radius Face technology design, which the company claims allow you to strike the ball above the equator, provided a true roll and the cup seemed like a magnet in attracting my putts.
I discovered later from reading more on the Barber Pole website that each face is milled from a solid block of C360 brass, which reportedly eliminates dead spots or air pockets. Of course, that adds to the cost to manufacture the putters.
So the price tag of $349 may keep it out of the bags of some golfers, but Holly was nice enough to provide me with the putter after I gave her my testimonial for her to pass on to her client. Oops, there goes my amateur status!
If the design of Lahinch does not catch your eye, other putters in the Barber Pole Irish line include the classic plumbers neck Portrush and the Ballybunion and Waterville mallet designs. All come with red and white striped grips.