Heron Lakes is a 36-hole golf complex located in the flood plain near where the Columbia River flows into the Willamette, not far from downtown Portland.   Oregon's second-largest city, Vanport, once stood here.  Housing migrants who'd come to work in the Kaiser Shipyards during WWII, Vanport was destroyed when the Columbia's dikes burst in 1948, displacing nearly 20,000 people.  Robert Trent Jones designed the first course in the late 1960s with his son, Robert Trent Jones, Jr., then running the firm's west coast office, overseing that original work.  Jones Jr's breakaway company, Robert Trent Jones II, would design the second 18 in two nine-hole additions, the first opening in the mid-80s and the second in 1992.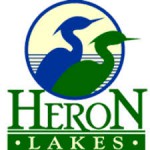 Called "Great Blue"—there's a Heron Rookery along the 7th hole of the original course, rechristened "Green Back"—the new 18 was immediately regarded as the best of the city's courses, and remains popular among good players, even though it's also the most expensive  of Portland's municipal courses.  Kemper Sports, operator of Chambers Bay, Jones's US Open course up in Tacoma, as well as southern Oregon's Bandon Dunes, manages Heron Lakes for the city.
I've been playing the Great Blue since it opened.  (I remember watching Peter Jacobsen hit the ceremonial first tee shot.)  Thirty years ago, my regular group played from the back tees, but we've slowly migrated forward over the decades, and have now accepted the reality of being mostly white-tee guys.   6,400—Great Blue's length from the blues–is the new tips for us.  We'll assay that in the summer, but when the fairways are wet, the brief period lasting from fall through spring and sometimes a bit into the summer, 6,000 yards is plenty.  I feel not the slightest pang of nostalgia as I walk past the back tee markers.
I know Chambers Bay well from having been the CEO at Robert Trent Jones II during its design and construction.  Thinking about all of the great players who will be coming there to test themselves this summer, I imagined how much fun it would be to invite Rory McIlroy to join us for a practice round at the Great Blue.  He could start getting a feel for Northwest golf, which as an Irishman I'm sure he will enjoy.  He's used to cooling mists and a verdant palette.
Google Earth is an amazing tool for all of us in the golf design business, both because it can give a quick and informative glimpse of a potential site, and also because it can provide an amazing amount of information about existing courses.   Knowing that Rory's average drive last year at PGA Tour events was 310 yards, I can use the measuring tool on Google Earth to see exactly where his drives would put him if he joined us on the white tees at the Great Blue.
I am going to keep score for Rory as I escort him around the Great Blue, teeing off with us from the white tees.  It will be lovely to see, if only in the mind's eye.
FRONT NINE
 Hole # 1. 351 yard dog-leg right Par 4.  A hole's length is measured along its centerline.   Course architects use what's called a turning point to provide consistency in the location and layout of the landing areas.   When the Great Blue was designed, the distance from the back tee to the turning point would have been about 260 yards, which was the distance big hitters drove the ball thirty years ago.  The length to the landing areas should be consistent, which means providing for variation in the length of approach shots is the key to testing all the clubs in a player's bag.  A 200 to 220 yard drive, which is the winter range of distance for my group, gives us a 150-130 yard approach shot on #1.  That is not what Rory would face, of course.  On a direct line from tee to green, according to Google Earth, Rory's 310 yard shot would not simply cut off the dogleg, it would land on the dog's head—that is, put Rory in the middle of the green.  Given that this green measures only about 4400 square feet, however, while even a tight landing area for a Tour event would be 20,000 square feet or more, Rory's drive slightly misses the green but he gets up and down with ease for his first birdie.
Rory's Round after one hole: -1
Hole # 2.  461 yard Par 5.  Sad as it if for me to confess it, at only 461 yards #2 is still a three-shot hole for us, with its tiny green tucked along the right edge of a lake that can also come into play for a sliced layup.  But Rory's 310 yard drive to its generous fairway, where he favors the left side, gives him a clear view of the perched green with a wedge in his hand, so he stiffs it and makes an eagle, draining an eight-foot putt.
Rory's Round after two holes: -3
Hole #3.  286 yard par 4.  Rory can't hit driver here, so he cuts a three-wood onto this commodious, receptive green, and once again two-putts, only this time for birdie.
Rory's Round after three holes: -4
Hole # 4. 126 yard par 3.  PGA Tour players average just under three strokes on holes of this distance, so Rory makes his first par.  This tee shot is entirely over water, so it intimidates high handicappers, but for Rory, it's as dry as Moore County, Tennessee.
Rory's Round after four holes: -4
Hole # 5.  503 yard Par 5.   Another three-shotter for us, but for Rory, merely a drive and a seven iron.  Ho hum, two-putt birdie.
Rory's Round after five holes: -5
Hole #6. 161 Yard Par 3.  This is a two tiered green, so getting to the right elevation is key.  All great players have distance control, so Rory drops his tee shot on the upper tier and makes another two-putt par.
Rory's Round after six holes: -5
Hole #7. 343 yard Par 4.  This green is well guarded with bunkers on the right side, so once again Rory lays up to a very comfortable lob-wedge distance rather than trying to drive the green. At the Scottish Open last year, Rory hit a 430-yard drive, so a 343 tee shot is nowhere near his limits. Trees also line both sides of this green, making driving a sucker play. But everybody I know has birdied this hole, and when I mention this to Rory, he smiles and taps in for three.
Rory's Round after seven holes: -6
Hole #8. 413 yard par 4.  For all of my group, this is the Great Blue's hardest hole.  The fairway wraps in a dog-leg left around what Google Earth calls "Mud Slough," with trees intruding on the line of play directly on the line to the turning point.   We normally play well right of the trees, which gives us 170 to 200 to the green, depending on how close we're willing to get to the tree line.  The hole has a small green with a deep bunker on the front left, and death anywhere short or left, where Mud Slough beckons.  But Google Earth shows us that the direct line from the white tee to the green is no more than 320 yards.  Rory misses slightly right, has an easy up and down for another birdie…but he has to wait until I hit my third from just behind him, which he does graciously, although I thought I heard a coin jingle in his pocket.
Rory's Round after eight holes: -7
Hole #9. 366 yard par 4.  Again, Rory backs off driver and hits three wood down the left side, giving him a perfect angle to a two-tiered green tucked hard against a lake.  He plays a loose shot from 80 yards, landing above the hole but with too much spin, pulling the ball to the lower level and leaving a tricky putt.  Two-putts for par.
Rory's Round after nine holes: -7. 
Out in 29.
 BACK NINE
Hole #10.  367 Par 4.  Very straightforward hole with the most difficult greenside bunkers among the Great Blue's first ten holes.  Rory's drive leaves him with a flip wedge, which he tosses up a bit too casually, perhaps unable to put his poor shot on #9 out of this mind, and settles for his second consecutive par.
Rory's Round after ten holes: -7
Hole #11, 166 yard Par 3.  Tricky perched green with a strong diagonal right to left from the white tee and tilted into three tiers sloping from back to front.  Rory hits into the upper slope, which shapes the ball toward the center hole location, and drops in a short but slightly downhill putt for his first birdie on a par 3 at Heron Lakes.
Rory's Round after eleven holes: – 8
Hole #12, 467 par 5.  Once again, a lake guards the right side of the lay-up for us, and protects a very tricky green with a hard right to left slope exacerbated by severely tilted back to front pitch, altogether making this the toughest green on the Great Blue.  But Rory has a wedge for his second, and can place the approach shot perfectly to the left of the green to let it run down toward the hole.  What feels like a routine-birdie to Rory is a white-tee eagle, so he dips into a double-digit number below par.
Rory's Round after twelve holes: -10
Hole # 13.  467 yard par 4.   This is a strong hole distance-wise, but once again a good drive well past the fairway bunkers leaves Rory a gap wedge to the green, which he hits slightly long left and two putts for par.
Rory's Round after thirteen holes: -10
Hole # 14.  300 Yard par 4.  This green is tiny, with no bail out to the right and a lake to the left, so after a long discussion of where I would play it, Rory decides to hit an eight-iron off the tee and a sand-wedge second, which he executes with such perfection that his putt is his first tap-in birdie of the day.
Rory's Round after fourteen holes: -11
Hole # 15. 149 yard par 3.   The companion to the 4th, 15 plays over water to a green which is as wide as 4 is long and narrow.  The cup is cut front right, so Rory plays safely and comfortably left of the hole, scares the cup but settles for another par.
Rory's Round after fifteen holes: -11
Hole # 16.  325 Yard par 4.  This hole has a split fairway, divided by a lake, with the green on the left side. The maximum distance for a layup off the tee on the right side is 200 yards.  The left side fairway slopes left to right toward the water.  The direct line of flight over the lake to the green is 305 yards.   When I told Rory about an ex-NFL quarterback making a hole-in-one from the blue tees, playing at 360 yards, he wanted to move back.  I told him that wasn't in the spirit of our tale.  So from the white tee he cut the tee shot perfectly, watching the ball arc toward the slope on the back left of the green. It curled slowly down toward the lower right pin position, somehow stopping on the crest of the steepest part of the green.  A very disappointing two-putt birdie had Rory muttering about what he hopes he better not see at Chambers Bay, and I told him not to worry—putts would not be stopping above the holes there unless he yipped.
Rory's Round after sixteen holes: -12
Hole # 17. 474 Yard Par 5.   There are no par 5s for Rory from the whites on the Great Blue.  This hole, arrayed with Mud Slough along the entire right side of the fairway, sets up perfectly for Rory.  He drove the ball just to the right of the furthest fairway bunker, placed not to influence a tee shot but to force people laying up on their second shots to favor the right side, which brings the slough into play.  But those design considerations had no bearing on Rory, whose tee shot left him 110 yards from a front right pin, which was a sitting duck for his gap wedge.  He tossed it perfectly to the left of the hole, and it dribbled gently down toward the cup for a tap-in eagle.
Rory's Round after seventeen holes: -14
Hole # 18. 364 yard Par 4.   Satisfied to protect a mere 14-under, Rory hit a six iron off the tee, followed by a wedge to the upper tier of the green.  Lagging to within a foot, he tapped-in for 4.  Inward 9's total of 29 matched the outward 9, a fitting symmetry.   I forgot to mention that Rory was giving me two shots on every hole except the par 3s, where I was getting one.  I didn't play so bad myself, and I know the course.  With my bogey on 18, I won the hole and halved the match.  Hey, it's my fantasy.
Images Courtesy of WikiCommons and Heron Lakes. Rory McIlroy photos originally posted to Flickr by TourProGolfClubs at http://flickr.com/photos/80715750@N03/8934798140