TPC Las Vegas is a great introduction to desert-style golf, stepping in with a refinement that just wouldn't play at that wicked course a few fissures to the south, Badlands Golf Club. Forced carries are kept to a minimum if you play from the correct set of tees. Grass seed was sown with other than a Scroogian touch. Hit it in the air a respectable distance on something approximating your intended line and you should survive.
Knockover? Think again. There still is a l-o-t of desert, and a canyon, out there. If your usual game is to bail out in another fairway, you're in trouble. Is your short game weak? The greens are on the large side and they're smooth, fast, and well-protected. Do you like the Scottish ground game upon approach? Not usually a wise move.
There are two types of holes at TPC: vibrant ones and vibrant scary ones. The first are an indication that there really aren't any throwaways; even the seemingly innocuous opener can bite you on the green. The second are a function of the word "canyon" that formerly was in the course's name and that ever rattles around in players' psyches. And by canyon, "grand" comes to mind, albeit with a lowercase "g."
The outward holes play through and around a gentle arroyo, green strands of fairway woven through the rocks, yucca, and coyotes of the Mojave, followed by desert woodland of mesquite and palo verde and a finish in a boulder-strewn wash.
Two gets a lot of attention and with good reason. It's an island par 3 absent the stuff, water, that functionally makes an island an island. Visualize the 17th at TPC Sawgrass, without gators. And tack on more yardage. Your goal is the sanctuary of green within a torment of rock, sand, and things that go poke in the leg.
The geologic challenge continues at the wonderfully difficult 460-plus-yard par-4 3rd and challengeable-at-a-price par-5 4th. My favorite is 6, a long par 5 through the trees, playing back toward the Spring Mountains. Length helps, but with Summerlin's altitude and a mostly downward orientation, it effectively takes a back seat to laser-like accuracy on these holes.
The canyon reappears, in a big BIG way if you go long on the wedge/9-iron par-3 12th and holds sway around until you safely reach the par-5 15th's green. These are raucous, ball-eating, sphincter-tightening holes where habitués of the longer tees take aim at path-to-safety guiding rocks on the far side of canyon walls, where right is about as conducive to a good score as Bill Clinton is to a successful Texas GOP rally. Play 'em, and when the two greater-than-440-yard closing par 4s come across like a welcome respite, you'll know what I mean.
I like TPC because unlike other Vegas courses of reputed note, it has withstood better than most the test of time, the bang/buck standard and the advent of Pebble-priced supercourses (and some wannabes). That's a function of a good piece of land and thoughtful design delivering views, risk-reward, outstanding conditioning, and a diverse no-repeat mix of holes. Like Coyote Springs, the Las Vegas Pauite courses, and a small handful of other tracks in town, TPC offers challenge, intrigue, and a satisfying gut feeling through the routing, not just at select spots. Perhaps it's not surprising, then, that the PGA Tour made a number of visits to TPC (the annual October tour stop has, at least for now, been moved exclusively to TPC Summerlin).
As I wrote above, accuracy more than brute strength is the key to success at TPC. Step back to an inappropriate set of tees and you'll find some unconquerable forced carries, which is as it should be. But while the "TPC" and blue tees play to 7,000-plus and nearly 6,800 yards, respectively, the whites just exceed 6,100 and the reds barely break 5,000. Again, that betrays the thought that went into this Sin City must-play course, and why it's suitable for touring pro and visiting 18-handicaper, male or female.
TPC also excels in one other way and it makes 18 holes played more than a round of golf: attention to detail. The pro shop is one of the best-stocked in the land and the practice facilities are complete and don't involve nets or Astroturf; the revamped grill conjures up food you want to eat and don't mind paying for; the country-club-for-a-day ambience that so many high-end daily-fee courses try to deliver actually arrives at TPC, and it does so in a natural uncontrived way.
Vegas has newer, gaudier, more emotionally evocative, and certainly more expensive golf courses. Not too many exceed the entire package as offered up by TPC.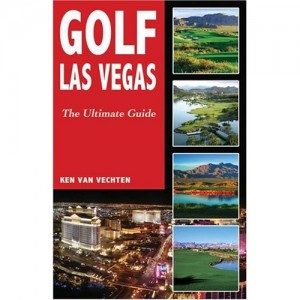 This is one in a series of greater Las Vegas golf reviews from the book, Golf Las Vegas: The Ultimate Guide, published by Huntington Press.