It took me years to get a couple members of my Vegas golfing troupe inside that sometimes scruffy berm that sits just south of the state line. One guy is more open-minded, trusting even, so he knew from an earlier visit that I wasn't full of it when I kept on spouting: "Those are about the two best courses side by side in  Southern California."
Their loss.
The berm is just that, an earthen mound. On one side it's Primm Valley Golf Club, Lakes Course to be exact. On the other it's bazillions of fixated Californians moving at break-neck speed, because they're on I-15 and SIN CITY IS ONLY 40 MILES AWAY.
Their loss.
Primm Valley is the anti-Primm. The Primm of middling hotels, a token amusement park, and in a compelling rendition of "Americans Really are Taken in by Crap," Clyde Barrow's bullet-riddled shirt avec faded blood stains, is rather a low-budget affair where the longest line to dine is at McDonald's (and I believe there are several from which to choose).
Anti-Primm is arboretum-grade grass, wildflowers, placid lakes, babbling streams, and 36 holes of Tom Fazio golf.
At anti-Primm you pull in and the attendant greets you warmly, takes your clubs out of your trunk, and sends you on your way with the following admonition, "Hit 'em straight and have a wonderful time." At Primm proper, you pull in and the attendant tries to pass off on you some number of the horde of kids that are attracted to the place like the penitent to Notre Dame on Good Friday.
Now about my friends: A couple of them refuse to drive from So Cal to Vegas for our junkets; they only fly. A couple don't mind. They've played Primm. They've been rewarded, in other words. (Actually, the other two played it last summer.  They, of course, had to get back to Sin International Airport, drop the rental, have a close encounter with TSA, etc., and those of us who drove were at my place having cocktails about when the speed merchants were 29,000 feet over Barstow.  Priceless.)
And a reward it is.
The Lakes Course is Son of Shadow (Creek). While some of the effete cognoscenti of golf will say that he's a bastard child, no one can deny the lineage, though the Fraternal Order of the Stag Rabbit Lodge #37's annual golf tourney stands a slightly better chance of being staged at junior's place.
Tom Fazio crafts golf holes, happy little worlds unto themselves, with bold sweeps, shortcuts, narrow chutes that open, openings that constrict, plenty of angles, and two ways to get there, which then become a course; does anyone do doglegs better? Perhaps not, and it might also suggest why the holes that do struggle here are the few mid-length straightaway par 4s.
The line of play is loosely defined by trees, Fazio's penchant for expansive shaping and sideboarding directs it, and water adds to it a color and textural contrast and elements of strategy. Little of the latter ingredient is simply window dressing, and if it's wet, whether placid or flowing, it serves a purposeful function in the way you navigate the course.
Now, a Fazio-designed desert course in the desert isn't necessarily a course in the desert in the desert sense of the concept. Make sense?
Let me try again. If the big Golf-Course Architect in the Sky had a massive Exacto knife and could cut along the fairway line of any hole on Lakes and drop it within what's outside the fairway line of the Desert Course, you'd still pretty much have the Desert Course, or Lakes with new neighbors.
That's not a slam.
Though some bitch that he's single-handedly done more to drive up the cost of golf-course construction and maintenance—and hence green fees—Fazio, like any great designer, has his own way, and that way is big and bold and, a key concept for those in the consulting business, exactly what the folks paying the freight want.
Developers who hire Fazio want a Fazio course.
And he's smart about it.
There's less evidence of artificial topography on Desert. The fairway margins here run out through prickly stuff or a Laguna Beach expanse of sand. There's some water, but its function over on Lakes in determining playing options is largely managed on Desert by the sandy stuff (your cartmate's 6-iron is the club of choice for full-on explosive extraction). The middling fours don't suffer the mild malaise of their counterparts on Lakes. Waste areas cut in to grab balls that curve too much or carries that don't carry enough. Without the stabilizing horizon of Lakes trees, elevation change feels more pronounced, even if it isn't.
Brothers in arms.
I actually prefer Desert. I always have, despite a brief flirtation with Lakes. The affection has everything to do with the desert aesthetic; few people couldn't call it a life-enhancing upgrade having Lakes as their home course.
A ton of effort does go into making a Fazio course wholly contrived and perfectly believable.
And now the nonbelievers in my group have seen the light.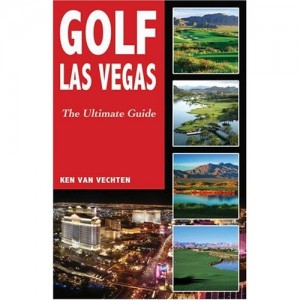 This is one in a series of greater Las Vegas golf reviews from the book, Golf Las Vegas: The Ultimate Guide, published by Huntington Press.