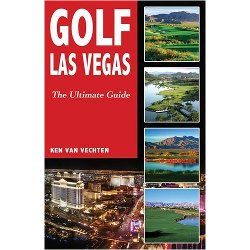 The golf fan in me really can't wait for Wynn Golf Club to become another casino or a bunch of mega-lux homes. It's shoehorned into too little space with no real driving range. There's a ridiculous monstrosity of a waterfall behind 18 that's excessive even for Vegas. (I hope Steve Wynn doesn't decide to take other bad styling cues from Donald Trump.) It's overpriced.
The golf fan in me thinks Steve Wynn sure got something right. From the first drive onward, it's another world within all those trees and one of the most naturally flowing unnatural sites in creation.
Schizophrenia?
Nope. Reality.
Five-hundred-dollar golf courses that spring out of the Mojave Desert right behind massive hotels are casino amenities. They aren't constructed for dedicated players. It's as with Chateau Bob sparkling wine being served at the video poker bar and Cristal in the baccarat salon. The course may get 20 rounds in a day. So what? The corporate jet spends some time in the hangar and the highest-limit dealers often stand around empty tables, hands suitably folded, of course. That avid players can get in for a price is a perk for the dedicated player (the value of said perk is understandably debatable).
Five-hundred-dollar golf courses that spring out of the Mojave Desert right behind massive hotels are made for owners' egos, as well.
Wynn is a very good golf course.Wynn is not a good golf experience.
The course succeeds as a course because when you step on the first tee, there's no quit until you get back to 18, the waterfall be damned. The grass is perfect. The sand is perfect. The sight lines are nearly perfect. And each hole is more individually discrete than some on courses with twice the acreage. That's what relocating 1,000-plus decades-old trees and moving 800,000 cubic yards of dirt to manufacture 45 feet of elevation change will do to 100-plus acres of flat land.
How can the rough be perfect?
Like most aspects of public accommodation that Wynn (the man) has attempted, service carries the day. Shop personnel, locker-room attendants, caddies are all neighborly, collegial, professional; that's a part of the equation that can't be beat.
As to the second threshold, Wynn settles at the level of a mid-pack golf experience because such an event is a package, and for all the finery, all the stuff that's fluff yet works seamlessly, all the focus on detail and delivering a flawlessly manicured and smartly crafted product, it's a $500 nut, plus sundry gratuities; and there are ample palms to be greased. There effectively is no driving range, it's all small sack for such a big bag, and it's smack dab in the middle of one of the most bustling cities in the world. And the course is not Shadow Creek or The Chase or Laughlin Ranch or or or.
I love being on the course, hitting shots, losing a 20 to a stone-cold caddie taking the first swing of the day, and walking while the cart gets where it needs to get. But I never feel like I'm part of an outing, a day away, something bigger than a round of golf on a course that zings if not sings. And that's due to Wynn's proximity to "Vegas," with which its brethren don't have to contend. Don't be fooled by bed-to-tee; something more comes of the limo ride to the hinterlands.
And it's due to those other factors, too.
Wynn gets judged against the bevy of courses in its market caste. Wynn gets judged against the ATM. Every course in this book is.
Wynn rocks on some levels, just not enough.
This is one in a series of greater Las Vegas golf course reviews from the book, Golf Las Vegas: The Ultimate Guide, published by Huntington Press.