Player Profile: Ben Curtis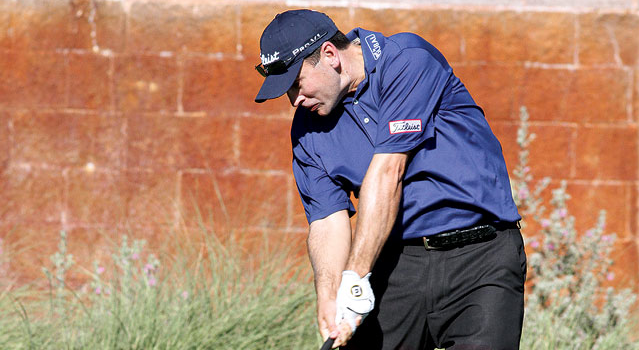 In case you haven't noticed, Ben Curtis has resurrected his golf game (he won the British Open nearly 10 years ago) and has become one of the top money winners so far this PGA Tour season. In looking through video clips since his British Open victory, it's obvious that Curtis has worked hard to build his swing into a more repeatable action that's once again delivering results. His old swing had more planes than your local airport, but his new swing displays a more powerful, simplified move. He has never looked better.
The first thing I noticed about Curtis is that he has a strong "load" move to his right side during the backswing. His right knee is substantially flexed, and his head drifts behind the ball. This style of play might seem to contrast what many players have adopted on Tour, which is a backswing where the body stays very centered as the right leg straightens to allow for more hip turn.
Curtis plays from a slightly steeper backswing plane, where his arms work higher or more vertical than the tilt of his shoulders. A steeper arm swing can cause the club to strike too much down into the hit. However, as Curtis shifts his weight behind the ball, he effectively widens his swing arc. This action shallows the steepness that his arms have, producing a more level sweep at contact. Although this isn't the hot trend associated with most modern coaching, this system of swinging has worked for many players over the years and can be visibly seen in former Tour greats Curtis Strange and Hal Sutton.
As you watch your favorite players, take note of their body action and see which swings stay very centered on the backswing and which load the weight more to the right. In general, the players who move "off the ball" likely swing the arms more up and down, whereas those who stay more centered will swing on a flatter plane that travels more around. Click Here for the full story!
For more information on JRG and "Make The Turn" Click Here. 
Tags:
ben curtis
,
golf instruction scottsdale
,
golf lessons phoenix
,
golf lessons scottsdale
,
golf lessons tempe
,
jeff ritter
,
Jeff Ritter Golf
,
make the turn