Dixon Golf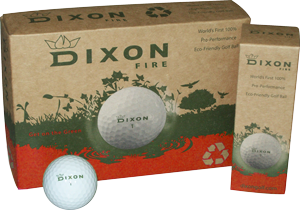 The Dixon Fire
There's a company out west who's taking the lead in creating a product that's better for golfers and the planet. Arizona based Dixon Golf has made a monumental impact in the golf industry by introducing the world's first 100% eco-friendly golf ball. The ball, called the Dixon Earth, has led the golf world into the concept of "green," but Dixon Golf is not just introducing "green" products into the industry, Dixon Golf is minimizing its own carbon footprint and ecological impact through a number of initiatives, most notably its recycling program.
Makers of the Earth, Wind and Fire family of golf balls, Dixon Golf's manufacturing facility meets the highest standards of ecological concern. The operation is lit by LED lights and its energy comes in large part from solar panels. Plus, it has better air quality and lower VOC's compared to manufacturing facilities of its kind, and recycles its water.
Dixon made the decision at its inception that it would also avoid all unnecessary mailings. Dixon Golf invoices exclusively through email, has never sent a paper statement, and stores the vast majority of its essential documents electronically. This not only reduces paper waste, but every letter not sent through a courier reduces vehicle emissions that would have released more carbon dioxide into the atmosphere.
In addition, Dixon also encourages its employees to carpool or use public transportation to further reduce the carbon emissions attributable to Dixon Golf. In fact, the corporate headquarters for Dixon Golf is located at the headquarters of a light rail mass transit system.
The efforts of Dixon Golf to save the earth go beyond just the environment. Dixon Golf also donates ten percent of all its profits to charities that help feed the poor, rebuild after natural disasters, educate the illiterate, and perform other good deeds in the community. This all sounds great, but for the serious golfer, can the Dixon ball hold its own against the other top brands?
I met with the executive management of Dixon to hear more about their ball and the vision they represent. After two hours of dialogue, I was sold on their mission, but still had to try the ball before I could officially swing my vote into their corner. About to head out on an east coast golf adventure, I asked for some sample product to try.
I landed in Philadelphia Pennsylvania, ready to tackle three of the world's best golf courses: Saucon Valley, Pine Valley and Merion. Joining me was my student and playing professional Todd Murphy. Murf, as he's known to his peers, is a Mini-Tour winner who's headed to the PGA Tour's Qualifying school this fall. In addition to being one of the best ball strikers I have worked with, Murf is also known for his ability to take it low, once carding a 61 in competition and a 59 earlier this summer during casual play. We both played the Dixon Fire ball, said to be better with respect to performance and feel than the Titleist Pro V1. After three days on the links, I was sold.
Said Murphy, "The big thing I need out of my ball is predictability. Every shot I hit with the Dixon ball was easily as long as anything I've played and each shot into the green landed right on the number." In addition, Murphy commented, "Around the green I was really impressed. The Fire ball played with the soft feel I'm accustomed to and responded well off the club face."
You may think an eco-friendly ball is a novelty item, but Murphy liked the Dixon Fire so much that he has decided to put it in play at PGA Tour Qualifying School. "I'm chasing my dream of playing on the PGA Tour, there's no way I would play a ball if I thought it wasn't the best."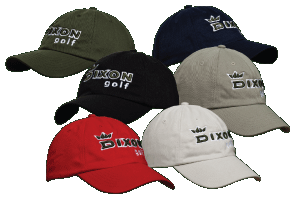 After my experience playing the ball and getting the thumbs up from Murphy, I decided I had seen enough and accepted an offer from Dixon to become officially part of the brand. In the following weeks I shared the ball with a number of clients, many of whom play competitively and each echoed Murphy's sentiment. Said former Ohio State golfer, Andrew Montooth, "I played with the Dixon Fire ball in severe wind and it held up really well. It's a great ball."
Although Dixon has a unique platform, Dixon Golf CEO William Carey wants the golfing public to know they are a serious ball maker. Evidence of their commitment to providing the best product is their coveted Fire ball, which boasts a price tag of $75.00 per dozen – the most expensive on the market! That's a pricey venture for most players, but once golfers have tried it, Dixon believes the public will know they've left it all on the green. Dixon also offers the Wind ball, similar to the Titleist NXT at $24.95 per dozen and the Earth ball, which was behind the launch of the brand at $39.95.
Among other players taking notice are Hollywood celebrities who love the game and have a vested interest in the environment. Academy Award Nominee and single handicapper Don Cheadle actually contacted Dixon of his own volition and asked how he could become part of the movement. Now an official Dixon spokesperson, Cheadle proclaims, "I love the game of golf and want to do my part to educate golfers how to be more environmentally responsible, even when it comes to the golf balls we use."
Actor Kevin Sorbo of "Hercules" fame, has also put his muscle behind the brand saying, "As soon as I was introduced to the Dixon golf ball, I was immediately impressed. The idea that a golf ball could be eco-friendly blew me away. When I played the Fire ball, I was sold. It's truly an impressive golf ball. Their recycling program is just the icing on the cake."
With Hollywood in their corner, Dixon has certainly created a platform for getting people's attention. "We don't pay any of our celebrity endorsers," says Carey, "They support us only because they love the game and believe in our effort to further the cause of sustainable golf." In a world where the celebrity pitch is usually loaded with dollar signs, consumers can believe that these stars use Dixon balls, simply because they really are that good.
Celebrity golfer, Don Cheadle, supports the Dixon platform
In addition, to Cheadle and Sorbo, Dixon has official relationships with other "A-Listers" in the works and claims that in the month of October, their initiative may even get some air time on the Oprah Winfrey show. "We're at the start of something very big," Says Dixon spokesman, John Glynn. "Very soon, everyone will know about the Dixon brand."
So where can you buy these eco-friendly gems? Dixon balls are available at retailers everywhere and have been a big hit at PGA Tour SuperStores across the country. For more information on Dixon Golf or a retailer near you, visit www.dixongolf.com.
Jeff Ritter teaches at the PING Learning Center in Tempe, AZ. In 2010 he was named by Golf Digest Magazine as one of the Best Young Teachers in America! For more information, visit JeffRitterGolf.com
Tags:
dixon earth ball
,
dixon fire ball
,
dixon golf
,
dixon golf tempe arizona
,
dixon wind ball
,
don cheadle
,
eco friendly companies
,
eco-friendly golf
,
jeff ritter
,
john glynn
,
kevin sorbo
,
the a position
,
william carey