Roasted Peaches With Date Whipped Cream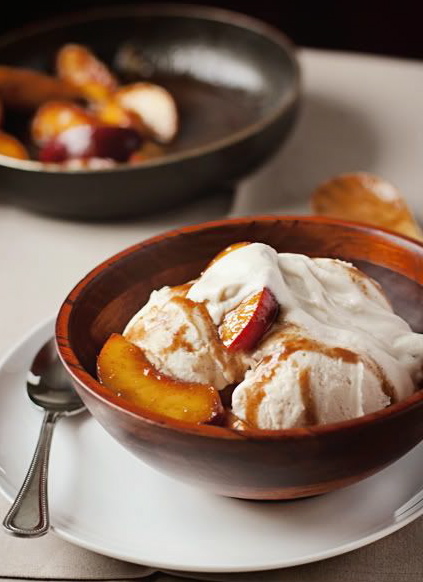 Are you looking for a healthier indulgence without skimping on flavor? The good news is, you can satisfy your sweet tooth without compromising your health with this drool-inducing Roasted Peaches and Date Whipped Cream recipe. For maximum flavor and nutritional benefits, select fresh, local and organic ingredients.
Roasted Peaches
Serves 4
Ingredients
4 Peaches, ripe, sliced into 8 pieces each
2 TB Organic butter, melted
1 TSP Vanilla extract
1/2 TSP Cinnamon
To taste, Stevia
1 TB Raw honey
Instructions
Preheat oven to 400 degrees. In a large, shallow baking dish, combine butter, vanilla, cinnamon, and stevia. Add peaches, and turn to coat with butter mixture; arrange in a single layer and drizzle with honey. Roast until peaches are tender and golden, about 25-30 minutes. Serve peaches warm or at room temperature.
Date Whipped Cream
Serves 4
Ingredients
1 Cup Organic heavy cream
1/2 TSP Cinnamon
1/2 TSP Vanilla Extract
To taste, Stevia
1 Whole Date, Pitted
Instructions
Combine ingredients in a blender or food processor and blend until desired thickness (the longer blended, the thicker it will be). Serve on top of Roasted Peaches. This recipe also works well with orange slices and dark chocolate, baked apples and lemon zest or sauteed pears with pecans and aged balsamic.
Got a Date?
Dates supply 260% more potassium than an orange and 64% more than a banana! Dates are a good source of potassium, fiber, niacin, B6, riboflavin, thiamine, pantothenic acid, copper, manganese, magnesium, iron and phosphorus. They're also a decent source of antioxidants, folic acid, zinc and selenium. Although dates do provide nutritional benefits, they contain quite a bit of sugar at about 14 grams per date. Enjoy sparingly as a replacement for brown sugar for healthier dessert recipes or as a treat for your "cheat" meal.
Make The Turn Nutrition Initiatives are Facilitated by CNK. Click Here for more info.
Tags:
cate munroe
,
cates nutrition
,
golf nutrition
,
healthy desserts
,
make the turn
,
nutrition for golfers