Going The Distance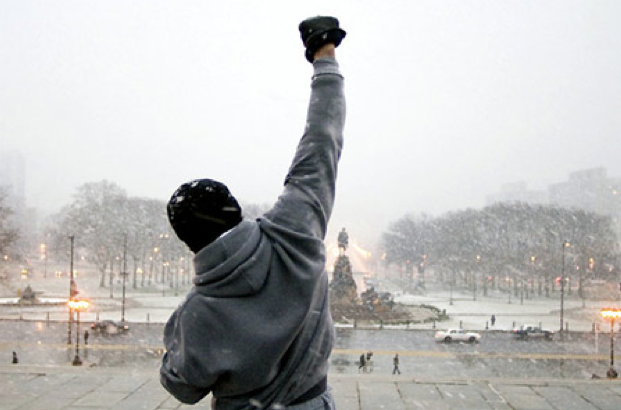 Nothing makes you want to crush it like the right song or playlist. While music might not always perfectly represent the goal itself, it's often the fuel that drives us, sustains us and helps summon that extra bit of effort.
In 2002 I was a paltry 143 pounds and desperate to look and feel like an athlete again. Long gone were my days of playing high school sports. The so called, "Glory Days" that people talk about as their beer bellies push up against the bar during happy hour. One morning looking into the mirror, I had that dreaded moment where I said to myself, "How in the world did I let myself get like this?" Of course I knew the answer. I was slammed at work, ate poorly and didn't get enough sleep. I had digressed into exactly what I had swore I'd never become.
I needed to make a change and fast. I had learned that a new training facility was opening within walking distance of my lesson tee called Athletes' Performance. Upon doing some research, I found that AP was the real deal. This wasn't a gym, it was an offseason haven for the world's greatest athletes from every major sport. I made contact with AP's Founder, Mark Verstegen, and asked if I could visit to ask a few questions.
I never expected to train there, I just wanted some insight or direction on what the heck I could do to get my life back together. I had met Mark briefly at the golf course and felt comfortable enough to ask for a few minutes of his time. Upon arrival, that comfort level quickly changed. As I slid through the facilities corridors, I quickly took note of the jerseys plastered against the walls. Nomar Garciaparra, Mia Hamm, Curt Schilling, Max Starks, Nikolai Khabibulin. Holy smokes, "What am I doing here?" I thought.
Upon meeting with Verstegen, he was extremely cordial and supportive of my goal towards better health. I asked, "Where do you think I should start?" His answer, "Be here tomorrow at 6:00 am!"
I went to bed about 4 hours earlier than normal and arrived promptly at 5:45. This was a great opportunity and Mark Verstegen didn't look like someone I was interested in disappointing. I was immediately thrown into a group with 6 other people. We were there to experience the program run by AP's interns, as Verstegen kept close watch on the group.
As we broke to our first rotation, the raucous sound system started booming. It was the Rocky Soundtrack, cranked up to Spinal Tap's infamous level "Eleven." Standing outdoors on the astroturf field, my body shivered as I gazed up at the pitch black sky. Verstegen's voiced barked commandingly, as my first challenge took shape. My body was stiff and rigid as each move felt like my muscles were about to rip from the bone. Part of me wanted to quit, but inspiration echoed through the speakers as Verstegen led the charge. It was Bill Conti's "Going The Distance." In that moment my entire life changed.
The next morning, my muscles ached with soreness, but I showed up again at AP and every other day that Verstegen allowed me to participate in the program. I had turned into an animal. A fire breathing dragon, hell-bent on pushing myself to the limits.
With each rep the muscle packed on. 150, 160, 175 pounds at only 8% body fat. As I would arrive at the facility each morning, Marlin Jackson of the Indianapolis Colts would grab onto my bicep and ask "When are you coming to training camp?" I knew he was joking, but in a way he was also impressed. He knew I was a golfer and with my hard work I had earned his respect. Nothing in my life up to that point had felt better, and to this day I rely on my experience at AP to keep me focused on what is possible.
What is it that drives us to "Make The Turn" in each area of our lives? Sometimes it's pure desire, sometimes it's the winner's circle we surround ourselves with, and sometimes it can even be a song that serves as our personal anthem for excellence. Today I challenge you to make your own playlist as the driving force behind your passion. If you need some inspiration to get started take a look at the songs that get me going!
Jeff's "Make The Turn" Playlist. Click Here to Add To Your Own Playlist Using iTunes!
1. Going The Distance – Bill Conti (Rocky Soundrack)
2. Bullet The Blue Sky – U2
3. Sweet Child O'Mine – Guns N' Roses
4. Rock of Ages – Def Leppard
5. Gimme Shelter – Rolling Stones
6. No Easy Way Out – Rocky IV
7. Where The Streets Have No Name – U2
8. Dream On – Aerosmith
9. In The Evening – Led Zeppelin
10. Along The Watchtower – Jimi Hendrix
For more information about JRG and "Make The Turn" 
Click Here.
Tags:
golf digest top teachers
,
golf fitness training
,
golf inspiration
,
golf instruction scottsdale
,
golf lessons phoenix
,
golf lessons scottsdale
,
golf lessons tempe
,
golf mental game
,
golf performance
,
golf power
,
golf tips
,
jeff ritter
,
Jeff Ritter Golf
,
make the turn
,
mental game of golf
,
performance mindset