Create The Perfect Plate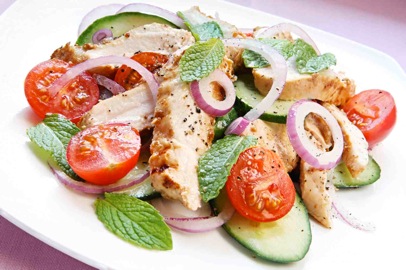 Balanced meals that include a variety of healthy ingredients provide more energy, improve mental cognition, reduce illness, support weight loss and improve your overall health. Start by covering 1/4 of your plate with a high quality source of muscle-building protein. Next, add nutrient-dense non-starchy veggies to cover at least 1/2 of your plate. Add starchy veggies, gluten-free grains, legumes and/or fruit to fill the rest of your plate. Include some natural fats to cook with or add as a topping. A balanced plate provides an appealing array of nutrients, colors, textures, and flavors that is especially satisfying to the senses.
Protein
Protein serves as the body's basic building blocks for growth and energy, and is essential for maintaining cells, tissues, and organs. Good sources include: eggs, meat, wild game, poultry, fish, seafood, protein powder, etc.
Carbohydrates
Healthy carbs are digested slowly, which helps you feel full longer and keeps blood sugar levels stable. Good sources include…
Non-starchy veg: kale, broccoli, spinach, cauliflower, cabbage, bok choy, etc.
Starchy veg: sweet potato, red potato, beets, winter squash, parsnips, etc.
Grains/legumes: (gluten-free & soaked) quinoa, wild rice, beans, etc.
Fruit: berries, grapefruit, orange, apple, banana, watermelon, etc.
Fats
Natural fats add lots of flavor, decrease sugar cravings, promote satiation and increase nutrient absorption. Good sources include: avocado, unrefined coconut oil, extra virgin olive oil, pastured butter, nuts, seeds, etc.
Sample Day
Breakfast: eggs with sweet potato and spinach, cooked in coconut oil
Snack(s): celery & almond butter or walnuts & berries
Lunch: turkey with carrots, tomatoes, cucumber, peppers, hummus & olives
Dinner: slow cooker beef stew with red potatoes, mushrooms, onions & kale
Check out meal ideas & recipes for breakfast, lunch, dinner, snacks & desserts!
Make The Turn Nutrition facilitated by CNK. 

Tags:
cate ritter
,
golf nutrition
,
Jeff Ritter Golf
,
make the turn
,
nutrition for golfers