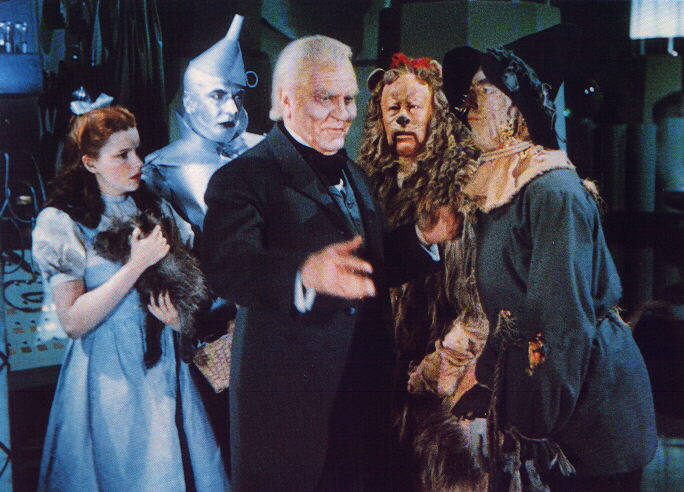 Dorothy and her friends discovered that the Wizard of Oz was just a frightened little man and they already had everything they were looking for inside of them.
My friend Mellen-Thomas Benedict stated in a recent letter to me, "The most important thing we have to do right now is to somehow see though the fog of divisive/self-serving politics, the fog of self-righteous religious leaders, the fog of the unbridled greed of our times, and most importantly the fog of our own fears and doubt.
I agree with Mellen.
Are you one who looks to your leaders for guidance?  Many openly admit to doing so and probably just as many quietly acquiesce to individuals that they put high up on pedestals.  To change the world, we must change ourselves, and that's an inside job.  Leaders can't do it and history has proven that.  Only miniscule percentage have pointed us in the right direction, and we know their names, but millions more have floundered.
This is not to defame those who choose to lead, but for the remainder of us to realize and to actualize our true power, our true essence within each of us.
Isn't it time to realize that our political leaders are lost and that holiest people in the world have done all they can do for us? By that I mean that the enlightened have shown us ways of living and growing, and Mellen-Thomas Benedict says that as much as the Pope, the Dali Lama, all the Gurus would love to help us, they cannot take this last step for us. There is only one step left to take.  This last part of the path to enlightenment is the path of Self-Initiation or Self-Realization.
There is an old saying, "If it is to be, it is up to me."  In essence we are responsible for us – no one else is.   'Leaders' cannot in the big picture do much to make us happy or fulfilled, only we can.  Whether or not you are a person of deep religious convictions, an agnostic, or an atheist really doesn't matter.  At some point, we all must look inside of ourselves to garner the truth.
Mellen continues with a well-positioned analogy to the Wizard of Oz.  "It's Like Dorothy and the Wizard of Oz.  When Dorothy's world ended in a terrible storm, she found herself beginning a great adventure.  She went looking for the fabled Wizard in the Land of OZ who was going to solve all of her problems and save the world. But when she got to the Land of Oz and found the Wizard, she discovered that behind the great curtain there was a scared little man."
From my perspective, Dorothy's encounter with the great Wizard was a great moment of Self-Realization, an initiation if you will.  That moment transformed Dorothy.  Her eyes were opened as never before.  Her quest to find the Wizard brought her to a new place in her soul. For the first time, she realized that the rest of the path or quest was up to her.
Dorothy wasn't the only one transformed, so was everyone about her – the Lion who needed to be brave, the Tin Man who needed a heart, and the Scarecrow who needed a brain.  Dorothy's journey along The Yellow Brick Road (like ours) encountering the witches, goblins, scary places, new friends, and even seeing behind the curtain of Oz were all a part of Self-Initiation.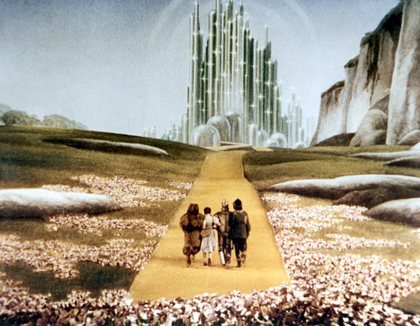 Right this very moment, you and I are headed down our own Yellow Brick Roads.  Enjoy your journey, but your search is likely right where you are – inside you.  It was for Dorothy and her friends.
All the characters in OZ once they took off the veil of searching down the Yellow Brick Road realized that they indeed had all the talents and attributes that they were searching for – inside of themselves.  That's a hugely powerful lesson because it applies to all of us!
Now in the modern world, the curtain is being lifted.  Our religious leaders and particularly our political leaders who like the Wizard are not who we thought they were, and we find ourselves at a new place in our souls.  You and I are innately as powerful as any wizard or any leader; we are brave, we have heart, and we have a new consciousness.  The only ones who can control our lives from this point on are ourselves.
No matter your station in life, be it in illness, poverty, or despair, or prosperity, good health, and abundance, you are still in charge of your life and the only path left is Self-Initiation.
Choose your leaders wisely, follow your religious faiths and traditions, but never lose sight that god-force or source energy through love rests within each and everyone of us.  Honor that and never give that magnificent energy away.  Cast aside your doubts and fears, and explore the love within you.  And then, let it shine forth!
Mellen concludes:  "We are coming to a point in the evolution of consciousness in which we will realize the gift of the time we live in and the gift of this potentially magnificent legacy we will leave to our future generations.  This is the first time in history of the world in which all good dreams can be manifested."
I agree with Mellen-Thomas Benedict, today is truly a time of hope and promise in spite of leadership, and because of us discovering our true loving nature.