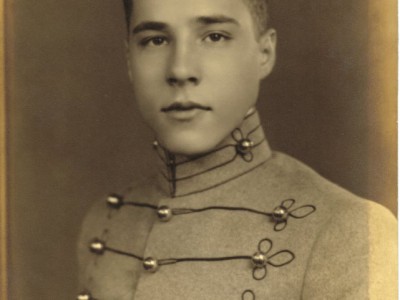 This young soldier, author, Malcolm A. Schweiker, Jr. would be killed in combat shortly after penning this beautiful poem.
Malcolm Alderfer Schweiker, Jr. of Worcester, Pennsylvania was the son my Grandfather never had (his oldest nephew) and the favorite older cousin that my Mother simply adored. A tall, uncommonly gifted, athletic leader who always put others first, young Malcolm served in World War II and penned these poignant words shortly before his death. I think of him often and always every Memorial Day and Veterans Day:
**
O God
Who makes the flowers and trees,
the wintry blast, the summer breeze,
Have mercy on us poor mortals, who
through misdeeds many and good deeds few,
have kindled hate and fanned the wrath
that caused peaceful nations to tread the path
of bomb and gun and shot and shell,
of death and pain and living hell.
Help us to find the love that Thou
didst show, when on Thy humble brow
a crown of thorns Thou wore, that we
might find lasting peace in eternity.
Help us, that when that love we find
we pass it on to all mankind.
And once again o'er all the world
we see the flag of peace unfurled.
**
His last letter home was written from a fox hole in Okinawa, describing the constant "gun and shot and shell" he faced. Six days later, he was killed by a Japanese sniper. Perhaps as JFK was inspired by the wartime death of his older brother Joseph Kennedy, Jr., younger brother Richard Schweiker dedicated much of his life to public service as a 4-term Congressman, 2-term Senator, and President Reagan's Secretary of Health & Human Services. Richard Schweiker was a widely admired leader who would often work with the "opposition party" in particular to advance health care and opportunity in America.
May young Malcolm's words inspire you toward peace as much as they have me and thank you to all who have served that we might "once again o'er all the world … see the flag of peace unfurled." Happy Veterans Day.