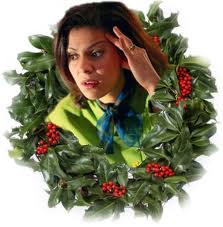 With the holidays upon us comes extra stress with work plus parties, buying, hosting, travel, and company among the non-usual activities.  Even if you can manage to sleep in heavenly peace, eat sensibly, breathe deeply, and practice gratitude, there are still so many demands on us that the stress continues to build.  Here are ten tips to help you cope.
Don't over-do. It easy to eat and drink too much.  Food and drink will not really help you escape stress or sadness.  In fact, they will only build to stress and unhealthy weight gain.
Allow your feelings. There may be times when you don't feel particularly festive.  If you feel a bit of the bah humbug overtaking you, don't fight it.  Work through your feelings and let it be ok for you or others to feel sad or lonely.
Seek out an old friend. Get in touch with someone you haven't heard from in a while, or reach out to make a new friend.  Seek out supportive caring people.
Help someone else out. There are lots of people who have less and need more than you.  Why not share some of your blessings with them?
Be realistic. Can you really shop for and feed a small army, travel, decorate, and all with everything else you have to do?  Keep your to-do list reasonable and do the most important things first.  And say "No" if you must.
Think of the time as a "Season" of celebration, not just a day. It isn't just one day so why not spread out your activities to reduce the stress.
Plan fun activities that cost nothing. Especially in this time of economic stress, but anytime seek out activities that don't cost a dime.  Attend a school play, go window-shopping, or walk around taking in the holiday decorations.
Do something different. So often we tend to do the same things year after year.  Create a tradition of doing something different either by yourself or with your friends and family.
Embrace the present. Don't over-romanticize the good ole days.  The past whether or not is was good or bad is a memory.  Savor the changes and differences that make the 'now' uniquely special.
Honor yourself. In order to be strong and loving for others, you must first stay strong and loving for yourself.  Reserve time to care for and take care of yourself.  Let others carry the load; you may find they would love to and it helps them grow.