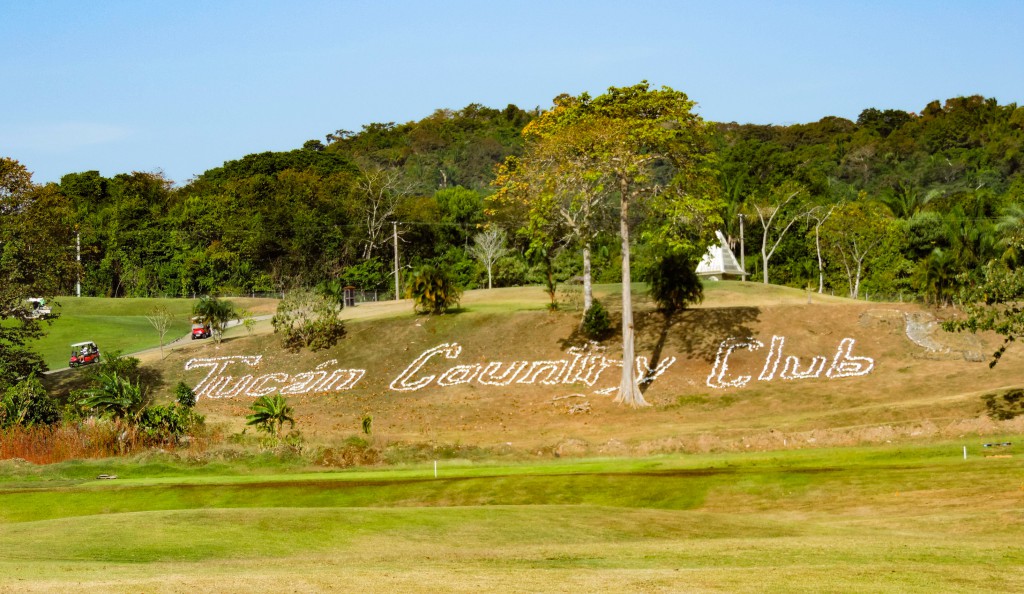 Local ownership has taken over the former U.S. Military golf course and converted it to a semi-private residential resort of some promise!  (Photo by Robert S. Fagan)
Forgive my play on words, but the golf course I am referring to is the Tucan Country Club & Resort – the closest, most convenient golf course to Panama City, Panama that is open to the public. Set in the Panamanian Riviera just a short drive from the Pacific, you will discover a charming layout featuring interesting topography and dramatic views of the giant cargo cranes servicing the nearby Panama Canal and spectacular Panama City skyline views in the distance. This is the country's golf version of a "Diamond in the Rough."
The impressive Panama City skyline and the cranes for the Panama Canal are spectacularly in view from several points on the Tucan property.  (Photo by Robert S. Fagan)
The aspect that I particularly liked about Tucan is its routing or "bone structure." That would translate to the pacing, flow, and use of the engaging topography that the routing takes you on. Candidly, during my recent visit I found Tucan to be a shade scruffy conditioning-wise in spots with the course's shaping also a bit underdeveloped. With its roots as a former American military golf course, that is no particular surprise, but it's is nonetheless quite playable, yet challenge for better golfers.
After two testing, uphill par-fours, the par-four 3rd spills sharply downhill, playing much shorter though longer hitters will be squeezed in their landing zone.  (Photo by Robert S. Fagan)
You begin your round downhill, uphill, and then sharply downhill as you encounter three testy par-fours. Rather quickly you have been introduced to some of the best views on the layout, and if you have stumbled over "Old Man Par," that would be understandable. Then you encounter a one-shotter and a short 3-shotter that sit in a flatter jungle setting with a strategic large pond as its centerpiece. That short 3-shotter illustrates both the charm and current short-comings of Tucan. You can choose to bite off some of the pond thereby affording yourself a chance to hit the tiny, shallow elevated putting surface in two and putt for an eagle or sagely play more conservatively. Here the green complex is best described as nondescript with the bunkering and putting surface lacking much size, depth, or interest and the cart path leading up to it is in a state of disrepair. That is what I'm referring to as "potential." Nevertheless, the challenge and the potential is there.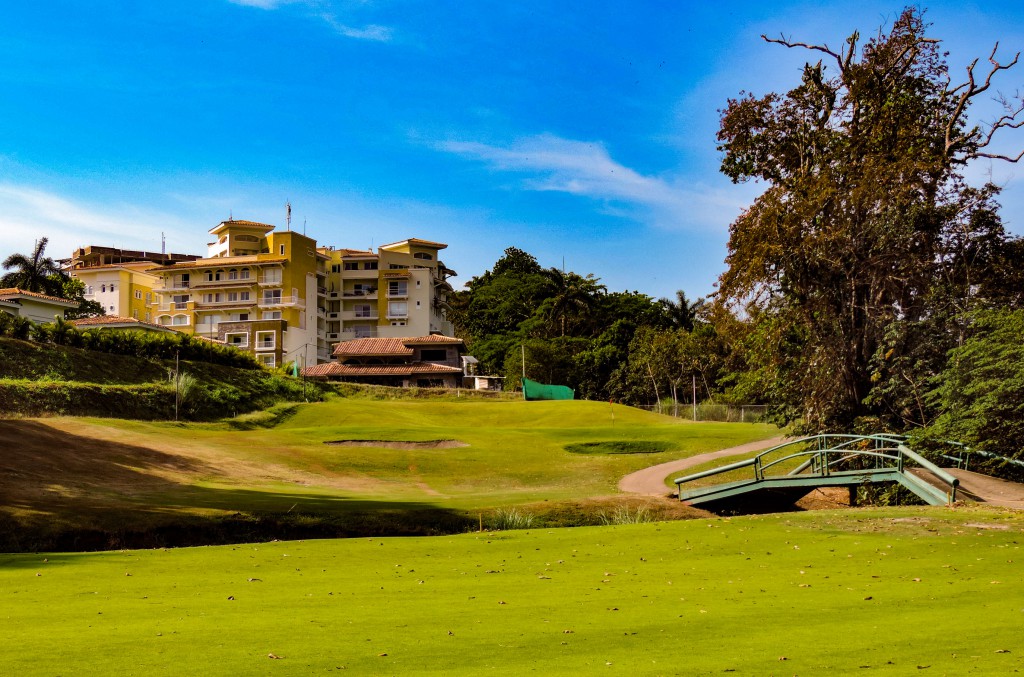 Above is the short par-five 5th hole that illustrates both the charm and opportunity that awaits improvements at Tucan. Behind the green is part of the growing real estate development.  (Photo by Robert S. Fagan)
The remainder of the outgoing nine continues to reflect this potential. Spicing things up a bit, a short par-three has been sandwiched in with a virtual island green at the seventh, but essentially the routing is forced through the small corridors of their growing real estate development. As you leave the first nine, you will again enjoy some wonderful vistas from the tenth tee (not near the clubhouse) adjacent to where a planned hotel may soon be built and hopefully not obscure the view. Am I being critical? Perhaps, but shortcomings aside, I actually really enjoyed the golf course and the property, not to mention the friendly folks there.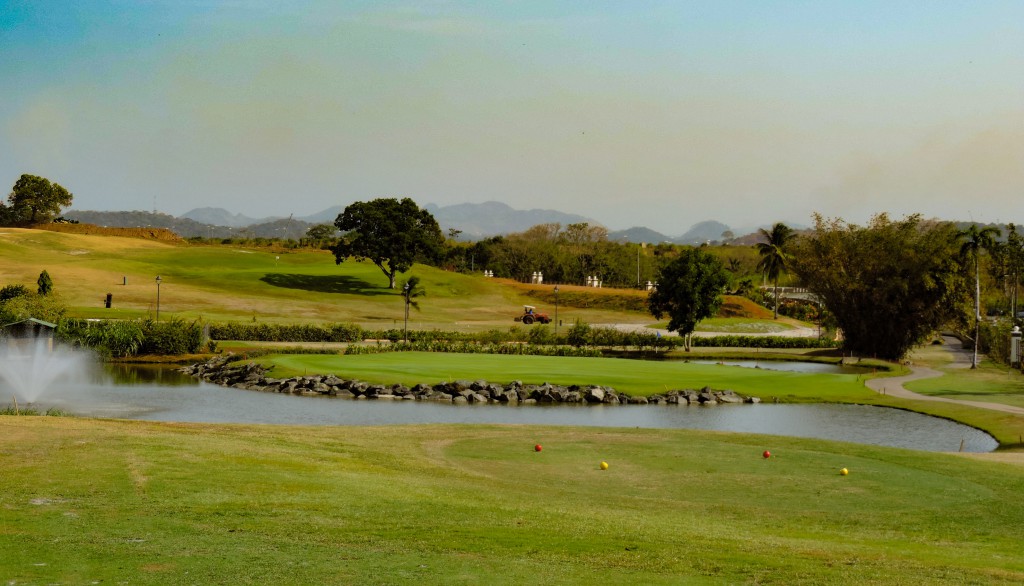 Here are two perspectives of Tucan's version of their "Island Green" above and below.  (Photos by Robert S. Fagan)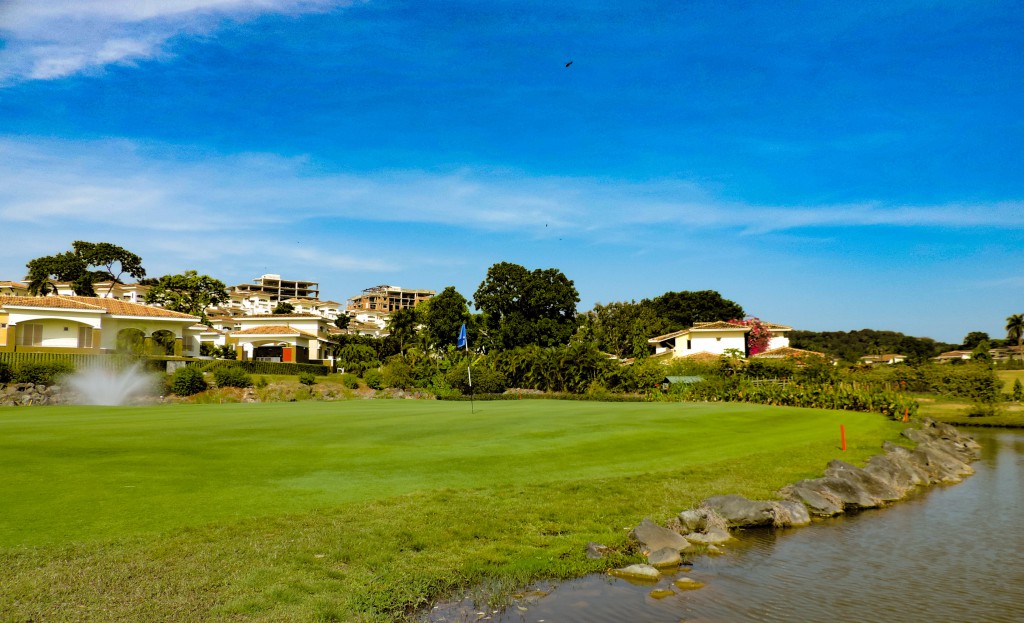 Yes, Tucan truly is a "diamond in the rough." The back nine played in a core fashion with no development in its interior. The two par threes, the 12th and 17th that face the same direction nonetheless utilize different terrain and feature a nice, classic feel to them. Like the first three holes of the course, this nine has an expansiveness to it and you feel free to let out some shaft. More than any golf course in recent memory, I believe Tucan could be really special with a makeover. Taking the existing routing, I feel it could even vie with the best in Panama with an imaginative renovation and improved maintenance.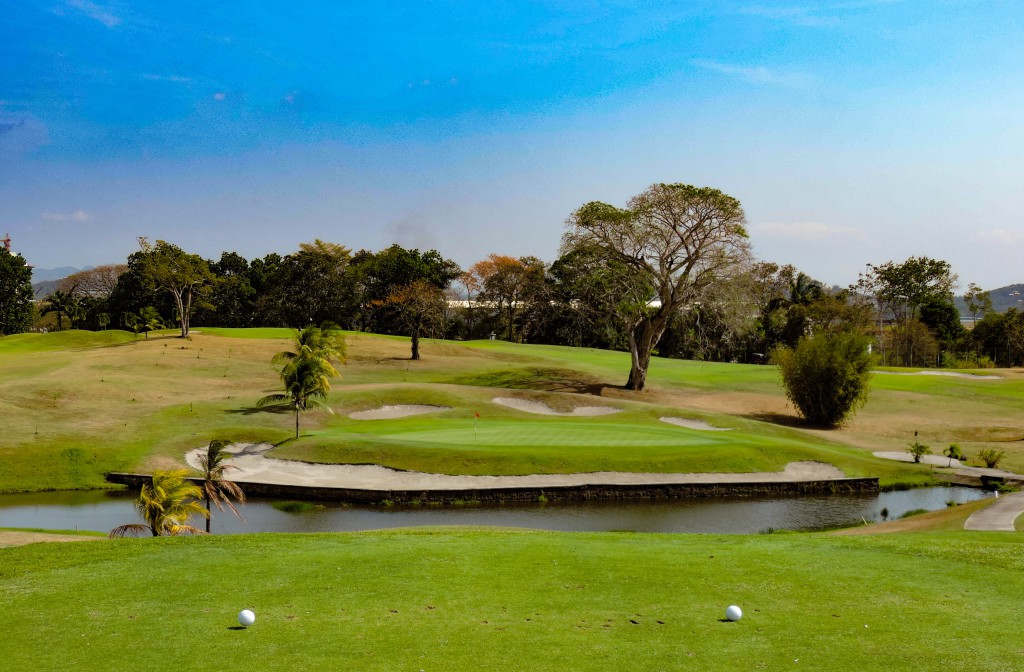 A good look at the classic par-three 17th from its elevated tee.  (Photo by Robert S. Fagan)
Here's where it gets interesting. As I tactfully mentioned Tucan's potential, I was informed that they were currently meeting with American golf course architect Perry Dye about making course improvements. That would be interesting I thought. I have met and like Perry and would be interested in his proposal. He has inherited his father and mother, Pete and Alice Dye's, distinctive shaping and I'm not completely sure if a full-out dose of Dye would work here at Tucan, but it might. Expanding and improving the playing envelope on the stretch especially on 6, 7, 8, and 9 and enlarging and enhancing the greenside bunking and putting surfaces would go a long, long way, as would improved maintenance.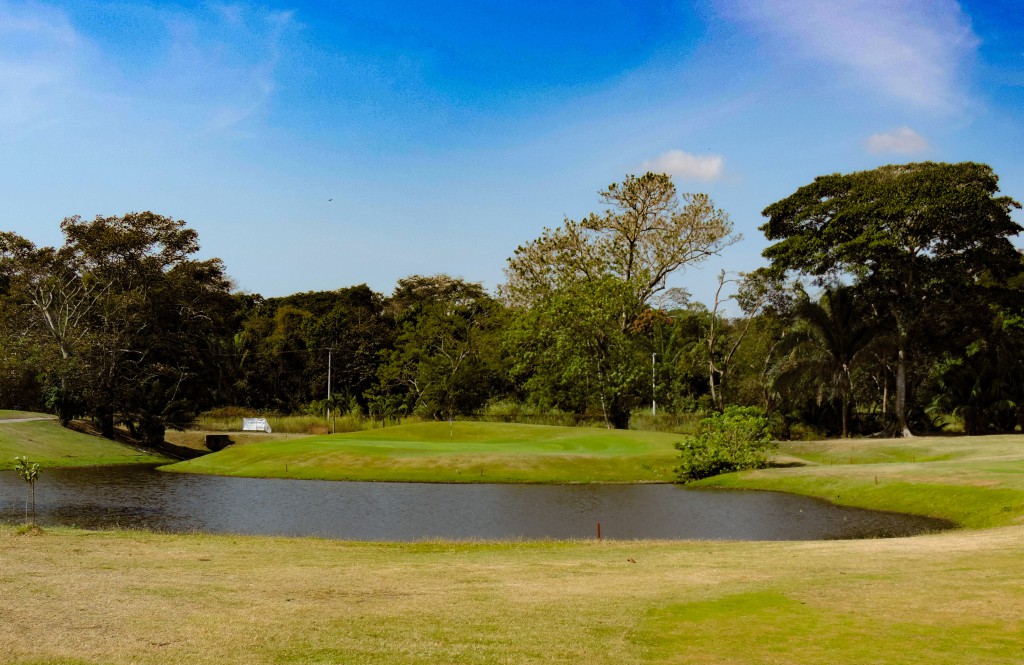 In front of (above) and behind (below) the par-five 16th green.  (Photos by Robert S. Fagan)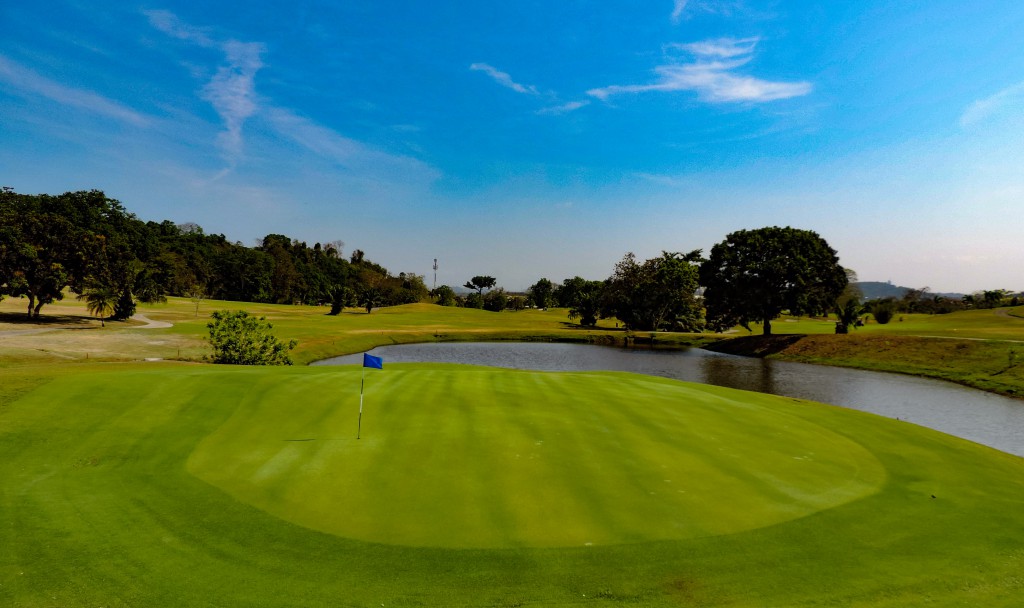 What is not needed are Perry's prolific mounding that he often employs especially when encountering small spaces ("The Shoehorn Architect) nor penal bunkering or greens that repel rather than collect shots. A little of that might go a long way, but you'd want to keep the course golfer-friendly. Anyway, this spells a major opportunity that ownership apparently has already anticipated. Bravo!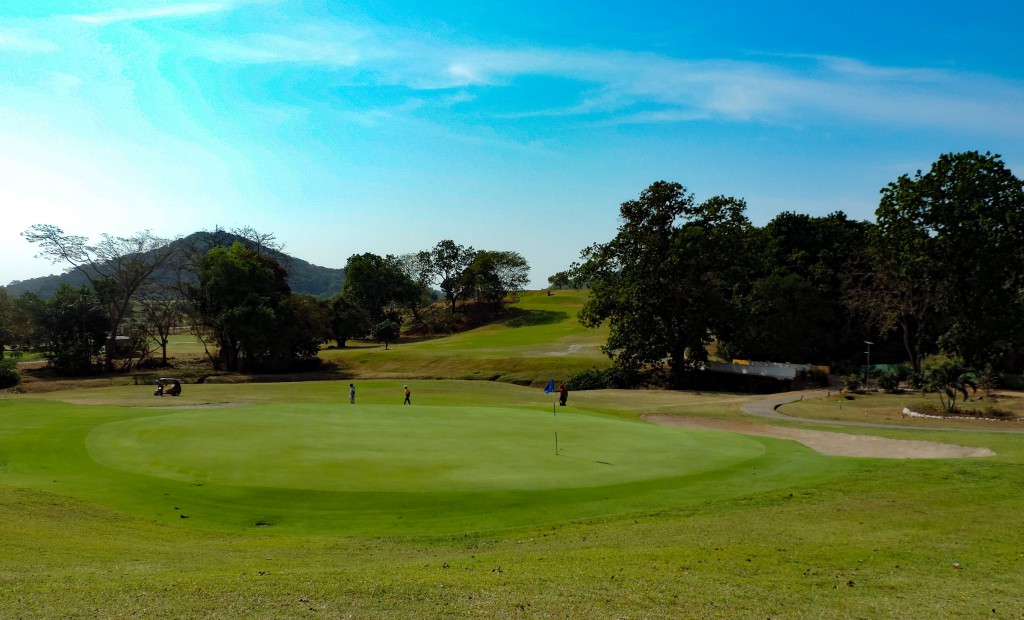 Like the third hole, the par-four tenth tumbles sharply downhill.  (Photo by Robert S. Fagan)
It will be fun to see what transpires at Tucan. Tucan play here, or enter as a single, threesome, or foursome. It's fun! It's also conveniently located, the people are friendly, and I enjoyed the experience. Stay-and-play packages and a host of villa and condo offerings are available as well. Tucan bordering on the adjacent rain forest and police compound represents a quiet, protected, more natural rural setting to enjoy and also set up as a nice home base to explore nearby Panama City!