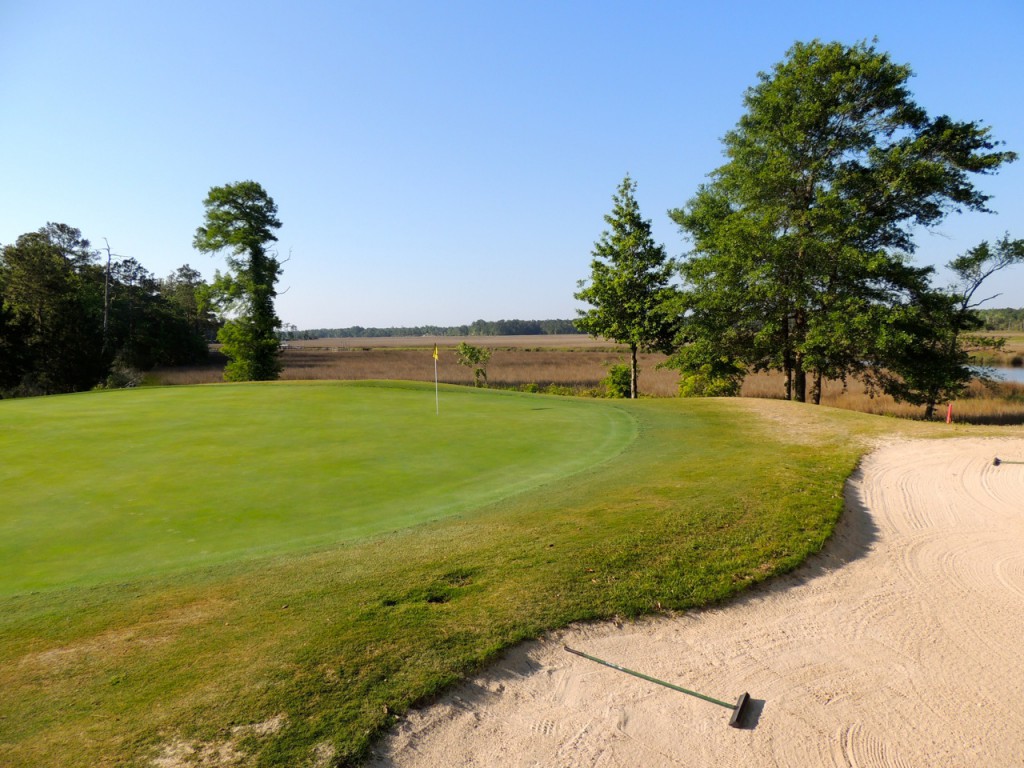 The bucolic views of the Lockwood Folly River as shown from the par-three 5th hole on the Ibis Nine make you want to linger longer over your putts. (Photo by Robert S. Fagan)
There are many wonderful and exceptional courses in the Grand Strand, but if Brunswick County's Carolina National Golf Club isn't counted among the best, I don't know who could. This is a special 27-hole offering by Gene Bates and marketed as a "Freddie Couples Signature Golf Facility."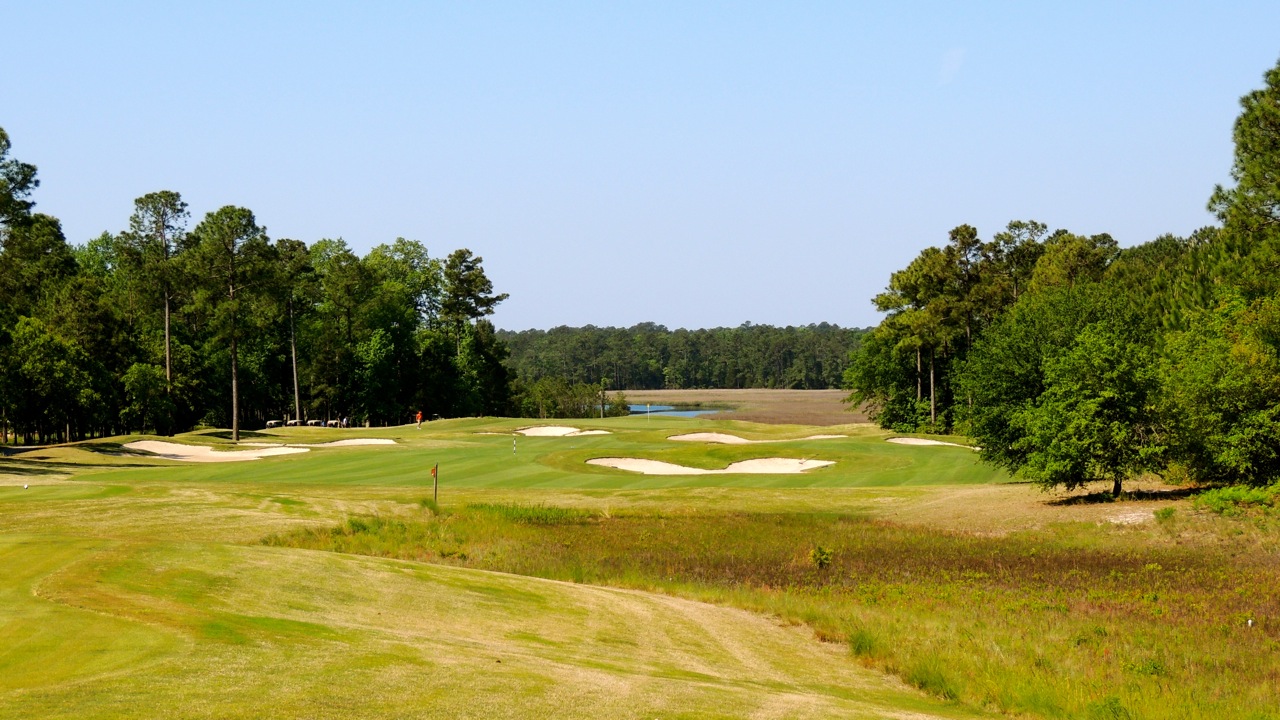 You develop a sense of anticipation as you see the water in the distance behind the split fairway of the par-four 4th hole of the Heron Nine. (Photo by Robert S. Fagan)
For purposes here, I played the Ibis and Heron Nines. Each has a slight different feel although both visit the Lockwood Folly River making for some spectacular pristinely marsh and river views. Built in two clock-wise loops, each hole is set up as a theater unto itself. Thick forests, bold attractive bunkering, and an occasional water hazard form the canvas that is draped over mildly undulating terrain.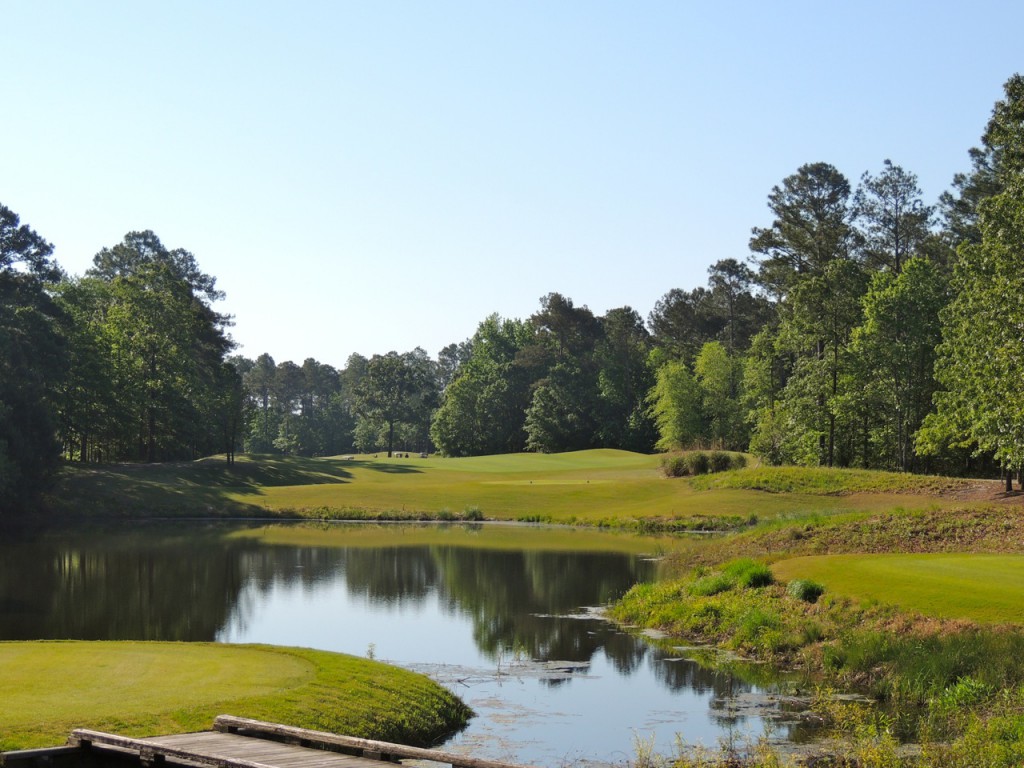 The opening tee shot on the Ibis Nine at Carolina National is one of the more intimidating ones I've experienced in awhile, but it's a gorgeous one.  (Photo by Robert S. Fagan)
Architect Bates split several fairways with either dramatic bunkering or mature trees. There is just enough mounding and tumble to make the holes interesting and visually so attractive. Though the term is way overused, Carolina National is really a shot-maker's golf course. The views from the tees are often intimidating with fairway contours, bold sprawling bunkering, and lined with thick trees to really cause you to pause to consider how you will keep your ball in play. Surprisingly once you reach the fairways, you discover them to be more than amply playable.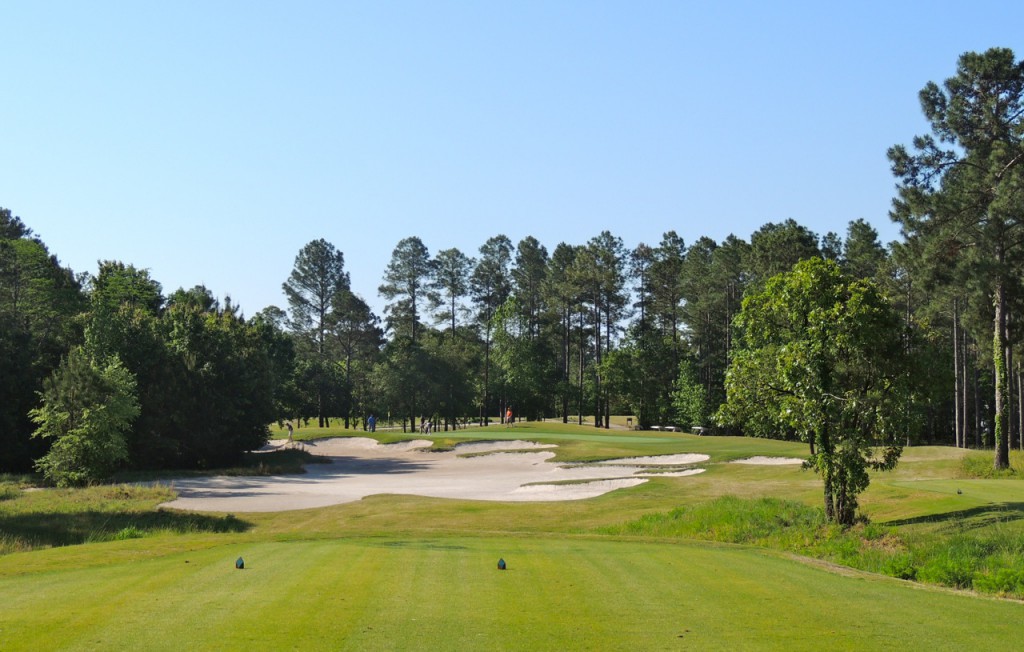 The par-three 8th on the Ibis Nine is a most attractive offering! (Photo by Robert S. Fagan)
If you are impressed with strong bunkering, the par-three 8th and par-four nine on the Ibis Nine will grab your attention, but for the sublime views of the Lockwood Folly River, the 5th on Ibis and the 5th hole on Heron really are spectacular. With all the great golf I played in Brunswick County, I hesitate to name a favorite, but it would have to be Carolina National – a feast for the eye and a challenge to your skills!
Below you don't want to wait too long to hit your tee-shot at the 203-yard 5th of the Heron Nine, but you will be definitely reaching for your camera! (Photo by Robert S. Fagan)