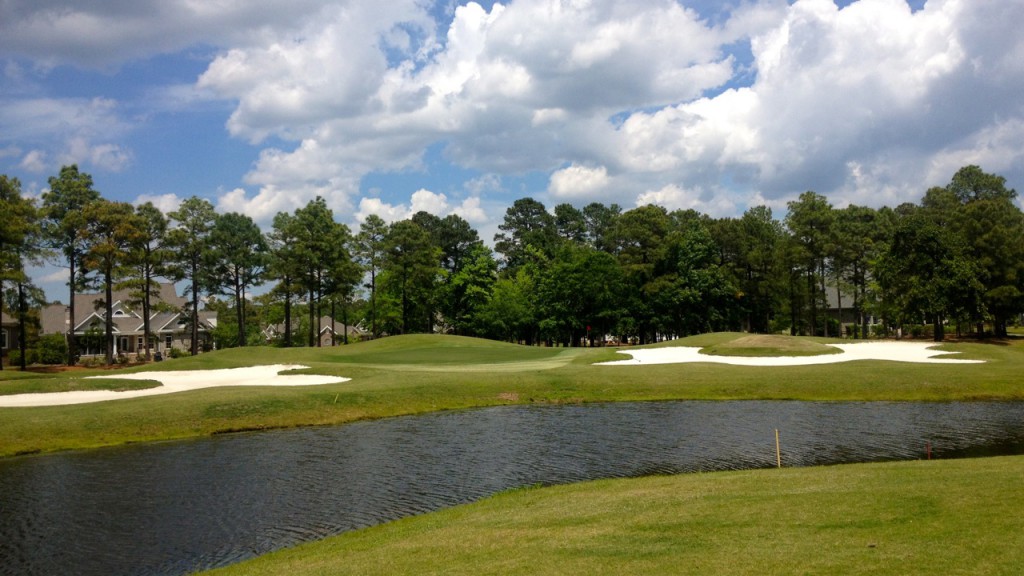 The 431-yard dogleg left fourth hole is one of many attractive challenges at Panther's Run Golf Links. 
Panther's Run is but one of five attractive golf courses in the upscale Ocean Ridge Plantation community in Brunswick County, North Carolina. A Tim Cate design, Panther's Run is a very playable layout with wide fairways and big putting surfaces, but it is far from easy.
The most attractive feature at Panther's Run is the routing through pristine natural wooded areas that soon have you feeling that you've left noise and traffic far behind. While the course is situated in a residential complex, the housing is far from omnipresent with generous setbacks and several holes also bordering a nature preserve. Water is present on no less than fifteen holes, but is not too penal for the most part.
Panther's Run's bunkering is strategic and like the water, is less than penal while the greens typical mirror the terrain with gentle movement. With a yardage that ranges from 7,089 down to very manageable 5,023 yards, this a very versatile and inviting layout.
Below: water again plays a key role in a dandy of a hole, the 412-yard 15th.