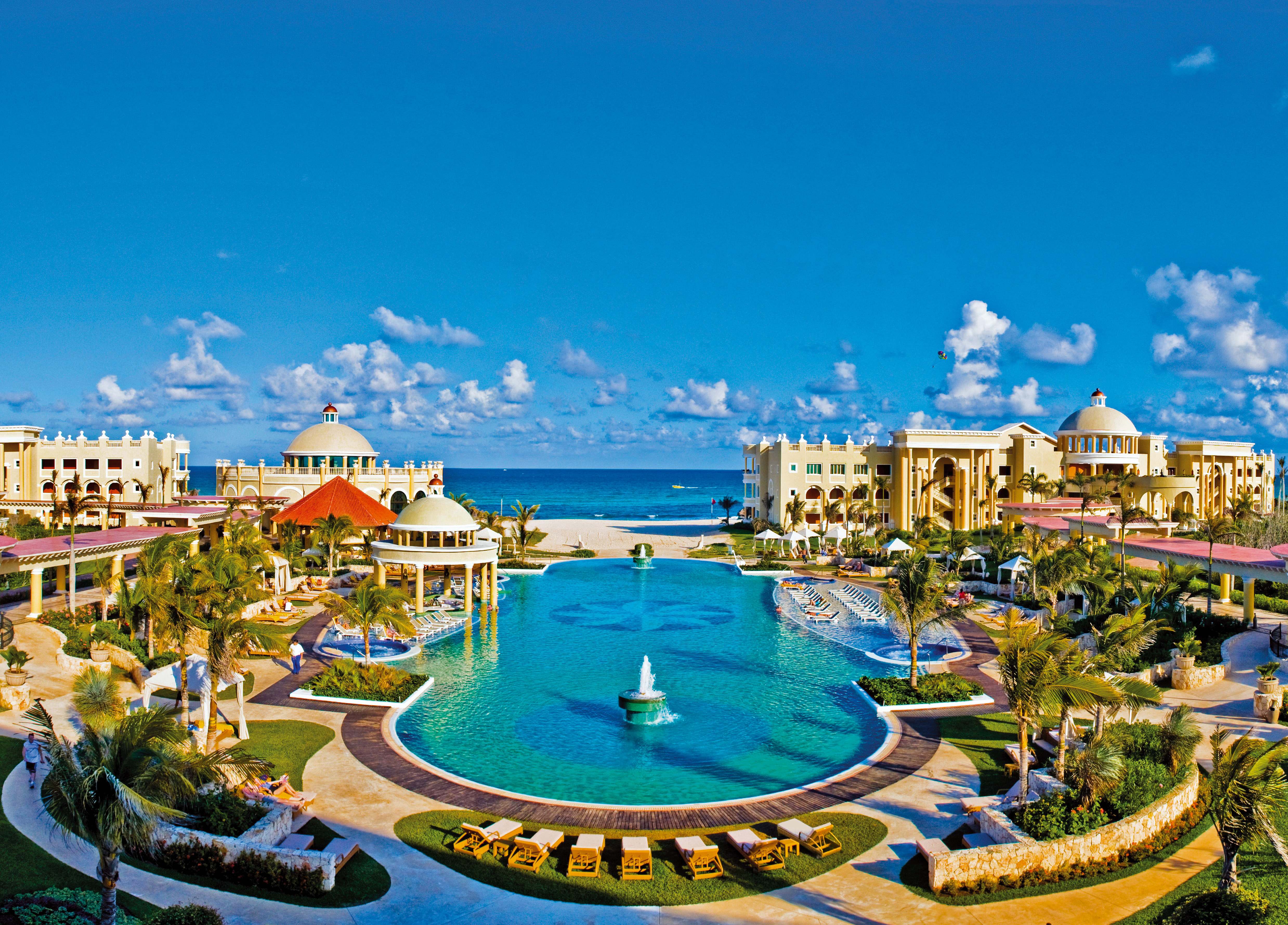 A view of the portion of the IBEROSTAR Grand Hotel Paraiso pool and beach area is only one of its many attractions.
As an almost fanatical traveler hoping to experience as many places and play as many golf courses as possible, it is rare that I will return anywhere for an encore. For now, that's just how I operate, but I recently made a blessed exception. A little less than two years ago, I enjoyed a golf trip to Mexico's IBEROSTAR Grand Hotel Paraiso at their Riviera Maya Golf Resort and I recently received another invitation. Well, before the second hand on the clock could retrace itself, I was responding with a big YES!
The occasion was the 2nd Annual IBERSOSTAR  Golf Team Championship Mexico run by Tom Jaronski of The Golf Connection LLC, but that was only half of it. The IBEROSTAR Riviera Maya Grand Paraiso Hotel is the other part of this extra fun equation. I have previously gone on record as saying that this particular offering is the best all-inclusive golf resort in Mexico. That is not only my opinion, but others go a step further. It has been awarded AAA's Four Diamond Award and in 2011, one international publication called this resort the finest all-inclusive resort in the world!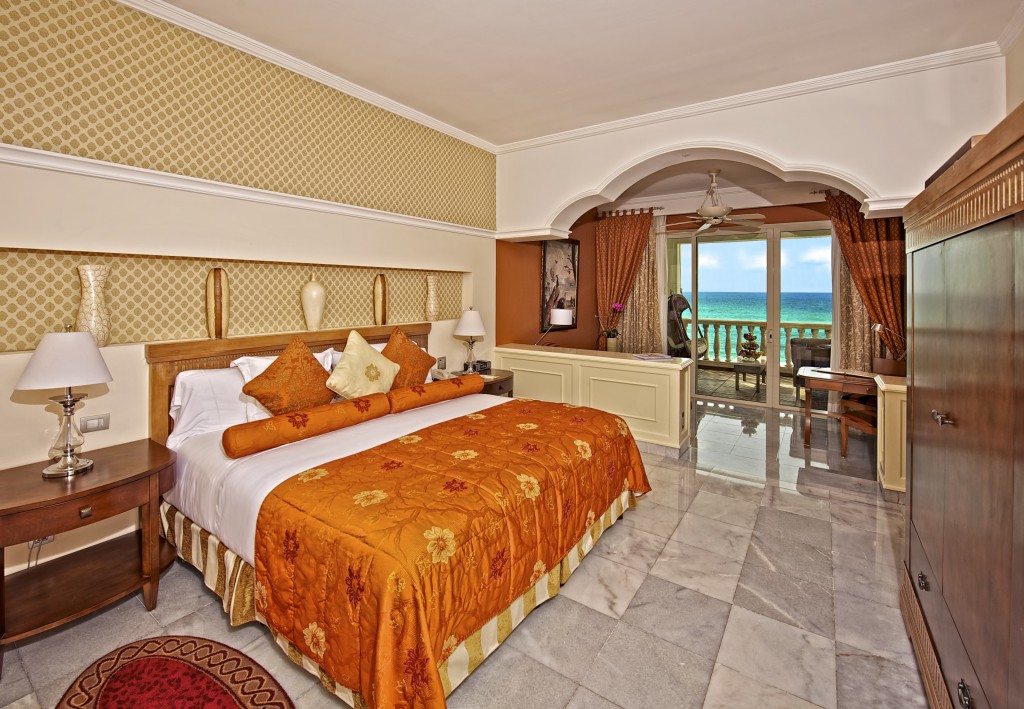 Comfort, style, and views await you in a Junior Suite like mine at the IBEROSTAR Grand Hotel Paraiso.
Picture shiny, smartly polished marble indoor and outdoor walkways bathed in sunlight aligned with modern art that seem to take you wherever you desire. Shimmering pools, verdant gardens, and interesting statues adorns these walkways that cast glimpses of the wide beaches and Caribbean beyond. Just as attractive are the big smiles that everyone flashes, from your 24-hour butler to your server in about 25 different eateries that range from gourmet to a tasty taco joint. They, together with your in-room bar and room service, are all included in your price. Speaking of your room, it is spacious and airy with an outdoor balcony  also equipped with bed and a swinging hammock. Why even a "pillow specialist" will consult with you offering 6 varieties of pillows for your perfect night's sleep.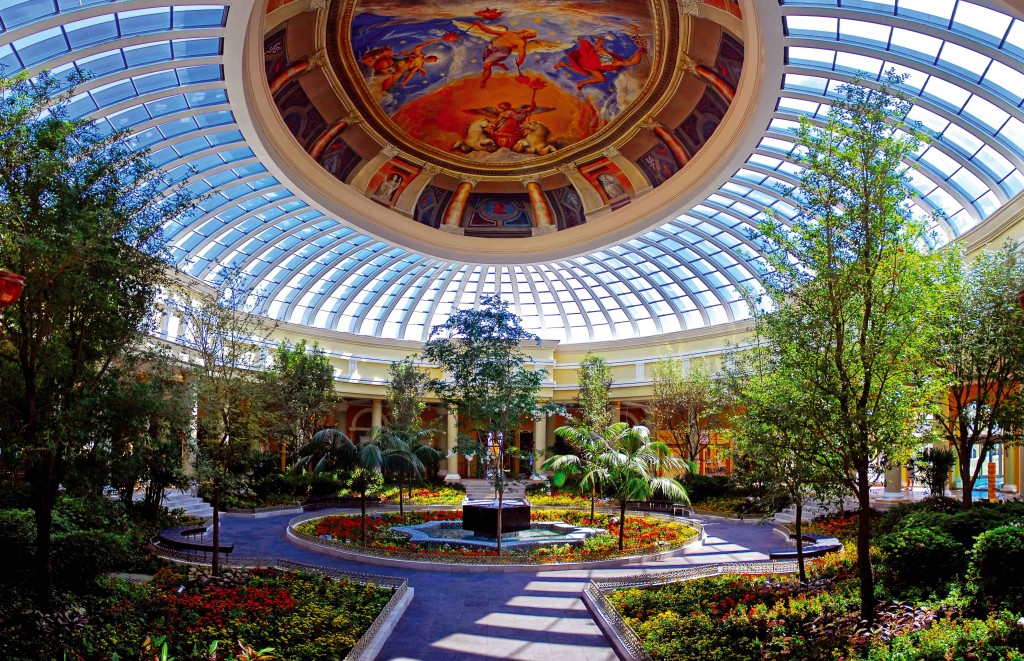 The huge Atrium just off the Lobby of the IBERSOSTAR Grand Hotel Paraiso is simply jaw-dropping.
If you can pull yourself away from all this luxury, there is a spectacular P.B. Dye golf course within walking distance. Host to The Golf Channel's "Big Break" and the qualifying location for the PGA TOUR when it visits the area, you will encounter an immaculately groomed, rolling thickly forested layout with a set of most attractive and different par-threes, four diabolical 3-shotters, and a host of formidable par-fours. It's a tough, attractive, challenging layout, but not over-the-top difficult. Again, all the food and drink including the ever-present beverage cart and range balls are included. And there is plenty of nightlife with clubs and daily entertainment part of the all-included fare. Can you spell, "Great Fun?"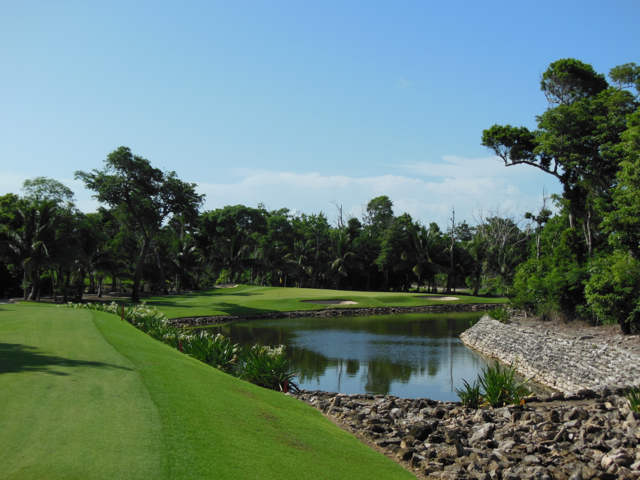 The charming little sixth hole at the Playa Paraiso Golf Club is the shortest on the course, but requires precise club selection.  Below is another dandy, the par-three second hole as viewed from behind the green. (Photos by Robert S. Fagan)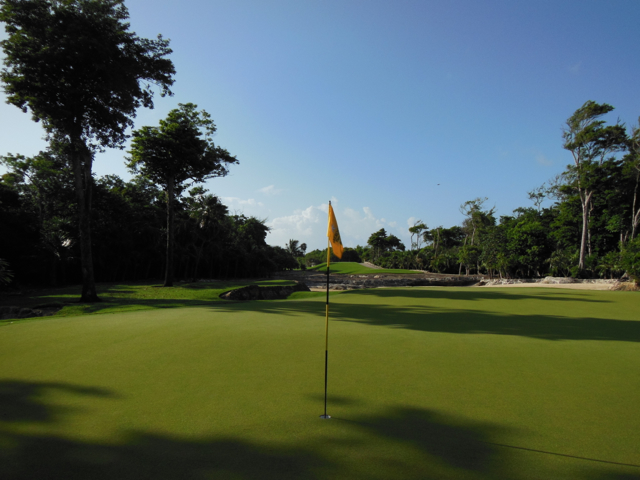 This Riviera Maya IBEROSTAR complex with its five all-inclusive hotels makes for a perfect hub from which to travel about to nearby Playa del Carmen or explore the nearby Mayan ruins or the abundant marine and native wildlife. And the five on-site hotel offerings provide the perfect settings for every sort of budget or type of traveler – with something for active families on a budget to discriminating seniors. The Grand Paraiso Hotel is the 5-star offering of five within the safe, secure, sustainable beachside complex and the only one that restricts children, but you can't go wrong with any of the other offerings. Imagine the peace of mind of not having to having to dig for your wallet for another beverage or dessert. It's all totally carefree!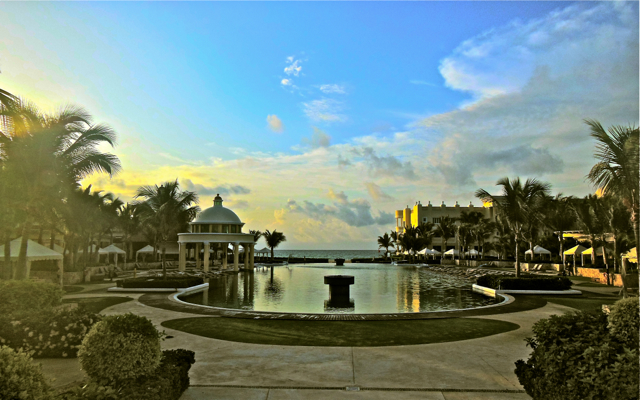 I captured this pre-dawn vista from just outside of one of the main dining rooms and below is later in the morning on the beach. (Photos by Robert S. Fagan)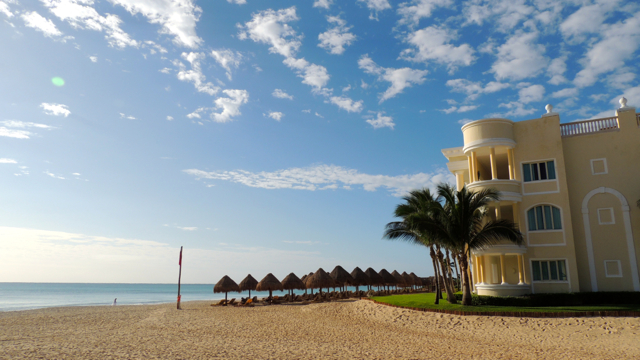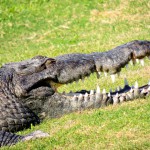 The Golf Connection's Tom Jaronski is an experienced and savvy golf and tournament operator and he knows that any tournament partnering with IBEROSTAR is a dead-lock cinch to exceed his customers' expectations. For a second tournament course, he chose the very playable, but scenic sister-property, the IBEROSTAR Cancun Golf Club. Located about a 35-minute drive away in Cancun's popular Hotel Zone, you will find a flattish, lay-of-the-land, Isao Aoki-designed layout that features wide landing areas, open spacious greens, spectacular bay views, and lots of crocodiles. The course is not without its challenges, but if your game is a bit rusty, the IBEROSTAR Cancun Golf Club is the one to start with.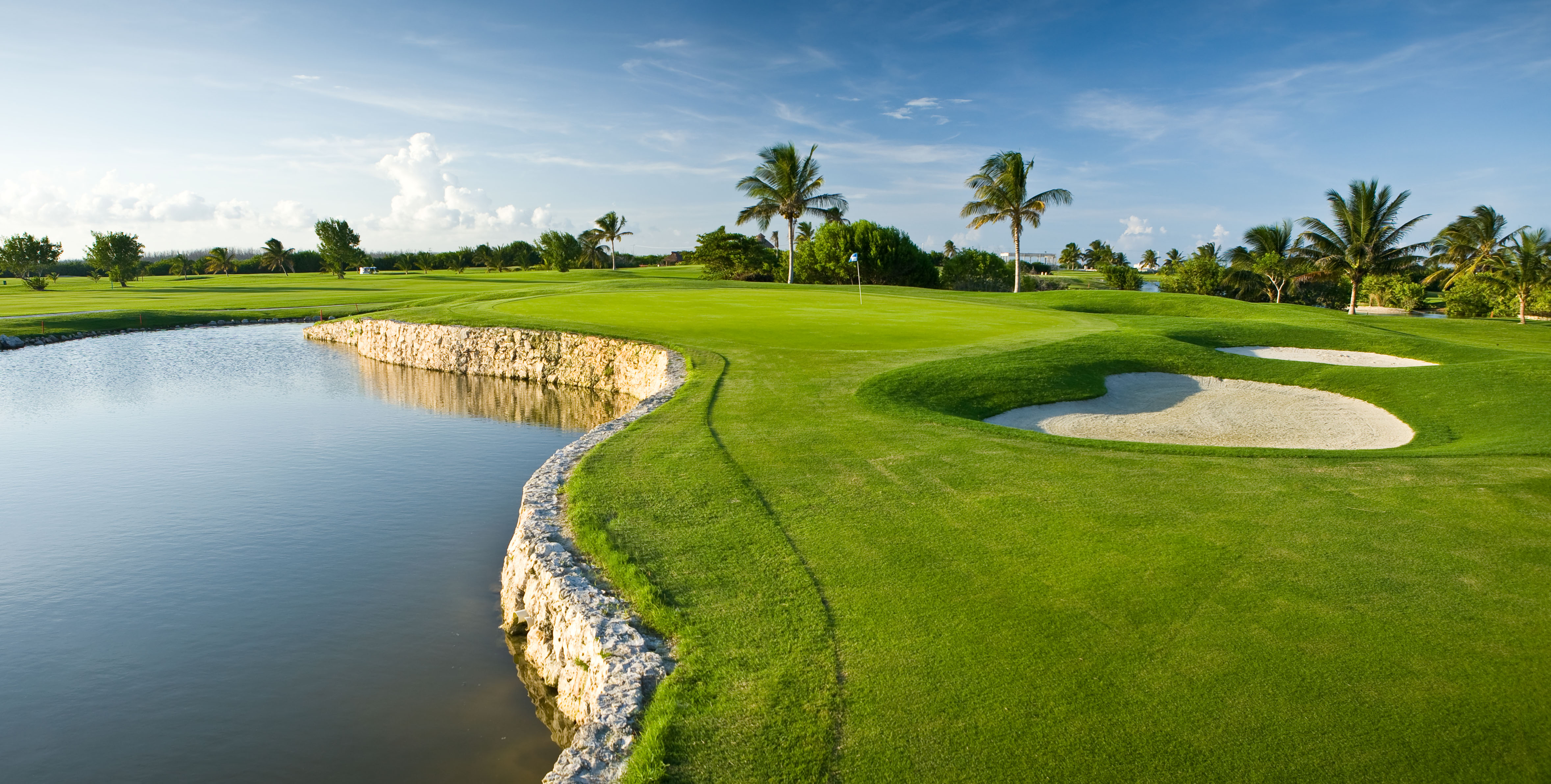 Water and crocodiles await errant approaches at the IBERSTAR Cancun Golf Club. Below is an aerial view of the course.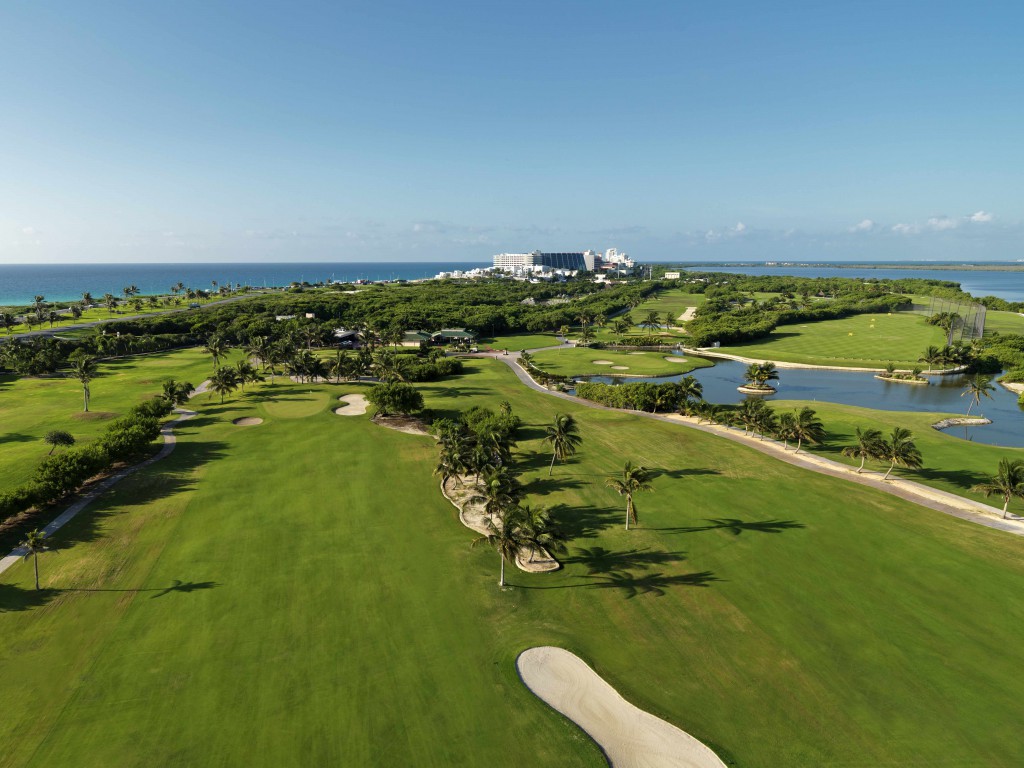 On the golf competition front, The IBEROSTAR Golf Team Championship Mexico attracted teams from Missouri to Florida as well as Canada and Mexico for a host of competitions that included a pro-am, am-am, closest-to-the-pin, and individual net and gross competitions. As a veteran of the industry, it was a treat to observe the outstanding attention to detail and wonderful customer service that Tom Jaronski and his staff from The Golf Connection provided everyone. From the transportation to the welcoming dinner, awards gala, prizes, staging, and scoring, there were nothing but big smiles for this seamless effort.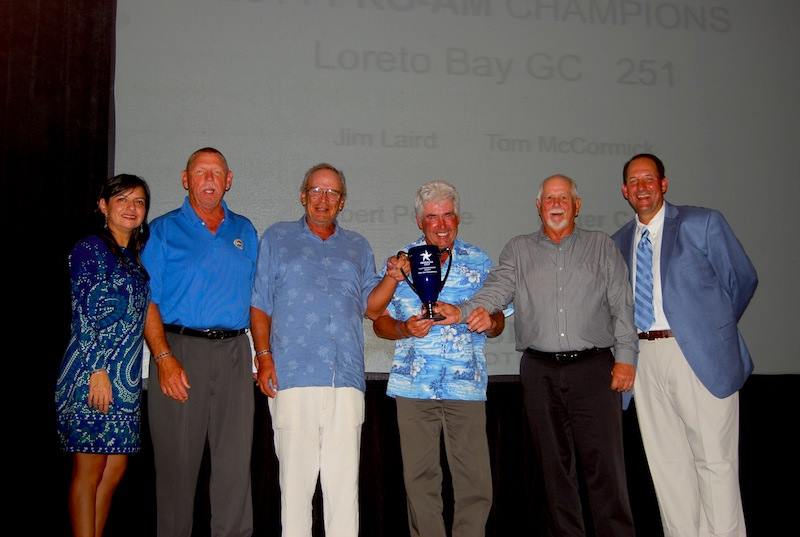 The team from Loreto Bay Golf Club in Mexico won the "2014 IBERSOSTAR Golf Team Championship Mexico" and is being congratulated by IBEROSTAR Sales Account Manager Mariela Gomez (left) and Tom Jaronski, President of The Golf Connection LLC (right). 
And did I mention the Riviera Maya weather? Nothing and especially the weather  is certain, but while most of the United States was experiencing record-cold January storms, I was strolling along the beach before breakfast, taking scuba lessons and swimming up to the poolside bar, wading in the Caribbean, or enjoying a midnight beach meditation under of a full moon in only my bathing suit. And golfing of course! Meanwhile my room's air conditioner was running. One more thing about certainty, hopefully my third visit to the IBEROSTAR Grand Hotel Paraiso will not be far off… because "Twice is not enough!"
(For more information, refer to:  http://www.thegrandcollection.com/en/hotels/riviera-maya/iberostar-grand-hotel-paraiso.)
When you add in the wonderful service and array of fine food and drink, together with an expertly run golf competiion, you can begin to appreciate why I so heartily recommend the IBEROSTAR Grand Hotel Paraiso as well as The Golf Connection LLC. Seen below are two of four cooks that prepare your breakfast to order in an amazing buffet. (Photo by Robert S. Fagan)