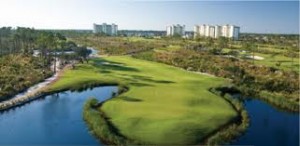 Would you feel better if your lost golf balls went to a great cause?  Well, I hate to lose a golf ball, but recently the sting proved not so painful.  In a trip to the greater Gulf Shores, Alabama area, I was introduced to wonderful concept that may not be completely unique, but might be more vigorously copied.
The Lost Key Golf Club is an honored Audubon Sanctuary golf course designed by the Arnold Palmer organization where most golfers are apt to donate a ball or two a round – or more to the ubiquitous wetlands that line every hole. The facility does something truly useful with these reclaimed "pearls."   When Director of Golf Michael Howard, a retired Marine, explained what they did with the found balls, it put a whole new positive meaning to the experience, erasing some of the sting from losing a ball.
Lost Key hires a couple of people annually to retrieve the golf balls.  They then clean, box, and ship them to Iraq and now Afghanistan so that our troops there can enjoy hitting them.  While some already play the game, many others are being introduced to it and relish the chance to relax while serving our Country.  The Lost Key golf community also raises money for patches of Astroturf so our armed forces have something to hit off of.  This obviously creates a nice change of pace for our troops while growing the game.
Our troops, however, take this all a step further.  They ask of themselves a donation fee for the privilege of hitting the balls and with that money, they donate it to the local causes over there to help the people they are protecting and trying to free.  Wow!  My golf ball may end up providing assistance to an orphan or a school in Afghanistan while also providing some needed relief to our men and women in the armed services!
When our troops are not only sacrificing their time and risking their lives for freedom, but are also so giving at the same time, it causes me to ask,  "How can you or I do likewise?"  Congratulations to the Lost Key Golf Club for literally getting the ball back into play!