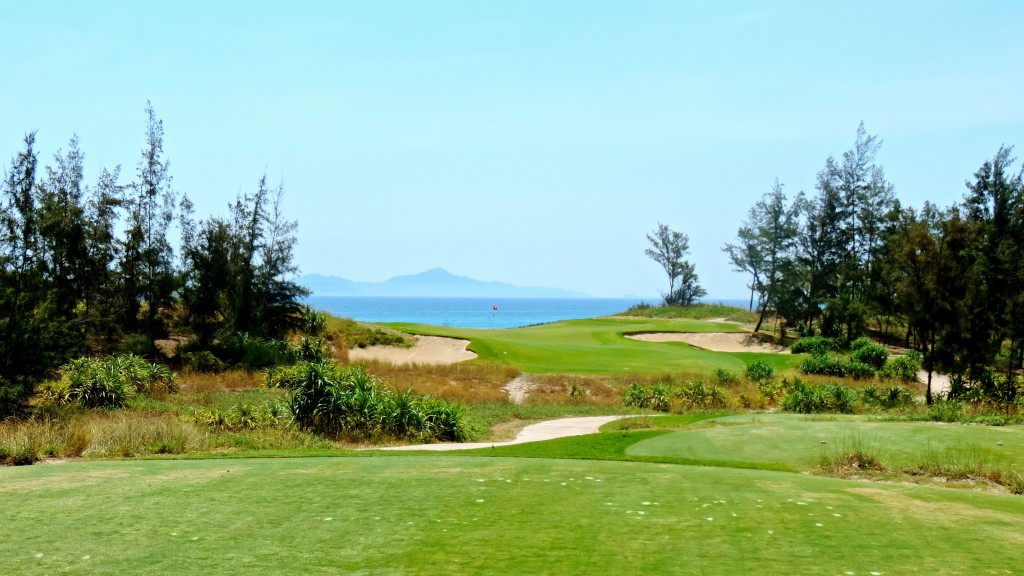 The 148-yard hole features a surprise view of the South China Sea beyond this rather large putting surface. (Photo by Robert S. Fagan) 
As you enter the driveway into the Danang Golf Club you sense that this is not just another ordinary golf course. You cannot help but noticing the immaculately groomed fairways, the putting surfaces that move like waves on an ocean, and the wispy bunkering and wildly natural surrounds that surround the layout. Their sleek modern clubhouse and friendly  welcoming folks complete the first act.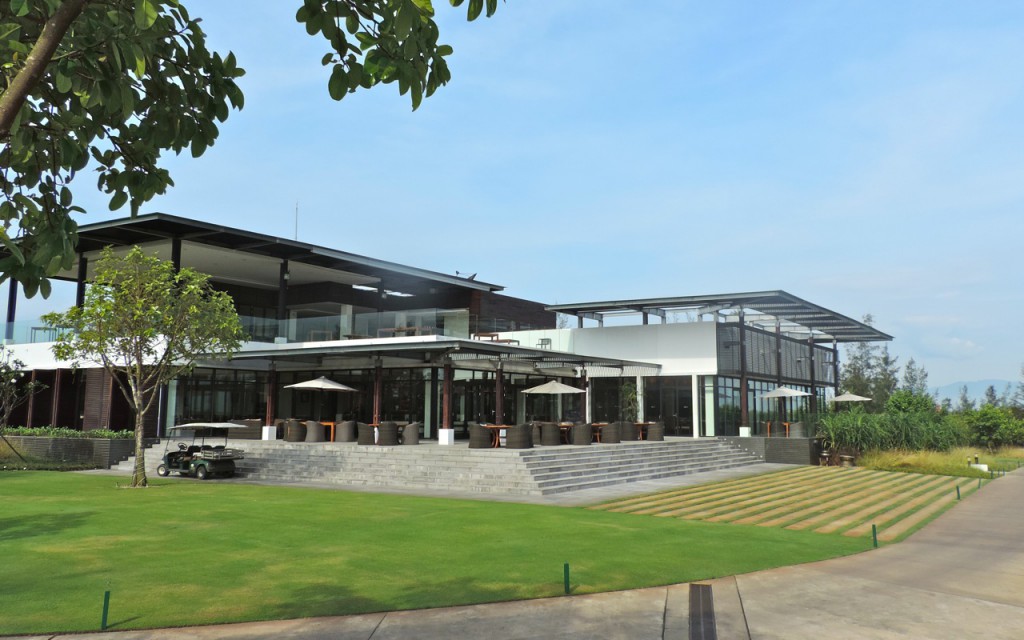 Warming up to play, you will thrill with first class practice facilities and marvel at how fast and smoothly your putts roll. Moving to the first tee, you are greeted by the ruggedness reminiscent of the finest private clubs in the United States or designer Greg Norman's native Australia. Actually the first tee shot is somewhat intimidating as are many of the tee shots at Danang. Thankfully, the driving areas are fairly generous and you will enjoy a nice long roll on the perfect firm fairways.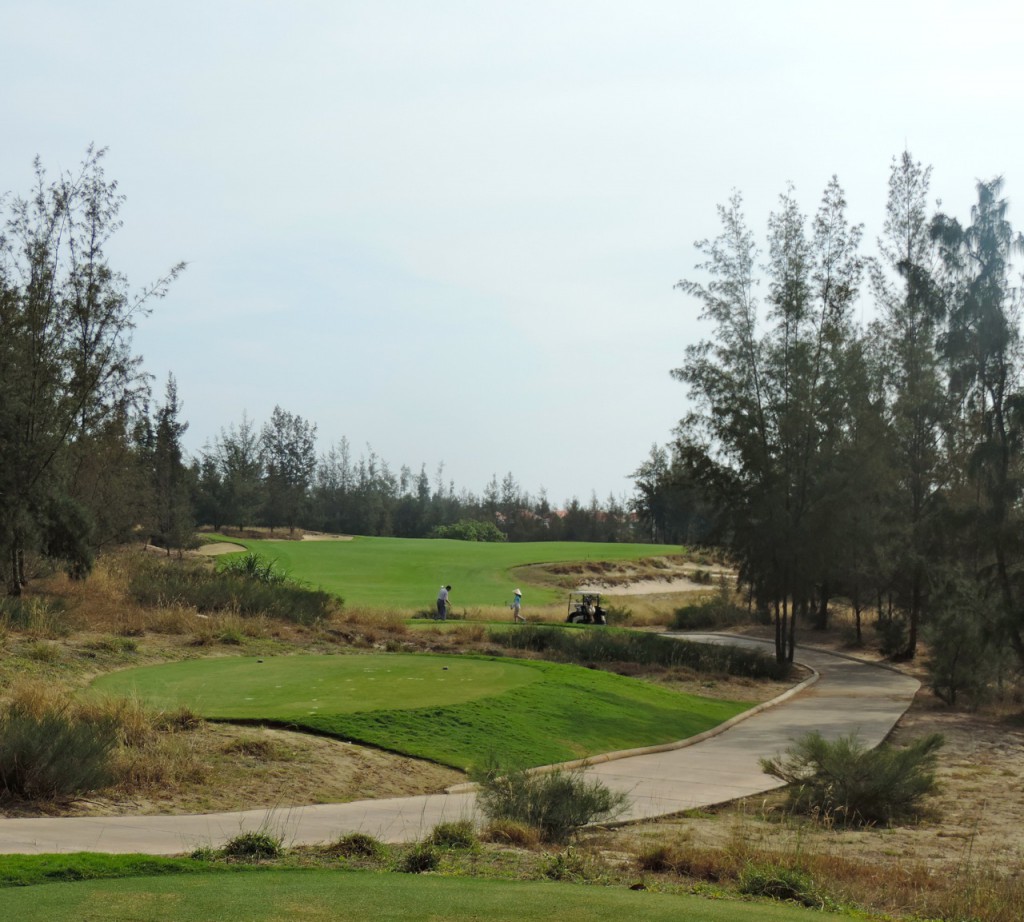 The look from the back of the first tee at the Danang Golf Club is a bit more intimidating than you will encounter at many resort courses, yet the landing areas are actually quite generous and the turf is superb. (Photo by Robert S. Fagan)
Where Norman ups the ante is with your approach shots into the greens. Each has an abundance of bold bunkering, but again Norman provided many run-up approaches for the players who struggle to carry the ball. Completing each hole, the putting surfaces are as splendid as you will experience anywhere. They are testing, but not over-contoured.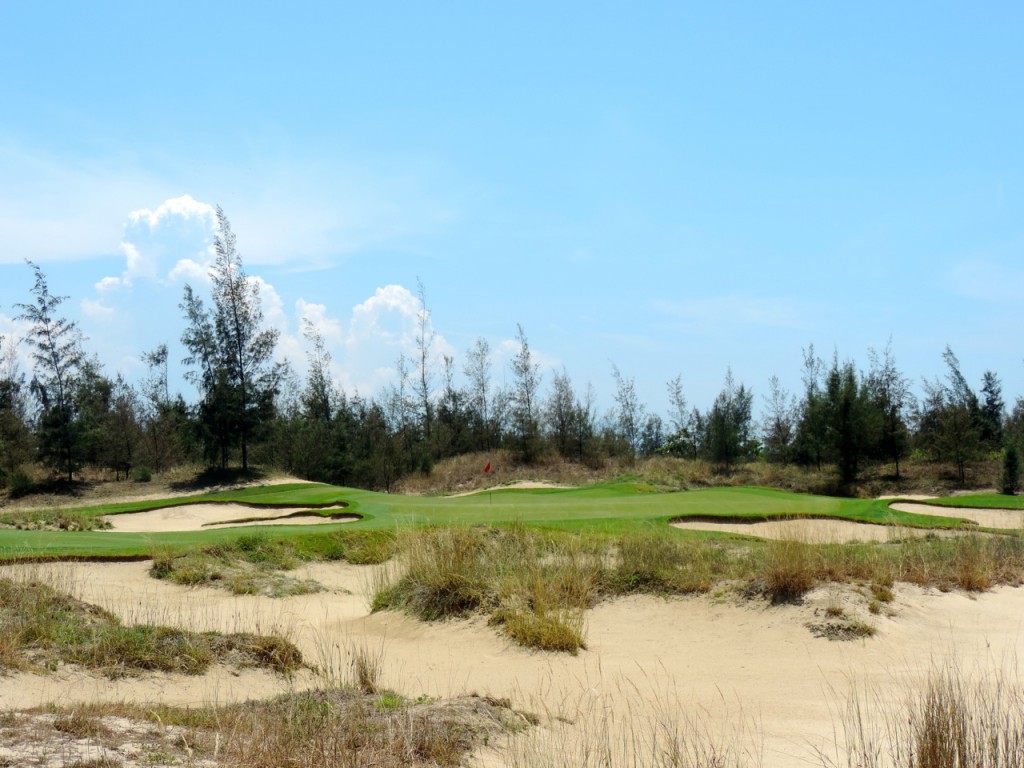 Norman varies the greenside bunkering from the sandbelt style of crisply edged to the natural wispy style. (Photo by Robert S. Fagan)
While the course plays firm and fast over its tumbling fairways like a links, you don't experience the water until you arrive at short 16th, the last of a splendid quartet of one-shotters. It is only one of many good photo opportunities, but undoubtedly the best, and be sure to check the bunker built by the Americans just to the right of the green.
This is the view from just to the right of the par-three 16th green. (Photo by Robert S. Fagan)
While my first impression was that the Danang Golf Club could be exceedingly difficult, I ended up coming to the conclusion that it is eminently playable, provided you choose the right tees and not attempt shots more than your real ability. It's a great walk-in-the-park and one of three course in Danang that make the area a bucket-list golf destination.
Below is the well-protected green of the 183-yard 11th. (Photo by Robert S. Fagan)