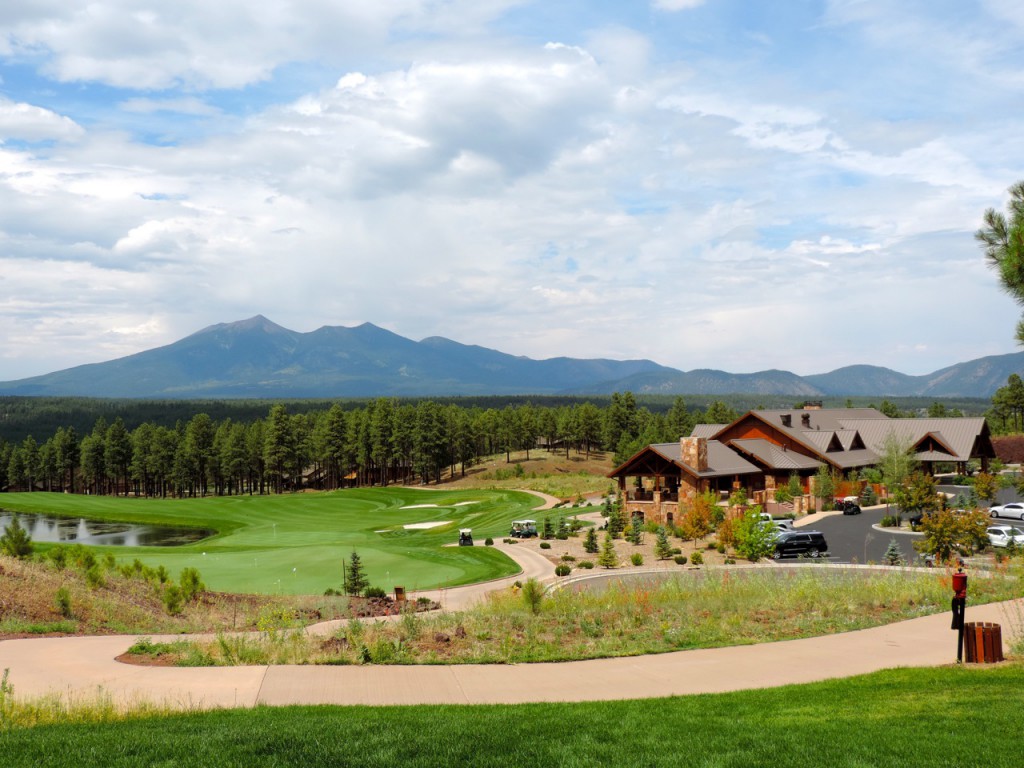 A look back from the first tee area toward the Flagstaff Ranch clubhouse and 18th green area. (Photo by Robert S. Fagan)
One of my recent pleasant golf course discoveries was the Flagstaff Ranch Golf Club just outside of Flagstaff, Arizona. It's a remarkably good layout that winds its way through the rolling, pine-ladened terrain of Northern Arizona. It also revealed to me that Jerry Pate's style of design that has seemed to work so well in Alabama, for instance, translates well to this area.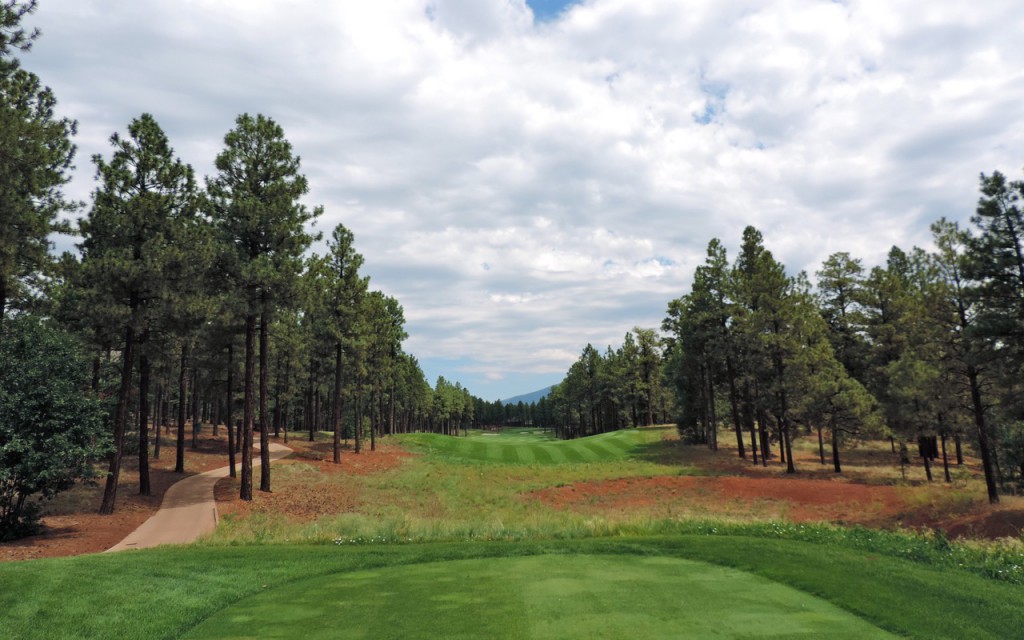 The saddle-effect that was shaped into the straightaway par-five 4th provides a natural inviting look. (Photo by Robert S. Fagan) Below is a picture of the hole's greensite.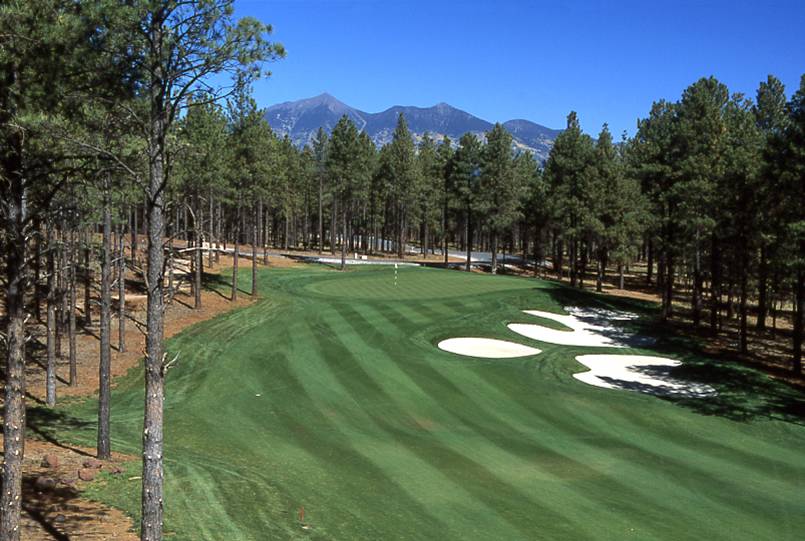 Flagstaff Ranch is a beautiful private residential layout on a par-71 frame that be extended to 7,127 yards. Situated in North America's largest Ponderosa Pine Forest, it is not overly bunkered off the tee, but just seems to naturally follow the wooded contours of the site with a few impressive elevations. Beginning with a most picturesque elevated first tee vista and again at the second hole, the course does not disappoint visually. There is a nice ebb and flow to the pacing, and the  conditioning is excellent. Depending upon the tees you select, Flagstaff Ranch can pose a valiant test.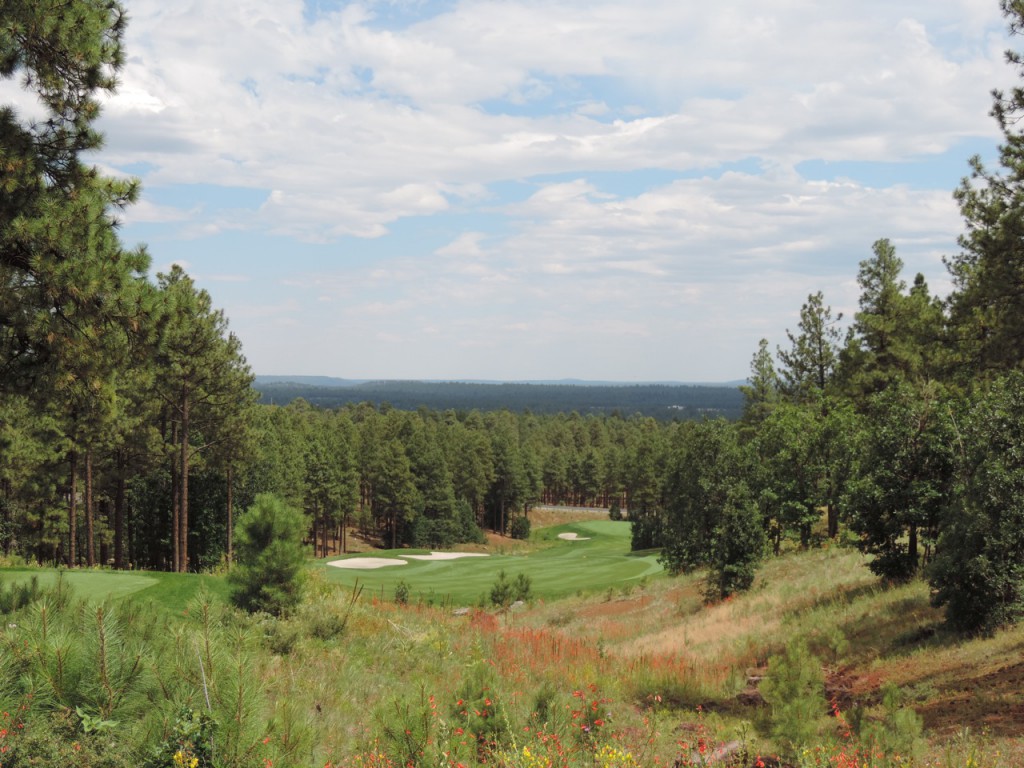 The first hole is both a spectacular as well as challenging beginning to your round! (Photo by Robert S. Fagan)
While the course weaves through housing, there are only a handful of holes where it is noticeably present, and the bucolic views particularly around the 10th through 13th stretch and then again with last two holes will have you reaching for your camera or wish you had one.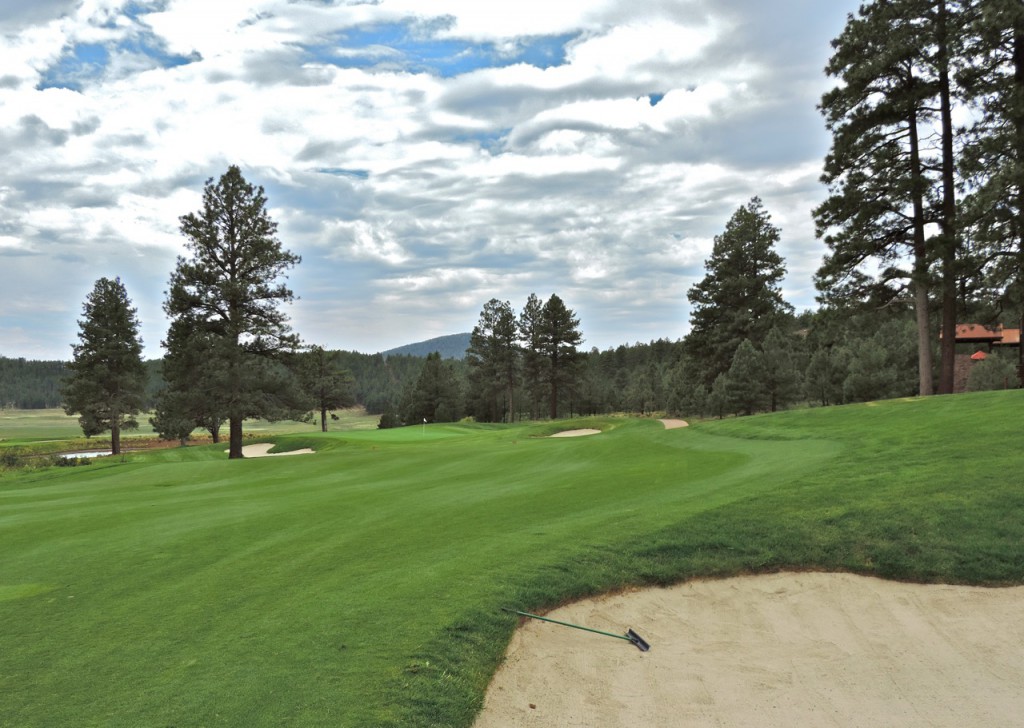 The par-four 10th holes begins a wonderful 4-hole stretch that ventures into the less developed portion of the property. (Photo by Robert S. Fagan)
Designer Pate presents you with a combination of some narrow corridors that become penal should you miss them while the others are fairly generous in width with the wooded rough areas nicely cleaned out so you can quickly spot your ball and attempt a recovery shot. Regardless, Pate does require you to accurately position your tee ball as you approach the expansive, well-manicured large, undulating putting surfaces. While the putting surfaces require some skill, an errant hitter will be penalized here and a driver is not always required or advised. And beyond that impressive opening hole, there are any number of "Oh Wow!" shots and vistas. The quartet of par-threes is as good as you will find, particularly the 12th and 17th that could be the standout holes on many a course.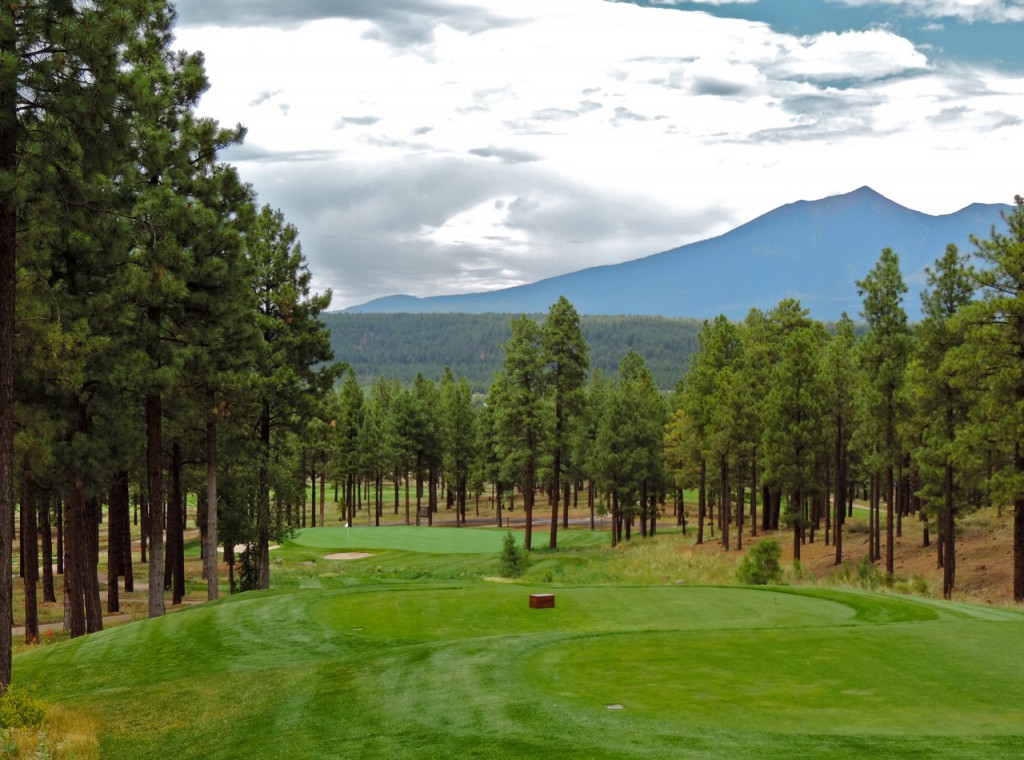 This photo of the downhill 239-yard 17th doesn't really begin to capture the drop from tee to green. (Photo by Robert S. Fagan)
The course is very playable yet possesses championship ilk with really no undeserved forced carries. It just keeps getting better and better as you progress through the round. Hearing relatively little in advance of Flagstaff Ranch, yes, the experience came as a most pleasant surprise. I thorough enjoyed the course; the kind I could look forward to playing everyday, which amounts to one of my highest compliments. I consider Flagstaff Ranch to be one of the most impressively solid courses of the many I've played in Arizona!
I was sad to see my round end at Flagstaff Ranch – I enjoyed the golf course that much. Below is par-five finishing tee shot. (Photo by Robert S. Fagan)