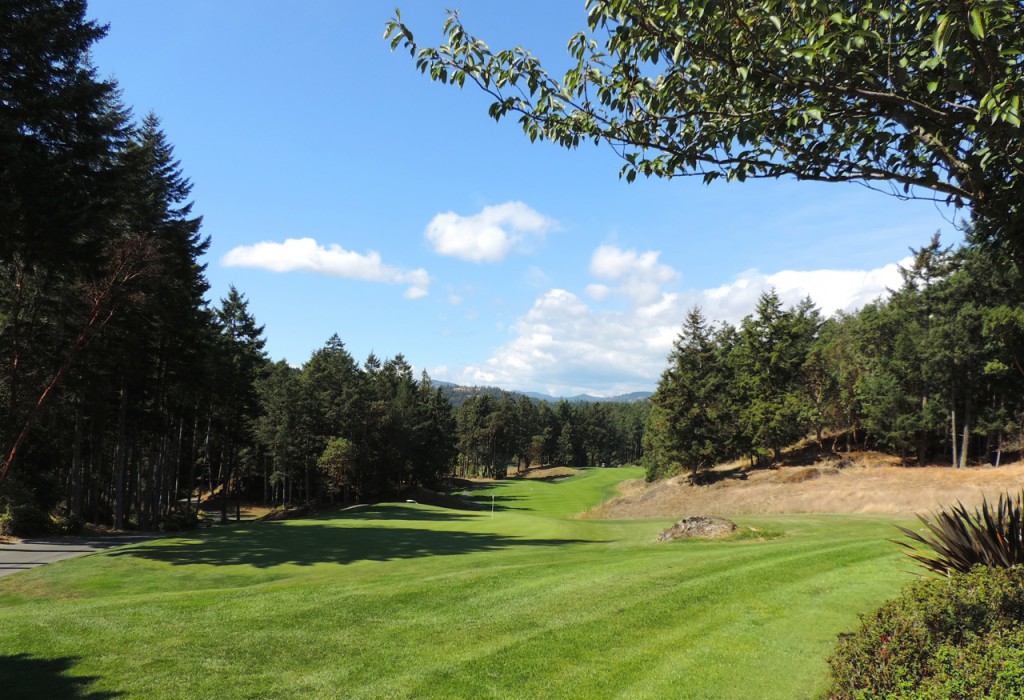 It's incredible to find such a pristine, undisturbed natural golf course at Olympic View so conveniently situated to a major city.  Shown above is the finish of the par-five uphill 18th.  In 1994, junior golfer Tiger Woods played this hole with a 3-wood, 5-iron, and a chip-in for an eagle!  (Photo by Robert S. Fagan)
You know you've played a good, fun golf course when you are struggling with your game and still have a big smile on your face and have thoroughly enjoyed your round. Such was my case playing the Olympic View Golf Course just a few miles from downtown Victoria, British Columbia. If Mark Twain described golf as "a good walk spoiled," he never visited Olympic View for it's an easily walked layout and the perfect antidote for a healthy escape from the hectic life.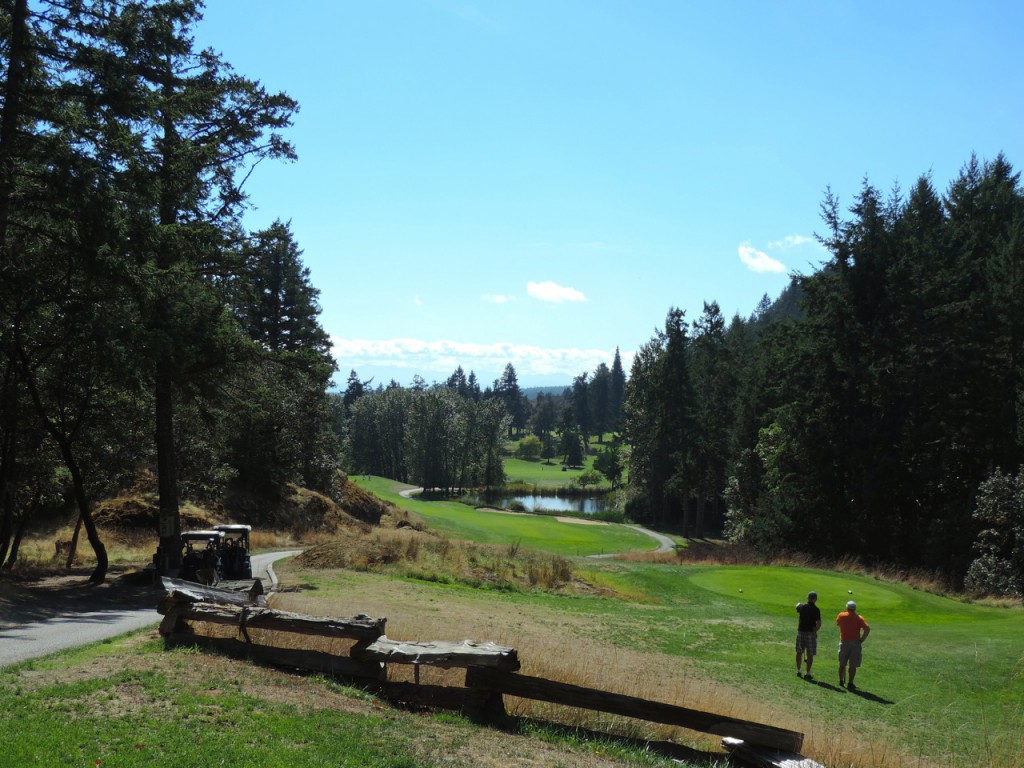 At only 330 yards from its elevated tee, the second hole tempts long hitters to go for the green, but a mid-iron or hybrid makes much more sense.  Without the clouds, the Olympic Mountains would be visible – hence the course's name.  (Photo by Robert S. Fagan)
In such an urban location, you'd hardly expect to discover such a completely natural pristine location almost devoid of housing and civilization. You head out from the forested clubhouse area into the meadows for some playful, but not too stressful holes. Beginning with the very challenging 420-yard par-four 8th hole with a pond limiting many from using their driver, and water again protected the elevated, canted putting surface, the course just gets more demanding and better while still being very playable as you venture into the rich coastal forest. Rock outcroppings, tumbling terrain, and fairway corridors carved from the thickly forested woodlands make for an imminently playable layout, yet one that can be easily turned into a championship layout at only 6,600 yards. You're also apt to spot roaming deer or other critters, and the view of the distant Olympic Mountains from the first tee sets the stage for a great day.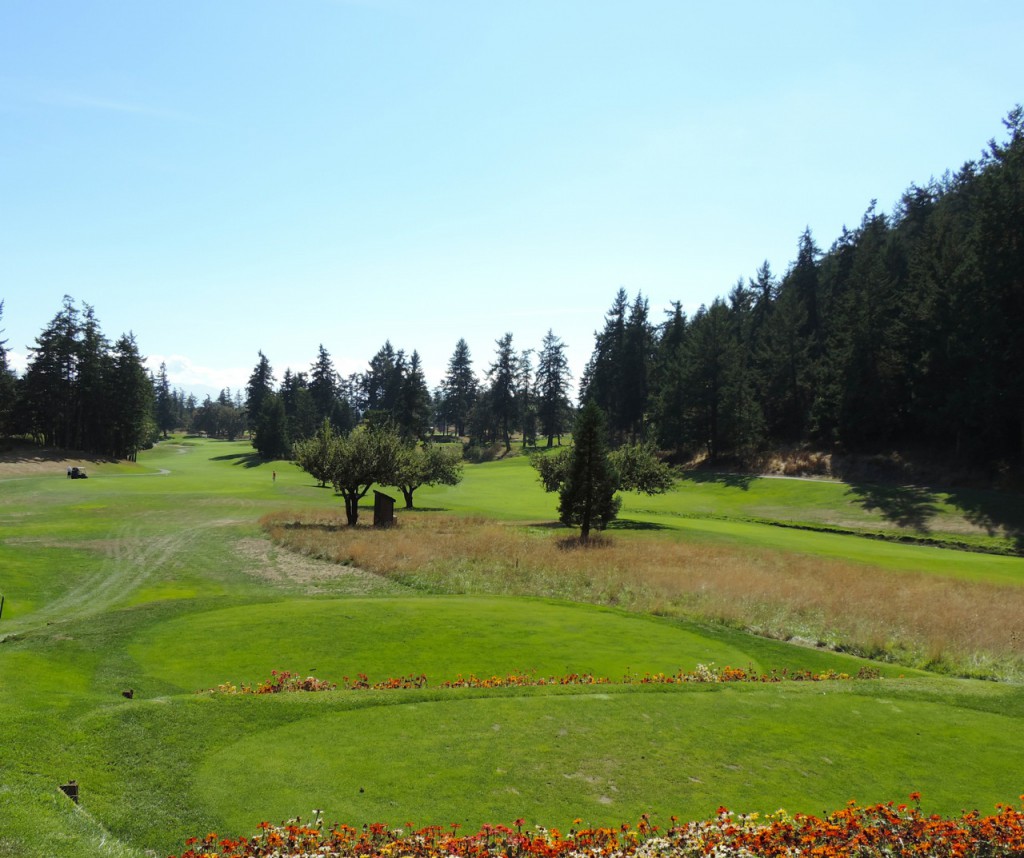 With the 562-yard 3rd (left) and the exceptionally testing 420-8th (right), Olympic View heads out into the meadow section of the golf course.  (Photo by Robert S. Fagan)
The eighth hole is just one of several very demanding par-fours to follow. The 335-yard 12th hole is essentially plays like back-to-back par-threes and also plays much, much longer than its distance. Most players will opt to layup off the elevated tee rather than attempt to carry the ball 275 yards plus over the pond that borders the right side and then crosses the fairway. From there, at least an extra club is needed to reach the elevated putting surface that is pitched sharply from back to front – what a challenge! Speaking of challenges, the 455-yard 17th with its 60-foot waterfall as a backdrop commands your attention, but it is the water to the left and rear of the green that can really undo a good score.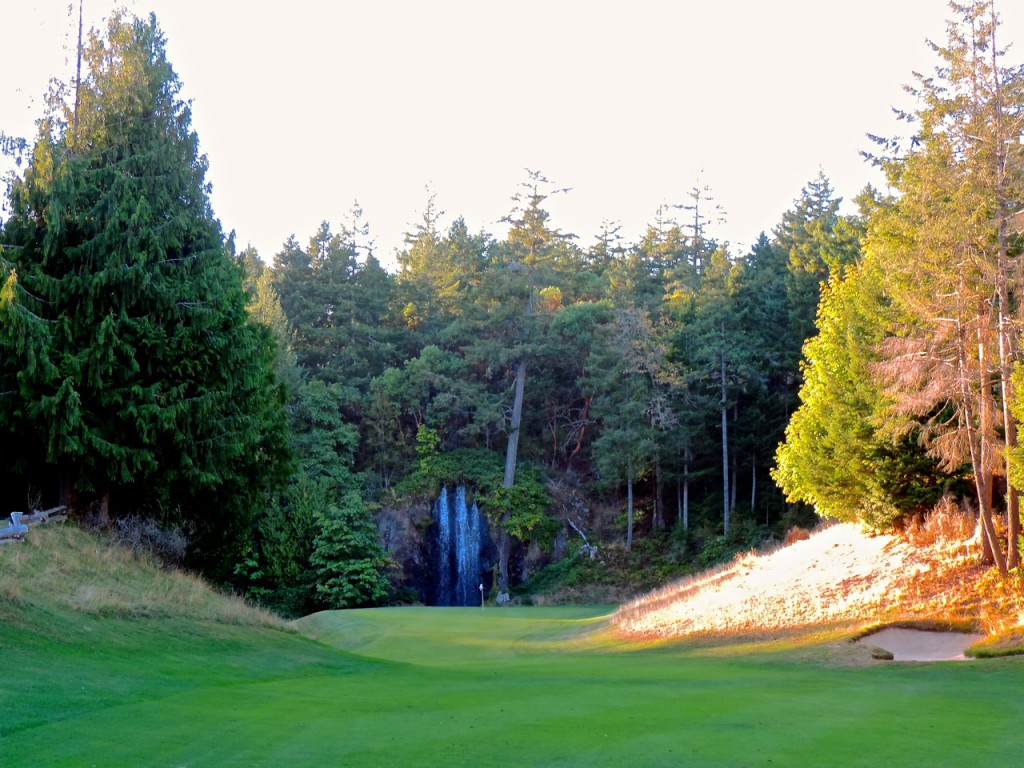 With water waiting immediately left of and behind the putting surface, the 455-yard 17th hole flexes it muscles as the sun sets.  (Photo by Robert S. Fagan)
Off the golf course are extensive practice facilities including a short game area and the award-winning GBC Golf Academy. In the clubhouse is Forester's Bistro & Bar where you will find not only a tasty fare, but commanding views and a porch overlooking the 10th and 18th holes. This is the kind of friendly place that most will find so very attractive, and a golf course that seems miles away, but is very conveniently located to the city center.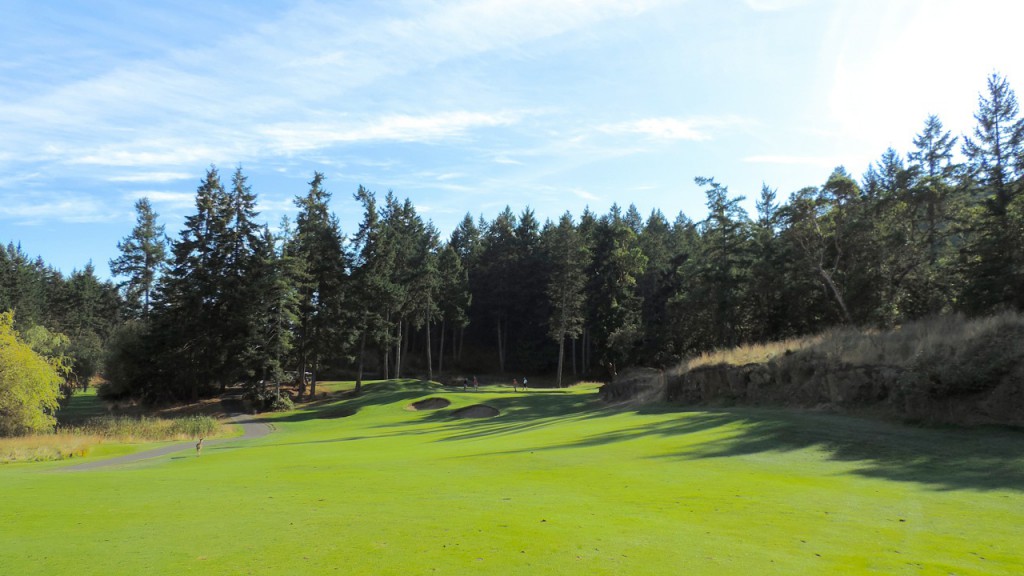 Above is the approach to the little 327-yard  dogleg left par-four 10th (note the deer on the left) and below is the view looking back from behind the green.  (Both photos by Robert S. Fagan)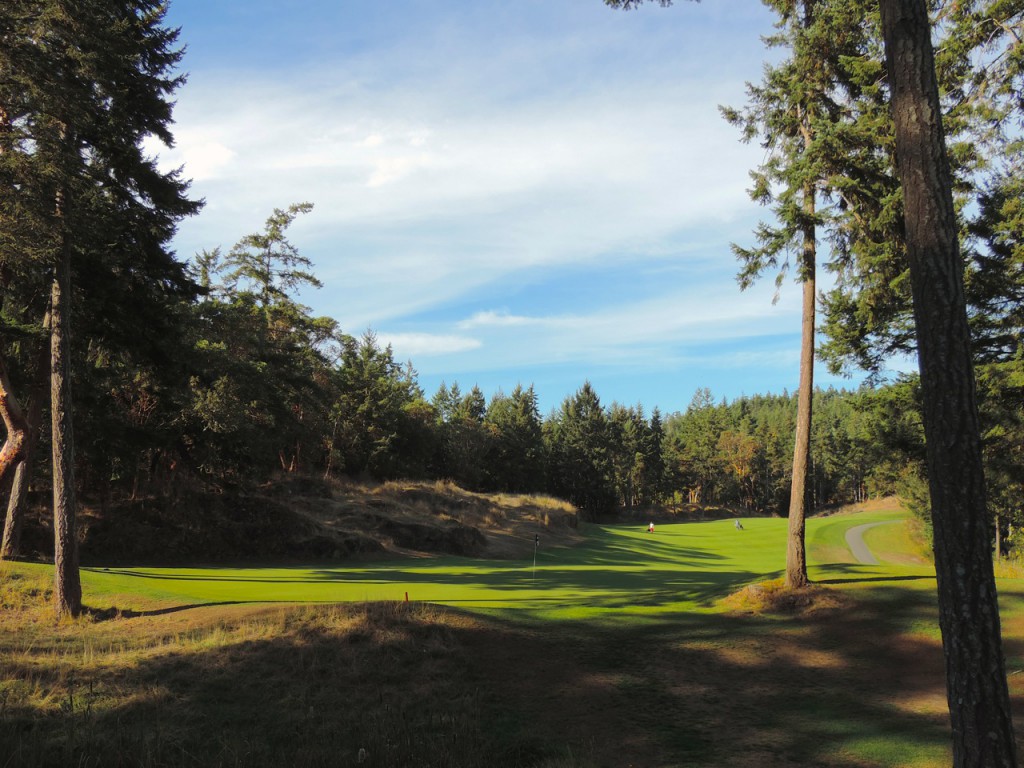 Olympic View constantly requires you to position your tee ball or any of the holes can jump up and bite you and the sweeping slopes on the putting surfaces require a deft touch. It's not only beautiful, Olympic View is one of those fun places that I could play over and over again without tiring – even if I didn't bring your "A-game." You, too!
For more information, refer to www.olympicviewgolf.com.
Below, the last ten holes feature many thickly wooded corridors as illustrated by the 595-yard 13th as the late afternoon sun casts its shadows.  (Photo by Robert S. Fagan)