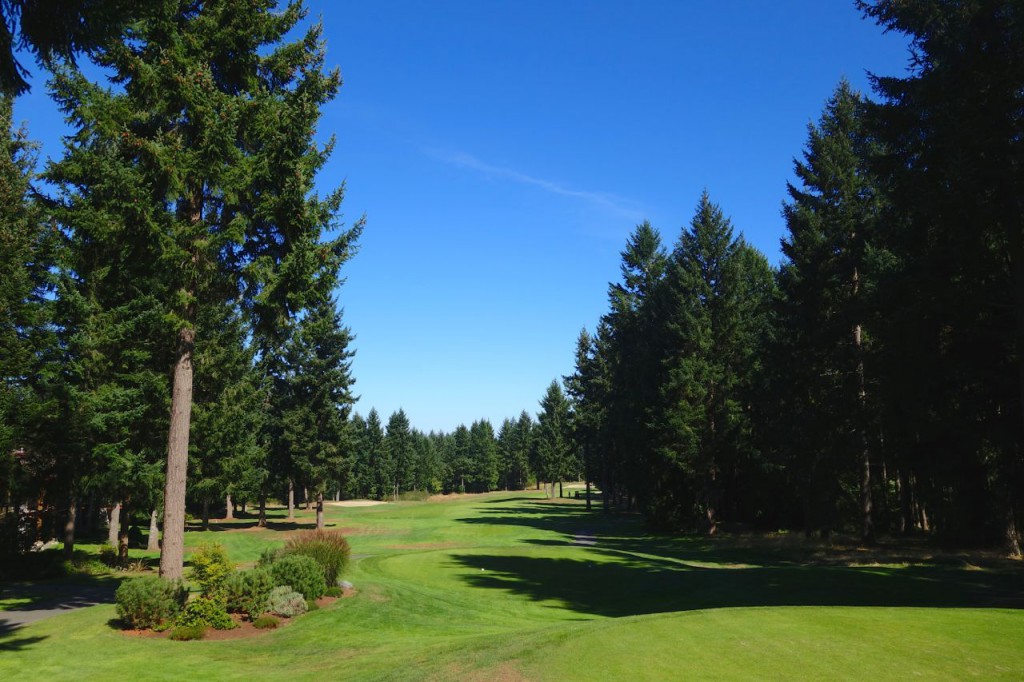 The elevated first tee is a great way to begin a round of golf and splendid course awaits – and only five minutes from an international airport!  (Photo by Robert S. Fagan)
Imagine landing at an international airport and being able to tee it up just five minutes away. Then realize that you are not playing just any ordinary golf course, but a really, really good one complete with first-class eating, lodging, and practice facilities right on site. And should you want to go snow skiing, the region's best slopes are a mere 40 minutes away. Well, I have just described the Crown Isle Resort & Golf Community in Courtenay, British Columbia.
The Crown Isle Resort & Golf Community is one of Vancouver Island's unique golf resorts opening in 1992 and I recently had the pleasure of staying there. The spacious modern accommodations make it a perfect complement to its outstanding golf course.
With perhaps the most striking bunkering that I encountered on The Vancouver Island Golf Trail, Crown Isle manages to be both resort-friendly as well as challenging for the more skilled player. The other thing that most will associate with Crown Isle is the residential housing that borders the golf course. Well, the homes are set back from the lines of play and never intrusive so that is not really a negative.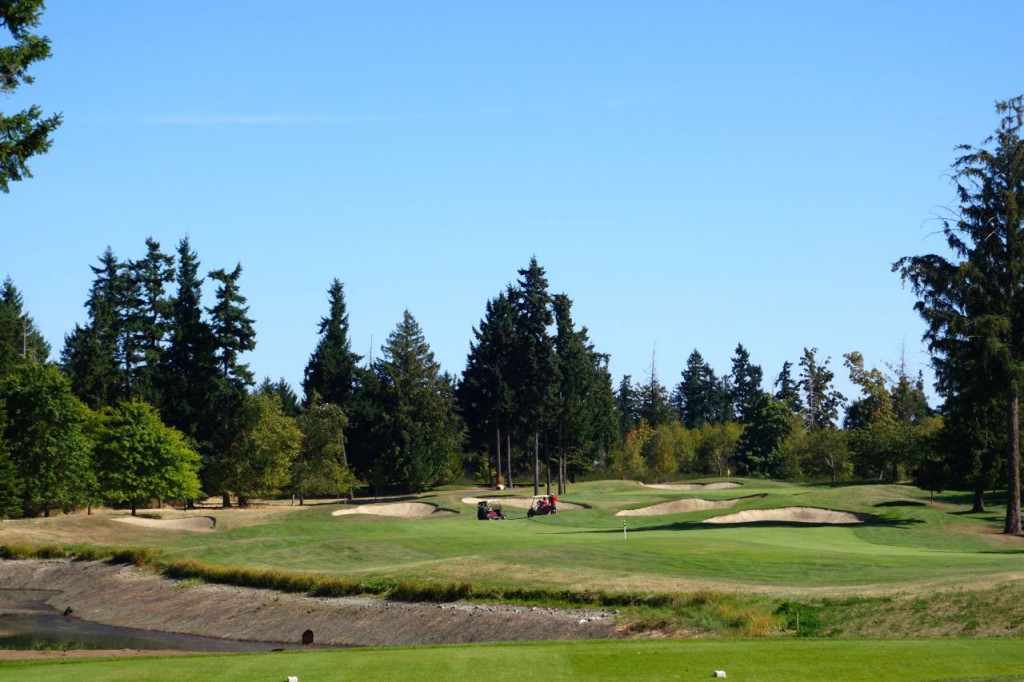 Bunkering plays a big part of the look and challenge as shown by the 360-yard 2nd.  (Photo by Robert S. Fagan)
Built upon gently rolling terrain, the 48,000 square-foot club house sits at the highest point of an expansive, gently rolling property dotted by lots of water (11 lakes), evergreen, and those impressive bunkers in a residential setting. While the fairway avenues are generous, bunkers and water can catch you, but provided you play the proper tees for your ability, the carries are never unusual. The fairways play firm and fast, and the greens putt fast and smooth.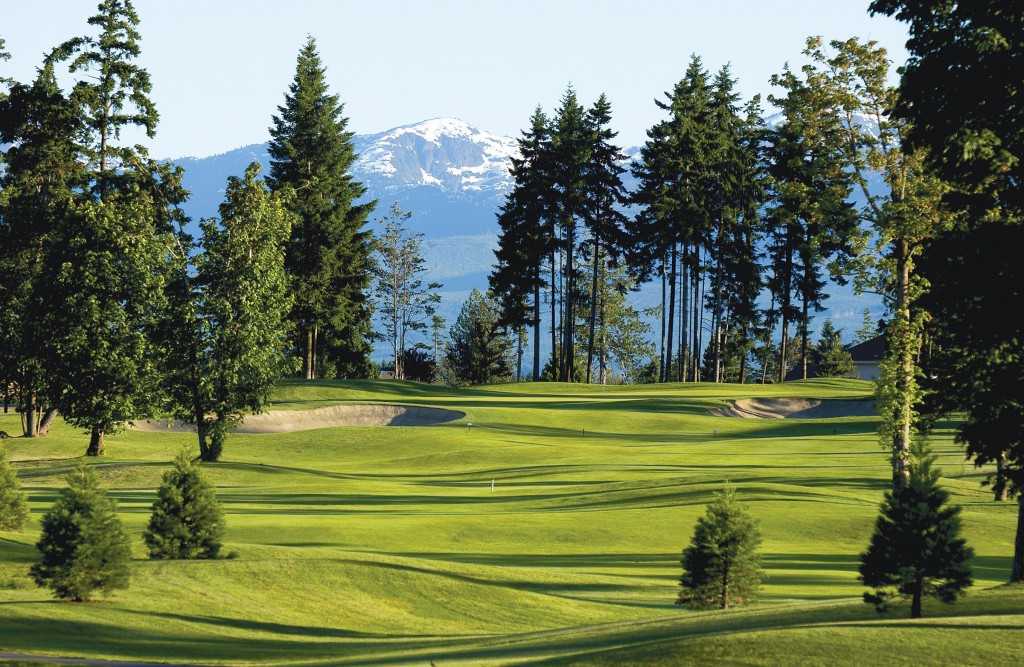 Wonderful vistas are part of the experience at Crown Isle as shown on the par-four 6th hole with the Beaufort Mountain Range in the background. 
While my eyes would often drift toward the distant Beaufort Mountain Range and Comox Glacier to the West, the elevated first-tee shot was enough to get my attention as was every tee shot. The par-five 5th hole stood out for its risk-and-reward options and water tight all along the right side. Meanwhile, the 423-yard finisher was a challenge. Speaking of challenges, the tips at 7,025 yards on a par-72 frame will be ample for most anyone while five tees range down to 5,169 yards.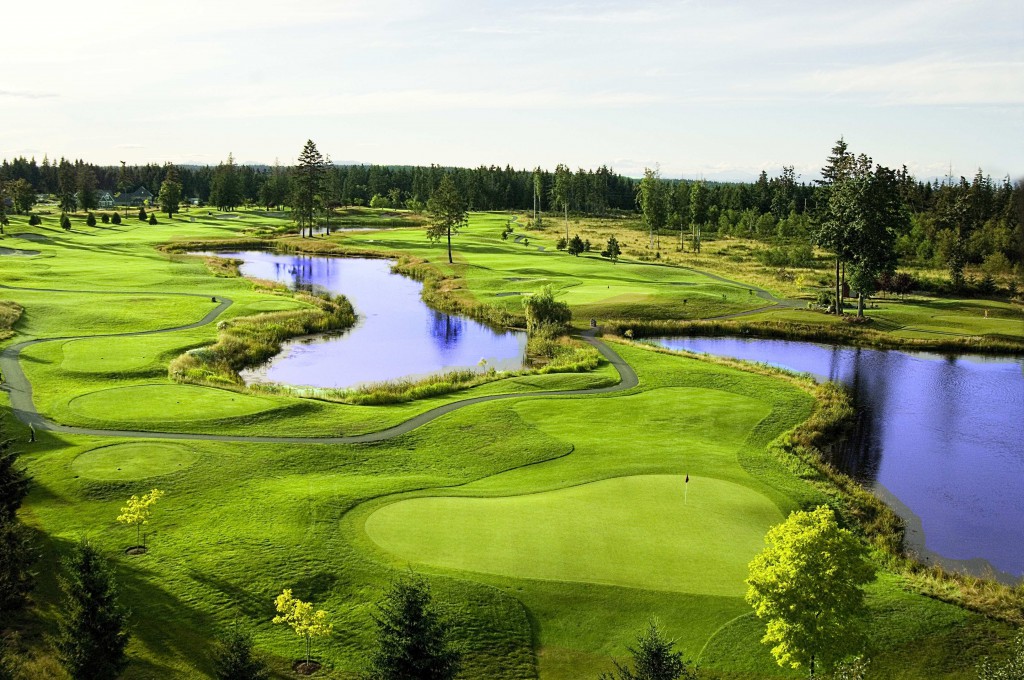 Water plays a key role in the par-five 5th (left), par-three 4th (bottom right), and par-four 3rd (top right).
Folks will enjoy the spacious modern facilities that include a first-class driving range, chipping, and putting greens, as well as on-site fine dining and pub fares. The lodging is removed from the traffic of the parking lot and golf staging area, but yet are only a few steps away making for quiet convenience.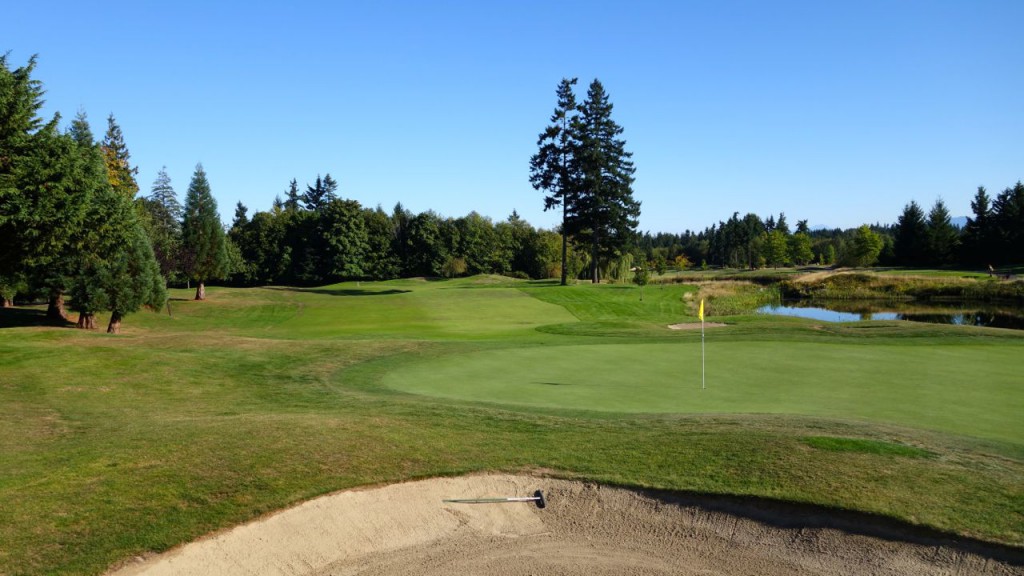 Two well-executed shots are required on the 405-yard dogleg right 13th if you want a birdie putt.  (Photo by Robert S. Fagan)
Whether for the dramatic bunkering, plenty of water, lots of solid holes, or the views and excellent condition, there is so much to enjoy playing Crown Isle, and it makes perfect sense to stay here as well!
Refer to:  www.crownisle.com.
Below, a setting sun casts a shadow over the excellent practice facilities that complement the wonderful golf course at Crown Isle.  (Photo by Robert S. Fagan)