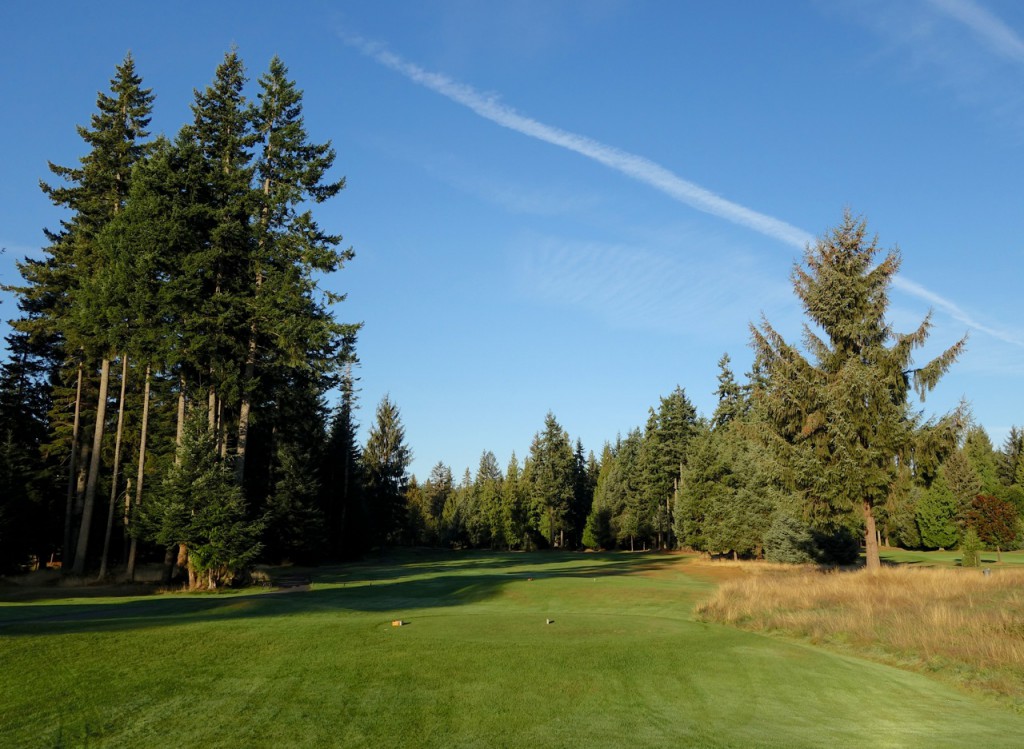 Dawn casts some long shadows on the beautiful dogleg-left par-four opening hole at Storey Creek. Whether for bunkering, water, or trees, you quickly learn that accuracy off the tee trumps all.  (Photo by Robert S. Fagan)
Situated just south of Campbell River in the mid-section of Vancouver Island's eastern shore is the Storey Golf Club. Wandering through what is termed a second-growth forest, this inland Les Furber design is as natural a championship layout as they come and one of the best "pure" golf courses on Vancouver Island.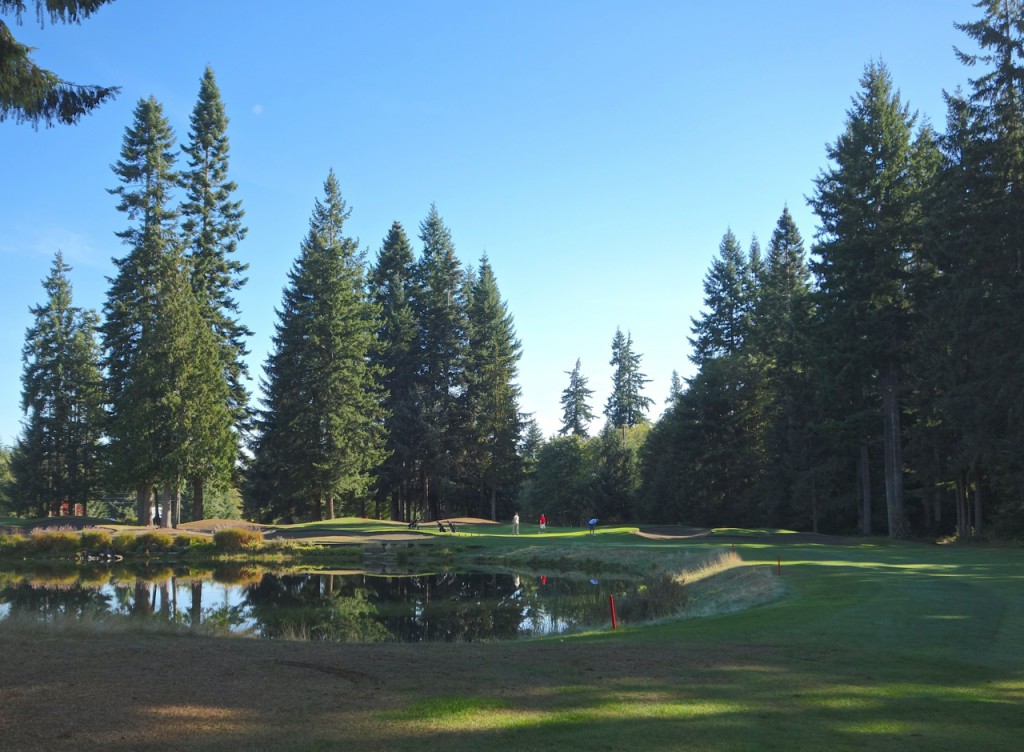 The challenges as illustrated by the par-four 9th are natural and never forced.  (Photo by Robert S. Fagan)
Each hole is carved, yes carved out the surrounding forest and traverses only mildly undulating terrain as it may be the best flat course on Vancouver Island. Certainly there is enough ground relief in the way of mounding  to vary your shots, but this is a wonderful walking course with big greens, big trees, and a complement of water and bunkers that come into play.
It plays just a hair under 6,700 yards from the tips and has plenty of variety in length. (Don't even try to drive the 278-yard par-fur 11th.) The quartet of par-fives are all fun, and I imagine the 568-yard 13th to be the toughest 3-shotter on the Vancouver Island Golf Trail if not British Columbia. As with any layout, there is some local knowledge to be gained, particularly with the large putting surfaces (the 2nd is 3-4 clubs deep) and a few of the water hazards, but overall Storey Creek is quite fair and extracts a penalty commensurate with the degree of the miss – the mark of a championship layout. Be aware, hitting off the corridors spells a lost ball as the forest is thick, and if you can find your ball, chances are you won't be able to play it so the game plan is "fairways first!"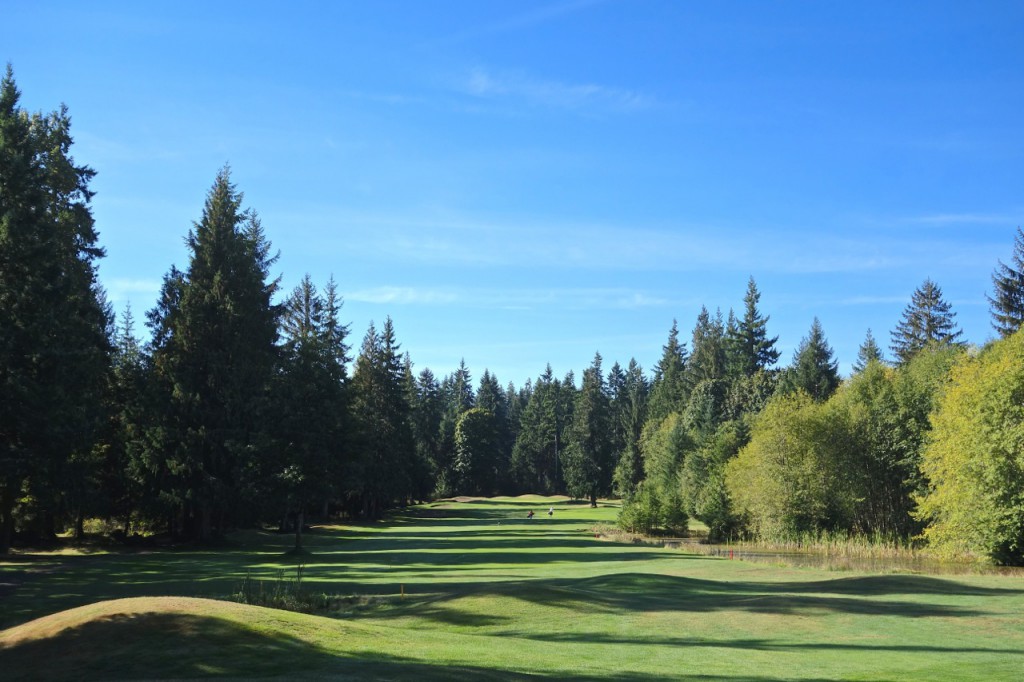 The dogleg-right par-five 12 at 568 yards is one of the toughest anywhere. This picture is taken from the sharp turn in the dogleg and as you can see, you have two more strong, accurate strikes left if you want to be putting for a birdie.  (Photo by Robert S. Fagan)
I could call Storey Creek a shot-makers course which it certainly is, but that might short change the skill needed to negotiate the often huge greens. Easily walkable, here's what you can expect. As the course's motto is: "A Course in Nature," you will enjoy one of the most natural, tranquil settings, and abundance of beauty along with perhaps some wildlife. The operation prides itself on its Audubon certification as you're apt to spot hawks, eagles, deer, and maybe an occasional black ambling about. The facility can also pride itself on its friendly service that makes for a very popular spot with golfers of all abilities.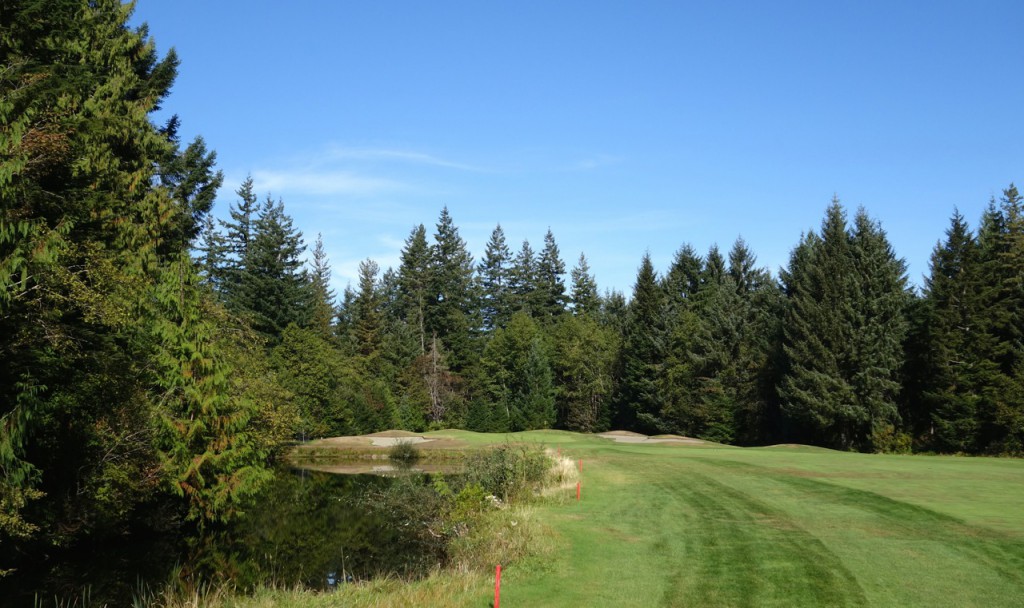 Above and below are different views of the 365-yard dogleg left 14th hole that locals call the beginning of "Amen Corner."  (Both photos by Robert S. Fagan)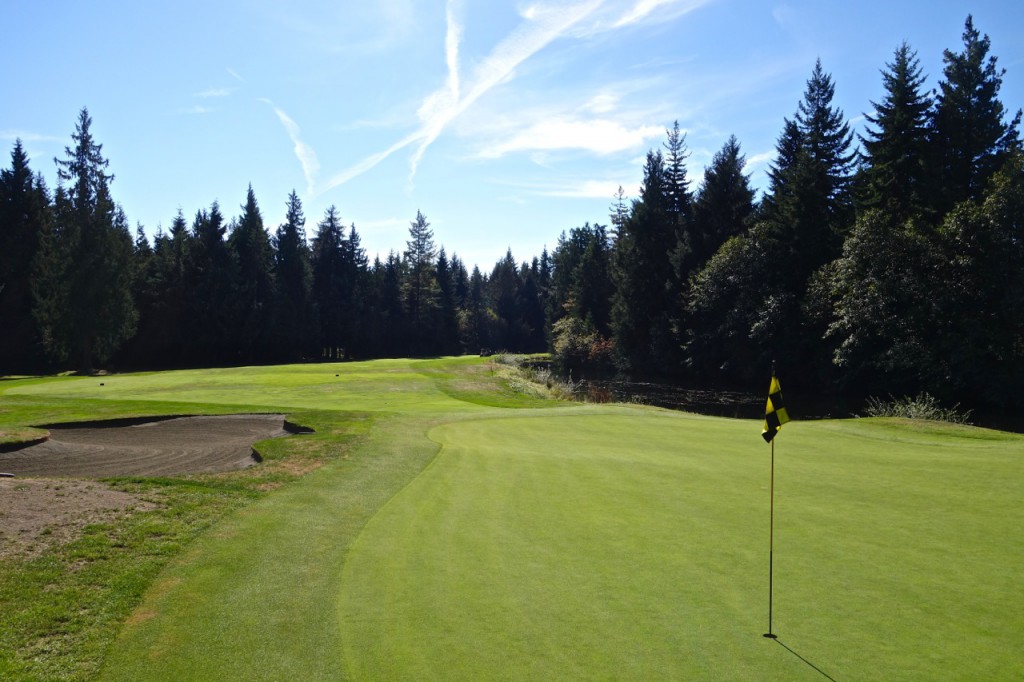 As I was beginning to populate this article with pictures, it occurred to me what a strong finish Storey Creek possesses. Consequently, I began tracing the layout in my mind and pretty soon it included the entire back nine. And then I headed over to the outgoing nine. Whew, Storey Creek is one complete golf course, but never overbearing, ostentatious, or contrived.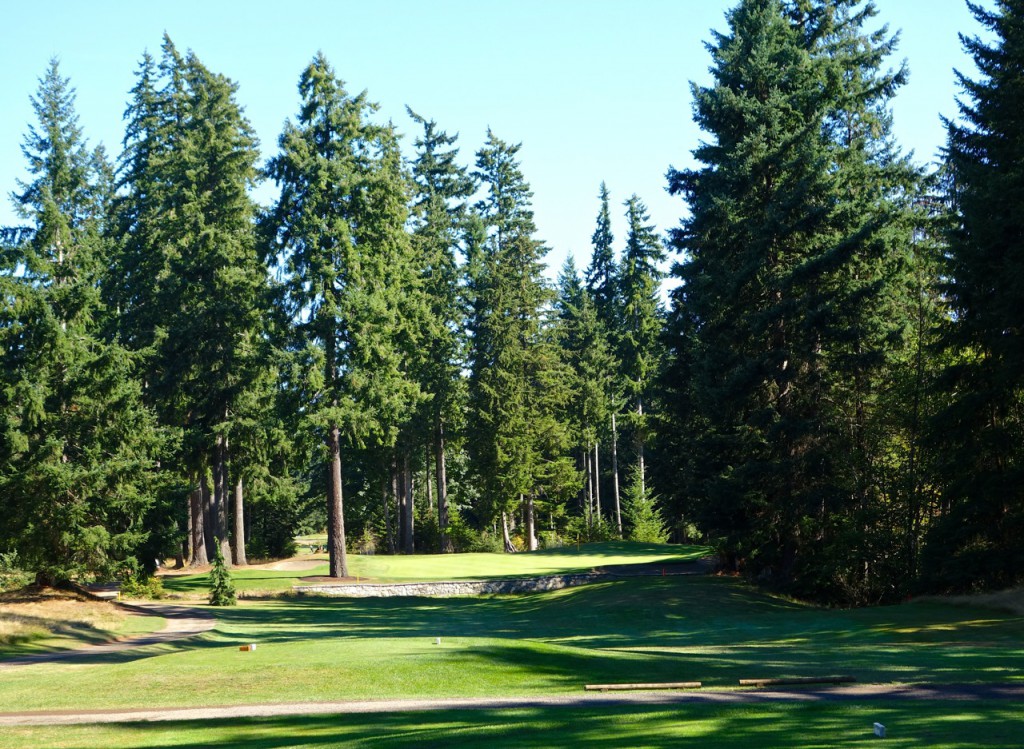 All five par-threes at play in the shadows and four of them play 186 yards or longer. Shown above is the 17th and like the others at Storey Creek, the putting surfaces are much larger than they first appear.  (Photo by Robert S. Fagan)
For those who value a straightforward tradition walking course, one with both natural lines and situated in such pristine surrounds, the Storey Creek Golf Course may be as good as you will find and the must-play value as you head north or Victoria, B.C.
For more information, see www.storeycreek.bc.ca.
Below:  a long drive positioned in the fairway will give stronger hitters a good opportunity to reach the dogleg right 528-yard 18th in two shots.  (Photo by Robert S. Fagan)