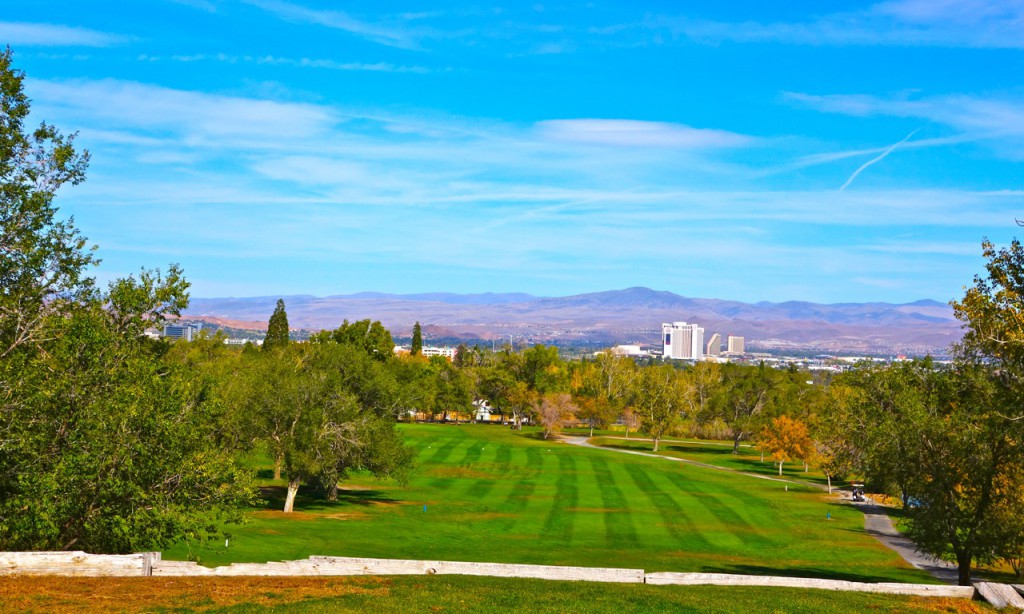 The 366-yard first hole features a partial view of Reno from its elevated tee.  (Photo by Robert S. Fagan) 
No one will ever term Reno's Washoe County Golf Course as an extraordinary one. Pleasant? Yes. And yes, Ben Hogan once won a tour event there back in September, 1948 scoring 19-under par and edging Lloyd Mangrum and Dick Metz by a shot. Furthermore, Charles Lindbergh once landed on the property while touring before it became a golf course. Indeed, it is the oldest 18-hole golf course in Nevada. What really makes Washoe County Golf Course special is that every community needs such a course.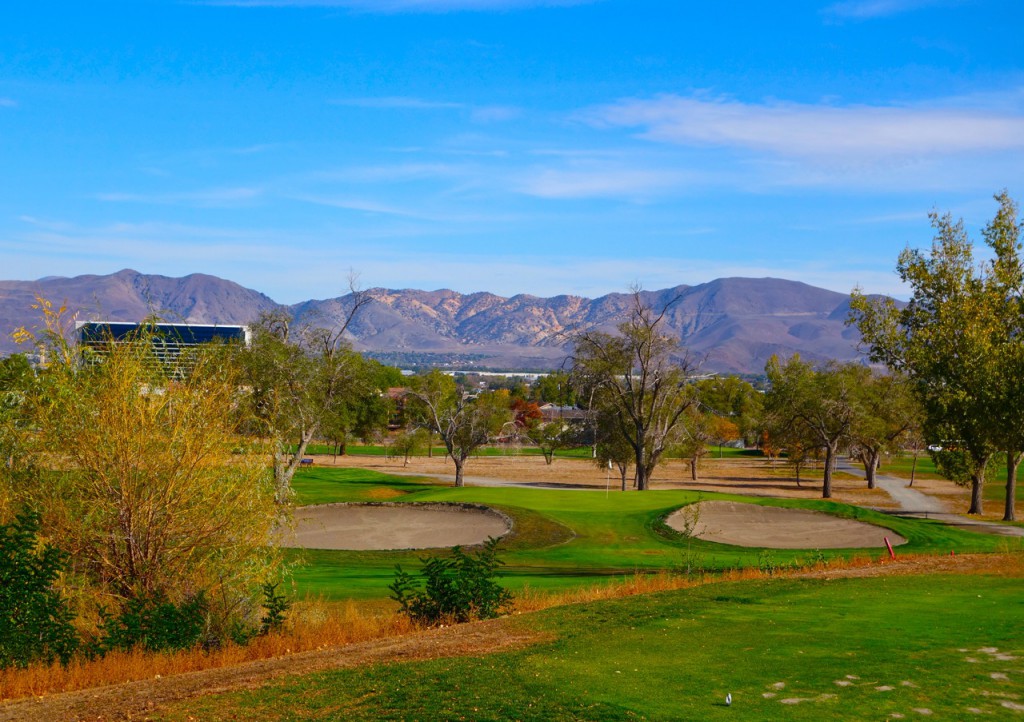 The 127-yard 3rd hole is the shortest hole at Washoe County. Hit the putting surface and you have a good birdie possibility, but miss the green and you have a tricky up-and-down.  (Photo by Robert S. Fagan)
Washoe County is one of the area's best values, a fun place, and enough of a golf course to challenge the good players as well as double as a "Bunny Slope" layout. This versatility is a critical asset for Washoe County as is its value pricing. The flat, treelined front nine with its little round greens and slanted bunkers that invite the use of the putter are about as "Plain Jane" as you will find. With the back nine, there are some elevation changes that make the course just a bit more interesting to the eye.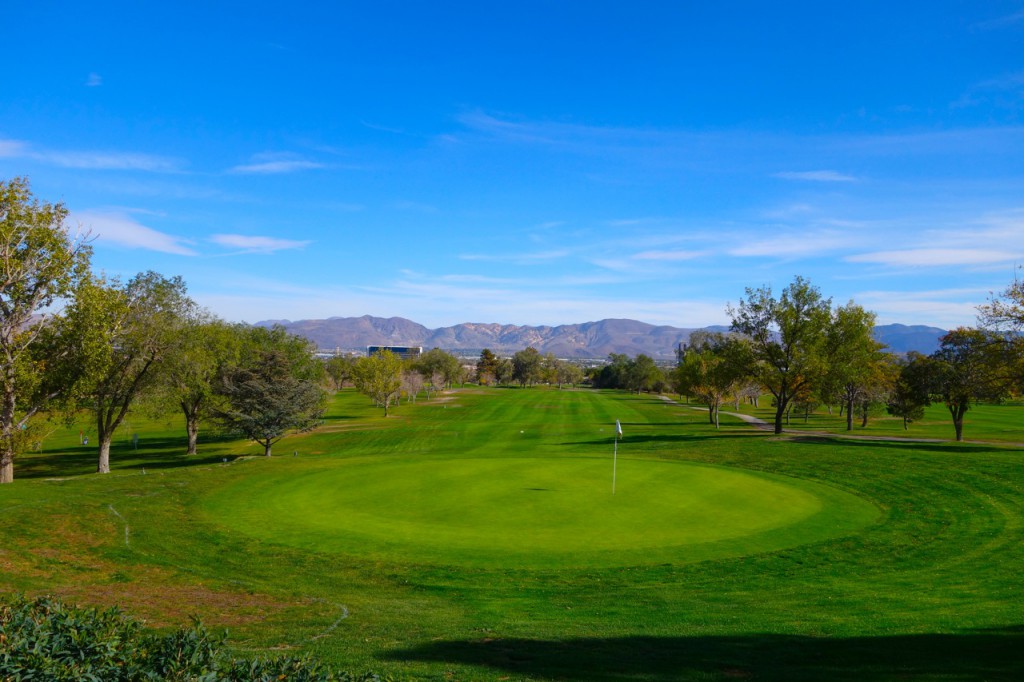 Looking back down the par-four 6th hole illustrates the small round putting surfaces and the straightforward, back-and-forth routing.  (Photo by Robert S. Fagan)
The small and sometimes tiny putting surfaces are usually guarded by one or two bunkers on the sides and have some deceptively quick slopes to them to form most of the challenge, especially for better players. For everyone else, this is a relatively easy layout. Conveniently situated just just southwest of downtown Reno in an older modest residential neighborhood, Washoe County is a core golf course (nothing but golf holes) affords some nice skyline views and likewise serves as a wonderful urban oasis.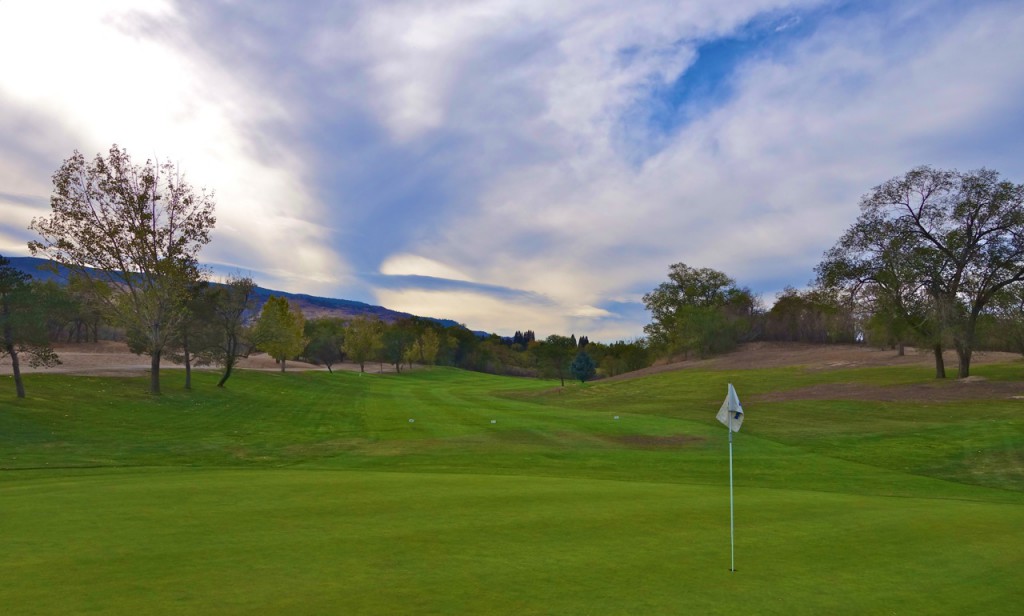 The Washoe County layout becomes a bit more interesting on the back nine as there are doglegs and more undulating terrain as shown by the strong 475-yard par-four 12th hole.  (Photo by Robert S. Fagan)
Good practice facilities including a driving range supplement a bar/grille offering.
There is nothing anemic about its 6,695 yards or slope rating of 127/71.6 on a par-72 frame. Several uphill shots into tiny greens make conversions anything but routine. The course is easily walked and makes for a good value offering whether you are an expert or newcomer to the game.
Below:  the look and feel looking back on the par-four 13th green belies the fact that you are surrounded by Reno.  (Photo by Robert S. Fagan)