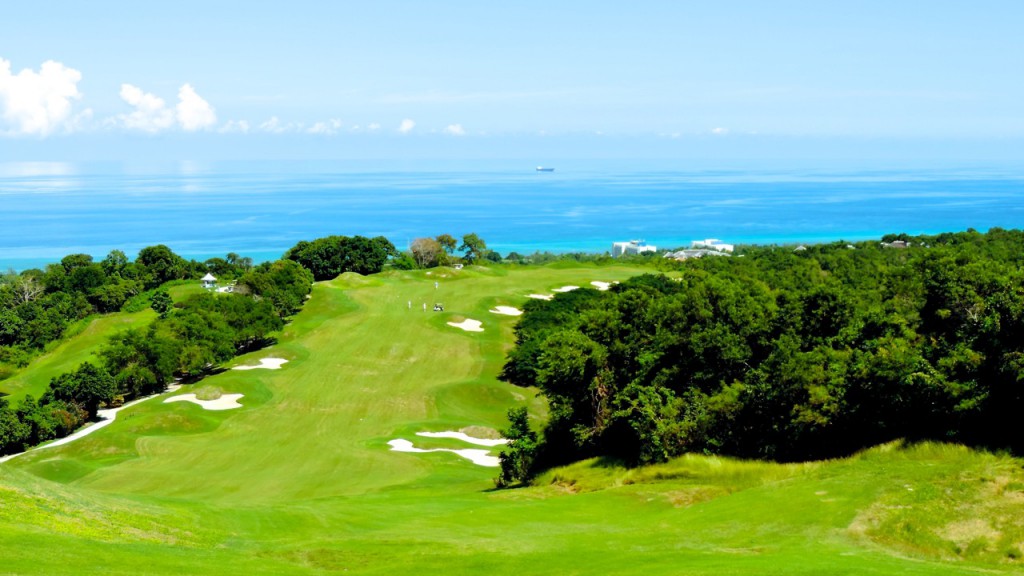 The first hole at the White Witch saw lots of action in the 9th Annual Jamaica Invitational Pro-Am "Annie's Revenge."  (Photo by Robert S. Fagan)
Just hours after donning my sweater for the crisp, cold autumn weather, I found myself bathing in the warm, tranquil Caribbean and enjoying its comfortable tropical Jamaican breezes. This was not my first excursion to the cultural boom-box of the Caribbean, but perhaps my most fun one. The occasion was the 9th Annual Jamaica Invitational Pro-Am "Annie's Revenge" presented by the venerable rum producer, Appleton Estate Jamaica Rum, and run by The Golf Connection LLC.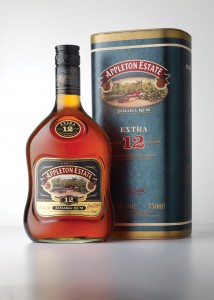 For those who don't realize, carefree Jamaica was visited by Christopher Columbus in 1494 who tried to make it his, but essentially it was long been a British/English colony after Admiral William Penn (father of Pennsylvania's William Penn) seized it in 1655. From that day on, it was aggressively controlled by sugar barons and military commanders. Anyway, I was here to revisit two of the Island's best golf courses – Cinnamon Hill and White Witch, discover Appleton Estate Rums, and enjoy the all-inclusive IBEROSTAR Grand Rose Hall Hotel, and of course participate in the Pro-Am. Does that sound like a collision course with fun? You bet!
After a short air-conditioned bus drive from the airport, I exited the bus and my club were taken always to again appear at precisely the right times and places. Next I was greeted by a hospitable young lady offering me a Rum Punch and I checked myself into the the IBEROSTAR Grand Rose Hall Hotel -where the word "Grand" is the operative one. This is a luxurious adult-only all-inclusive resort whose many amenities (including a spa) and safe, clean Jamaican beach location spell the antidote for all that ails you. Restful fun and great golf would await.
You can bet that any event in its 9th year is successful. (The problematic ones seldom last more than 3-4 years.) This was not my first rodeo with the Golf Connection LLC led by experienced golf industry veteran Tom Jaronski, but he and his team continue to impress – coordinating multiple courses, scoring, sponsors, parties, awards, and logistics in a seamless manner worthy of only true professionals. With the ongoing support of the Jamaican Tourist Board, Jaronski also brought in as the major golf partner sponsor Cobra Puma Golf.
No sooner had I explored my all-inclusive suite with its oceanside patio. I delayed the jacuzzi tub, the outdoor couch and hammock and unlimited bar and headed directly to the tournament check-in. Here I went from table to table filling my new Cobra Puma Golf gift bag with Bridgestone golf balls, a couple of attractive Cobra Puma golf shirts along with a Cobra Puma thermal wicking shirt, a $100 Cobra Puma gift certificate and online discount card, Sundog sunglasses, Appleton Estate rum, an umbrella (never needed that week), and more! It was like Christmas Day and just as bright were the reflections of the smiles of the many other participants as well as those serving us. What a way to begin "Annie's Revenge!"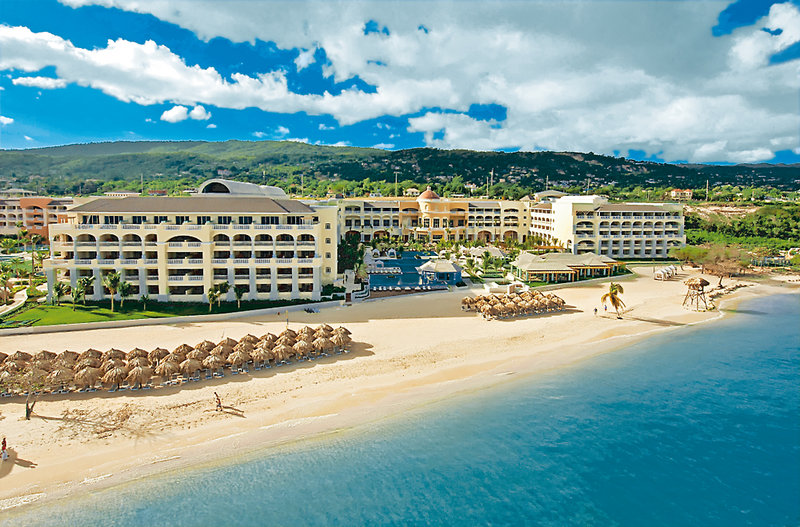 All Jamaica Invitational Pro-Am "Annie's Revenge" participants enjoyed premium all-inclusive accomodations at the IBERSOSTAR Grand Rose Hall Hotel.
After about an hour of conversation and filling my bag with goodies, I left and made my way past the spacious and tropically adorned pools and swim-up bar filled with happy people hastening  my way to the beach. I had remembered that Jamaican water will never disappoint and knowing faces smiled as I entered the warm Caribbean. The marriage of a bright, warm afternoon sun and the water released all distant memories of the cold I left. I was ready for a week of fun.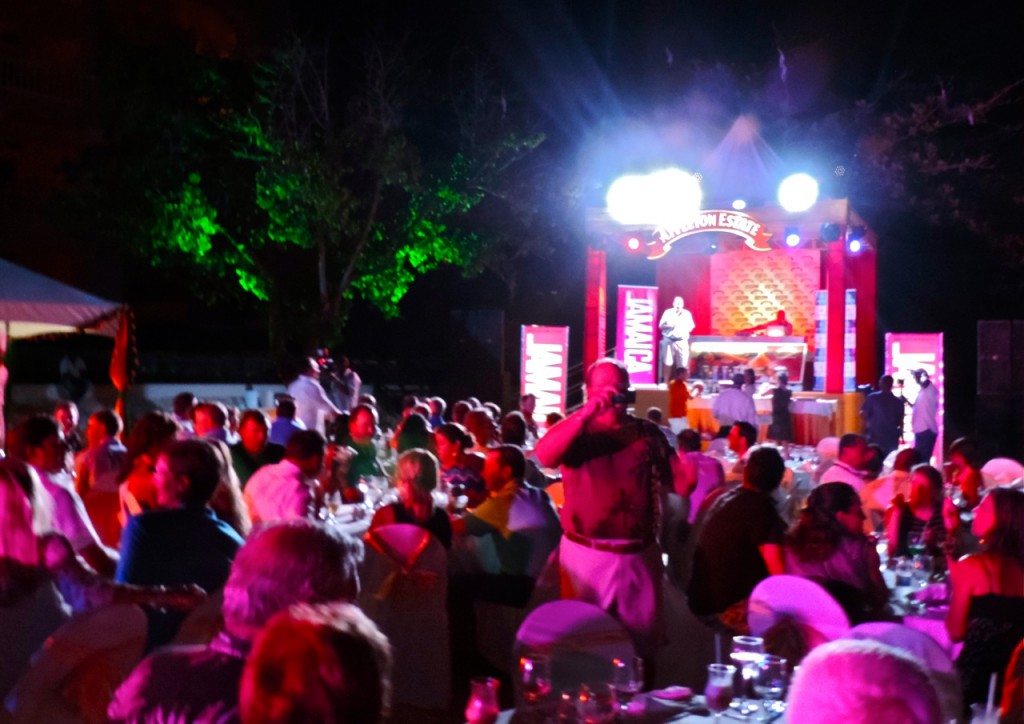 All were treated to a seemingly endless supply of Jamaica's best food, rum, entertainment, and dancing at The Beach Party hosted by Appleton Estate Jamaican Rum.  Everyone I met also came away so very impressed after tasting this outstanding family of rum products!  (Photo by Robert S. Fagan)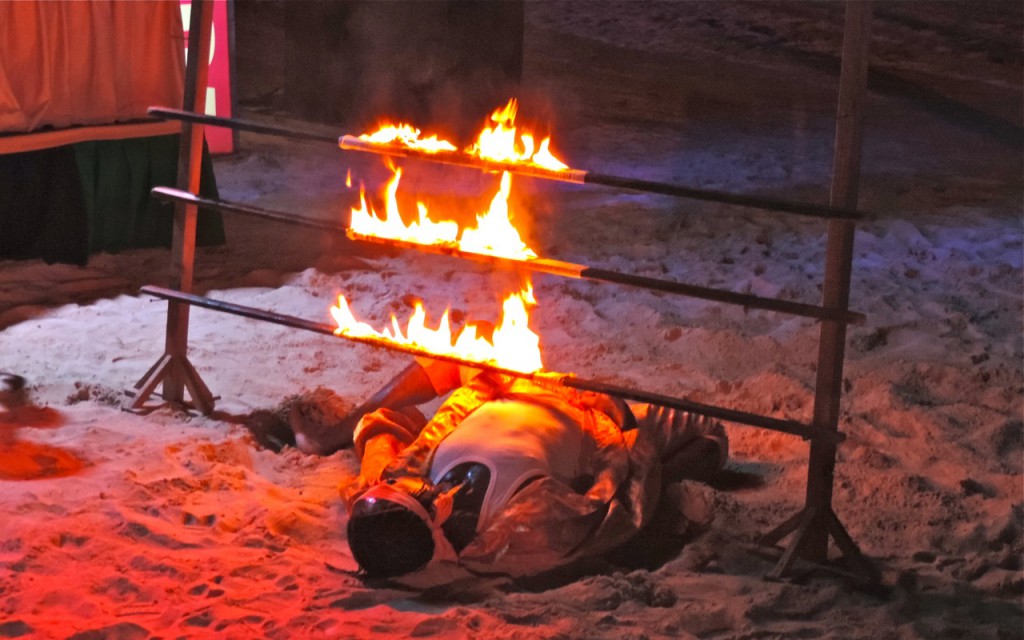 How low can you go? This was held at the Appleton Estate Jamaican Rum Beach Part and just a portion of the fun entertainment we all enjoyed during Annie's Revenge.  (Photo by Robert S. Fagan)
On to the golf, the "Annie's Revenge" Pro-Am was set just an easy shuttle away from the IBEROSTAR Grand Rose Hall Hotel and the two host courses, the Cinnamon Hill and White Witch rank among the most spectacular in Jamaica and beyond to the Caribbean. Cinnamon Hill is the older of the two and combines both flat oceanside and mountainous jungle holes of the back nine. Both varieties are spectacular in their own right and make for nice variety. You can forget the scorecard yardages for the elevation changes of several of the holes can be a real challenge as is the distraction of the tropical vegetation and there is not a routine putt on the entire layout. Singer Johnny Cash built a compound just to the left of the par-four 14th that his family still uses, and the backdrop on the par-three 15th was used in a James Bond movie.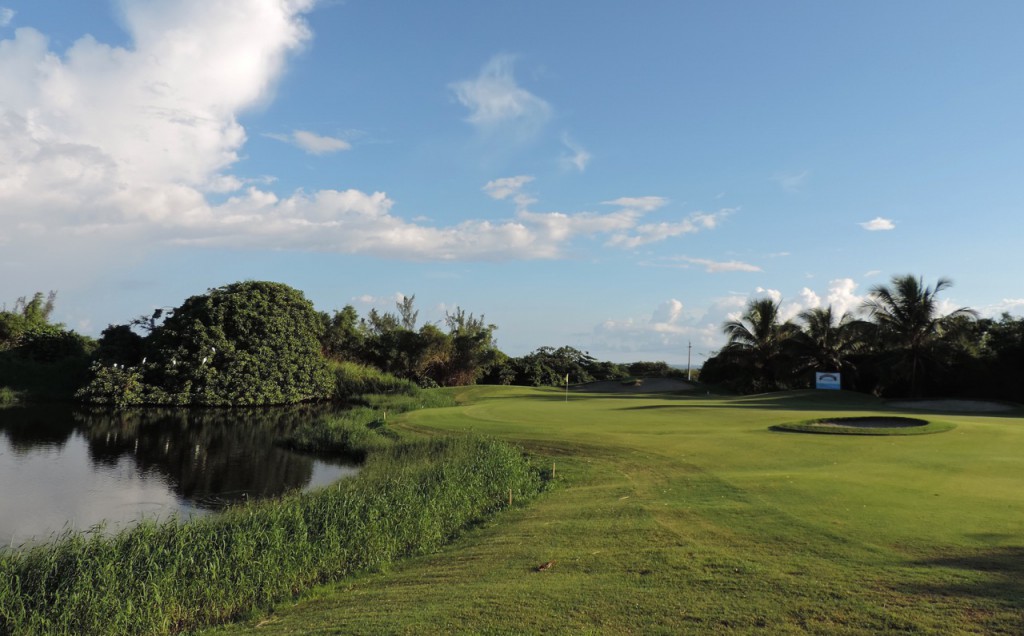 The par-three 4th hole is but one of many attractive holes at the Cinnamon Hill Golf Course.  (Photo by Robert S. Fagan)
The White Witch golf course sits adjacent and above Cinnamon Hill. It is expansive and its commanding views will demand a place in your golfing memory banks. The show starts right with the driveway to the attractive clubhouse and continues to both the practice areas and first tee. From that first tee shot, you are greeted with the ever-present canvas of the turquoise blue Caribbean as a backdrop. There is not a single flat hole on the property as the course enjoys the same elevation changes of Cinnamon Hill's incoming nine. The major differences are the higher terrain, more expansive fairway corridors, and abundantly bold bunkering. There are many risk-and-reward holes and elevated putting surfaces. Where Cinnamon Hill is somewhat compressed and the golf course shaping a bit more demure, White Witch features many camera-grabbing vistas highlighted by three of the five par-threes being drop shots from elevated tees. And a word of caution, while neither course is especially long at under 6,850 from the tips, both spell disaster for wayward drivers. The greens on White Witch are a bit less severe in their contours than Cinnamon Hills, but only slightly so and with the hillside terrain, I found the advice of the skilled caddies at both courses (both men and women on average among the best I've had) to be invaluable.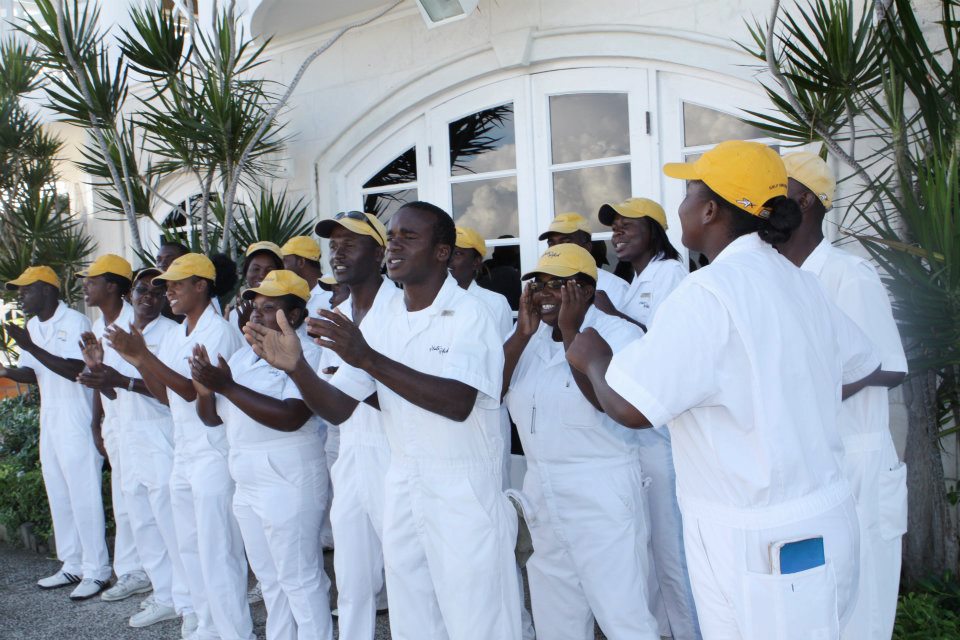 Never before have I been serenaded by caddies before teeing off, but that's exactly what they did before we teed off at the White Witch Golf Course — and they are very capable caddies as well!
After 36-holes the Pro-Am was flighted so everyone was kept in the game for prizes. (No, my team did not win, but we tied for first place in fun!) Annie's Revenge concluded with an exuberant closing night gala complete with a host of prizes, music, and fun – what a send off!
Appleton Estate Jamaican Rum Senior Blender David Morrison is explaining the finer points of rum tasting to me.
Also of interest in this year's event was the inclusion of Hollywood movie celebrity David Arquette. As a new golfer with a 26-handicap, his friendly, affable personality proved to be the equal of anyone partying. You never quite knew when he would pop up, but he was always engaging and fun. Whether dining at one of the four gourmet IBEROSTAR restaurants, learning about rum at the Appleton Estate rum tasting, discovering new Cobra Puma offerings at the trunk show, dancing to the heart-pounding music surfside dinner party on the beach, enjoying the all-inclusive meals after a round, or just lounging around the pool and sipping drinks, this all proved to be a great Jamaican golfing adventure.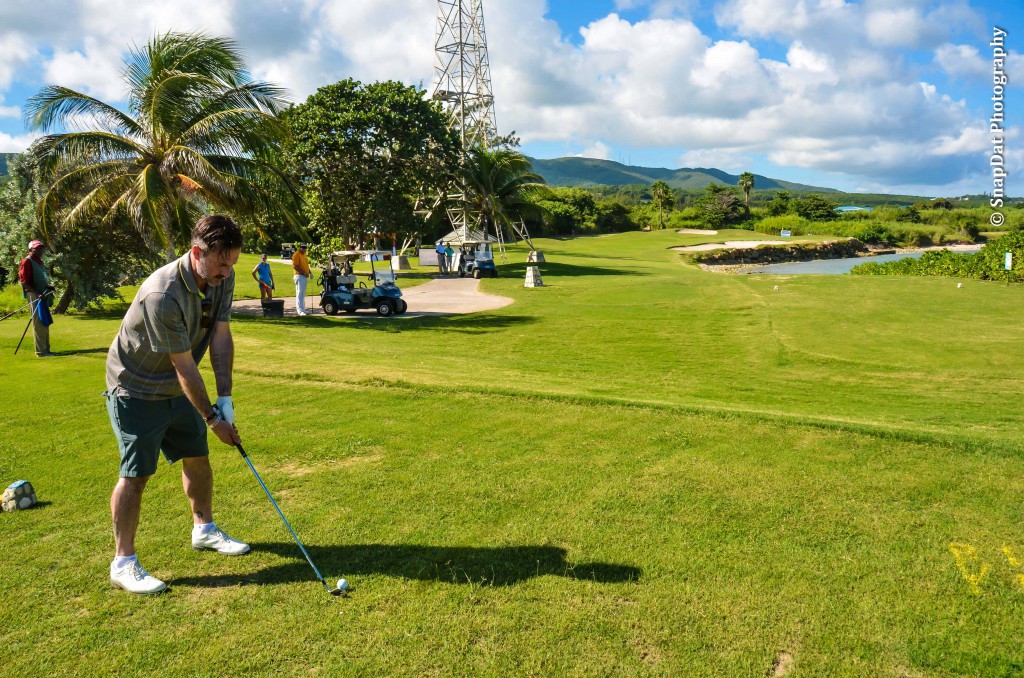 Movie actor, David Arquette, is about to tee off during the competition on the beautiful par-three 6th hole at the Cinnamon Hill Golf Course. 
Not only did the 9th Annual Jamaica Invitational "Annie's Revenge" Pro-Am reunite me with two dramatic and fun golf courses in a great tournament, I was able to explore the delectable intricacies of the Appleton Estate family of rums, which rank among the world's finest. Whether from other teams assembled from all over the U.S. and Caribbean or the event's many sponsors and hosts, I came away with many wonderful new friends and experiences. "Annie's Revenge" is an event that should definitely be included in your golf bucket list so get together your team!
SAVE THE DATE:  Mark your calendars for November, 2015 for a return to Annie's Revenge. For specific details on next year's tournament and ongoing updates,  refer to www.jamaicaproam.com or contact Tom Jaronski at The Golf Connection at 484-762-1185.
Also refer to:
The Jamaica Tourist Board – www.VisitJamaica.com
Appleton Estate Jamaica Rum – www.appletonestate.com
IBEROSTAR Grand Rose Hall Hotel – www.grandrosehall.com
Cobra Puma Golf – www.cobrapumagolf.com
Sundog Eyewear – www.sundogeyewear.com
The Golf Connection LLC – www.thegolfconnection.com