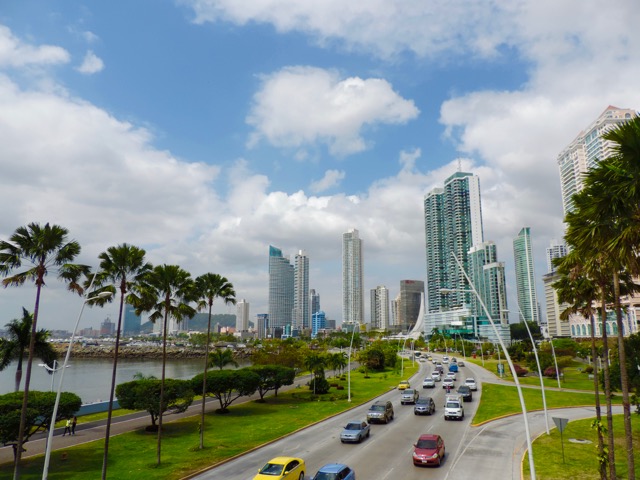 Panama City, Panama is a vibrant, beautiful, growing city, the "Crossroads of the Western Hemisphere" and the start of my Panamanian Golf Adventure. (Photo by Robert S. Fagan)
Imagine landing in Panama after a comfortable direct flight from North America on a beautiful new Copa Airlines jet. My heart quickened as I caught a glimpse of numerous sprawling skylines of Panama City. Why? Not only is this an area of growth and modernization, but I was going to explore exciting golf on the Pacific southern coast in and around Panama City – where Panamanian golf is concentrated and indeed "America's Crossroads!"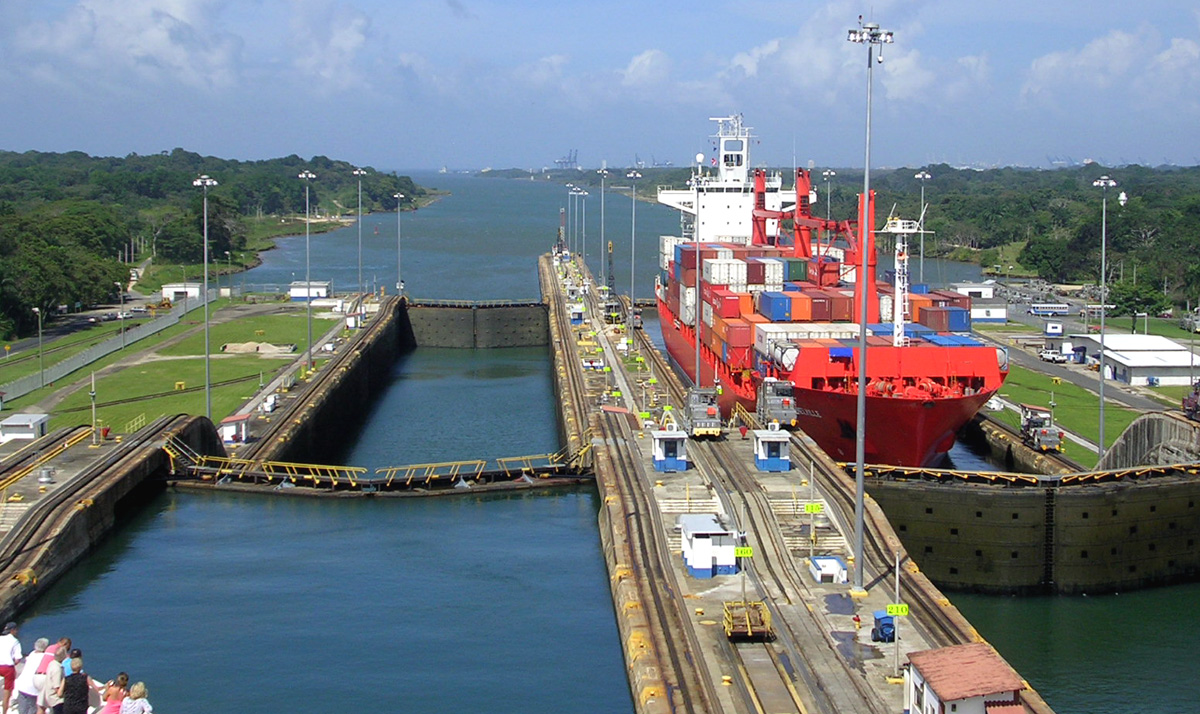 There is no doubt that the Panama Canal, one of the "Seven Wonders of the World," is the driver of the nation's prospering economy. The country has placed big wagers on its future by building a much bigger, wider adjacent channel to more than double its capacity. It is also expanding as a tourist destination in which golf will be playing an integral part. First, however, there are some interesting tidbits about the country that may surprise many. Panama is positioned in an east-to-west direction, not the north-south orientation that generally characterizes Central America. In fact, you can often view a sunset over the Atlantic Ocean, and view the sunrise by looking out over the Pacific. If that doesn't scramble your intuitive perspective, also realize that Panama City is located directly south of Miami and is not that dissimilar to its northern neighbor in energy or appearance -swank, hip, and vibrant with modern lines and Old World charm. And interestingly, it is not as hot and humid as its latitude would suggest or I might have imagined. This is true even during its summer, which is December through March, and frequently you will experience healthy cooling breezes. And lastly, you will be relieved to know that Panama is situated outside the Caribbean storm zone.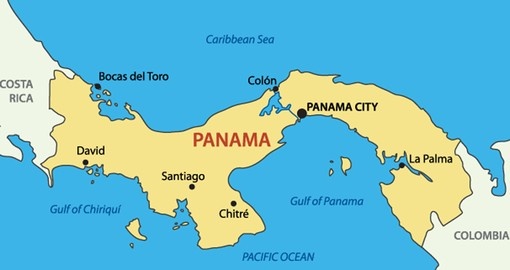 Panama City is also a financial center dominated by several attractive sections of high-rises. Situated on the Pacific southern coast, the metropolitan area is a mix of the new and old, and rich and poor with most of the population spread out around the edges. Size-wise, Panama City with more than 700,000 people compares in population with Portland, Oregon, but the skyline bordering the water is most impressive. With Columbia and South America immediately to the East and Costa Rica and Central America to the West, along with ships/commerce from everywhere, Panama is, indeed, one of the World's focal points.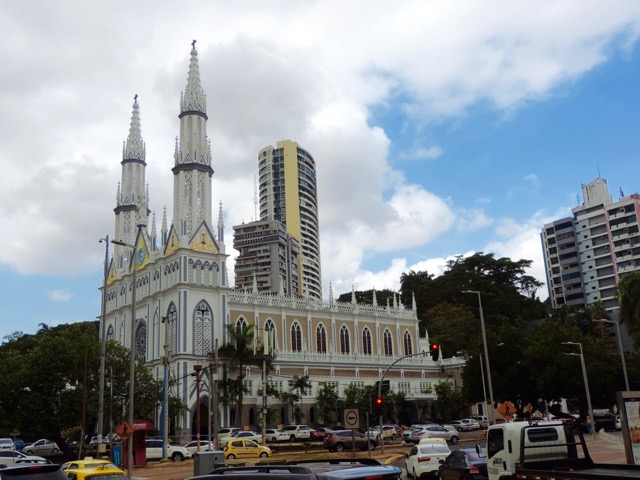 The modern meshes with the culturally classic in Panama City.  (Photo by Robert S. Fagan)
With prosperity comes golf, especially when you feature the interesting coastal plain with the backdrop of the inland wild mountain topography. The golfing landscape is fashioned around Panama City on the Pacific Ocean on the southern coast and is serviced by the Pan-American Highway making it easy to get to the golf in either east or west directions. Resort and second-home real estate developments are the prevalent feature to the west of the City. In fact, with the exception of two courses in Panama City, you will find most golf courses related to resorts and thus open to public play.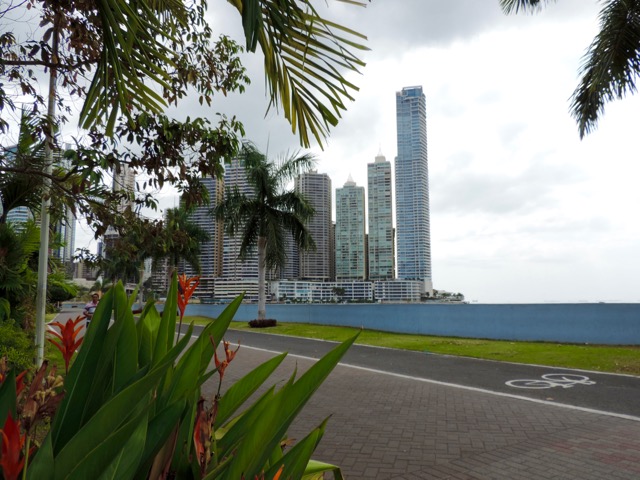 Garden adorned walking and bike paths join modern high-rise residences in bordering the Pacific in Panama City.  (Photo by Robert S. Fagan)
To the east of the city, you will find two private golf courses that embrace the new and the old. The Club de Golf de Panama is the venerable old club. Originally started by Americans working on the Panama Canal, it started as a 9-hole layout. The current facility is the Club's second location and is a most engaging wooded, rolling layout. In many respects, it reminds me of the hills of North Carolina. Water hazards, push-up greens, uneven lies, and tumbling tree-lined corridors make for a challenging test. The course has hosted the Panama Open and a Web.com Tour event since 2004, and in 2017, it will hold the third Latin America Amateur Championship whose winner will earn a trip to The Masters. (Tourists interested in playing here may be able to schedule a round by contacting the Club in advance.)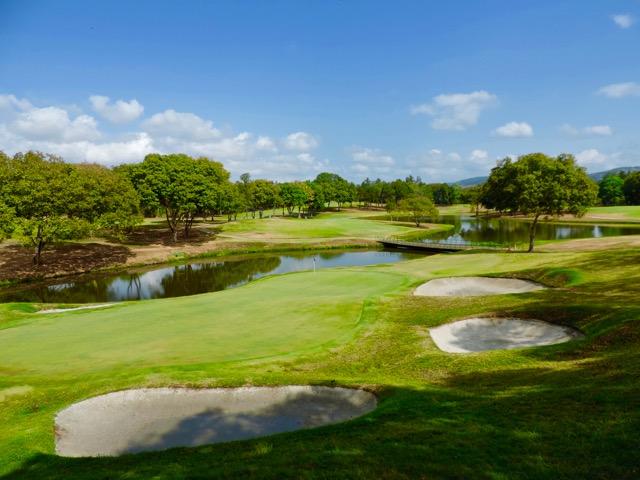 While the hole number may be yet to be determined, this view from behind the green makes this a stout finishing hole at the Club de Golf de Panama.  (Photo by Robert S. Fagan)
Only a few miles away in contrast is the still developing upscale private residential real estate development called Santa Maria. This gated community services the area's affluent and is easily accessible to downtown due to the busy Trans American Highway that bisects it. Occupying flatland closer to the water and the City with its own as well as neighboring high-rise condos as a backdrop, its skyline reminds me a little of Dubai. Santa Maria features a beautifully conditioned layout with open with conspicuously benign shaping given its flat terrain. A product of the Jack Nicklaus Design group, the general lack of challenge off the tees is curiously finished with busily contoured putting surfaces that will test everyone. On several holes, you will encounter attractive bunkering that bleeds into the water hazards. A full-practice facility and many other community amenities will be available only to resident members and guests of an on-site hotel being built.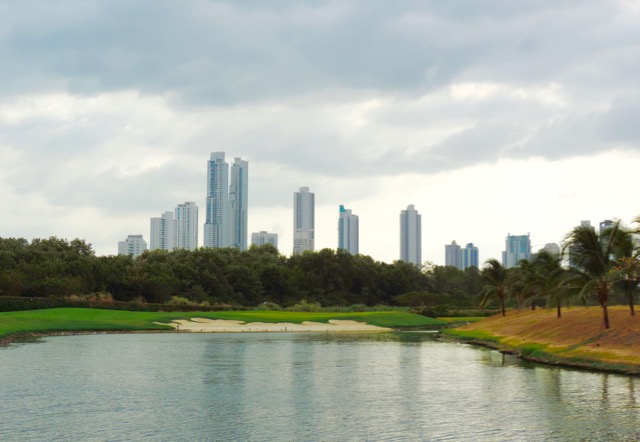 The distinctively provocative high-rises form the backdrop for top golf at Santa Maria.  (Photo by Robert S. Fagan)
Travel fifteen minutes to two hours west from Panama City along the Trans American Highway and you will find a nice variety of golf largely open to either public or resort play. The first course you will encounter is the semi-private Tucan Country Club & Resort. Though somewhat lacking in shaping and conditioning in spots, it is a true "diamond-in-the rough" that I enjoyed. The engaging layout occupies hilly, mostly open terrain with spectacular views of the distant city skyline and the nearby gigantic Panama Canal shipping cranes. This was originally an American military golf course and is now being developed as a residential/hotel complex bordered by the police campus on the former military base and a protected rain forest. With the right sort of greensite enhancements and enlargements and just a bit more tender care, Tucan could rival the region's best, and yet is already a fun place to play.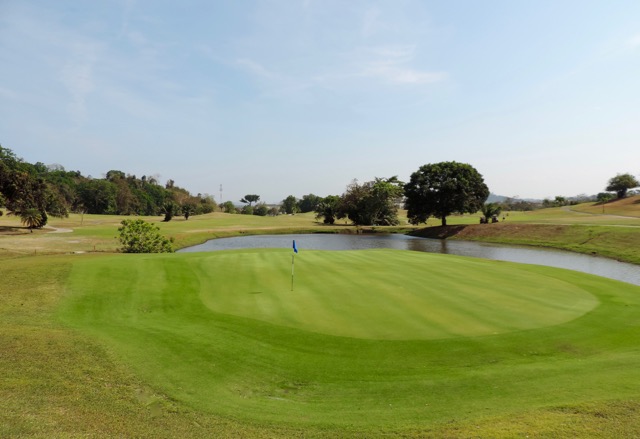 The view from behind the 507-yard par-five 16th at the Tucan Country Club & Resort is only one of many to delight the eye.  (Photo by Robert S. Fagan) 
A little further west, the Summit Golf Club plays from its high perch on the Radisson Hotel site. It is the oldest golf club, but in its present resort skin, there is nothing old about it as it has been modified for a modern look and feel, even extending to the hotel that sits high above the course. Much of Panama is a rain forest and this is the one course in the region that typifies that look and terrain. Its bizarre routing makes it not suitable for golfers to walk; yet its views and interesting natural terrain make it an ideal hike for birdwatchers and nature lovers. The layout definitely has a tropical feel to it as it is surrounded by jungle with some magnificent views and much of the core interior is thankfully open. You can expect firm, fast, smooth putting surfaces here and bring a few extra balls.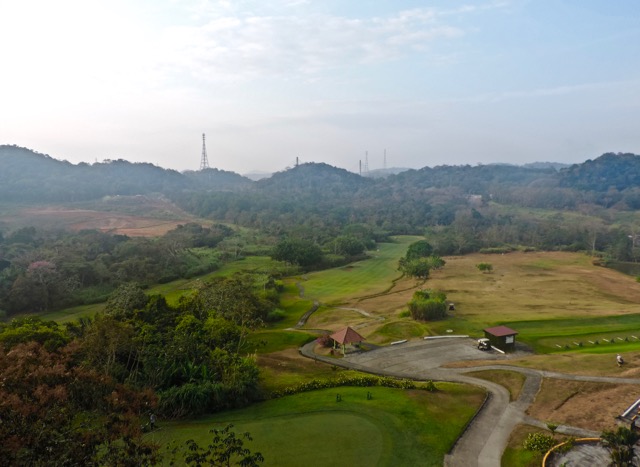 The view of the Summit Golf Club's demanding par-fours at 17 and 18 from high above at the Radisson Hotel reveal a very demanding jungle finish.  (Photo by Robert S. Fagan)
Continuing west, next we encountered the ex-pat community of the Coronado Beach & Golf Resort. Having spent many years in the rolling country of Central Florida, I immediately felt transported there. Like many courses that I have enjoyed outside of Orlando, Florida, Coronado Beach winds though relatively narrow corridors of trees not unlike the Club de Golf de Panama. It is likewise characterized by smallish push-up greens often guarded by sand left and right making for a real shot-maker's challenge. Thankfully, the layout plays firm and fast and is very playable for shorter hitting golfers while also making it a bit more difficult for the powerful player who expects to score much lower. Thankfully, housing only is present on the course borders. As I encountered and was informed, Coronado Beach can also be a very windy layout despite its tree cover and distance from the actual beach.
Gentle elevation changes along with narrow treelined corridors provide the theme at the Coronado Beach & Golf Resort. You can quickly appreciate why the par-five 10th is among the most photographed.  (Photo by Robert S. Fagan)
Continuing westward is the new Vista Mar Golf &Beach Resort development. American golf course architect Michael Poellot fashioned a spectacular open layout adorned with palms and abundantly bold bunkering. It's a visually exciting golf experience as approximately sixteen of the eighteen holes afford views of the Pacific though none play adjacent to it. As impressive as the golf course was the outstanding food to be enjoyed in its clubhouse – the chef really knows how to cook. And this real estate development is perhaps even more focused on its spectacular marina and beautiful beach as it spared no expense there. One should be aware, Vista Mar experiences a very dry microclimate. Typical winter drought conditions and the failure to maintain its water pumping resources left the course only marginally playable during my visit. If ownership does not focus as much attention on this as it does its marina, this will put the golf operation and development at risk. Otherwise, Vista Mar has the potential of a very exciting offering.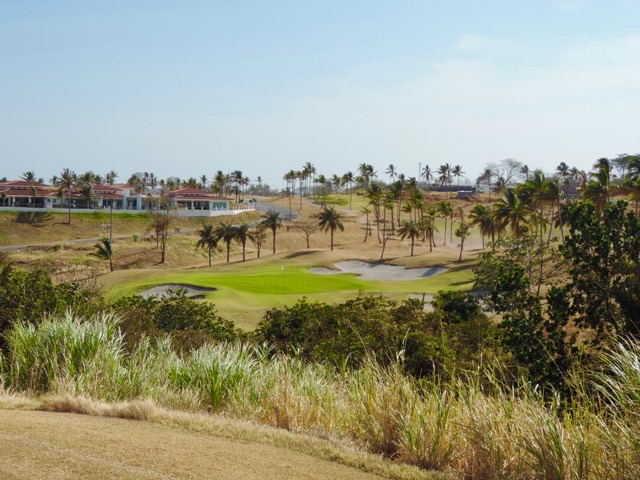 Big, bold bunkers and a yardage that can be stretched to 248 yards from the tips make for quite a challenge on the 12th at Vista Mar.  (Photo by Robert S. Fagan)
Next in the course line is the Mantarraya Golf Club within the busy, all-inclusive Royal Decameron Hotel. Driving into the resort, I had no idea of what a beautiful, interesting golf course was adjacent. Unlike the flat driveway entrance, the golf course spills down a hills and winds its way up and down in spaciously drawn corridors. Buildings are set back, colorful flora adorns some attractively bold bunkering, and the conditioning is quite good with smooth putting surfaces. Some spectacularly ancient trees occupying the midst of fairways further extract interesting strategy as well. Put it all together and you may have the best value/experience of the public-access courses I visited in Panama!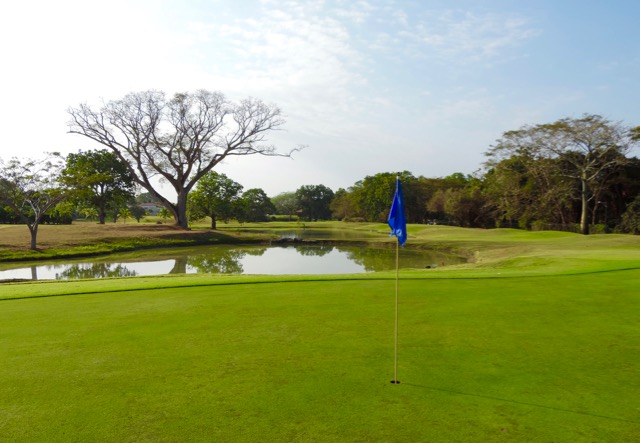 A view from behind the green on the par-three 11th at Mantarraya illustrates one of the many signature trees that adorn the appearance and occasionally the strategy.  (Photo by Robert S. Fagan) 
Finishing my westward tour is the Jack Nicklaus-designed Buenaventura Golf Club resting at the top of the Panamanian "Golf Course Food Chain" that I explored. Part of the upscale J.W. Marriott Resort here, discounts are provided to guests/residents, but otherwise you can expect to pay $250 or thereabouts if you aren't. In contrast to the Nicklaus organization's work east at Santa Maria, Buenaventura features a much more engaging tee-to-green presence with striking bunkering and more dramatic shaping, albeit with less movement in the well-protected greens. The conditioning and surrounds spell excellence and if you select the correct tees for your ability, it is a most playable layout. Here you are sitting in the lap of luxury with not only this fine golf course, but the spa, conference rooms, horses, excellent cuisine, and pools just a few of the amenities that await.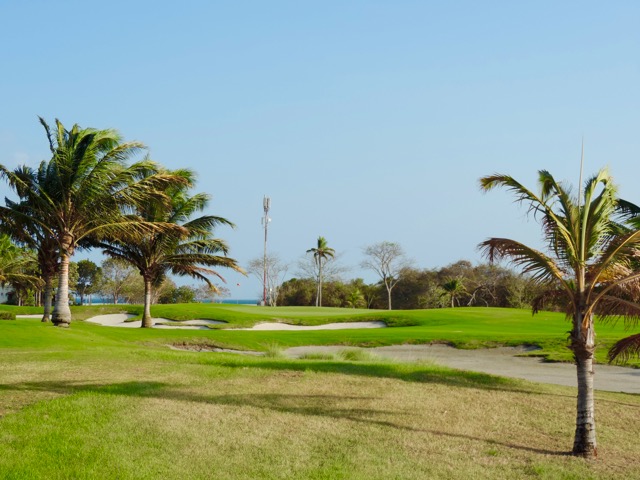 Attractive landscaping, distinctive bunkering, and excellent conditioning make for a potently pleasing combination at Buenaventura as shown by a view of the par-three 14th green.  (Photo by Robert S. Fagan)
As you pursue golf in Panama, you will find that golf course conditions are generally are as good or better than most of the Caribbean for example, and usually at a better green fee value. Clean, modern golf carts are available at each of the above golf courses and several will also have on-course beverage service. Each also typically has a clean, safe, delicious food onsite.
Be forewarned that Spanish is Panama's language. At the major hotels and golf courses, you will usually have no trouble finding someone who speaks English, but more often than not your waiter, service personnel or golf shop counter personnel may only be able to speak Spanish and little English at best. Now for the better news, Panama has adopted the US Dollar as its currency so nowhere will you need to exchange your dollars – and it's ok to bargain. In Panama, it is not necessary to tip, though if you do and I was informed that some restaurants may build in the tip and it is important to check your final bill to know. You do not tip taxi drivers and if you do want to tip your waiter for outstanding service, stay at 10%. If you are happy with the service and the food, please share that good news!  Just a small praise to a hard working Panamanian goes a long way.
Panama offers so much to explore, and yes it is a "crossroads," and I have learned first-hand that golf can and should be a very fun part of your adventure – and no matter the road (or course) you choose, I'm betting you will be pleased. The pricing will accommodate any budget and the challenge complement any golfing ability, while the looks and landscapes come in a variety of attractive and differing packages. Go ahead and play away in Panama!