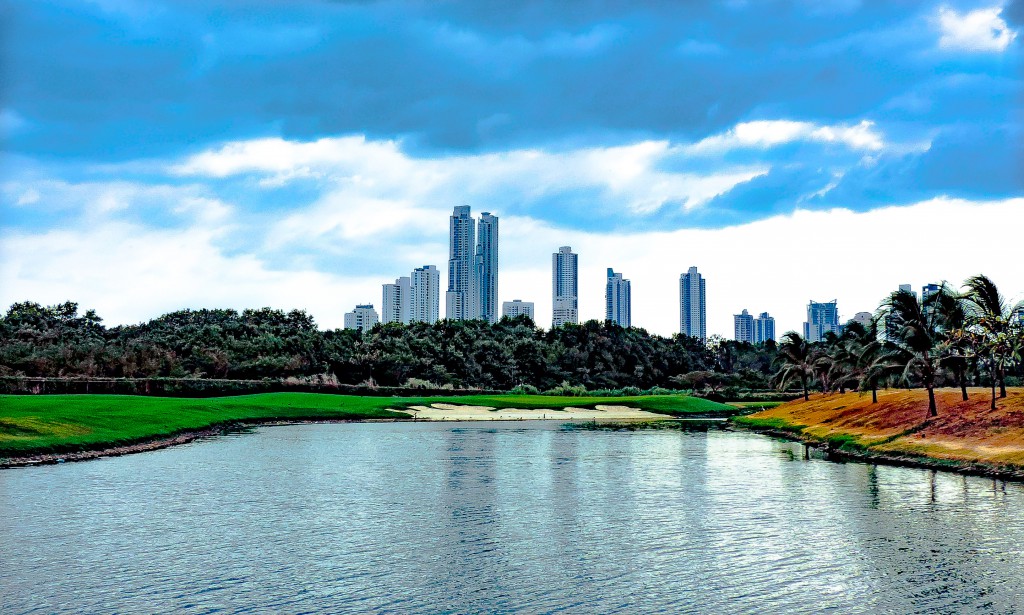 Panama City's latest golf course addition is the Jack Nicklaus-designed Santa Maria Golf & Country where the par-threes feature water and attractive skylines are never far away!  (Photo by Robert S. Fagan)
There is effectively a one-stop shop for a luxurious private real estate and golf course community in Panama City, Panama. It's called Santa Maria and it is conveniently located just east of downtown Panama City alongside the Costa del Este neighborhood. If Panama City reminds one of Miami, Santa Maria likewise has the look and feel of a South Florida development. At the centerpiece of its many amenities is a new Jack Nicklaus-designed golf course along with many other upscale offerings in the works.
Conveniently located just a short drive from downtown and near the Pacific waters, the community offers a variety of real estate options, gated and guarded security, and privacy intended to make this a most prestigious address or membership. Its Nicklaus design will have you feeling as if you're right at home in South Florida as many lakes were dug and the fill used to build mounding (albeit low-profile mounding) much as you would find on the courses there. The differences at the Santa Maria Golf & Country Club is that it is fiercely private, you will enjoy a high level of service, and the golf course is immaculately groomed. Not only must you be a property owner to belong, but you must also pay a rather hefty initiation to join. (Only Members and their guests along with guests of the on-site hotel will be admitted to play.)
This flat golf course was a bit different than the many dozens of Nicklaus layouts I've played. First, the look, feel, and challenge off many of the tees is much more benign with muted features in the way of mounding or bunkers, and it provides generous bailout areas – very playable. Nicklaus, however, then steps up the challenge with well-guarded greensites. These may include not only bold, imposing bunkering, but also mounded surrounds and grassy swales complicated by busily contoured putting surfaces with nary an easy putt. If Nicklaus wanted to speed up play off the tee, he certainly brought that to a halt around the greens.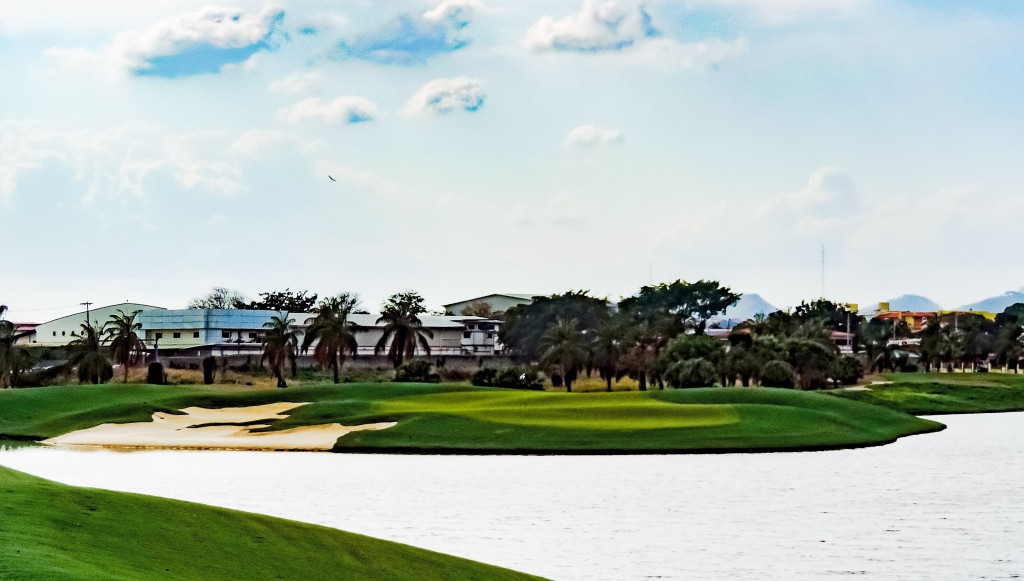 It almost appears that thousands of crocodiles were buried beneath these greens. Note the ridges and sharp terraces as Nicklaus built more than enough challenge into these fast, smooth putting surfaces.  (Photo by Robert S. Fagan)
Playing among the housing and residential towers, virtually not walkable, and bisected by the busy, noisy Pan American Highway, the ambiance suffers in spots; and windy conditions will definitely up the ante of all the challenges here at Santa Maria. Easily securing tee times and attentive service should be a given.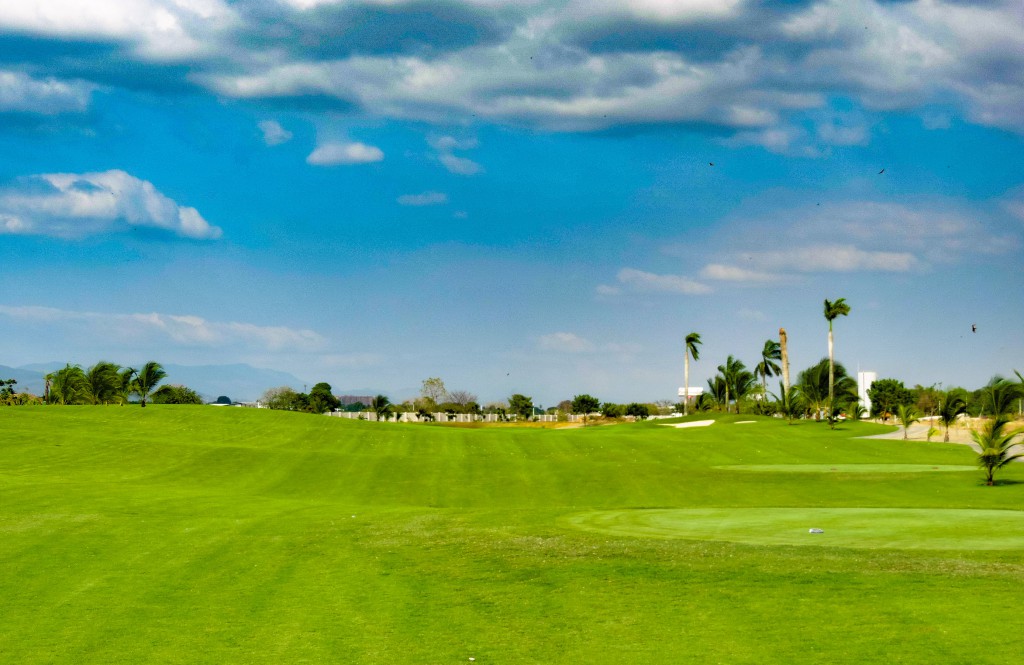 The first tee shot above features an almost lost, nondescript look not unlike the practice range to its left. That is contrast by much better defined challenges later in the round as shown below.  (Photos by Robert S. Fagan)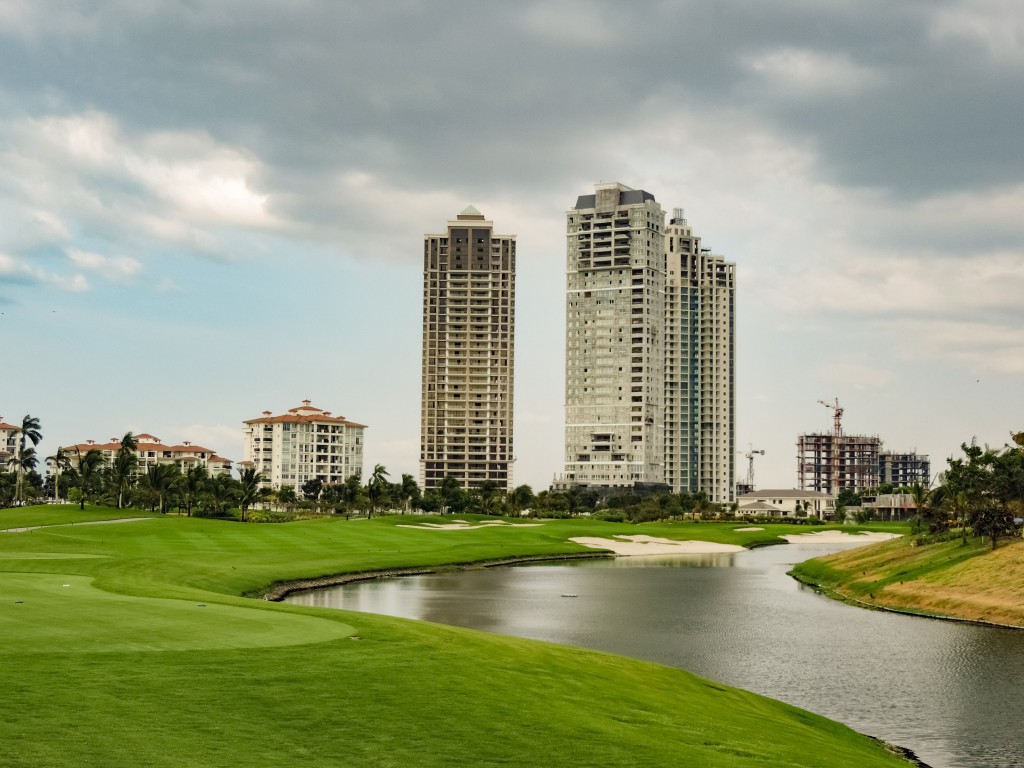 Potential real estate buyers will enjoy a wide array of lifestyle options and resort-style amenities. Large estate lots and residences fronting the fairways and lakes will co-exist with luxurious condominium and townhouse units located in the vibrant and unique town center and the lakefront villages. Santa Maria Golf & Country Club looks to set a new standard for the development of luxury residential communities and excellent golf service in Panama.
Even the more subtly contoured greens feature some treachery as illustrated here on the yet-to-be developed southwest side of the property.  (Photo by Robert S. Fagan)