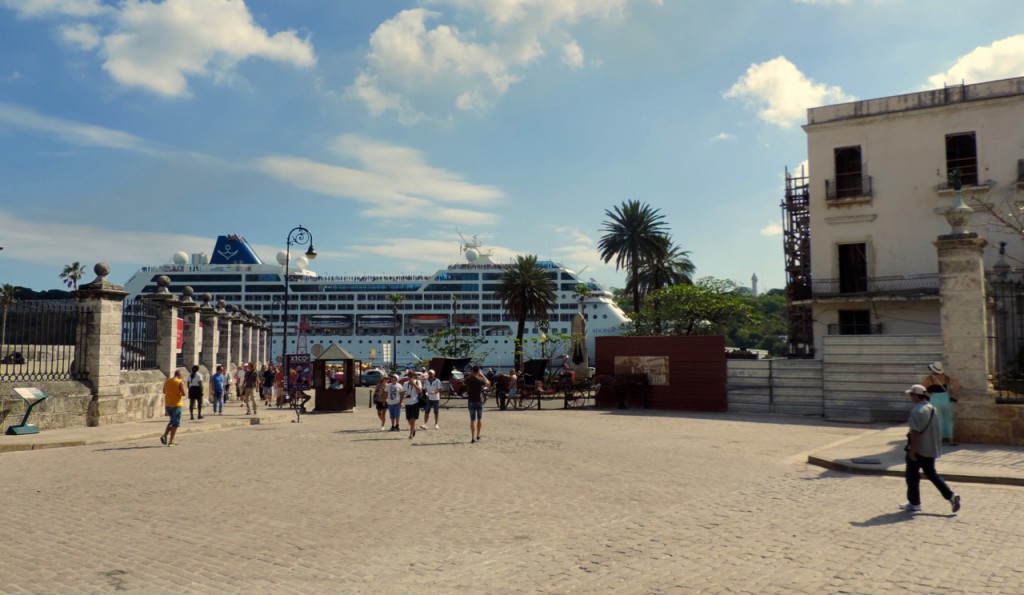 In May of 2016, the first cruise ship carrying American citizens arrived in Havana (above) as President Obama lifted trade sanctions normalizing relations. Everyone is wondering how it will affect the Cubans, but in the meantime, so very much has to be done before Cuba is a comfortable destination by American standards. (Photo by Robert S. Fagan)
Did you know that President John F. Kennedy stocked up on 1,200 of the famous Cuban cigars before imposing the 1962 embargo? Well, that's not too important, but there are a host of things you should, but like me and most may not already know about traveling to Cuba.
Beginning in 2016, more United States citizens began enjoying traveling to Cuba. It's a wonderful opportunity, but be warned, it's different from what you have or will experience in many other countries, especially in the Caribbean. What you will find discover is a beautiful people with much Spanish and African heritage, a rich and diverse culture in the arts and music, and an infrastructure sadly well past the point of quick repair. In short, a complete overall is needed to accommodate the anticipated influx of Americans anxious to see the long-time off-limits neighbor, and there are many conveniences you have grown to expect, but will not find. Here are 37 essentials that I have learned about traveling and staying in Cuba.
(1)  US Dollars and American credit cards are of no use in Cuba. You must be prepared to pay all your expenses in Cuban Convertible Pesos. Expect to pay a 12% conversion tax when converting to the Cuban currency and another 12% tax when converting back. Many hotels will be equipped to handle this for you, but be sure to check that they are not charging you more than 12%. It's best to carry only a few days of planned expenses/purchases and convert as needed. Convert too much and the 24% tax will bite you. (Travelers checks are also not accepted in Cuba.)
(2)  While you may be lucky to find a toilet seat in the better hotel rooms, don't expect them in public and even the best hotels will periodically run out of toilet paper so bring an extra roll with you as you enter and travel. Also plan to tip the attendant whenever you use a public bathroom.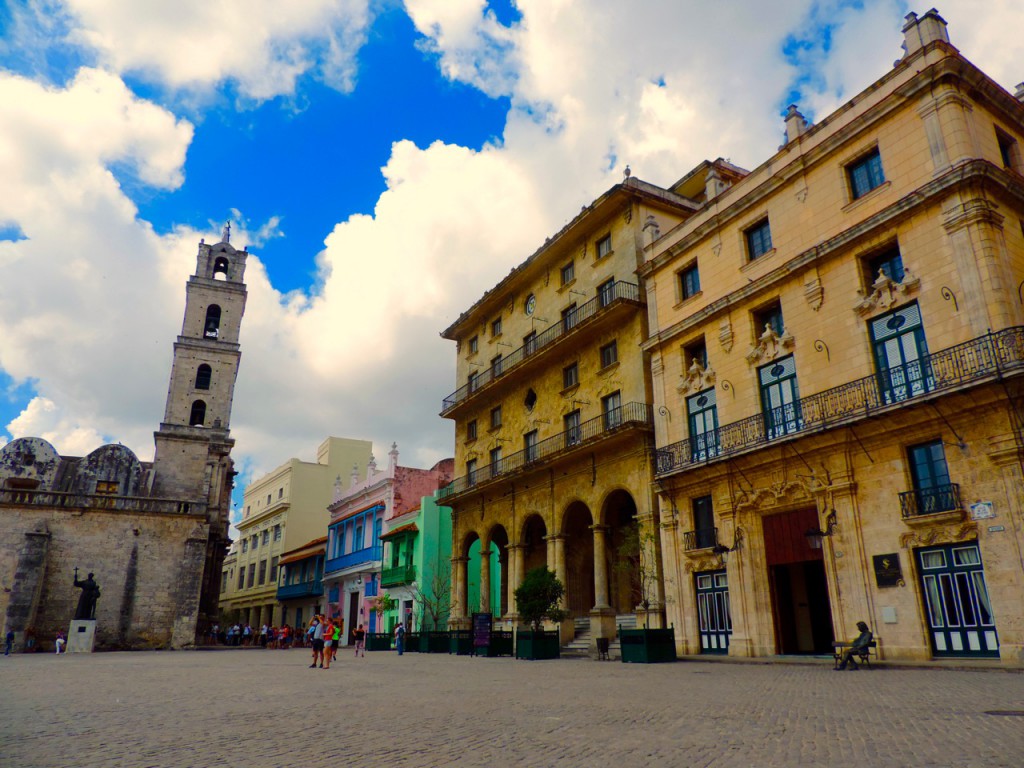 Majestic old churches usually are the centerpieces of the engaging colonial town squares in Havana (above and below). (Photos by Robert S. Fagan)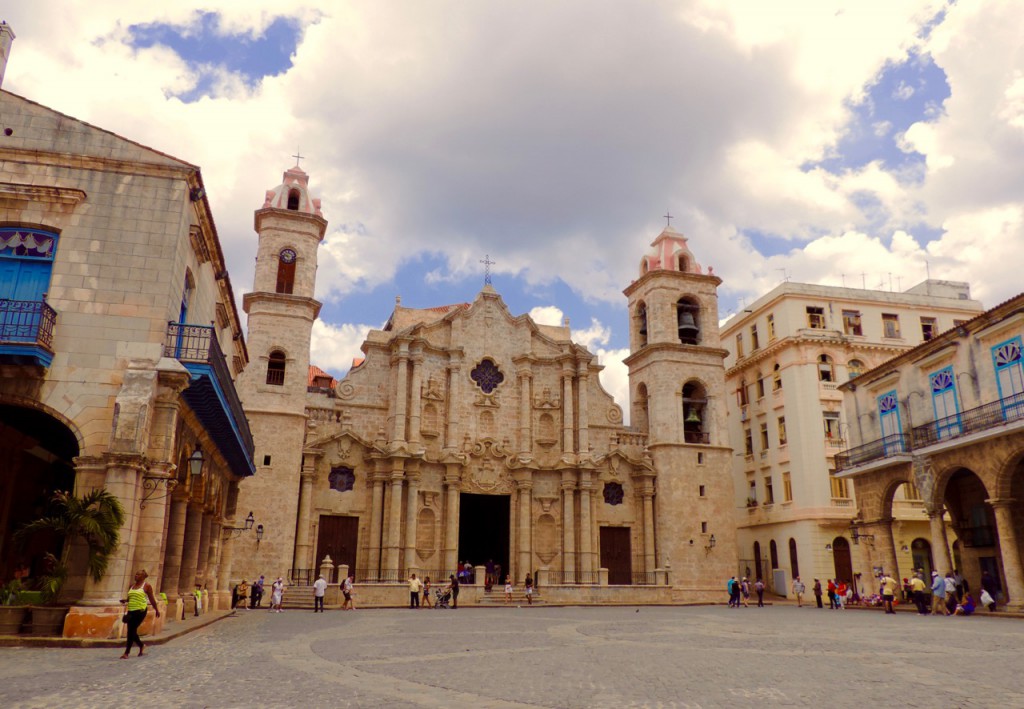 (3)  Bring handwipes with you as well as any other toiletries, sunblock, camera batteries, tampons, and medicines, because replacements may either be difficult or impossible to locate in some areas. Also be sure to include anything you might want to nibble on.
(4)  Stick to bottled water. While some hotels may be safe, the entire sanitary infrastructure is so suspect that anyone prone to a queasy stomach while using tap water to brush their teeth or drink may be in for an unpleasant time. Shopping can be a challenge, even securing water so bring your necessities with you.
(5)  Travel light and it is a nice gesture to leave nonessential clothes or other sundry items in your hotel with a signed and dated note thanking the help (so management doesn't confuse their help with stealing). The Cubans have worked hard to simply survive and such items can go a long way to make their lives just a little brighter.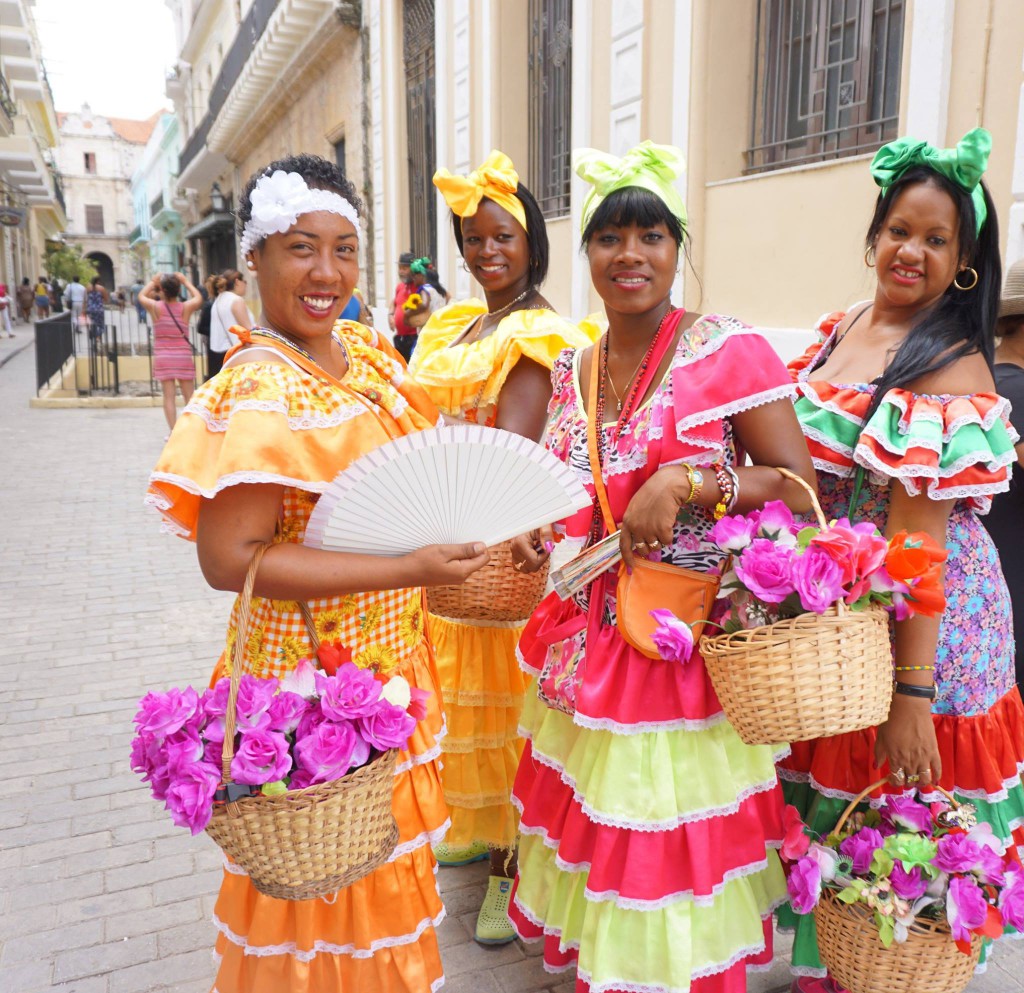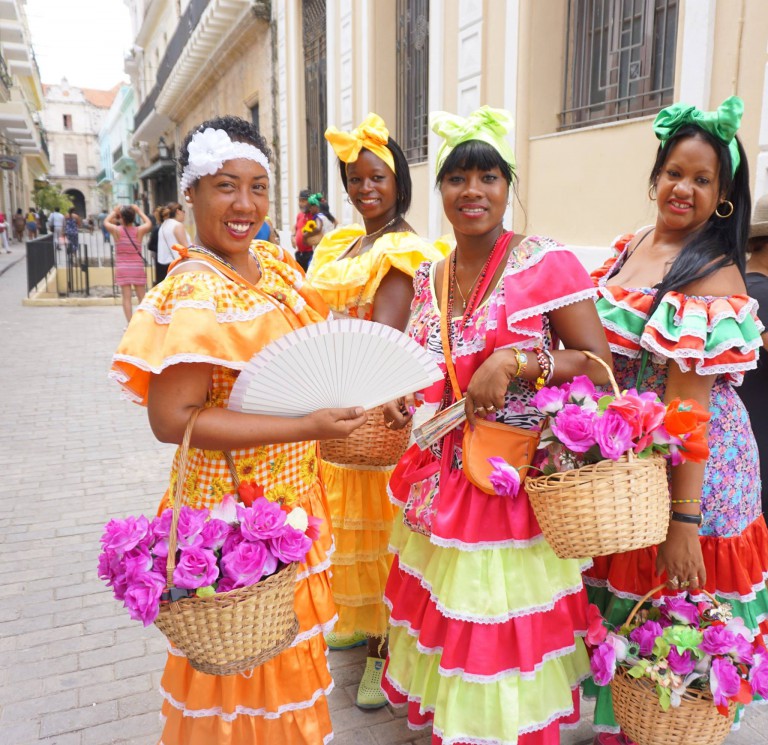 These colorful Cuban women are all dressed up for you to take their pictures – for a fee. Everyone is hustling in some way just to survive. Below, school children were found dressed nicely in uniforms. Interestingly, the pavement they are walking on is made of wood so in earlier times, the horse and carriages would not make so much noise. (Both photos courtesy of Sandra G. Lipkowitz of We Make Travel Easy)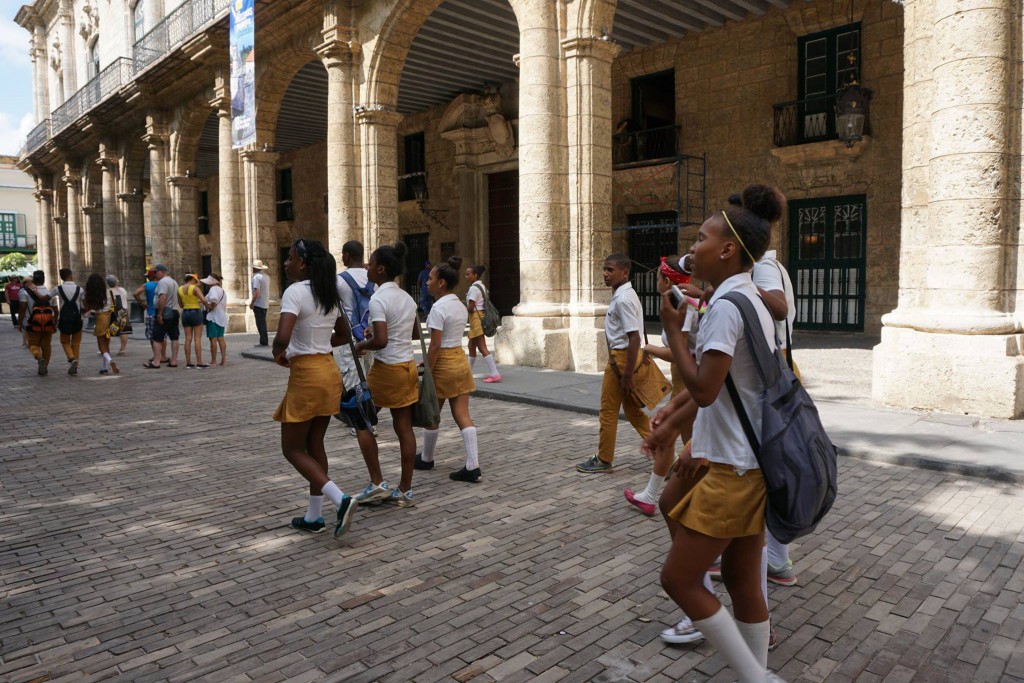 (6)  Forget using the Internet. Consider your stay in Cuba to be an Internet detox. It's unreliable and the few hotels that have wi-fi charge a dear price. Instead, download any important items or guidebooks before you leave the States.
(7)  Don't ask the Cuban people about politics unless you both have established a personal relationship and are in private. Cuba still goes to great length to quiet dissent and control its image, and asking them about their leaders or government puts folks in a very uncomfortable position. Neighbors are encouraged to tell on those speaking badly of the State. And in the same vein, if you don't approve of the Castro brothers, their government, etc., keep your opinions to yourself.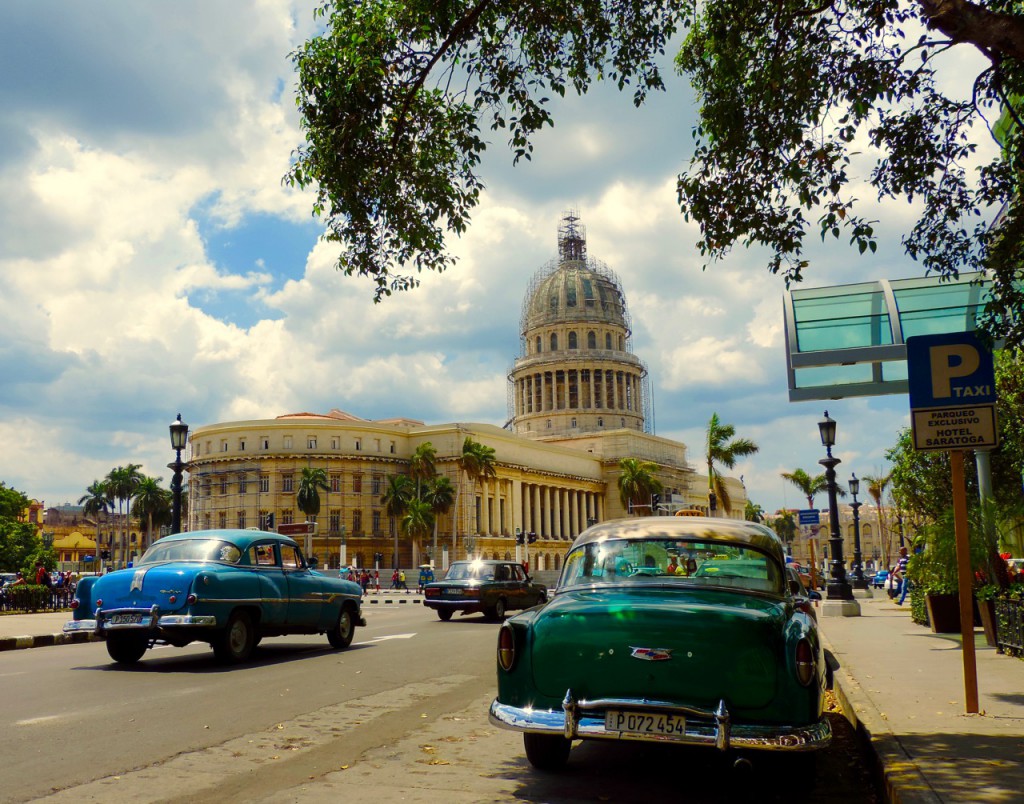 Cuba's Capitol Building is patterned after the American one. Unfortunately on the backside of the edifice, the buildings are dilapidated as shown below. (Photos by Robert S. Fagan)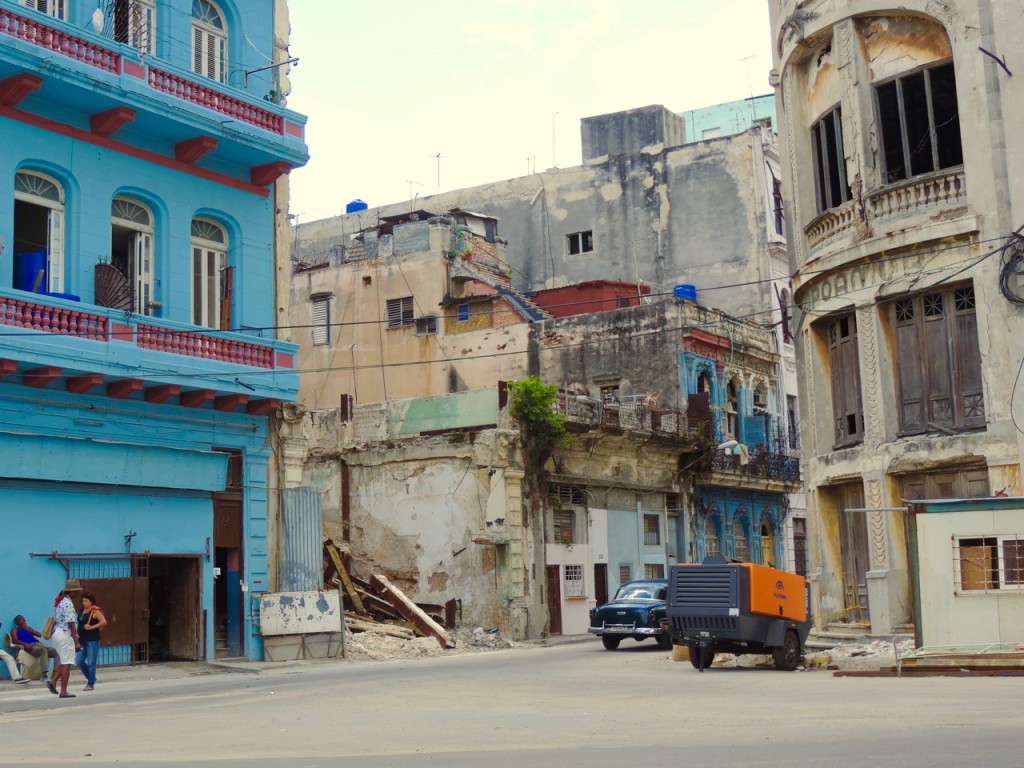 (8)  Leave your marijuana at home. While many Americans are becoming more relaxed in their use of marijuana, the Cuban government still takes a strict stand against it. This is not to say that Cuba is not without drugs or drug problems, but you create terrible problems for yourself if you get caught. Cuba is concerned that it has become a drug route to Europe and anyone offering you something may be an undercover cop.
(9)  Watch your step. I mean this is both a literal and figurative way. Safety and things like OSHA safety regulations simply don't exist. Many sidewalks are dimly lit and deep holes of several feet are not roped off. Pavements are broken. Someone not paying attention can seriously injure themselves. Like anywhere else, beware of pick-pockets and especially guard your purses and cameras. Otherwise, the tourist sections of Havana are safe to walk at night with police typically stationed throughout – probably the safest place for tourists in Latin America!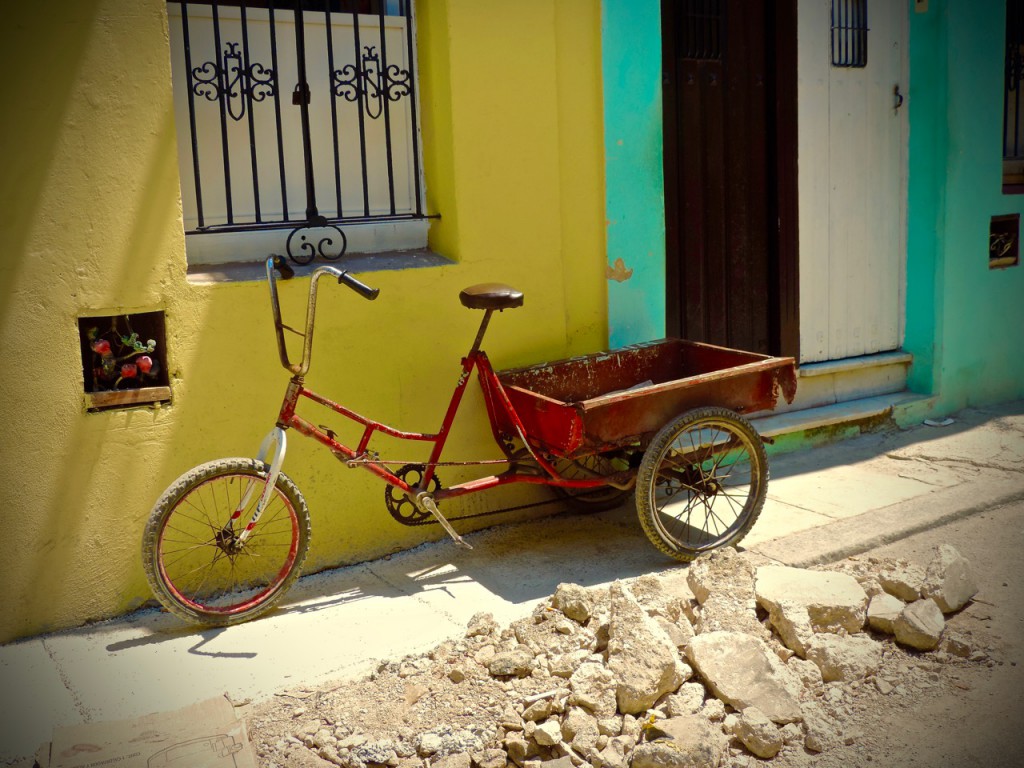 (Photo by Robert S. Fagan)
(10)  Stay "cool" on the streets. Americans stand out and you will inevitably get constant attention from the jineteros or street hustlers. Act, sound, and look disinterested and they will eventually leave you alone. And by all means, don't buy the cigars for they ARE fake. Should they offer to take you to a restaurant, just be aware that their commission will be added to your bill. And when someone says, "Hello my friend, where are you from?" keep walking as scams are common.
(11)  When it comes to protecting tourists and travelers on the street, Cuban Police are very effective and NOT corrupt (especially in comparison to other Latin American countries). In all other matters, however, like filing out paperwork for a lost passport, or a crashed rental car, put all your plans aside and expect mind-numbing hours of delay. Never try to bribe a Cuban cop. Period.
(12)  Watch your change. There are two Cuban currencies. The one you want is the "Cuban Convertible Peso" (CUC)  and make certain that when you pay in the convertible, your change is in the same. Otherwise, you've been hustled as the Cuban National Peso (CUP) is 24-times less valuable.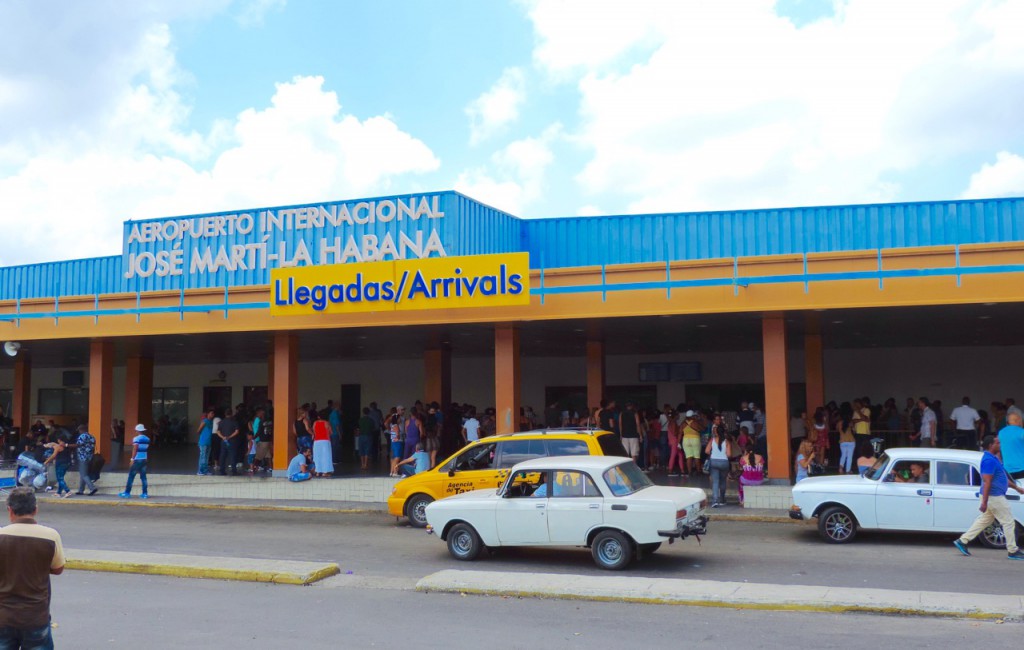 The Havana International Airport is clean and relatively modern, but no larger that a small regional airport in the United States. Below is the entire waiting area for the airport's two gates. (Photos by Robert S. Fagan)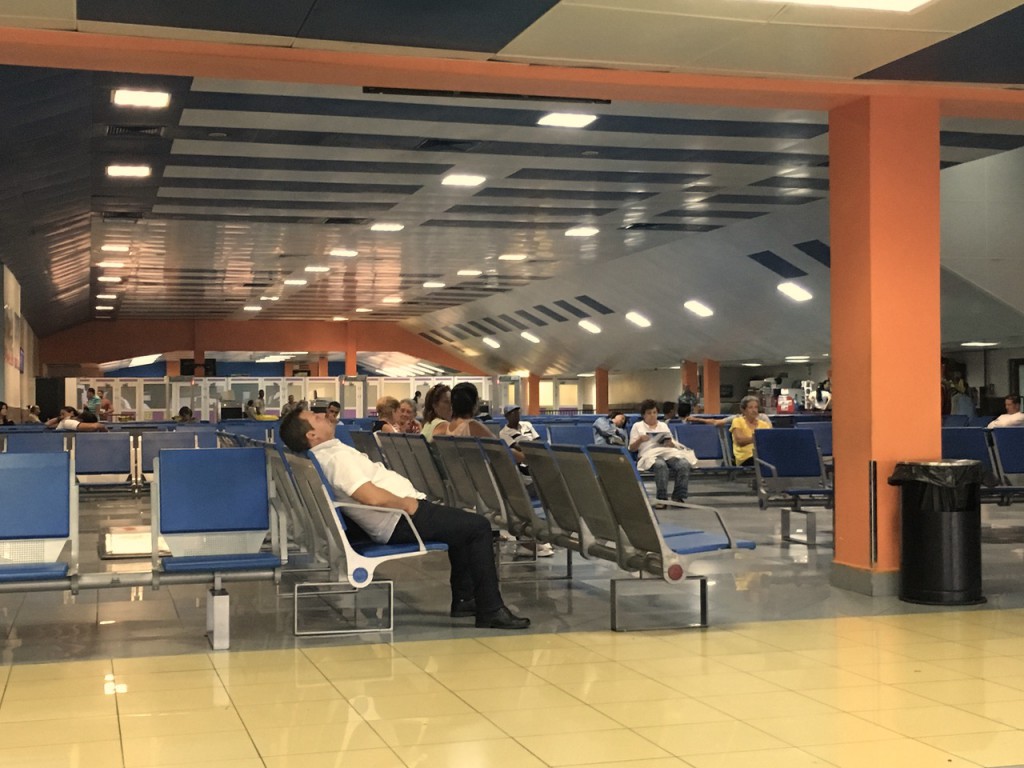 (13)  Eat out in the paladars, the privately owned restaurants. Cuba's reputation for the same, unimaginative, mono-flavored cooking wherever you went was largely deserved until a few years ago when regulations allowed for these establishments. Since, a host of sleeping chefs and restaurateurs have now awoken from their enforced slumber and unleashed a wave of mouth-watering menus and creatively-designed venues.
(14)  Prostitution is rampant in Cuba as even physicians must have other jobs to subsist. Cuba is a third-world country in most facets so act accordingly. The average monthly pay is $18 while college grads may garner $39 and the top physicians get $69. Considering that a bare-boned one-bedroom apartment costs $100 in Havana, they have to make up the differences somehow, so your guides and drivers depend on tips. (One of our guides happened to be one of Cuba's elite architects.)
(15)  Reserve $25 USD for your departure tax from Cuba. Some airlines have bundled it into their fee, but some have not so check and be prepared!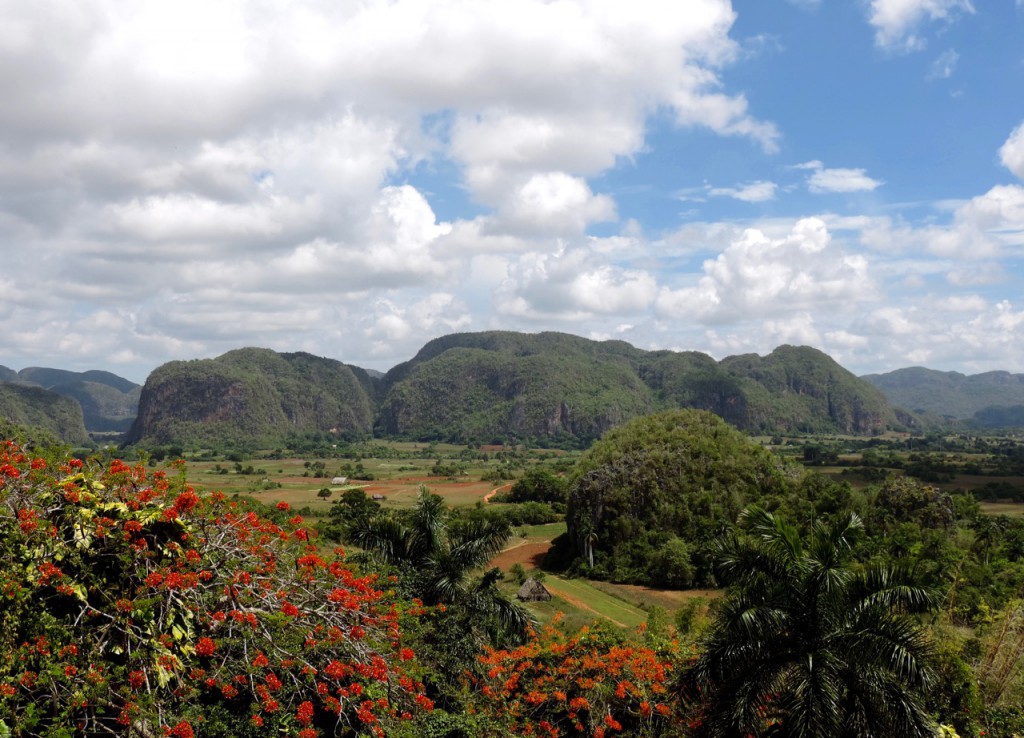 Cuba features some breathtakingly beautiful tropical terrain. (Photo by Robert S. Fagan)
(16)  Take out travel insurance. Typically I have not done so, but your American credit cards and health insurance plans will be worthless in Cuba. Contrary to some reports, most of the hospitals in Cuba don't have the services you'd expect. Some even lack bandages, soap, and sanitary supplies so being airlifted home might be essential.
(17)  You may want to bring soap to wash your clothing in your rooms as it is hot and humid and hotel laundry is not reliable if available.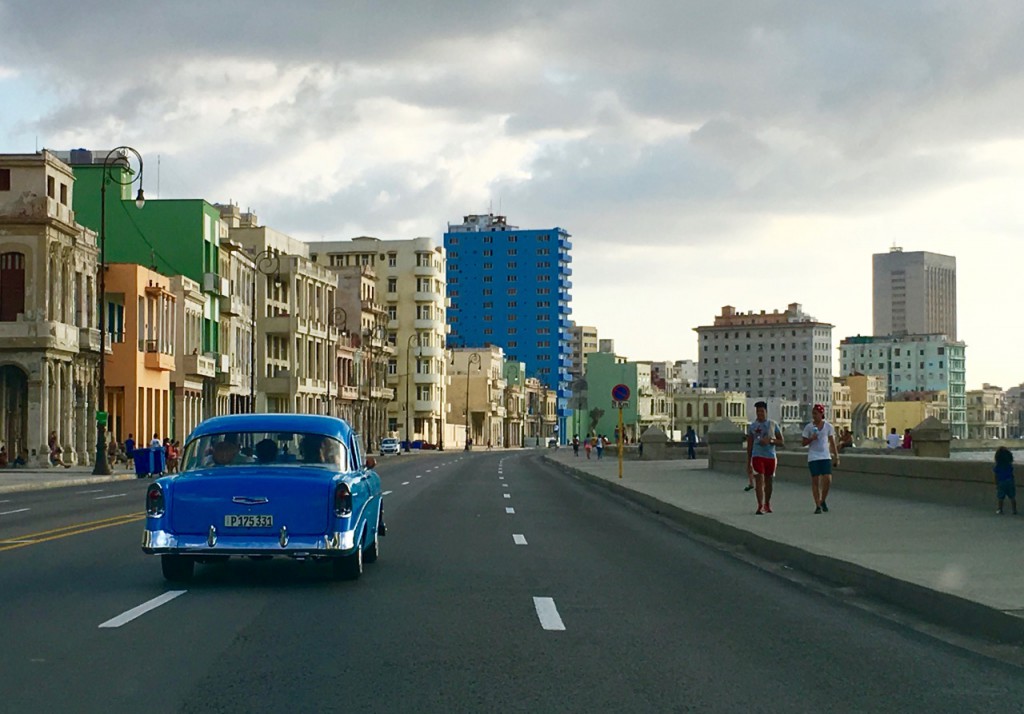 As you can see, Cuba and Havana, in particular, is a vibrant, colorful city and the drive along the sea wall is among the best! (Photo by Robert S. Fagan)
(18)  If you are a golfer, there is one 18-hole golf course about a 150-minute drive east of Havana called the Varadero Golf Club. Built on the former DuPont Estate, a 9-hole layout was gutted by Canadian golf course architect Les Furber in 1996 to make for an attractive 18-hole layout, flat with small lakes, attractive bunkering, and punctuated with palms, much as if it belonged in South Florida. Two holes adjoin the ocean. (By the way, the golf course and its immediate surrounding development are like being in another country and bear no resemblance whatsoever to the rest of Cuba. It is estimated that fewer than 300 Cubans play golf and many of them are the workers at this course.) Green fees including a golf cart at the time of my visit were a very resonable $70 Cuban pesos. Bring a full supply of balls and tees!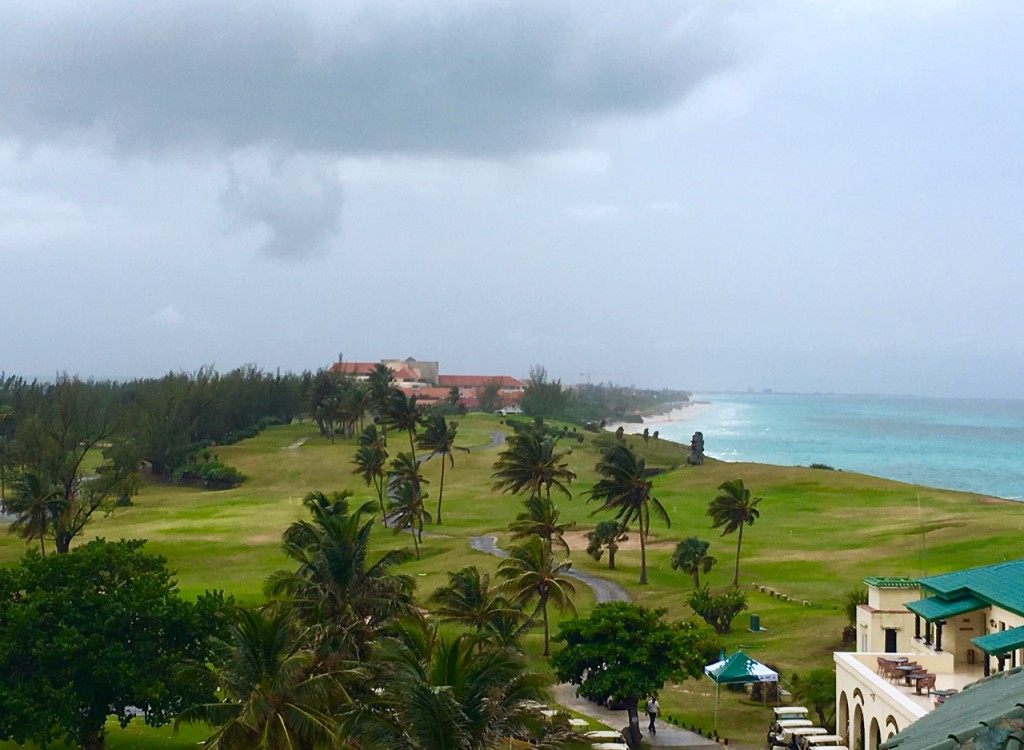 The Varadero Golf Club finishing holes as seen from the top of its clubhouse. (Photo by Robert S. Fagan)
(19)  Do search out the better Havana hotel lobbies for some wonderful music of all venues.
(20)  Here was a surprise to me… Don't blow your nose in public. Cubans consider public nose blowing to be extremely rude. If you have a cold or allergies, it's best to excuse yourself and take care of things in private. Ditto for spitting in the streets, something most civilized people find disdainful, but you see casually tolerated in many places.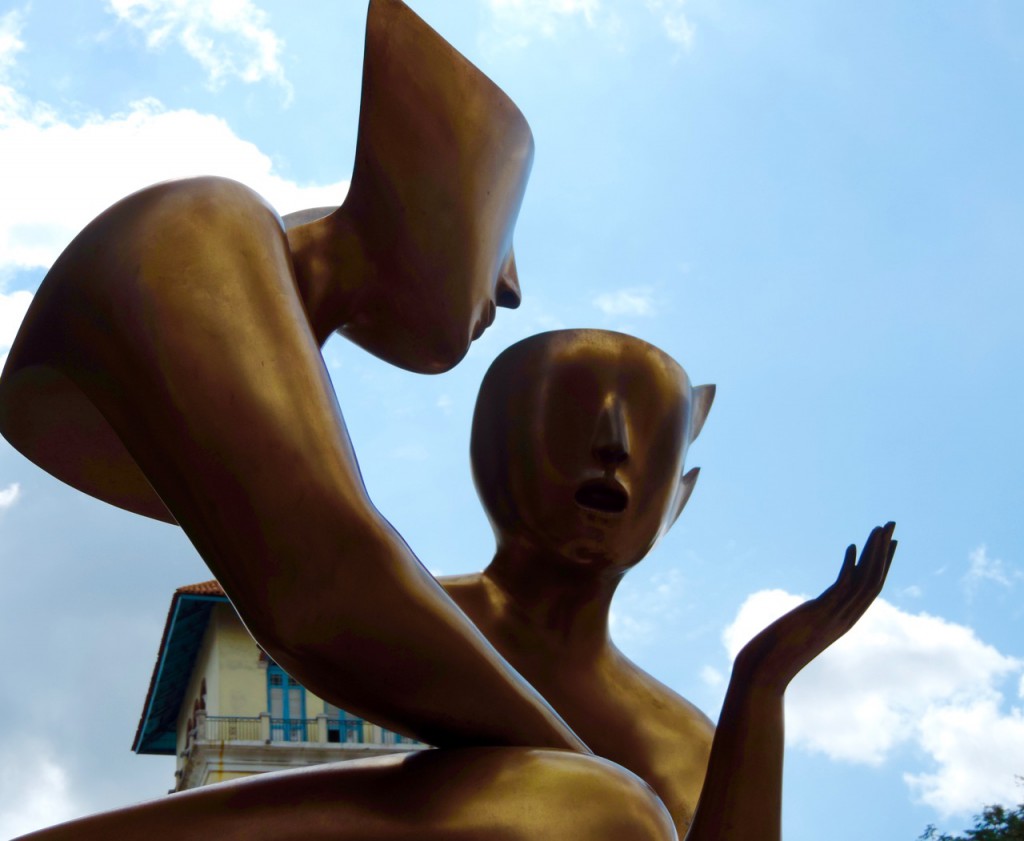 Fantastic art abounds all around Havana and I would highly recommend anyone spend at least half a day in the Museum of Art (below). (Both photos by Robert S. Fagan)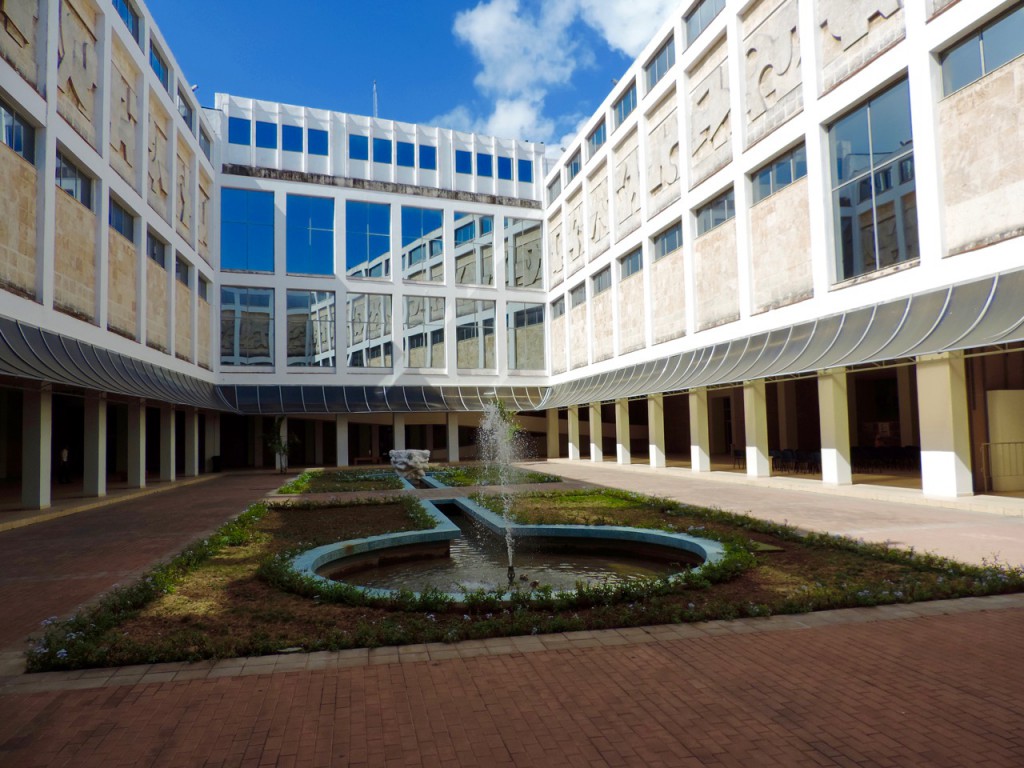 (21)  Electrical outlets are the U.S. two-pronged so converters are not necessary.
(22)  Do not flush down your toilet paper or sanitary waste as it may clog their system. Rather place your waste in the adjoining receptacles.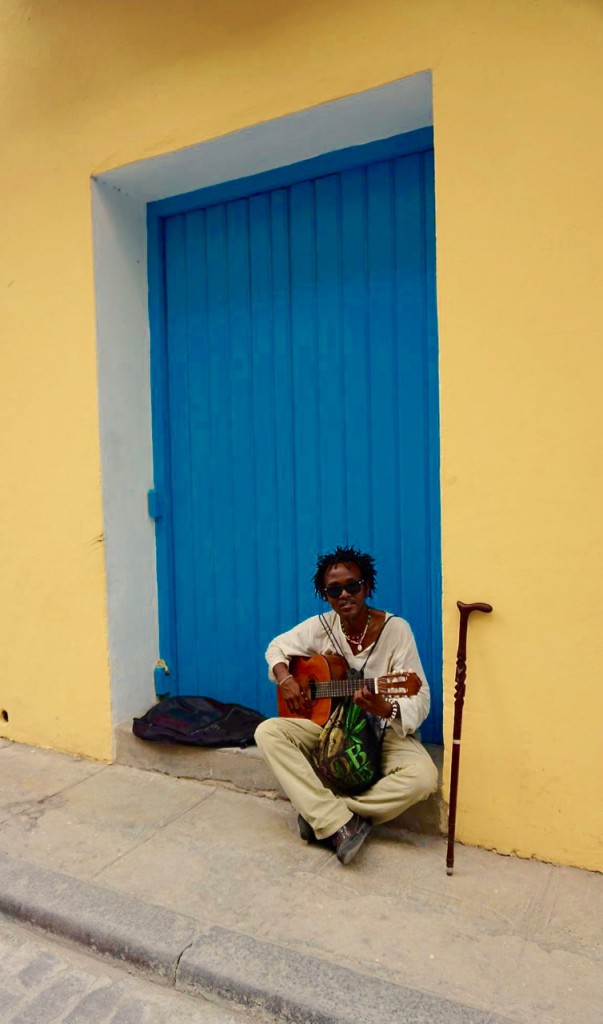 I was told and witnessed time and again that the Cubans don't earn enough to enjoy their own country – only the tourists do. For instance, of the 100 million handmade cigars produced annually, only 3% are consumed by Cubans – too expensive. They remain happy and friendly just the same. This street musician simply played for the enjoyment. (Photo courtesy of Sandra G. Lipkowitz of We Make Travel Easy)
(23)  Leave your fancy clothes, accessories, and jewelry at home. Cuba is a very, very poor country and the government has blamed the US Embargo for their shortcomings, and been known for depriving most natives of food, cars, and other basic essentials often taken for granted in the U.S. You will look like a jerk if you are walking around dressed in a designer fashions and an Apple iWatch. There are no reasons to rub their noses in our extraneous wealth.
(24)  Havana is a very walkable city. While it may take a little longer, you're bound to capture the best sights, and there are photographic opportunities galore, but just be prepared to perspire.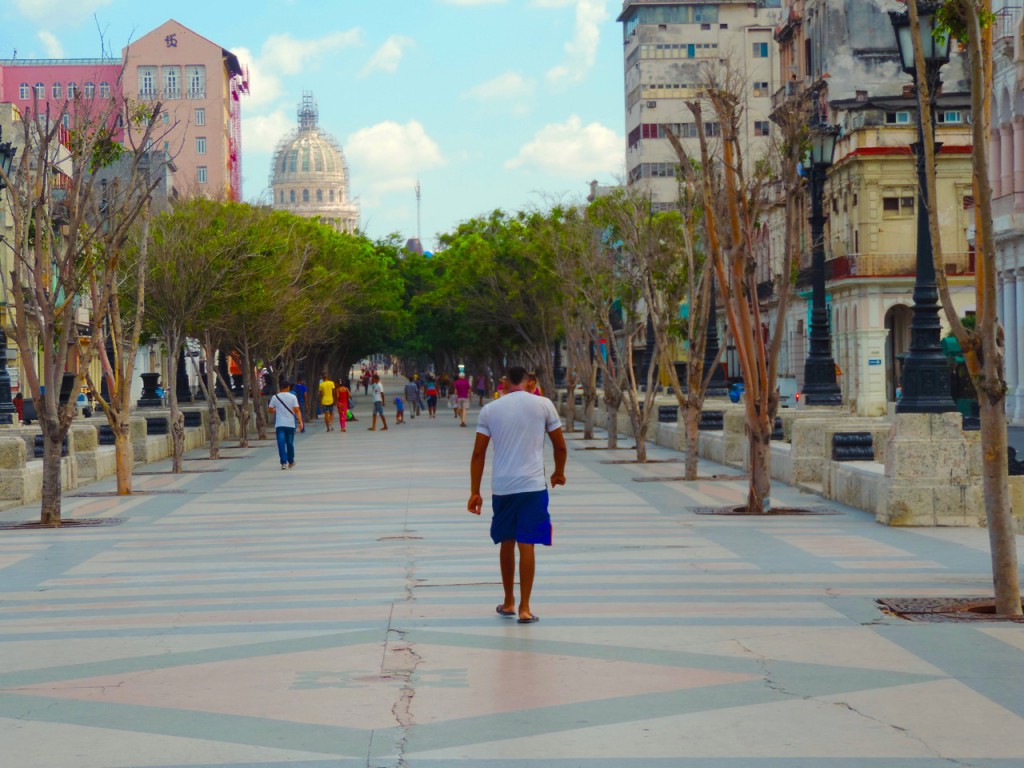 The tee-lined promenade from the sea to the Capitol Building is an easy walk you may enjoy. (Photo by Robert S. Fagan)
(25)  When buying, remember that haggling and bartering are often regularly accepted.
(26)  Book your hotels early. Lodging of any sort is very, very scarce and it is not uncommon to find Americans sleeping in taxis or worse should they not have prepared in advance.
(27)  Don't expect any beach in Havana. Rather this metropolitan area is fortified by seawalls and rocks.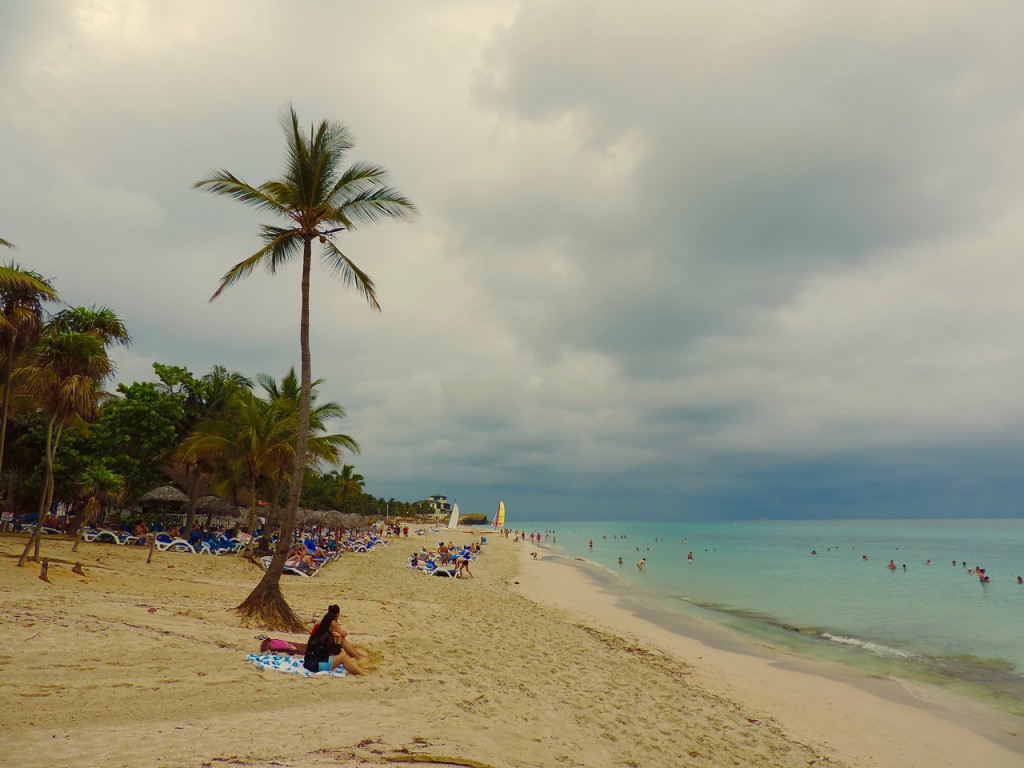 The closest beach to Havana is about 2.5 hours to the East and is populated almost exclusively by foreign tourists. (Photo by Robert S. Fagan)
(28)  Consider staying in a Casa Particular (a Cuban B&B) Generally, the hotels in Cuba are over-priced for the quality of the accommodations, and seldom reach the standards to which U.S. travelers are accustomed. Instead, stay in a licensed Casa Particular which is privately owned and operated by Cubans.
(29)  You will marvel at the classic American cars from the fifties. They are meticulously maintained and used principally as taxis – of which more than half are reportedly government owned. The incredible part is how they are able to be maintained without legal access to spare parts.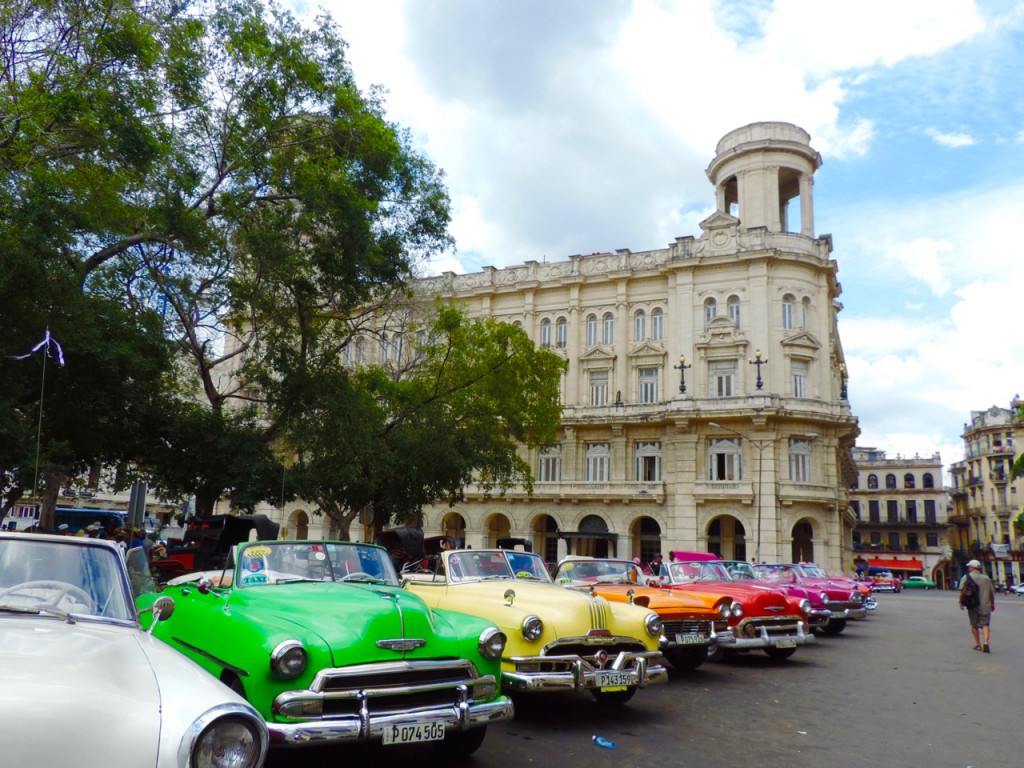 The above photo by Robert S. Fagan and the below photo is courtesy of Sandra G. Lipkowitz of We Make Travel Easy.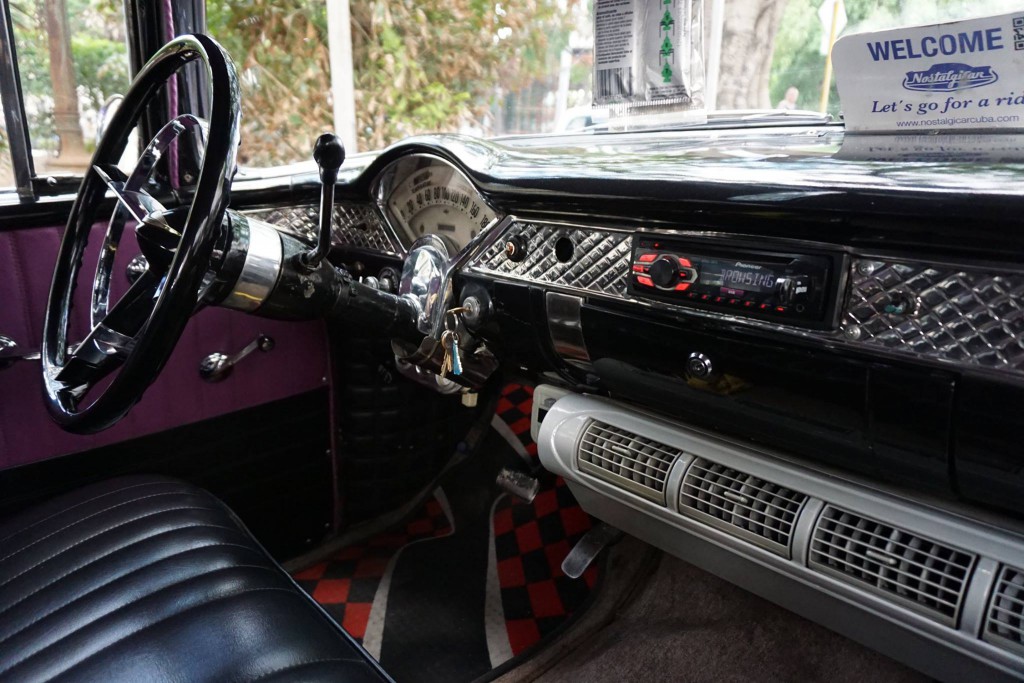 (30)  Travel is generally unrestricted throughout Cuba, and you will find air-conditioned buses and taxis (including vintage American 1950 models with their set routes) your best option for exploring. Three-wheeled yellow "Coco taxis" and pedal cabs are fun for short distances, but agree on a rate in advance. Watch out for unlicensed taxis. They might be cheaper, but it's technically illegal to ride in them, and you may be setting yourself up for a scam or robbery. Of course, not all drivers are out to get you, but better to be safe than sorry.
(31)  Smuggling Cuban cigars or rum back into the United States is no longer necessary. Each person is allowed to bring back a total of $100 for alcohol and/or tobacco. Rum is typical cheap while the cigars are dear.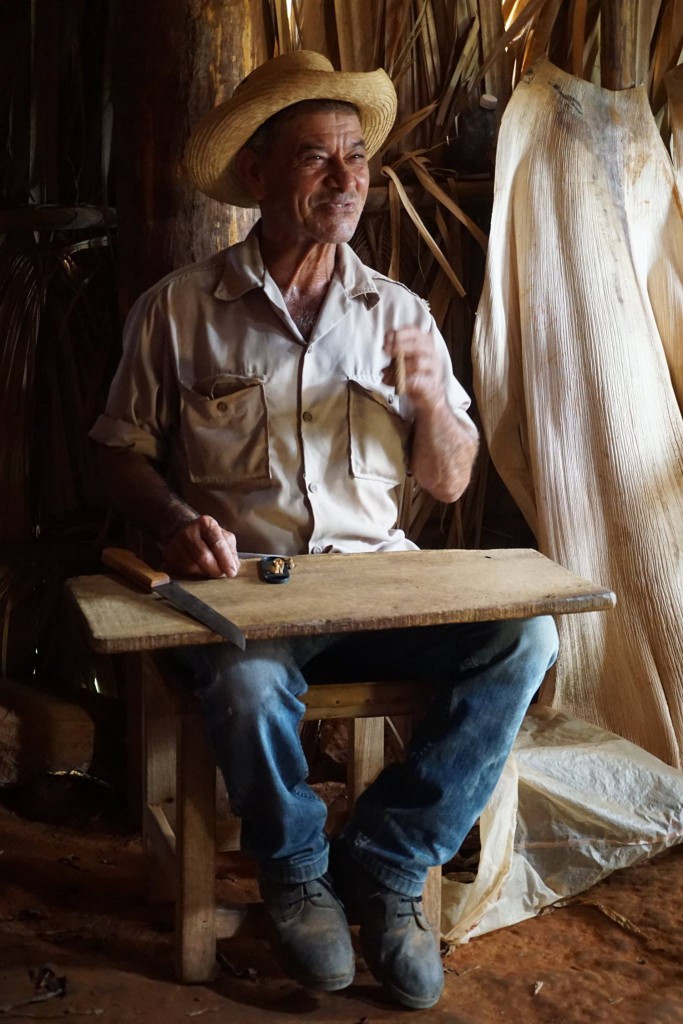 This tobacco farmer exudes the personality of many of the Cuban people. (Photo courtesy of Sandra G. Lipkowitz of We Make Travel Easy)
(32)  "Assistur" is a Cuban company that helps tourists in need. If you should be in trouble, you can call 24-hours per day (7) 33-8527, 33-8339, 57-1314, 57-1315. And if you hold a gold or platinum credit card issued by an American bank, your card-assistance program is accessible through them.
(33)  Consider hiring a "TOUR" before arriving in Cuba, especially for your first trip. While they may be a little more expensive, most will save you lots of headaches, hassles, and time. I did exactly that and chose Sandra G. Lipkowitz who contributed several photos to this article. Her company, "We Make Travel Easy" made a very busy and complicated schedule totally carefree for me thus allowing me to safely and more easily enjoy so much in the relatively short time I had in Cuba. For more information, refer to:  Sandra (Sandy) Lipkowitz, info@WeMakeTravelEasy.com, (415) 931-1945, Member of the Gifted Travel Network.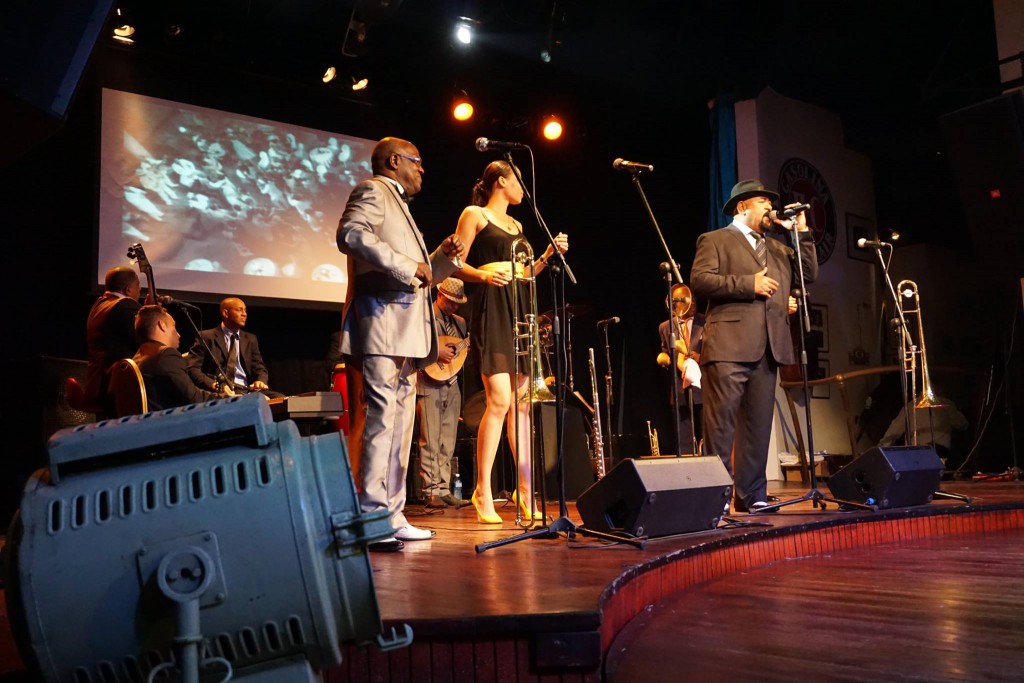 Cuba is rich in entertainment with talented musicians and dancers as illustrated by the Buena Vista Social Club (above) and the Tropicana (below). (Both pictures are courtesy of Sandra G. Lipkowitz of We Make Travel Easy)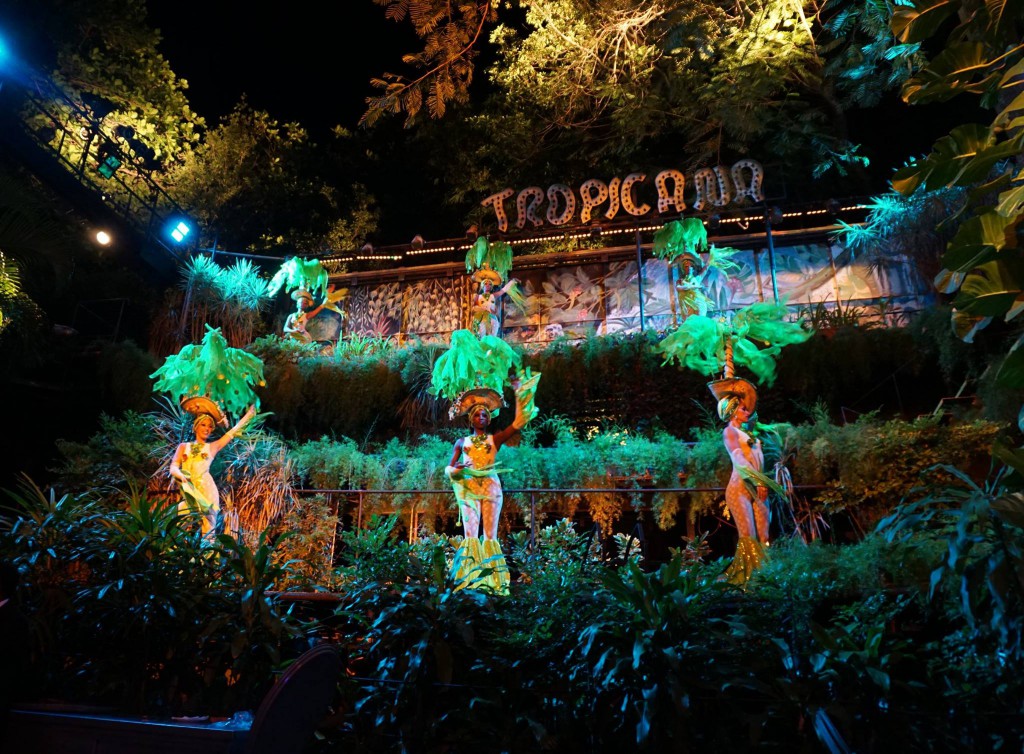 (34)  Be patient. Behind baseball, "waiting in lines" is the second most popular sport in Cuba (a joke). The slow gears of a socialist-run state paired with Cubans' natural slow pace of life makes for, at times, excruciating wait times.
(35)  Don't Order A Papaya Daiquiri… If you're in need of a refreshing beverage, order anything but a papaya daiquiri. Simply refrain from using the word papaya anywhere in Cuba, as it's actually a vulgar slang for "vagina." Many Cubans consider the word papaya to be very offensive; in fact the delicious fruit was renamed fruta bomba. So next time you're at a fruit stand there, call for a fruta bomba instead.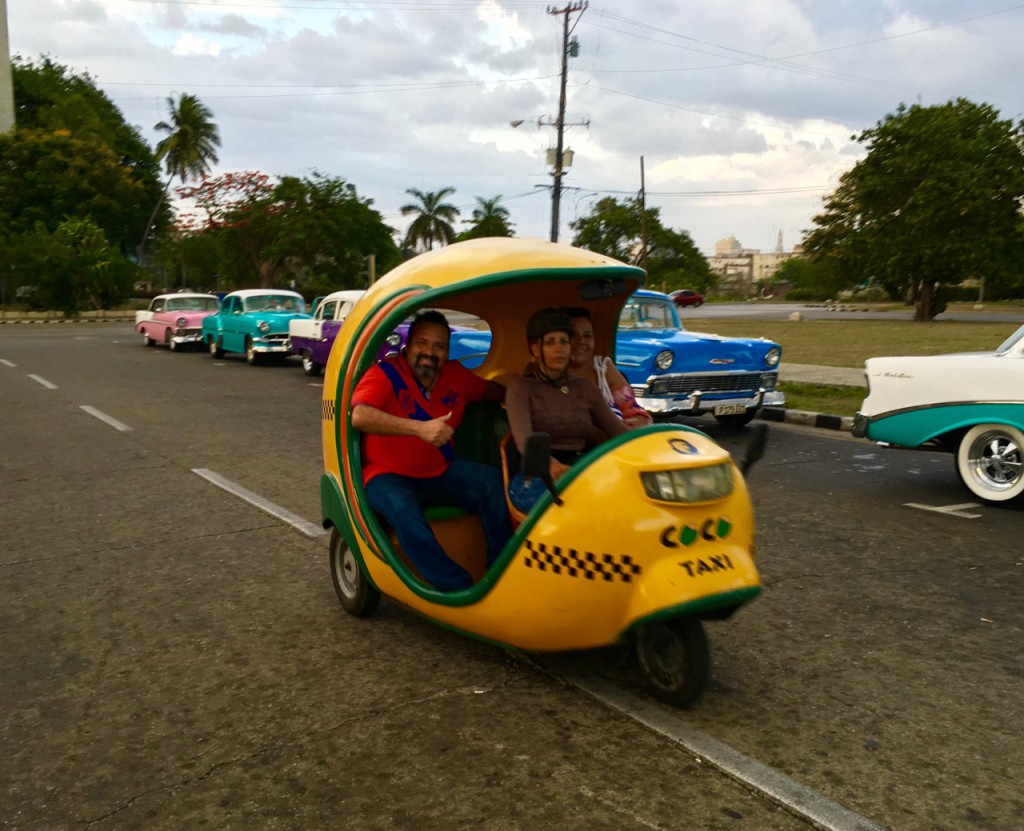 This tourist is obviously enjoying his ride in a "coco taxi," but remember to agree on the trip/fare ahead of time! (Photo by Robert S. Fagan)
(36)  Don't take pictures of police or soldiers. It's actually illegal to take a photograph of any military, police or airport personnel in Cuba. Enforcement of this law is erratic, but if you want to avoid speculation of spying or unpleasant interrogations from the authorities, just don't get snap-happy in front of these officials, or at the very least, ask them before you do.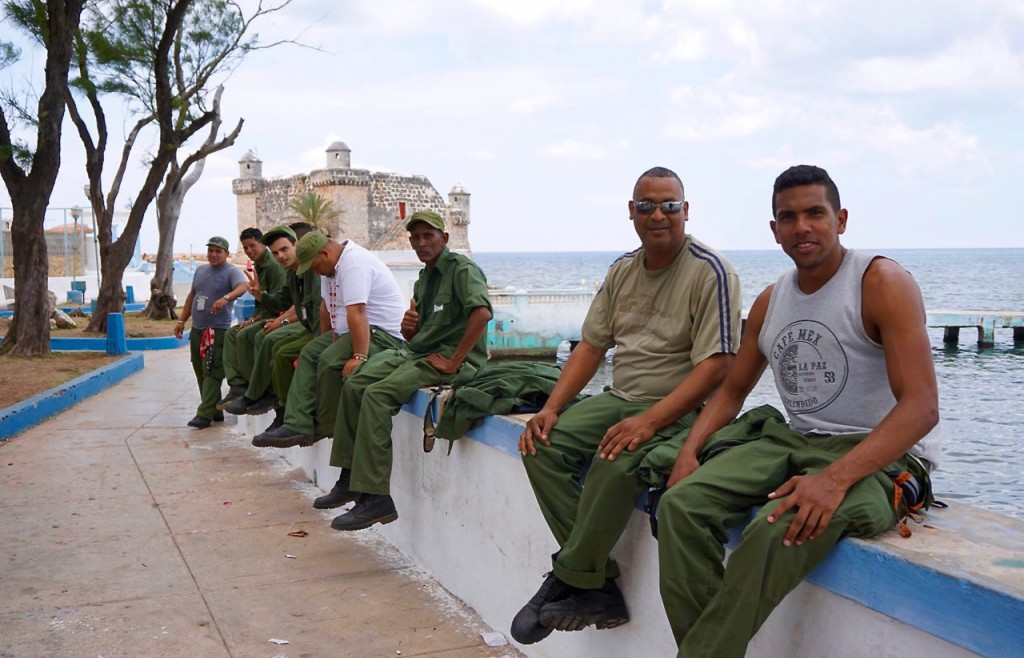 Guess what? My friend and tour guide, Sandy, actually snapped this photo, but I'm sure from the looks on their faces, she asked first. The point is that you will find the Cuban people everywhere friendly and willing to help you if you only greet them in the same manner with a smile. (Photo courtesy of Sandra G. Lipkowitz of We Make Travel Easy) 
(37)  Be relaxed and ready for anything when traveling and spending time in Cuba. As Fidel Castro himself has said,"Cuba is a land of dignified poverty." In time, this will hopefully change, but just not anytime soon.
The American and Cuba flags fly together – obviously a "welcome sign" for normalized relations that bode well for both tourists and the Cuban people, but there is much to be done. (Photo by Robert S. Fagan)