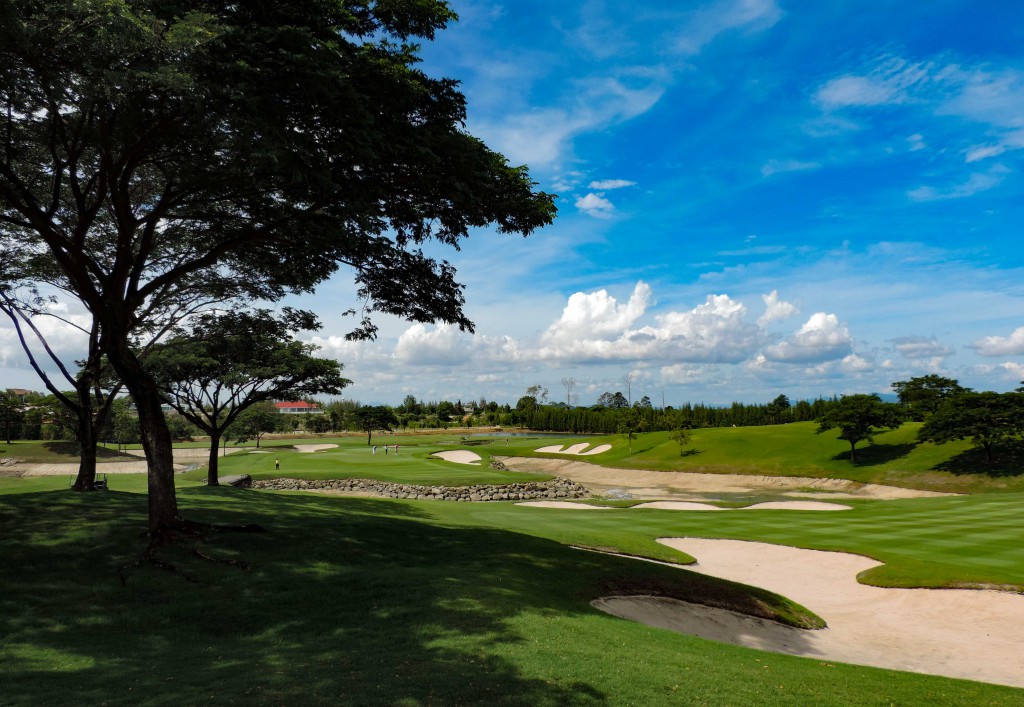 The Black Mountain Golf Club features all sorts of fun shots and beautify scenery making it one of Asia Pacific's premier golf courses. Above is the short par-four 3rd. (Photo by Robert S. Fagan)
The Black Mountain Golf Club situated just a short five-mile, twenty-five minute drive outside Hua Hin often gets mentioned as Thailand's best golf course. While I have played a few that I consider stellar competitors, I have no qualms with any who maintain that ranking.
Locally, Black Mountain will often be compared against the Banyan Golf Club of Hua Hin. About half of golfers prefer one course over the other and I must admit to being in a quandary myself as to the better or favorite. (See my review on the Banyan Golf Club at http://theaposition.com/robertfagan/golf/courses-and-travel/16015/course-review-banyan-golf-club-of-hua-hin-thailands-best)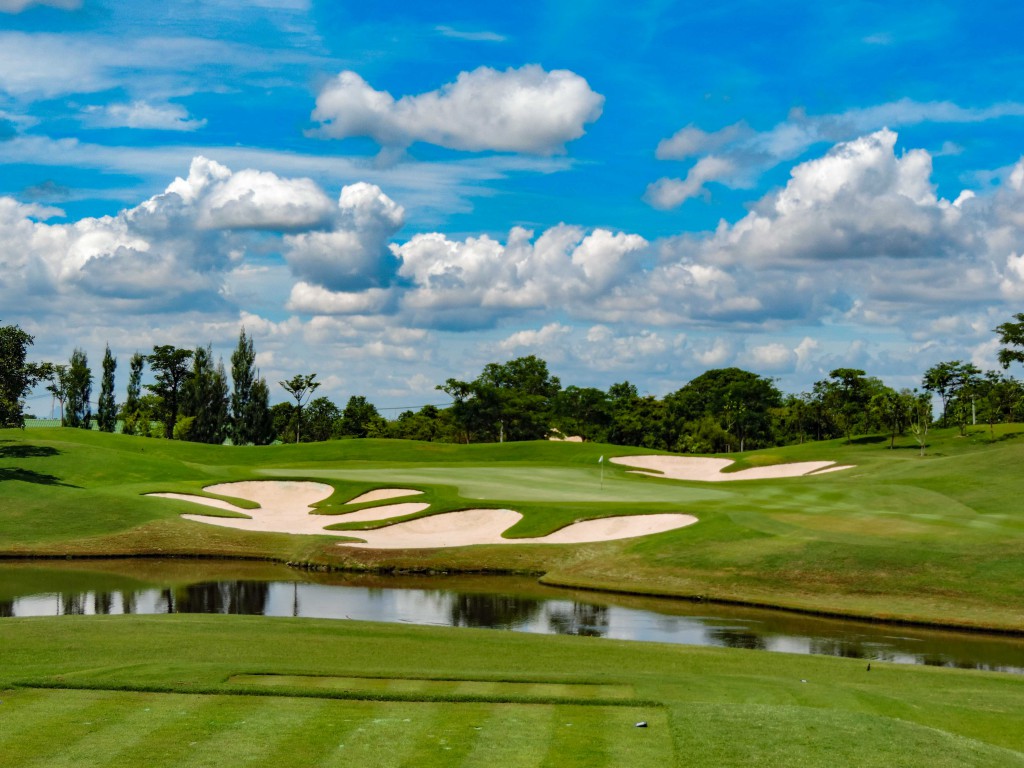 The bunkering is big and bold at Black Mountain as illustrated by the par-three 8th. (Photo by Robert S. Fagan) 
Black Mountain is a Swedish project founded, developed, and managed by Swedes. Since opening in 2007 through the foresight of Swede Stig Notlov, part of Black Mountain's notoriety is that it has hosted Asian PGA Tour events, and that some publications list it among their honored best course listings. At a whopping 7,591 yards, that dimension is also enough to catch some attention. Be that as it may, "great golf courses" involve much more than lengthy holes or hosting the pros. In fact, provided you play a more reasonable tee, Black Mountain is imminently playable, nicely conditioned, and features a nice variety of looks and challenges.
Situated in old pineapple fields atypically devoid of much rainfall or water, building the golf course was quite an ambitious undertaking. The finished product features a genuinely American look and feel with lots of water, mounding, and big, bold bunkering. The fairways are quite generous with the scale of everything also being oversized. Three man-made lakes dominate the look and challenge and their fill has created the manufacturing mounding that frames the holes. And while you will definitely notice that this is a real estate development, the housing only borders a few holes on this core design and is never intrusive.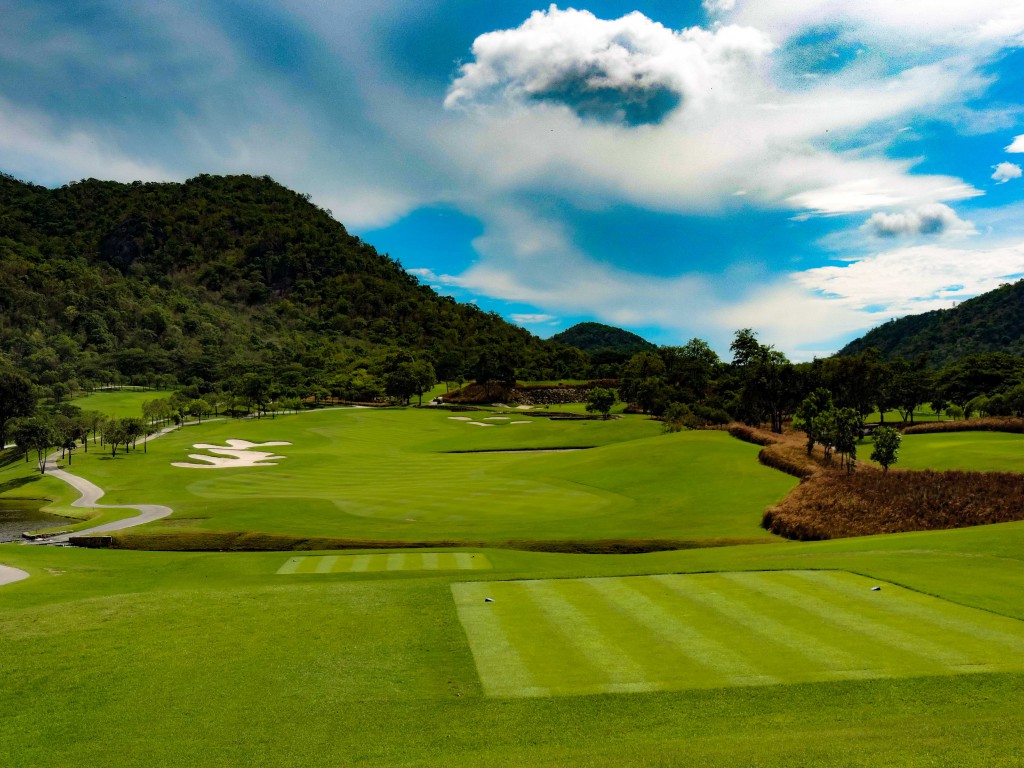 Both the tee shot (above) and the greensite (below) on the par-five second involve water that is both strategic and attractive. (Photos by Robert S. Fagan)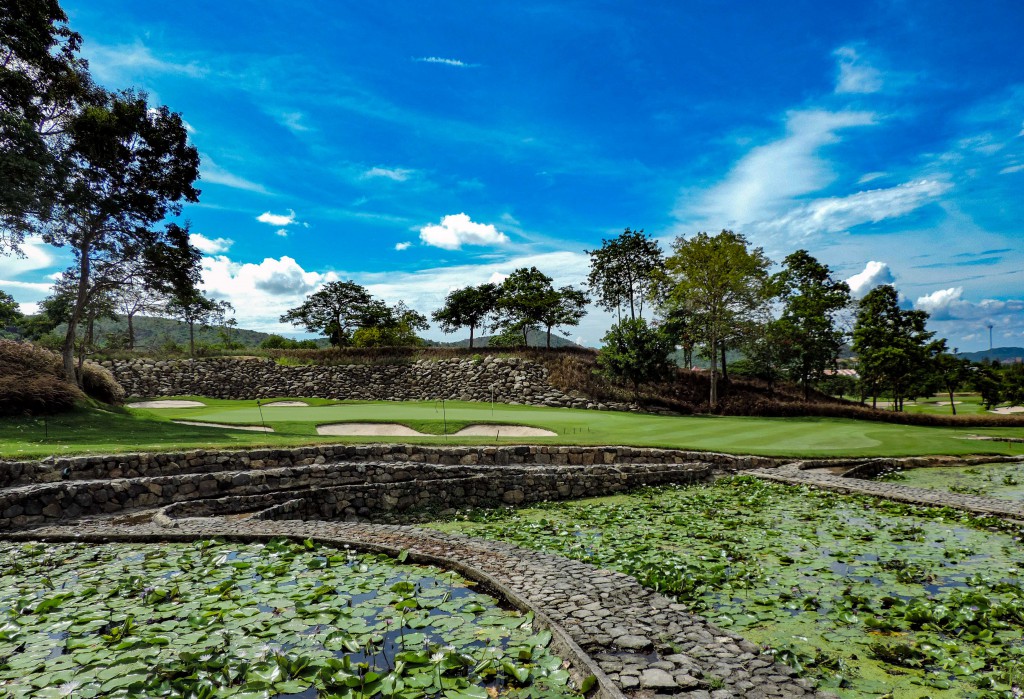 The par-fives, particularly the 2nd, 6th, and 13th all got my attention. Each is dramatically fashioned with water, sand, and elevation changes all thoughtfully coming into play. The 6th in particular offers some wonderful risk-and-reward strategy as does the par-four "Cape Hole-style" 7th after it. Along with the remainder of the golf course, you have to think and consider your options on every tee while you may alternatively be reaching for your camera. It is easy to see why Black Mountain is so highly regarded.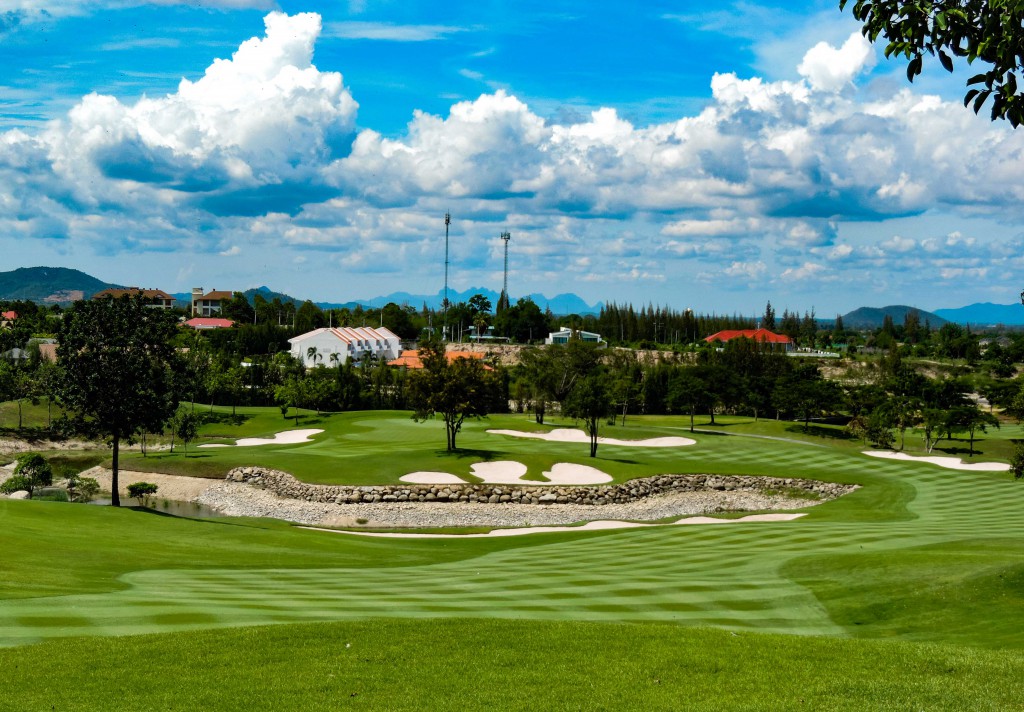 The downhill par-five 6th hole offers all sorts of options and strategies. (Photo by Robert S. Fagan)
The 235-yard 11th over a little pond guarded by a sentry tree left is another noteworthy hole, but to single out individual holes would almost be an injustice at Black Mountain for their are no real weaknesses here, just a variety of challenges, fun, and magnificent vistas to consume.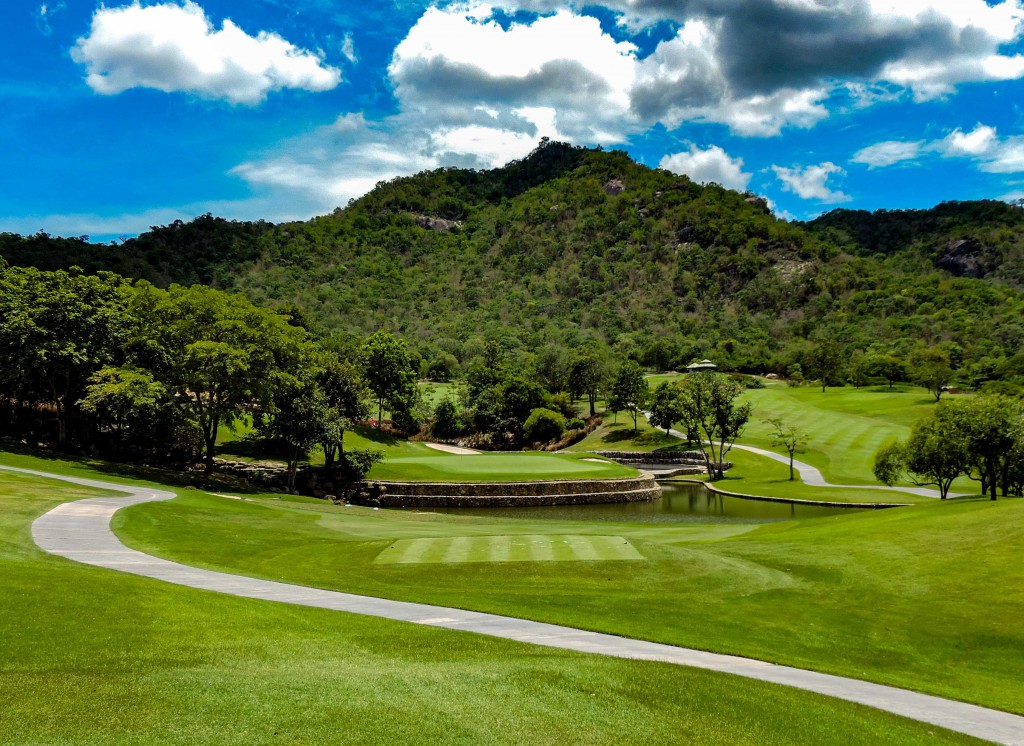 Views of the par-three 11th at Black Mountain illustrate the challenge at hand and the beauty beyond. (Photos by Robert S. Fagan)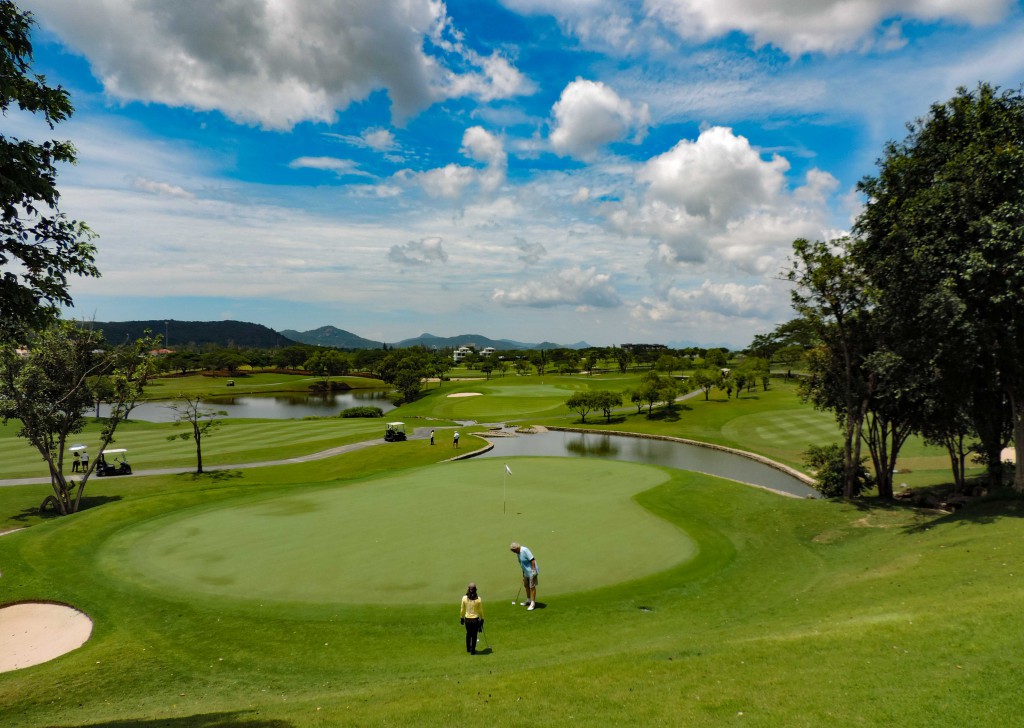 You will typically encounter Black Mountain in tournament condition everyday. Flowers and planted trees supplement the look and feel of the layout, with service also first-class. Like many great America golf courses were the visions of one person, so too Stig Notlov and Black Mountain go hand-in-hand to create a world-class golf experience – maybe the best in Thailand.
Below:  The Burmese Mountains loom as an eye-catching backdrop for the tee shot on the downhill, par-five 13th. (Photo by Robert S. Fagan)